Makita 5007Mg vs 5007Mga: Which One's Best?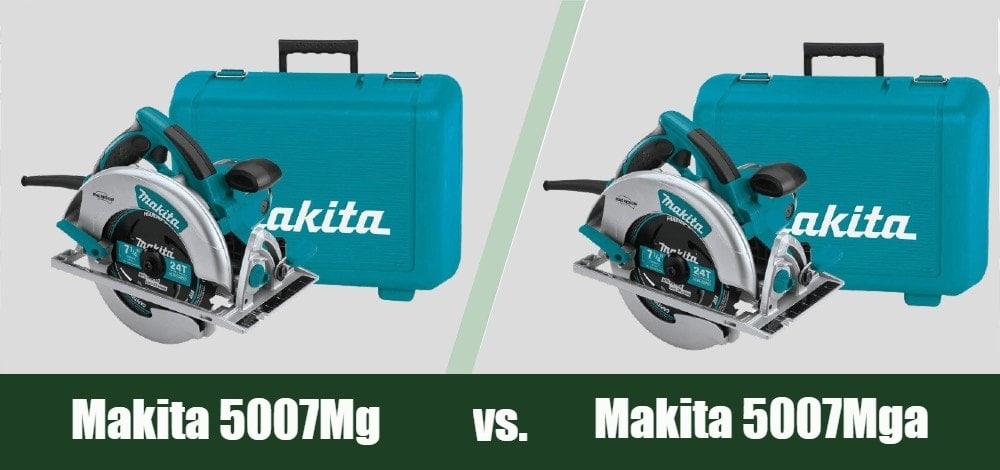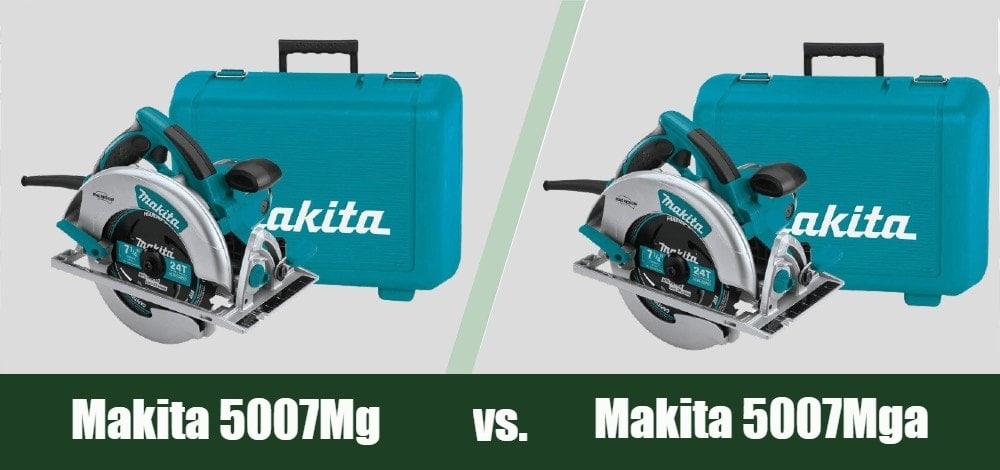 Rating
Image
Product
Details

Best Choice

Makita 5007MGA

Electric brake
Large cutting capacity
Quick and easy one-handed adjustments
CHECK PRICE

Best Price

Makita 5007MG

Durable
Powerful
Lightweight
CHECK PRICE
A circular saw is one of the most powerful and important tools you can own. Whether you're replacing an older tool or buying a circular saw for the first time, it's important to get the best possible saw for your needs.
One of the most trustworthy names when it comes to circular saws is Makita. They have given us two great options: the 5007Mg and the 5007Mga. If you're interested in getting a Makita circular saw, then you likely have a simple question: which one is better?
The truth is, these models are very similar in terms of performance, durability, and extra features. The principal difference between the two is that the 5007Mga has an electric brake whereas the 5007Mg does not.
We've put together a comprehensive guide to help you understand the pros and cons of each model. Keep reading to learn everything you need to know about these two Makita saws!

At a Glance:
Makita 5007Mg
Durable magnesium components
Lightweight (10.6 pounds)
15 AMP motor and 5,800 RPM
Two built-in LED lights
Makita 5007Mga
Durable magnesium components
Lightweight (10.6 pounds)
15 AMP motor and 5,800 RPM
Two built-in LED lights
Electric brake to instantly stop the blade
Overview of the Makita 5007Mg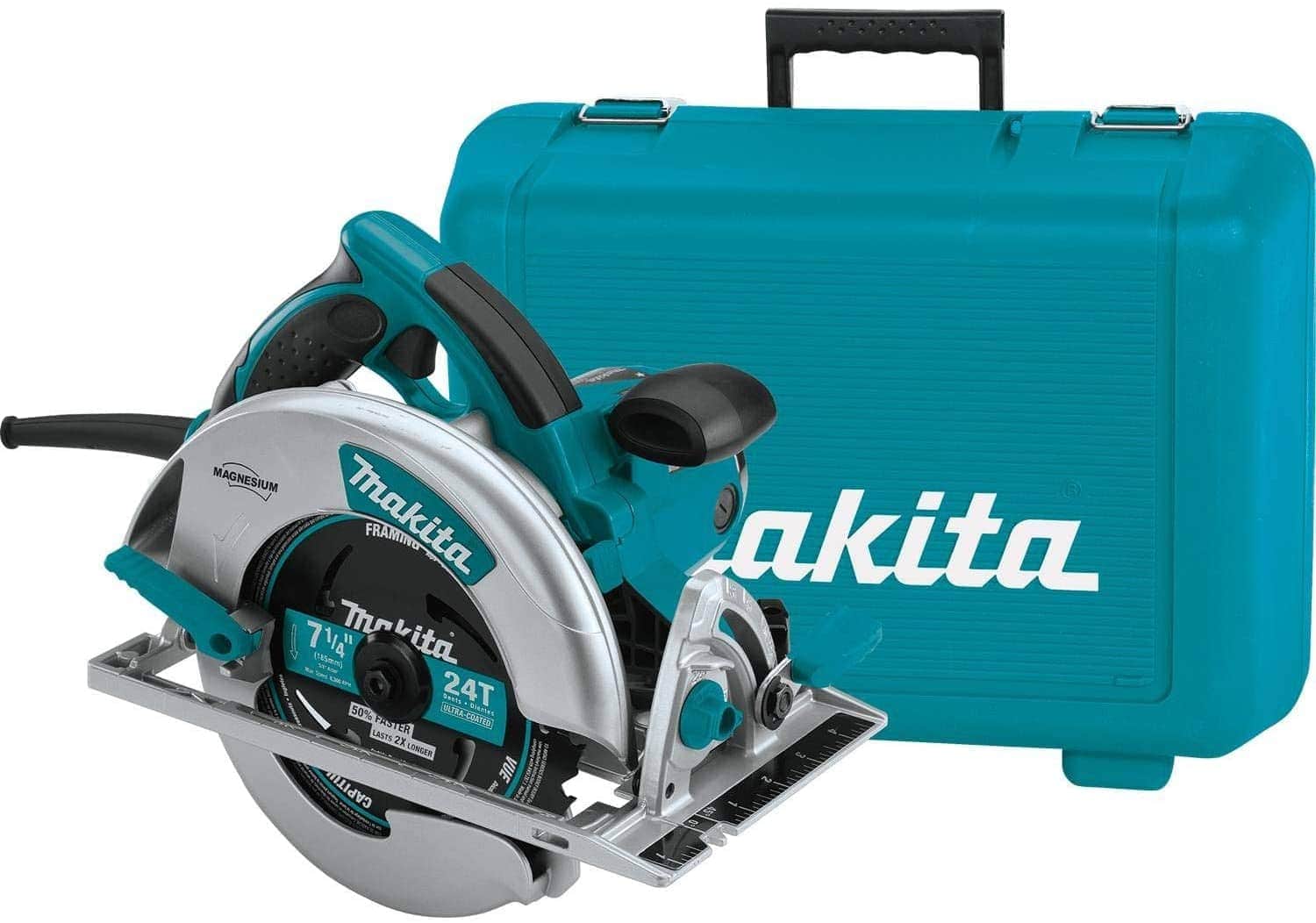 When it comes to circular saws, the 5007Mg is a solid choice. Thanks to the magnesium construction, you get a machine that is very sturdy and will definitely stand the test of time. And we loved that the magnesium construction kept things from getting too heavy, which is a major necessity if you want to move the tool around.
The power is nice and consistent. With the 15 AMP motor, you'll get a reliable 5,800 RPMs, which is enough to tackle most of the projects you've been dreaming of. That makes this tool suitable for both veterans and beginners alike.
Speaking of being "beginner-friendly," this model comes with built-in LED lights near the blade that help you see what you are doing. This is a great way to ensure that your cuts are both accurate and precise.
Pros
Durable
Powerful
Lightweight

Overview of the Makita 5007Mga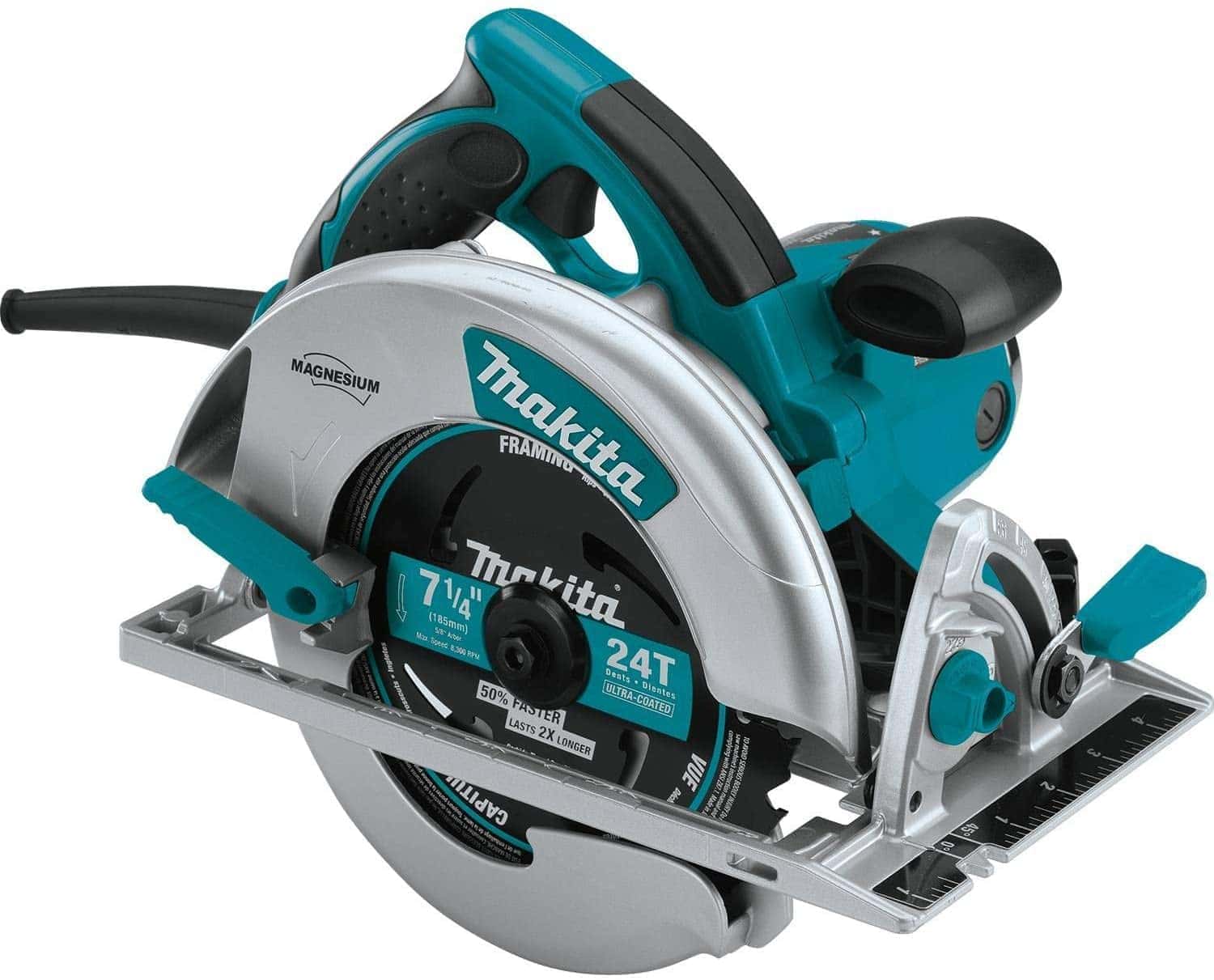 Honestly, there isn't much we can say about the 5007Mga that we didn't already say about the 5007Mg. That's because these models are basically copies of one another aside from the added electric brake with the 5007Mga.
That means this model provides the same features we liked, including the durable (but relatively lightweight) magnesium construction and the solid 15 AMP motor and 5,800 RPM. You even get the two LED lights near the blades to help you see what you are doing.
If you're looking for differences, it all comes down to the electric brake. This brake is designed to help you stop the circular blade on a dime with the press of a button. Such a feature is really handy for those who plan to use their new saw quite a bit. For everyone else, though, this added feature is pretty forgettable.
Pros
Durable
Powerful
Lightweight
---
What are the differences between them?
Performance
Edge: None
If we're going to do a deep dive in comparing these products, we're going to head straight for the "deep end." And that means jumping right to the performance of these two different saws.
For those who want to compare these two, we have good news and bad news on the performance front. The bad news is that the performance is basically the same: each saw features a 15 AMP motor and each saw provides 5,800 RPMs.
We're calling that "bad news" because it means these two are tied in terms of performance. But that can also be good news because these specs are actually quite solid. No matter which circular saw that you buy, you are guaranteed to get a reliable and consistent performance!
Durability
Edge: None
Another major factor you need to consider between these tools is durability. After all, the last thing you want to do is fork over a lot of money for a tool you end up having to replace way too quickly.
For better or for worse, comparing the durability of these two models is like comparing performance. The simple fact is that each of these models is just as durable as the other one. So, if long-lasting equipment is your primary concern, you don't have to shell out for the more expensive model to get a durable tool.
Regardless of which saw you choose, the durability is highly impressive. Due to the magnesium infusion, these saws have some serious durability without getting too heavy. This lets you get most of the benefits of a professional-grade circular saw without the added weight.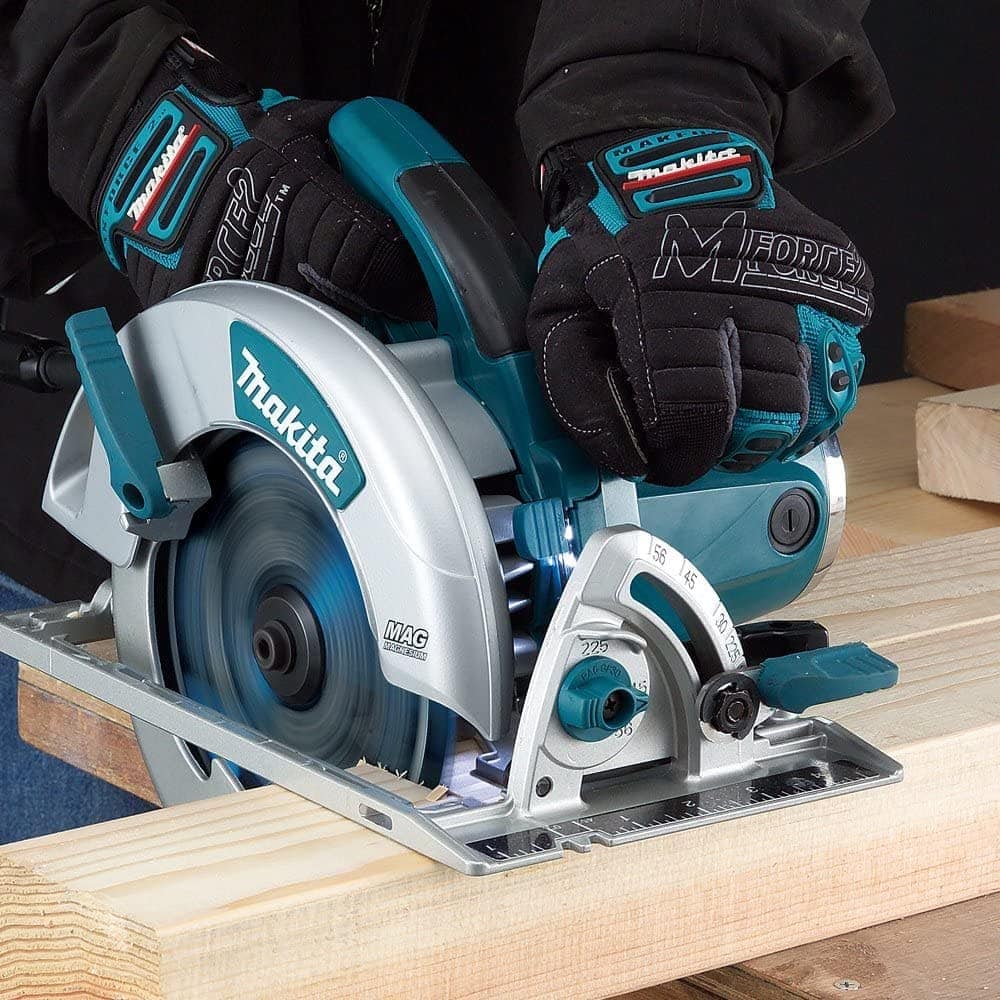 Electric Brake
Edge: 5007Mga
By now, you may be asking yourself: what is the primary difference between these two models? And the difference mostly comes down to a single feature: the electric brake.
Put simply, an electric brake lets you bring the circular saw to an immediate stop with the press of a button. Without such a feature, the saw will keep rotating after you power the tool down, slowly and gradually coming to a stop.
Now, we'll be honest: if you don't use the circular saw very often and don't need to move your blade around very much, the electric brake is not a very important feature. But for those who plan to use the saw on a regular basis, an electric brake can potentially save many long and frustrating hours of time.
If the electric brake is important to you, keep in mind that it only comes with the Makita 5007Mga. If you snag the 5007Mg, you must patiently wait for the saw to come to a full and complete stop.
Extra Features
Edge: None
When it comes to different models of the same tool, some brands may include many different "bells and whistles" between the two. But when it comes to special features, the Makita 5007Mg and the 5007Mga have the same ones.
One such feature is the LED lighting. These lights are located near the blades to enhance your vision and help you cut very accurate lines while you work.
Is this special feature really that special? It depends on who you ask. While you are likelier to see such lighting on more expensive saws, it has not yet become any kind of industry standard.
You'll get this feature regardless of the model, but is LED lighting that important? Some handymen like the addition while others find it unnecessary. In our opinion, it's always good to get extra features from your major new purchases.
Price
Edge: 5007Mg
As mentioned before, the primary difference between these models is the addition of an electric brake in the 5007Mga. But this does lead to another obvious difference: the price!
Unsurprisingly, the 5007Mga costs a bit more than the 5007Mg, and your extra money is going towards that electric brake. That's why it is important to determine whether you need the brake or not: otherwise, you might end up paying more money for a feature you never really use!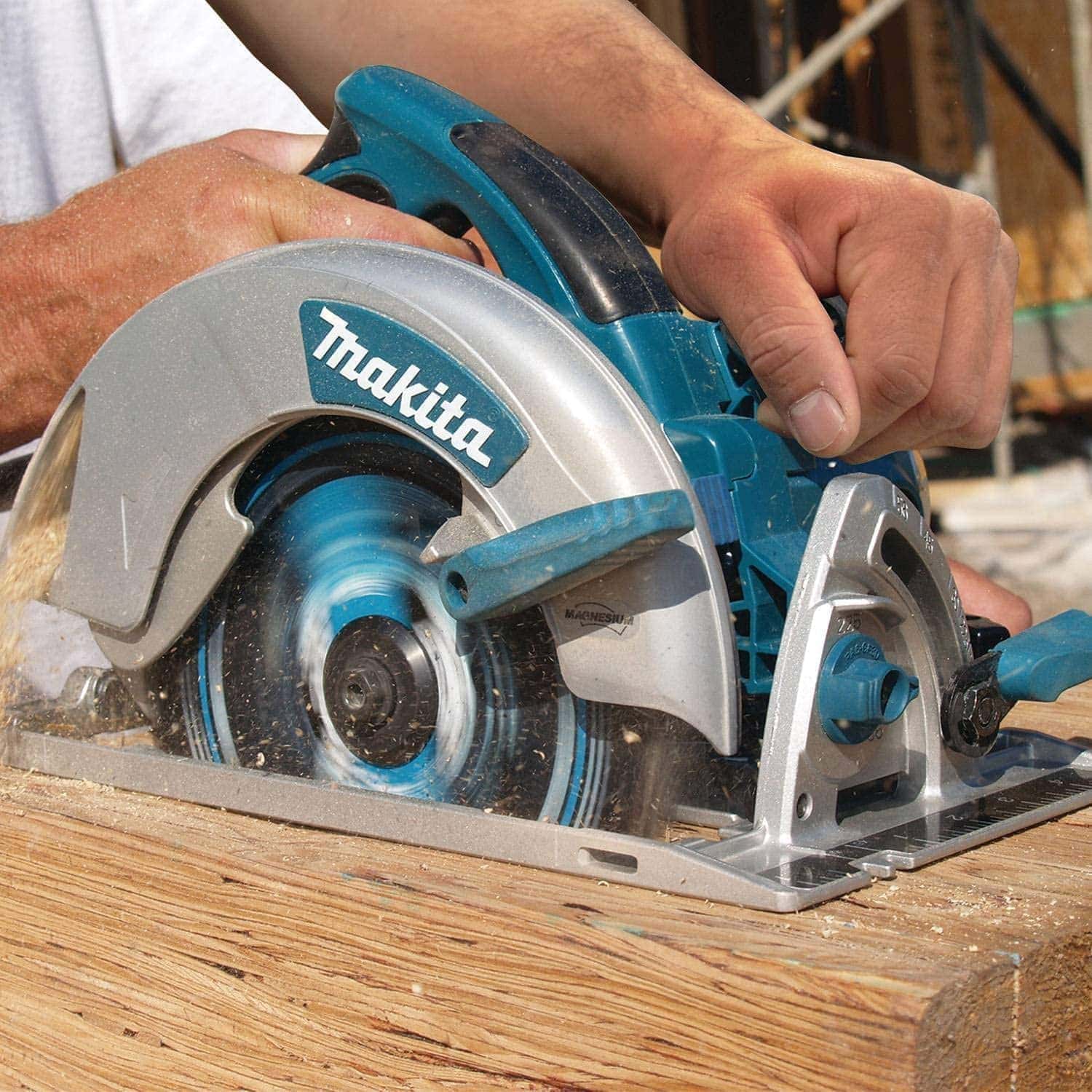 What the Users Say
Many handymen are understandably skeptical about what the manufacturers say about their own products. That's why we sought out different user reviews to see what buyers are saying about these two models.
Generally speaking, users were very favorable to these models, with several noting that you may never need to buy another circular saw after this one. Others praised the balance of power and precision and weight, creating a saw that offered accurate lines without any real compromises.
No tool is perfect, however. Several users reported that the blade guard did not retract as needed during operation, and some found the design to be a bit bulky despite its low weight.
Other Circular Saws We've Reviewed

Conclusion
We do plenty of tool comparisons here at HealthyHandyman, and we normally give a verdict on which tool is best. When it comes to these two models, though, it gets a bit tricky.
That's because these tools are almost identical except for the electric brake. Most users don't honestly need an electric brake and would be better off with the cheaper 5007Mg.
But if you know for a fact you will be extensively using this circular saw, you should go ahead and splurge a bit for the 5007Mga.
Related Reads: