Makita SP6000 Track Saw Review 2023 – Pros, Cons, FAQ, & Verdict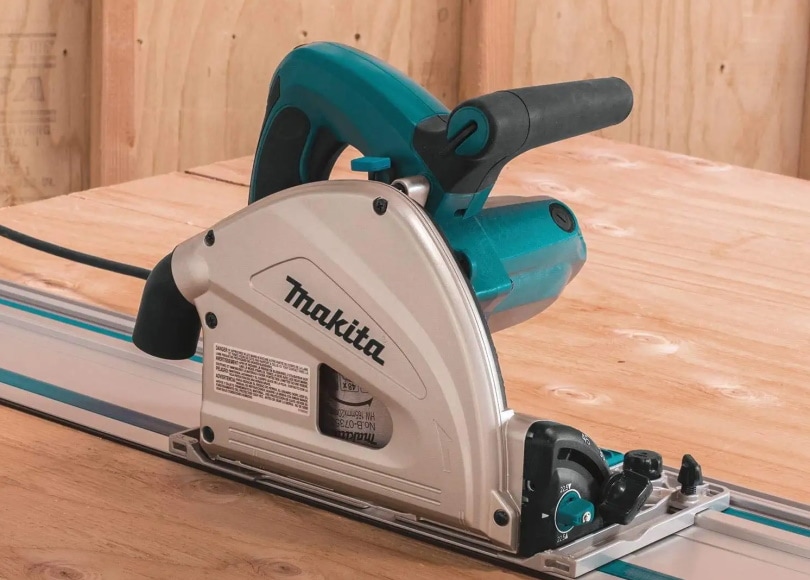 Our Final Verdict
We give Makita SP6000 Track Saw a rating of 4.7 out of 5 stars.
Build Quality: 5/5
Power: 3.5/5
Features: 4/5
Price 4.8/5
Makita is one of the leading manufacturers of power tools with over 100 years of experience in the industry. Among its best-reviewed product lines is the Makita SP6000 track saw, which is known for its ease of use, impressive accuracy levels, and versatility. Have you been eyeing the Makita SP6000? If so, is it a great tool worth buying?
We did the legwork for you and compiled this in-depth review of the Makita SP6000. We will also unveil a few tradeoffs you should know before money changes hands.

Makita SP6000—A Quick Look
The Makita SP6000 is uniquely designed to deliver refined, clean cuts with remarkable precision. It has advanced features like tip protection that locks the machine on the guide rail and a quick button for setting the blade at a 2 mm saw depth. These features make woodworking projects a breeze, especially when dealing with laminate, veneers, and other materials prone to chipping and splintering.
Compared to most track saws, the SP6000 supports relatively quiet operations. The compact machine is also ergonomically designed to ensure maximum comfort when working for hours. Unfortunately, it is not built to handle heavier cuts effectively. Even with a continuous rating input of 1,300W, you must let the track saw rest for a while when working with solid wood.
Specifications
Brand name: Makita
Model: SP6000
Dimensions: 341L x 225W x 250H mm (13-3/8″ x 8-7/8″ x 9-7/8″)
Weight: 9 lbs
Blade Type: 48 Tooth Cross Cut Blade
Blade Diameter: 165 mm (6-1/2″)
Continuous Rating Input: 1,300W
Speed: 2,200–6,400 RPM (No Load Speed)
Max Cutting Capacity: 90°: 56 mm (2-3/16″), 45°: 40 mm (1-9/16″), 48°: 38 mm (1-1/2″)
Power Supply Cord: 8.2 ft (2.5 m)
Pros
Top-quality build for maximum durability
Impressive features like an anti-tip lock and clear scales
Compact design with comfortable grip handle
Cons
Not the best option for heavier cuts (mainly ideal for medium-duty tasks)
No riving knife
You have to use a screw knob to control the settings

Features We Liked
The Makita SP6000 is a well-designed and well-tuned machine out of the box. It is easy to use with convenient depth adjustments, a cutting length indicator, bevel settings, and a bevel stop adjustment. Moreover, you can adjust the blade speed from 2,200 RPM to 6,400, depending on the material you want to cut.
Build Quality
Regarding the design, finish, and overall quality, the Matika SP6000 scores top marks. The blade housing, motor mount, and base plate are made from magnesium, which is a solid yet lightweight metal. On the other hand, the handle, motor cover, and adjustment knobs feature durable "Makita teal" plastic for enhanced durability.
While the Matika SP6000 has a high power-to-weight ratio, it's impressive that the machine weighs a mere 9 pounds. It is not guaranteed to survive several hard falls, but a bit of caution will ensure the product gives you years of excellent service.
Handling
The Makita SP6000 allows smooth operations, and the blades are well-guided on the track. As long as you make all the adjustments correctly, it's easy to predict where the saw moves along the track. Even when working on a lengthy project, the machine remains pretty comfortable to handle. It has rubberized handles that also serve as electrical insulation for enhanced safety.
Warranty & Support
Like other products from the brand, the Matika SP6000 comes with a limited warranty. If you notice design or material defects in your saw within one year from the original purchase date, you can return it to an Authorized Service Center. Makita has a responsive support team that will guide you on what to do until your machine is repaired or replaced.
What We Didn't Like
There's no doubt that the Makita SP6000 is an impressive tool. However, there are a few things you may not like about it.
Power
The Makita SP6000 is ideal for medium-duty woodworking projects. You can also use it for cutting solid wood with the assurance of getting clean and accurate results. However, if the solid wood is too thick, you'll need to make several passes and pause to reduce the heat buildup on the blade and prevent the motor from straining. There are better track saws suited to handle heavy cuts.

FAQs
Before you invest in the Makita SP6000, check out the answers to questions frequently asked by interested buyers.
How Deep Can the Makita SP6000 Track Saw Cut?
The saw will give you a clean 2-millimeter deep cut in just one push of a button. This is convenient, especially when working with laminate, veneers, or other materials prone to splintering and chipping.
Can I Use the Makita SP6000 Without Tracks?
Yes. The Makita SP6000 can operate with or without a track. However, the machine without tracks functions like a circular saw.
Should I Worry That the Makita SP6000 Lacks a Riving Knife?
A riving knife is a helpful feature that helps reduce kickbacks. The fact that the Makita SP6000 lacks this feature is a significant trade-off. When cutting two halves, you must be extra careful to ensure your wood, veneer, or laminate does not close back around the blade.
What the Users Say
A track saw is a must-have tool for the success of any woodworking project. While there are parades of track saws in the market from different brands, the Makita SP6000 stands out as a top choice for many, especially those who often deal with medium-duty woodwork projects.
Most users think the Makita SP6000 is an excellent value and performs as promised. It is well-priced compared to other top-rated track saws and delivers equally enticing features, ease of use, and clean cuts.

Our Verdict
The Matika SP6000 scores high compared to competitor track saws within the price range. When held, it feels safe and secure and will knock your socks off with its cut quality. With so many advanced features, pushing the machine through precise cuts is a breeze. Even though the Matika SP6000 has some trade-offs, it is a machine designed to give you an excellent bang for your buck.
---
Featured Image Credit: Makita, Amazon