Track Saw vs Cordless Circular Saw: Which Is Best for Your Project?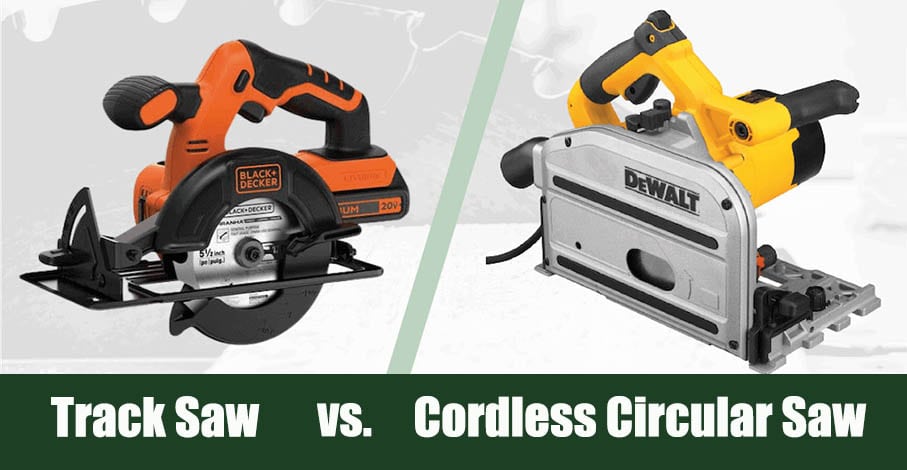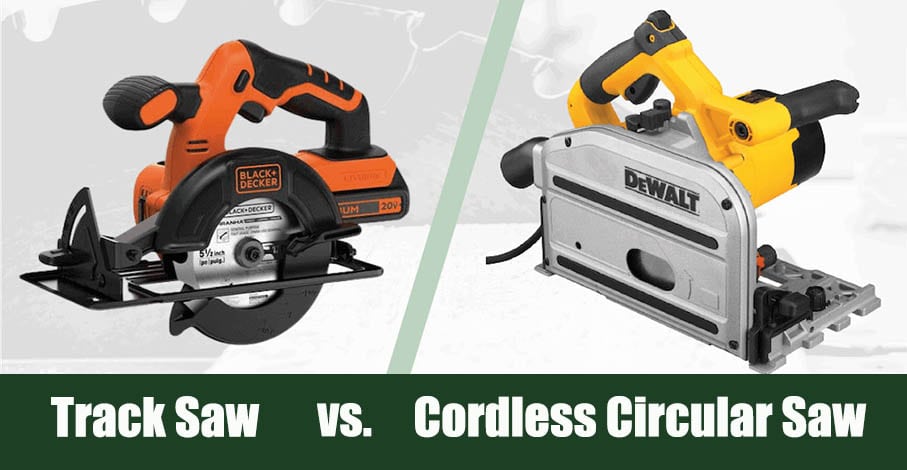 For making long and accurate straight cuts through wood, metal, or plastic, you only have three options: Table saws, circular saws, or track saws.
But if you're looking to make those cuts at a reasonable price – or anywhere that's not attached to a 400-pound machine – you'll need to decide between a track saw and a cordless circular saw.
By comparing the features and benefits of track saws and cordless circular saws, we aim to leave you better informed as to which saw is worth investing your hard-earned money in. Once you understand the purposes and attributes of each saw in a deeper and more comprehensive way, we're confident that you'll be able to make the best decision for your home and workshop.
Our Favorite Track Saw in 2023
DEWALT Circular Saw, 6-1/2-Inch, TrackSaw Kit (DWS520K)
Zero clearance track saw cutting system delivers precise, straight, splinter-free cuts.Power Tool Type Corded
For use with track saw dual-edged tracks for perfectly straight cuts in both directions
On-track cut depth: 2-1/8 (54mm) at 90 degree , 1-5/8-inch (41mm) at 45 degree ; depth scale accurately indicates exact depth of cut...
Track Saws Explained
Pioneered by German power tool manufacturer Festool in the early 1960s, track saws utilize a long metal guide and a unique plunge cutting mechanism to make incredibly accurate cuts.
The "toe-in" blade position of a track saw allows it to cut from the front of the blade, while the back of the blade is held farther away from each freshly cut edge. In turn, this leaves almost no tear-out on the back edge – making for smoother, cleaner cuts with a polished edge that's perfect for fine woodworking.
Besides its capability for finer cuts, another benefit of the track saw is its increased safety as compared to a circular saw. Because the entire saw is mounted on a long track, the possibility of kickbacks or accidental contact with the blade is effectively negated.
That said, the setup and preparation time for making a cut with a track saw is much greater than what you can expect from a circular saw. Add to that its much higher price tag – sometimes costing up to five times as much as a cordless circular saw – and it's clear that the track saw is a better choice for professionals and experts than for beginners and hobbyists.
Track Saw Pros
Incredibly accurate straight cuts
Integrated rail makes it safer than table or circular saws
Makes finer and smoother straight cuts than any other saw
Track Saw Cons
Expensive
Takes longer to set up cuts
Tips for Using a Track Saw
---
Our Favorite Cordless Circular Saw in 2023
Cordless Circular Saws Explained
For convenience in making quick rips and crosscuts, it's hard to beat the hand-held versatility of a cordless circular saw. They've long been a standby of carpenters and construction workers because of their light weight and portability, as well as their ability to accept a variety of saw blades for different cutting jobs.
Better at making rough cuts for sizing large manmade boards, circular saws can be a challenge to use with any degree of precision. Oftentimes, they rely on not much more than a mounted guide, your eyesight, and a steady hand to produce truly straight cuts.
Where they may be less reliable for making accurate cuts than a track saw, cordless circular saws have two major advantages: They are extremely portable and easy to use and cost significantly less than the more robustly constructed track saw. For general woodworking and construction projects, they're an affordable and powerful option that's suitable for beginners and professionals alike.
Cordless Circular Saw Pros
Lightweight and portable
Quick and easy to use
Great for making rough cuts and sizing larger boards
Inexpensive
Cordless Circular Saw Cons
Not as suitable for precision cuts
Less durable than most track saws
Tips for Using a Circular Saw
Final Thoughts: Which Saw Is Better for You?
Both track saws and cordless circular saws offer attractive options for making straight cuts more conveniently than with a table saw. For professionals and anyone requiring a high degree of precision for their cuts, the track saw is a much better option – but also considerably more expensive. If you're looking for a saw to make rough cuts for DIY projects and home repairs, go for an inexpensive and easy to use cordless circular saw.
Related Reads: