7 Manual Transmission Statistics in Australia: Updated In 2023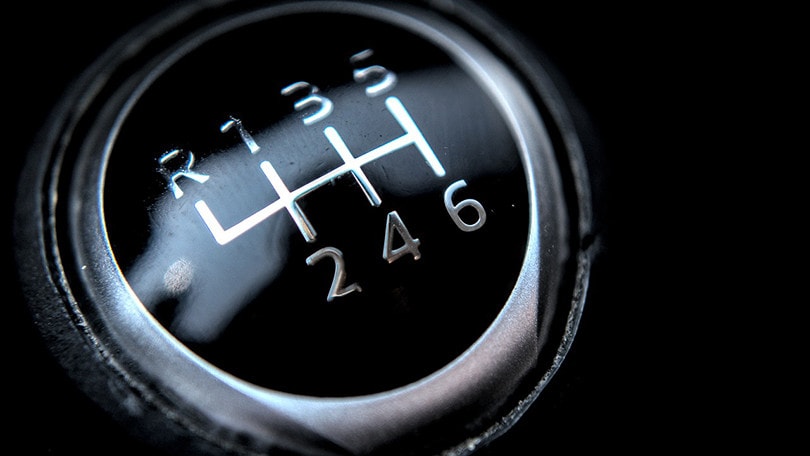 You know, as technology advances, we're slowly coming to the realization that the driving culture around the world doesn't blend quite well with manual transmissions. It all boils down to the clutch pedal. Without diving deep into the nitty-gritty details, a clutch is basically the plate that connects your vehicle's engine to its drive wheels. So anytime you press it down, what you're essentially doing is disconnecting the two.
This is a lot of extra work in the eyes of a consumer, who also has to worry about long commutes and dense roadways. So, many try to steer away from anything that has the word "manual" in the description.
While trying to figure out why the market is slowly shifting in favor of the automatic vehicle, particularly in Australia, we came across the following interesting statistics.

Top 7 Manual Transmission Statistics in Australia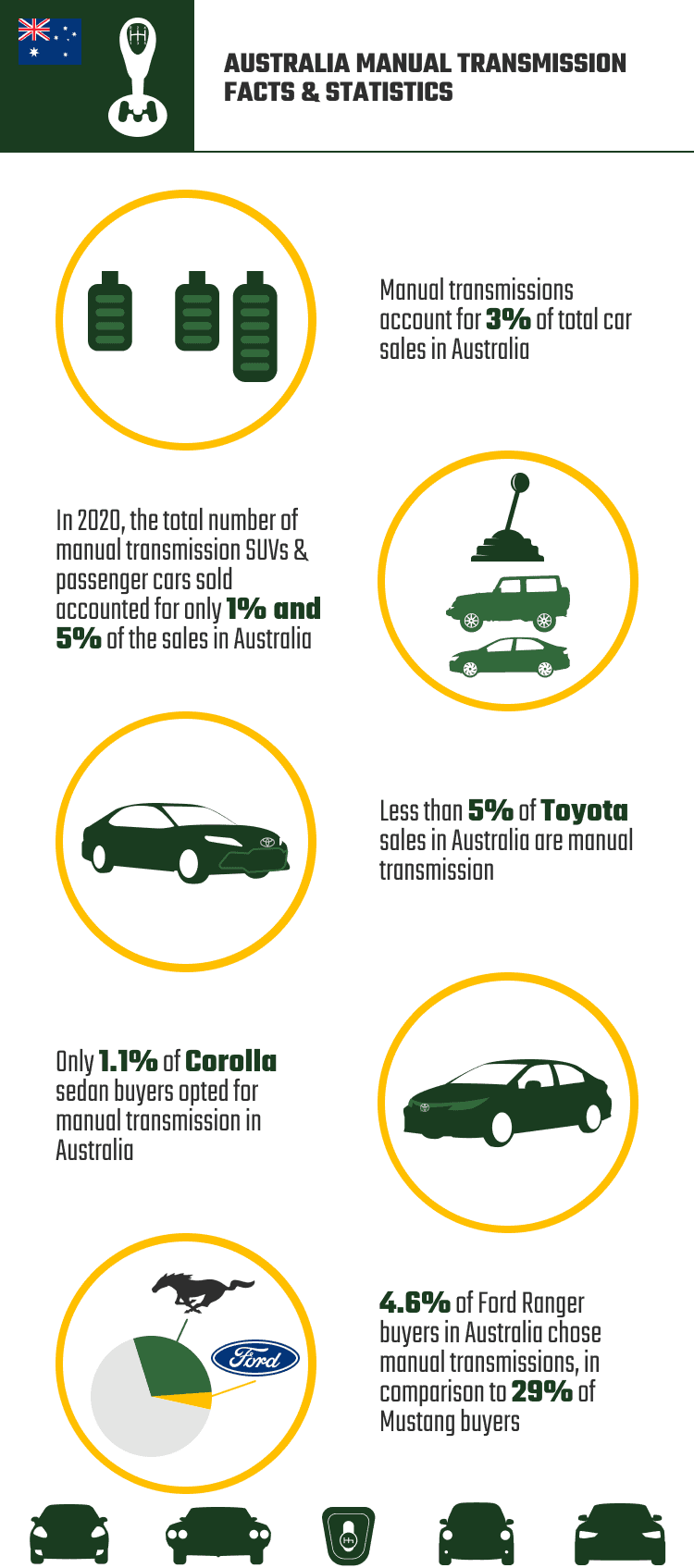 Sales Numbers
1.

Less Than 5% of Toyota Sales Are Manual Transmissions
(Greenslips)
It's already out there that Toyota is one of the most popular brands in Australia. That's because they usually market their products around family values and not the thrill of owning a luxurious car. They've also made sure that they have a massive range of models, to cater to the different needs of their prospective buyers.
Manual or automatic, they often make sure all their vehicles are affordable, spacious, fuel-efficient, and more importantly, easy to drive. Ironically, even after making numerous improvements to their manual iterations, the sales numbers are still significantly low in Australia.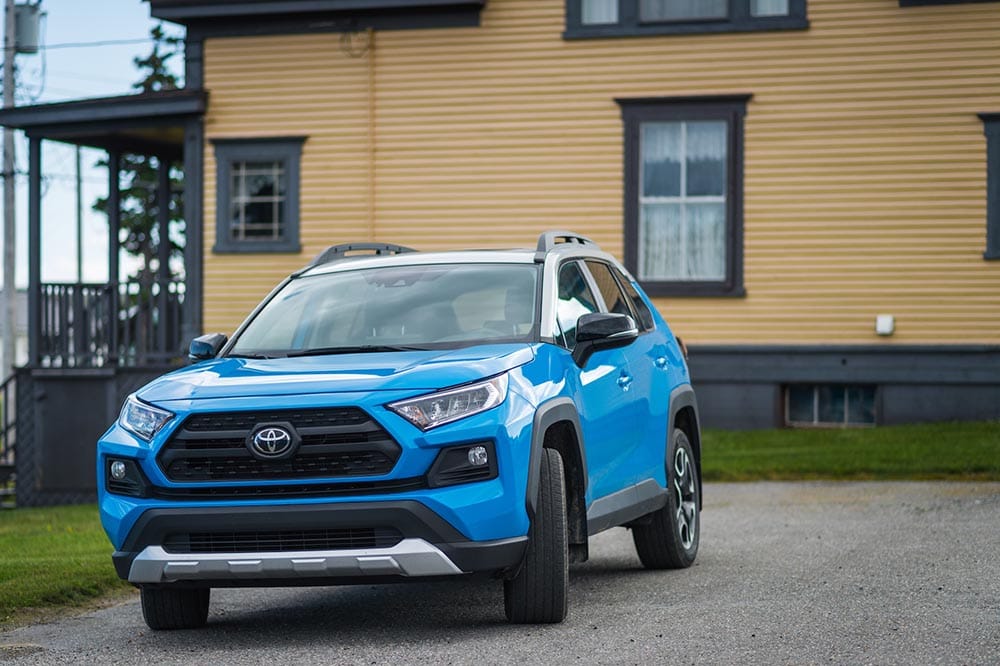 ---
2.

6% Of Ford Ranger Buyers Prefer Manual, In Comparison To 29% Of Mustang Buyers
(ABC News)
Sturdy, heavy, and sophisticated; these are the type of words normally used to describe the Ranger model of the Ford brand. Its customer base is relatively wider than that of most models because it has that out-of-the-box off-road ability, feels safer, and delivers top-notch comfort.
Sadly though, it looks like they are also struggling to convince their loyal customers to invest in manual transmission. Then again, 29% is not something the Ford Mustang can brag about either. However, this is largely because people still view Mustangs as classic cars. And "classic" is synonymous with manual transmission.
---
3.

Over 2,700 Hyundai I30 Manuals Have Been Sold in The Past 12 Months
(Greenslips)
One of the United Nations Sustainable Development Goals (SDG) is to lower our global carbon footprint by 45% in the next 8 years, with the hope of attaining a net-zero emission by 2050. According to the current estimates, a single passenger vehicle releases around 4.6 metric tons of carbon II oxide gas, every year. Of course, this runs on the assumption that our drivers cover about 11,500 miles per year, using vehicles that have a fuel economy of around 22 miles per gallon.
Hyundai decided to join the community of individuals looking to save the planet, by introducing into the market an eco-friendly model. The i30 is an example of a green vehicle that has been produced and released into the market to help us combat the menace of air pollution.
2,700 units are still not much but considering this is not a popular brand in most countries, we'll say it's still good going.
---
4.

In 2020, the Total Number of Manual SUVs and Passenger Cars Sold Accounted for Only 1% and 5% of The Sales
(Greenslips)
We still don't know for sure what the future holds, but from the look of things, it looks like we're about to witness the death of the manual transmission. SUVs and passenger cars are some of the most popular vehicles around the world. What the Australian market is telling us is that this new generation of drivers—and some of the old folks—don't truly appreciate that level of control that's synonymous with the manual gearbox.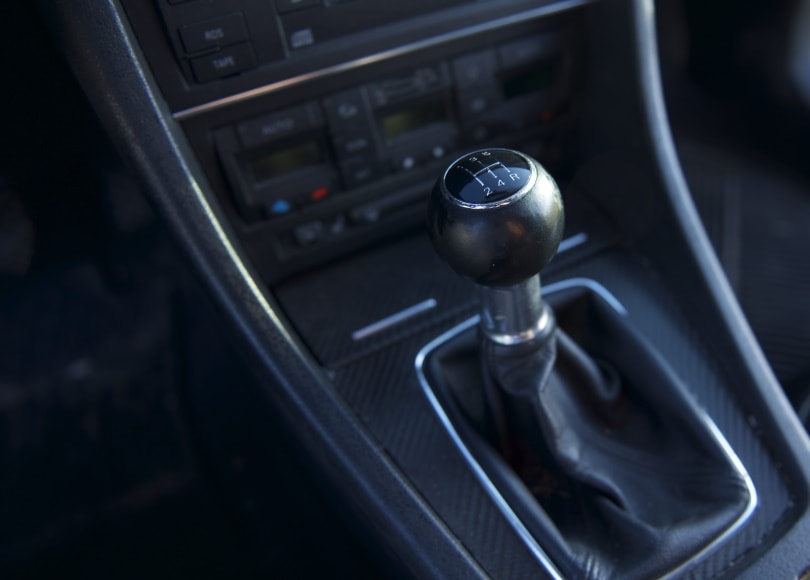 ---
5.

Corolla Hatchback's Manual Transmission Buyer Percentage Has Dropped From 7.4% To 1.5%
(Drive)
2015 was a good year for Toyota in terms of car sales. They sold a good number of Corolla hatchbacks, even though only 7.4% of the total sales were manual transmissions. Unfortunately, those sales numbers dropped to 1.5% in 2020, hitting a new low. A few experts in the industry have argued that the numbers took a drastic nosedive because some of the current Corolla variants no longer come with a stick shift. And they could be right.
---
6.

Only 1.1% Of Corolla Sedan's Buyers Opted for Manual Transmission
(Drive)
5 years ago, this number was at 3.6%. So clearly, this is a trend that's not only affecting different brands but the product lines as well. The numbers are telling us that in a short time period the demand for both manual sedans and hatchbacks has dropped by more than 50%.
Driving instructors—who by the way, prefer teaching using this type of vehicle—are of the opinion that this sharp decline in sales is again caused by the younger generation, as most of them lean more towards the automatic, believing it's the easiest route to securing a license.
Or maybe it's due to some other version of the trickle-down effect, that's causing more sedan drivers to switch allegiance. It's hard to hide the fact that the automatic gearbox is taking over the world, to a point where manufacturers are now starting to remove manual transmissions from farm vehicles.
---
7.

Manual Transmission Account for 3% of Total Car Sales
(ABC News)
Retailers not having enough money to bring in more manual cars is not the only problem that they are facing. Apparently, it's not possible to install certain safety features in a manual vehicle, and that influences its ANCAP safety rating in a negative way. "ANCAP" stands for the Australasian New Car Assessment Program, and the ratings are usually designated after the experts have conducted a series of crash tests.
Manuals have a low rating due to this issue, and that's part of the reason why some consumers are investing in automatics.

Frequently Asked Questions (FAQs)
Which Brands Mostly Produce Manual Transmissions in Australia?
(Chasing Cars)
A recent survey found that Mazda had the most available manual transmission models in Australia. They were closely followed by Porsche and this explains why most of the manual cars found on Australian roads are either performance or commercial vehicles.
Does Mercedes Design Passenger Cars with Manual Transmissions?
(The Drive)
The Mercedes brand has stopped producing and releasing passenger cars that had a manual gearbox. Marcus Schaeffer, who's the head of Mercedes research and development department (R&D), said it was the only way of reducing the company's operations costs while streamlining production. They were also planning to reduce the size of their combustion engines.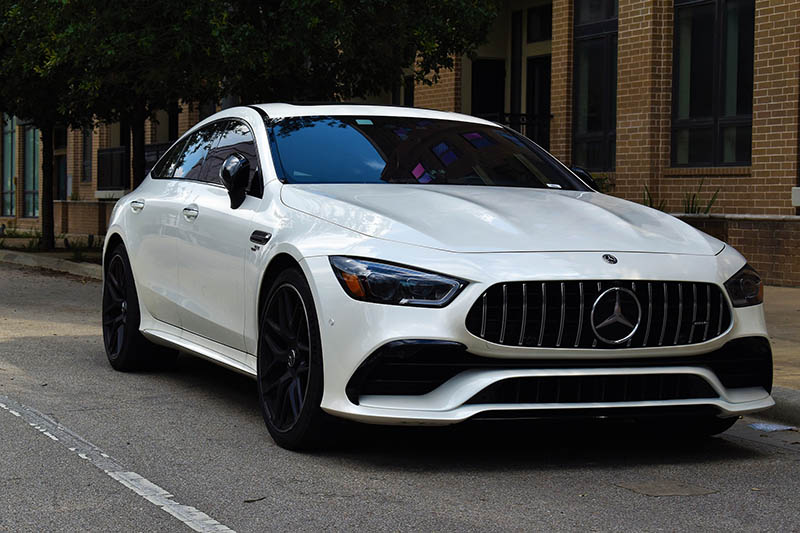 Do Manual Cars Offer a Better Level of Control?
(Suncorp)
They most certainly do. The thing about the shift stick is that it doesn't automatically switch to a different gear when the road conditions change. You, as the driver, control everything the vehicle does. And that's what makes it easier for manual drivers to get out of tricky conditions such as slippery hills, and snowy roads.
But if we were to choose between the manual and a CVT (Continuously Variable transmission), we'd definitely go for the latter. It offers the best of both worlds.
What's a Good ANCAP Rating?
(RAC)
Any vehicle that has a 4 or 5-star rating is considered safe and able to offer adequate protection. These ratings are important because they help you determine your probability of surviving a crash. 1,2, and 3-star rated vehicles are the worst. They should be sold by any retailer, or be on the road.

Conclusion
Most people will want you to believe that manual transmissions are too complicated to learn. But they aren't and are very cheap to run and maintain. In terms of fuel efficiency, they are also the best models in the market, as they help you save more. Nobody's going to persecute you for settling for an automatic, but just know that the expenses will drive you nuts.
Both in Australia and around the world, it seems that manual transmissions are coming to an end.
See also: 9 RV Theft Statistics and Facts in Australia
---
Featured Image Credit: Globetrotter78, Pixabay