What Is a Skoolie? School Bus Conversion Homes Explained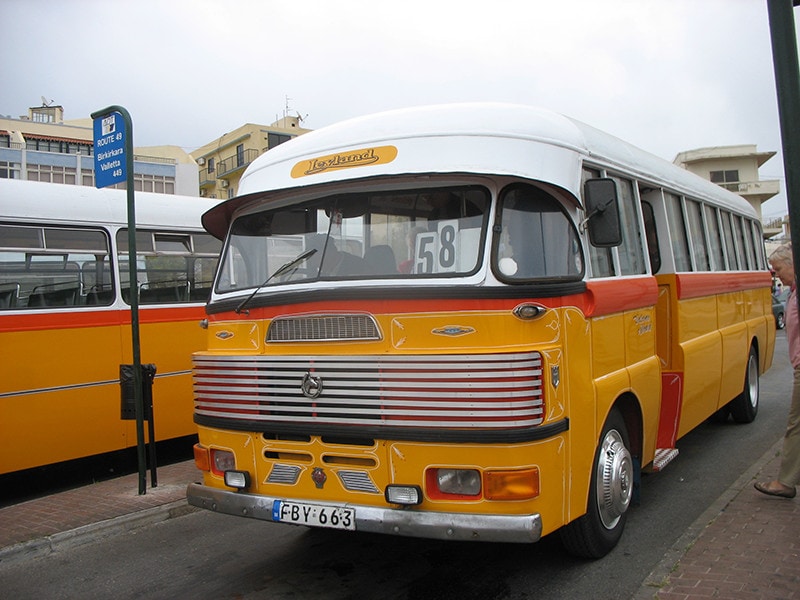 Skoolies are making quite a buzz these days. You might have seen these renovated school buses on social media, campgrounds, and roads. But have you ever wondered why people live inside of them? That's because they consider them an affordable, sustainable, and exciting living alternative.
The concept of tiny homes intrigues many individuals. In fact, according to Technavio's market research report, the tiny home market is projected to grow at a CAGR of 7% from 2018 to 2022.
The reason for converting a school bus into a mobile home may vary from individual to individual. Some might have nostalgia for their school days, while others just want an adventure. Whatever the reason, skoolies are now everywhere!
If you're planning for a skoolie conversion, you must know its pros and cons, different types, cost, and multiple other factors. This guide will address all these aspects, so let's get started!

What Is a Skoolie? How Does It Work?
A skoolie is a combination of an RV and a small mobile house. But unlike RV, the skoolie doesn't need a towing vehicle. Instead, the entire bus moves on wheels.
If you're familiar with upcycling, you can better understand what a skoolie is and how it works. Upcycling is converting anything that's no longer fulfilling its original purpose into something useful. That's what skoolies actually are: idle school buses transformed into tiny homes.
As far as the space is concerned, skoolies may not offer you a lot of space, but it works for small families. According to an estimate, a medium-sized school bus has a length of 25–35 feet. So, a 35-foot-long and 7.5-foot-wide school bus is expected to have an interior space of 250–300 square feet. That's after you remove all the seats.
There is no "one-standard conversion process" for skoolies. Instead, you can be creative with your new mobile home according to your wish. However, the first step for every skoolie conversion remains the same: taking out seats. You can also remove the original ceiling and flooring of the bus to make the interior comfier.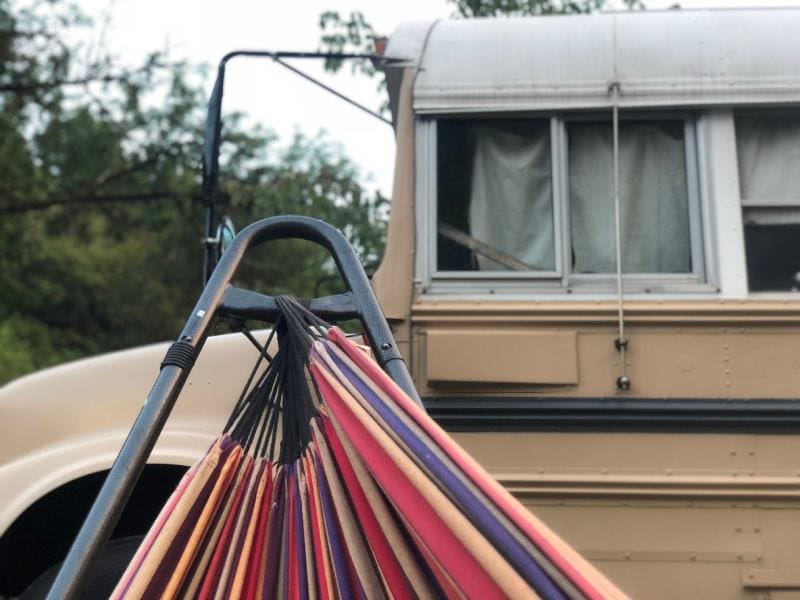 What Are the Different Skoolie Floor Plans?
The standard school bus width is 7.5 feet or 90 inches. You can also find buses with more lengths and widths with thorough market research. But let's consider standard measurements to learn how to build different skoolie floor plans.
Depending on your needs, you can adjust the below plans and make more rooms accordingly. Here are our top three picks:
The Flying Cloud
This floor plan consists of a full-size queen bed at the back and a bunk bed at the front (a little behind the driver's seat). It is enough to cater to a family of four or even larger if you have kids.
It also has a small bathroom, cooking space, pantry, and a little fridge in the middle. This skoolie conversion plan is spacious enough to be your tiny home for months.
The Shorter Wheel
If you're planning to convert a short bus, approximately in the 30–35-foot range, the shorter wheel floor plan is ideal for you. It is designed especially for compact school buses. Typically, people with smaller families opt for smaller skoolies. But it's also ideal for traveling enthusiasts.
If you hit the roads most of the time, the shorter wheel plan will work like a breeze. Despite being small, the bus has considerable space for a living room at the back of the driver's seat. In addition, it also has a big kitchen and a booth-style dining area.
The bedroom or sleeping area is situated at the back of the bus. It consists solely of a queen-sized bed.
The Double Porch
If you're planning to spend an extended period in a skoolie, this floor plan is all you need. It consists of two attached porches, an extra outdoor living area, a bunk room, and a big master bedroom for a large family.
Undoubtedly, the double porch skoolie has everything you need to move to a permanent, mobile home. In fact, the living area takes up to a fourth of the bus's interior space, so you'll have lots of room to move inside the skoolie.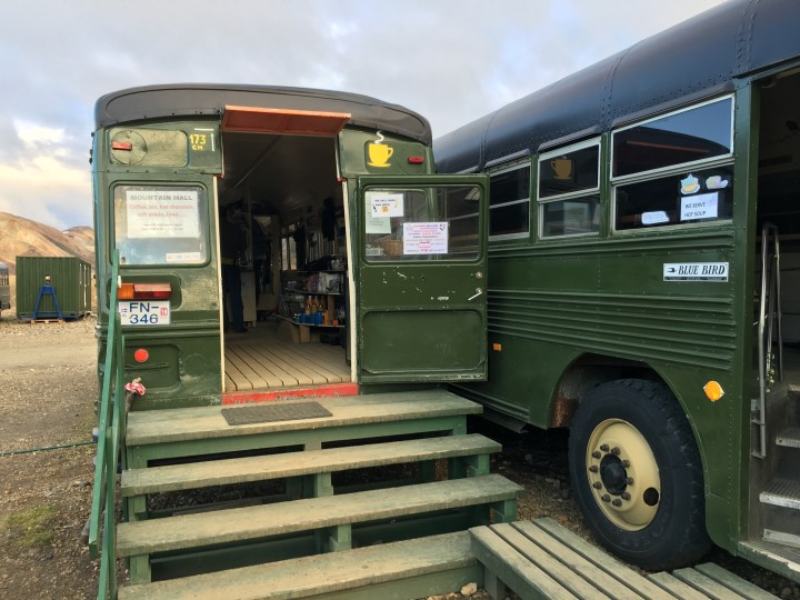 Advantages of a Skoolie
Skoolies are popular because of their adventurous and cool vibe. They offer an escape from everyday life and let people unwind for a few days. But what are the other advantages of shifting to a skoolie? Here are a few:
Mobility
One major benefit of a skoolie is its ability to take people to different places effortlessly. These vehicles are self-sufficient, so the traveler doesn't have to stop in the middle of the road for anything. This makes skoolies suitable for long-distance traveling.
Although the smaller and medium-sized buses are easy-to-handle, the larger ones are also adequately mobile for many people. Also, they don't require a separate towing trailer, which makes them an excellent option compared to RVs.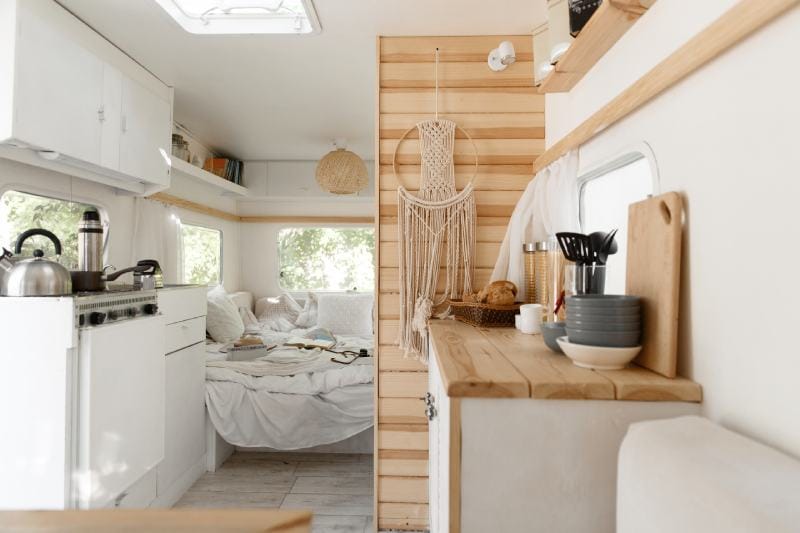 Many Design Plans
Skoolies are the perfect canvas to paint whatever you want. When converting a school bus into a house, you actually start modeling from scratch. So, it's not like remodeling an RV where the layout is predetermined, and the rest of the work has already been done.
With skoolie conversions, you're free to design the entire floor plan. Want a smaller bathroom but a bigger kitchen? Get it. Need covers for floors and ceilings? Build it right away!
Of course, it will take lots of effort and money. But the result will be unique and exactly just as you want.
Availability
School buses usually have a standard service life, after which they are replaced with newer ones. This makes these vehicles readily available, and because of this, they are affordable too.
This way, your initial investment would be quite cheap. Even after doing all the design work, the final cost will still be lower than buying an RV.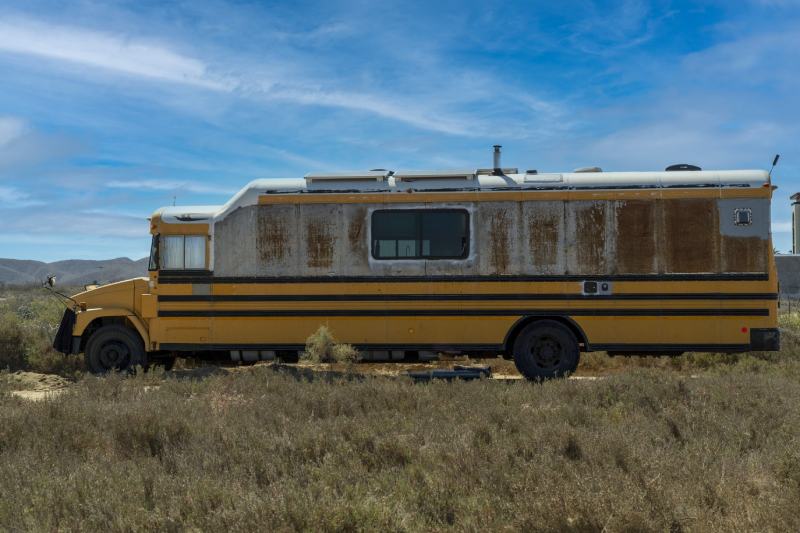 Skoolie Community
If you haven't heard, there are now many online skoolie communities worldwide consisting of like-minded individuals from different places. These people interact and share information, floor plans, and different tips with each other.
No matter where you are or what problem you have with your skoolie, you'll always have 24/7 support to resolve your issue. Within a few minutes, you can connect with different skoolie owners and even join a few traveling groups to make your journey more enjoyable.
Disadvantages of a Skoolie
While the idea of a skoolie is exciting enough, don't let the shine, paint jobs, and attractive interiors overwhelm you. Depending on different situations, you may come across a few drawbacks of skoolies. Some include:
Maintenance Costs
Although cheap, skoolies can have higher maintenance costs that keep building over time. Since these buses have fulfilled their service life, their good working days are mostly gone. So, you're left with a vehicle vulnerable to multiple repairs and fixtures.
Generally speaking, buses can be costly to repair. Also, if you have a very old model, you may have difficulty finding its parts for repairs. Even though your skoolie looks gorgeous, you'll always be on the verge of paying heavy repair bills.
Uncomfortable Environment
Most older buses have dysfunctional suspension systems that fail to work like before despite many repairs. This includes poor insulation, air conditioning issues, and incapable furnaces. All these factors can make your skoolie's environment uncomfortable regardless of the season.
In summer, you might have a boiling temperature. Meanwhile, in winter, you'll be shivering with cold breezes. Sluggish handling is another major drawback.
Difficult Licensing and Insurance
Another drawback is the complicated licensing and insurance procedure of your skoolie. So always check your planned location's requirements and obtain proper certifications accordingly.
Skoolie licensing may also require you to show that your bus is now an RV bus conversion instead of a commercial vehicle. When it comes to insurance, most companies stay skeptical about the safety of skoolies. That's because most of these buses are converted by their inexperienced owners.

Frequently Asked Questions (FAQs)
Some common questions that skoolie owners ask include:
What Are the Electrical Considerations for a Skoolie?
Nowadays, many skoolies operate on solar panels, so you'd have to take care of the basic wiring in your vehicle. These wires will be connected to all electrical appliances, an HVAC system, and lights you'll install in your skoolie.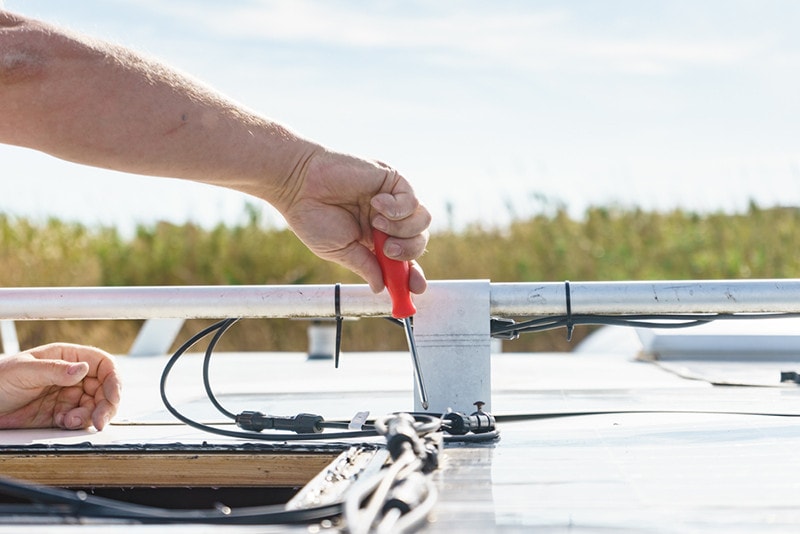 How Can I Minimize the Skoolie's Storage Space?
Optimizing the skoolie's storage space is quite fun. You can be creative and utilize whatever space you have in your vehicle to maximize its storage space. This includes wall shelving, furniture, vertical space, bed storage, under-floor areas, etc.
How Much Does a Skoolie Conversion Cost?
The cost for a skoolie conversion ranges between $5,000–$30,000, depending on the nature and detailing of your vehicle's interior. Upcycling a school bus is the best option for a skoolie conversion since a new vehicle can cost around $50,000. In comparison, used school buses can range from $3,000–$7,000.
When purchasing a school bus, ensure you're not getting one that's about to end its working life. You may think that you've got a very cheap deal, but that vehicle can cost you more in repairs in the future. So, research and inspect thoroughly before investing.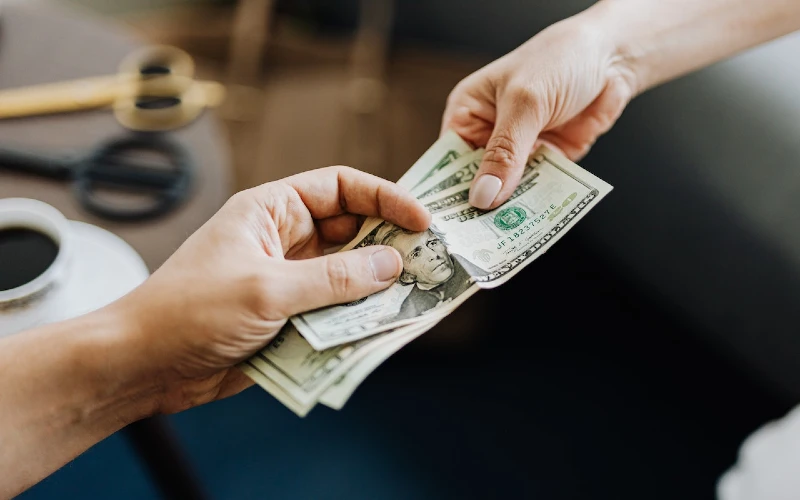 How Can You Save Money in Your Skoolie Conversion?
Skoolie conversions can be costly since you're basically turning a blank slate into an aesthetic and comfy home. Here are a few ways you can save a considerable amount of money in your skoolie conversion:
Buy building materials from a reputable architectural salvage store.
Reutilize refurbished wood pallets for your ceilings or walls. You can also use the wood to make repurposed and sustainable wood sidings.
You can save money incurred on electrical installation by opting for RV electrical products. These are mostly less expensive and compact and operate on DC. This way, you won't have to spend money on inverters if you buy a solar skoolie.
The rule of thumb is to focus on sustainability. The more you stay closer to this concept, the more you'll save money.
Conclusion
A skoolie conversion is an exciting yet tedious process. First, you'll have to buy an old school bus within your budget. Then, design a floor plan depending on your needs and execute the plan accordingly.
The best part is that these bus conversions are mobile and readily available. But they do have a few disadvantages, such as higher maintenance costs, an uncomfortable environment, and complicated insurance and licensing processes. So, evaluate all the pros and cons before investing in a skoolie.
If you want to save money, staying with sustainable options is better. You can also take help from a professional to achieve your dream tiny mobile home.
---
Featured Image Credit: Pxhere