10 Most Dangerous Cities In Indiana (2023 Update)
Note: This article's statistics come from third-party sources and do not represent the opinions of this website.
Indiana is the 17th largest state, by population, with more than 6,805,663 residents, as of 2021. The Hoosier State's capital is Indianapolis, and it is bordered by Michigan, Ohio, Kentucky, and Illinois.
Taking all types of crime into account, the state has a crime rate of 2,342 crimes per 100,000, according to the most recent FBI statistics, which is 6% lower than the national average rate of 2,489 per 100,000. Eighty-four percent of these crimes were property crimes, with 371 incidents of violent crime per 100,000 population, somewhat lower than the US average of 379.
As is true in most states, a large share of crimes tended to occur in larger cities; Indiana has four cities with populations over 100,000 and 82 cities with a population greater than 10,000. Less common is that Indiana saw a drop in its violent crime rates in 2020 compared to 2019 and is one of only 14 states that witnessed this reduction. Rates were down 3.6%. However, an increase of 34% was seen in homicide rates in 2020.
Below, according to the FBI's crime statistics figures, we have listed the ten most dangerous cities in Indiana.

The 10 Most Dangerous Cities In Indiana: A Quick Look
10.

Anderson
| | |
| --- | --- |
| Population | 54,899 |
| Violent crimes per 100,000 | 441 |
| Homicides | 4 |
Anderson has a population of 54,899 and is the 16th largest city in the state. In 2019, it had a violent crime rate of 441 incidents per 100,000 people. Somewhat unusually, aggravated assaults accounted for less than 50% of this figure, and the city has the highest rape rate per capita in Indiana, with 62 incidents reported in 2019.
The city's history is littered with periods of boom and bust. Natural Gas was discovered in Anderson in 1887, which led to glass-makers and other industrial businesses that benefited from the power source moving to the area. However, the gas ran dry in 1912, following periods of profligacy with the natural resource. This led to many industries packing up and leaving.
Although the town did remain an industrial hub, it suffered greatly during the deindustrialization of the latter half of the 20th Century, and Anderson has continued to struggle with high rates of unemployment and poverty ever since. 25% of the population is below the poverty line compared to 15% in Indiana.
---
9.

Lafayette
| | |
| --- | --- |
| Population | 72,585 |
| Violent crimes per 100,000 | 485 |
| Homicides | 5 |
Lafayette has a population of 72,585 and is the 9th largest city in the state. Its violent crime rate is 485 per 100,000, and there were five murders reported in the city in 2019. 72% of the violent crimes committed are aggravated assaults. It is considered the 9th most dangerous city in the state by virtue of its high violent crime rate.
Named after the French officer, General Lafayette, who assisted the Continental Army during the Revolutionary War, Lafayette initially found its purpose as a shipping center thanks to its position on the Wabash River. It is home to Purdue University, and its homicide rates are average compared to the rest of the country, but its violent crime and property crime rates are slightly higher than is typical.
---
8.

La Porte
| | |
| --- | --- |
| Population | 21,557 |
| Violent crimes per 100,000 | 538 |
| Homicides | 1 |
La Porte is a relatively small city with 21,557 residents, making it only the 44th largest city in the state. Despite this, it experiences a homicide and violent crime rate equivalent to 538 crimes per 100,000 residents, making it the 8th most dangerous city. Despite this, its property crime rate of 2,152 per 100,000 is lower than the state average and compares favorably to most other cities.
This relatively new city was formed in 1832 on the construction of a sawmill in the area. La Porte has an extensive network of city parks and was once known as Maple City for the line of Maple Trees that were planted on two of the city's main streets.
---
7.

Clarksville
| | |
| --- | --- |
| Population | 21,630 |
| Violent crimes per 100,000 | 546 |
| Homicides | 0 |
Although Clarksville is a suburb of Louisville, Kentucky, it falls within the borders of Indiana. It has a population of 21,630 and saw 118 reports of violent crime, equating to a violent crime rate of 546 per 100,000. 89% of these crimes were aggravated assaults, and there were no reports of homicide during the year. Clarksville also has the highest property crime rates in the state, with 5,839 incidents reported per 100,000 residents.
Although the town experienced a great flood in 1937, it also saw considerable housing and employment booms following World War II. Its population grew from 2,400 in 1940 to reach 22,000 in 2000. It is considered a major shopping town, which might account for the high property crime figures. Other notable features in the town include the world's 7th largest clock, which was once the 2nd largest clock in the world and is located on the former Colgate-Palmolive Plant, and Clarksville is also home to the world's largest exposed Devonian fossil beds.
---
6.

Gary
| | |
| --- | --- |
| Population | 74,687 |
| Violent crimes per 100,000 | 554 |
| Homicides | 57 |
Gary is a large city with a population of 75,000 people. Although its violent crime rate of 554 incidents per 100,000 makes it only the 6th most dangerous city in the state, it witnessed 57 murders in 2019, which is by far the largest number in Indiana, and the city easily has Indiana's highest homicide rate. It also has a very high robbery rate, with approximately 43% of the city's violent crimes being robberies. In terms of property crimes, there are 3,556 per 100,000, which is also in the top 10 for the state.
Although it was once a prosperous steel town, Gary has suffered at the hands of industry restructuring and overseas competition. Today, it is estimated that 35% of the population lives under the poverty line and even that one-third of the city's accommodation lays empty because of the massive reduction in population over recent decades. The city is best known for being the hometown of the Jackson family, who lived in a two-bedroom house on Jackson Street.
---
5.

Evansville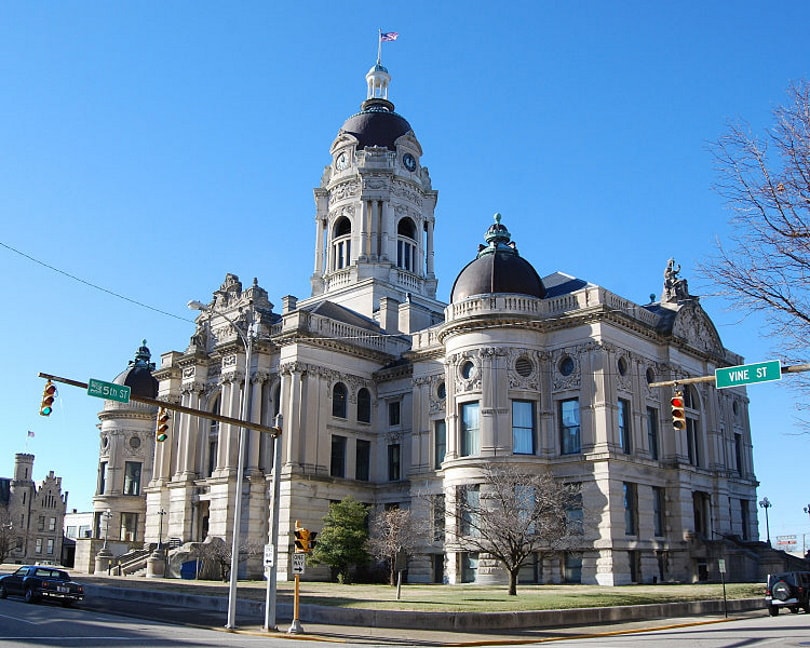 | | |
| --- | --- |
| Population | 117,700 |
| Violent crimes per 100,000 | 613 |
| Homicides | 11 |
Evansville, with a population of 117,700, is the third-largest city in the state, with only Indianapolis and Fort Wayne having larger populations. It is the first city on the list to pass the 600 mark for violent crimes per 100,000, and it saw 11 homicides in 2019. Unfortunately, Evansville is also notable for having a high property crime rate, equivalent to 4,178 property crimes per 100,000.
Its position on the Ohio river saw Evansville become popular as a trading and shipping port during its early history. Lumber, coal, and manufacturing industries were prevalent by the latter stages of the 19th Century. Despite a major flood and national recession, the city has thrived in its population and economic prosperity. Companies, including Whirlpool and General Electric, have moved into Evansville, but that hasn't helped combat its high crime rates.
---
4.

Kokomo
| | |
| --- | --- |
| Population | 57,845 |
| Violent crimes per 100,000 | 678 |
| Homicides | 5 |
The state's 14th-largest city, Kokomo, is also its 4th most dangerous. The population of 57,845 saw five homicides and a violent crime rate of 678 crimes per 100,000 population in 2019. However, it has a reasonably low property crime rate of 2,581 per 100,000 people.
Kokomo is another Indiana city that enjoyed prosperity following the discovery of a natural gas reserve in the 19th Century. The City of Firsts witnessed growth, especially within the automobile industry, and much of Kokomo's employment is still working in the industry today. The city hosted what was described as the largest Ku Klux Klan gathering in history, although the reported 200,000 attendee number is disputed, with some claiming that the figure was a more realistic 10,000.
---
3.

East Chicago
| | |
| --- | --- |
| Population | 27,717 |
| Violent crimes per 100,000 | 725 |
| Homicides | 7 |
East Chicago is the 39th largest city in Indiana by population and has 27,717 residents. It is also the third most dangerous, with a very high 725 violent crime rate per 100,000 people. Seven homicides were registered in 2019, and robberies account for nearly 40% of the violent crimes committed in the city. Statistically, East Chicago has a higher crime rate than the city of Chicago itself.
This former swampland was slow to take off until the Inland Steel Corporation formed in 1903 before East Chicago was considered an industrial success. Despite its auspicious start, however, the city was, at one point during the early 20th Century, the most industrialized city in the U.S. Population peaked at nearly 60,000 in 1960, but the steel crisis between 1974 and 1986 led to a serious decline in numbers, falling to less than 50,000 in 1970 and 29,000 by 2010. Approximately 25% of the city's population lives below the poverty line.
---
2.

Shelbyville
| | |
| --- | --- |
| Population | 19,362 |
| Violent crimes per 100,000 | 754 |
| Homicides | 0 |
Shelbyville has a population of nearly 20,000 people and saw a violent crime rate of 754 incidents per 100,000 people, but it did not see any homicides during 2019. Its high violent crime rate makes it the 2nd most dangerous city in the state of Indiana, but its 2,102 property crimes per 100,000 are lower than most major cities in the state. 94% of the city's violent crimes are aggravated assaults, with the remainder being robbery and rapes, and the population experienced a total of 146 violent crimes during the reported period.
Shelbyville is considered an agricultural hub, and it also has some industries, including manufacturers of plastics and automobile parts. Although Shelbyville is considered the 2nd most dangerous city in the state, thanks to its high rate of violent crimes, one city eclipses even these big numbers.
---
1.

South Bend
| | |
| --- | --- |
| Population | 101,944 |
| Violent crimes per 100,000 | 1,331 |
| Homicides | 14 |
South Bend is the fourth largest city in Indiana but is considered the most dangerous. It has the highest rate of robberies, contributing to a staggeringly high violent crime rate of 1,331 crimes per 100,000 people, roughly twice the state average. Property crimes are also high, although not the highest, with 4,214 per 100,000.
Named for its position on the Southern bend of the St. Joseph River, South Bend was once a hub for fur traders before seeing heavy industrialization. Once major employers like Studebaker left the city, it experienced high unemployment levels, which increased crime rates with it. During the early 2010s, the old Studebaker plant site was developed as a technology center to attract new businesses and improve employment. Population levels have started to rise, but the change has seemingly done very little to improve the crime rate.

What Is The Safest City In Indiana?
If you are looking to avoid the cities listed above but still want to experience the farmlands and corn the state is known for, Zionsville is, according to FBI statistics, the safest city to visit. It has a population of more than 27,000 but has a staggeringly low violent crime rate of 14 incidents per 100,000 people. It also has the lowest property crime rate of 282 crimes per 100,000. It has become a popular tourist destination, while a median household income of more than $80,000 shows the city's prosperity.
How to Stay Safe in Indiana
Most people safely visit Indiana and its cities without seeing or experiencing any kind of trouble, even in those cities listed above. However, if you want to be sure of a safe visit, consider the following tips to help reduce the chance of falling victim to violent or property crimes.
Do Your Research – Research the city you're visiting and any potential neighborhoods you will be staying in. Look at your hotel and the nearby streets, and find the places you want to explore before you leave. Asking for advice and directions on the street means letting people know that you are not from the area and could make you a potential target.
Avoid Parks At Night – This is mainly true in any city in the world, but you should avoid visiting parks and other secluded areas at night. Take paved routes, where possible, and get an Uber or a cab to take you to your destination if you need to travel alone in the dark.
Keep Valuables Out Of Sight – Keep your phone in your pocket or bag rather than in your hand, and leave items like passports and checkbooks in the hotel room, ideally locked away in the cupboard safe.
Don't Advertise Being From Out Of Town – Avoid asking for directions on the street or asking people for advice on the best places to visit. Unfortunately, some criminals target visitors to their city because they believe them to be easier targets.

Conclusion
Indiana is one of only 14 states in the U.S. that has seen a decline in violent crime rates, according to recent FBI figures. Despite this improvement, and even though Indiana is considered safer than most states and the U.S. as a whole, there are still some cities with alarmingly high violent crime and property crime rates. South Bend has considerably higher violent crime rates than anywhere else in the state while, at the other end of the chart, Zionsville has very low violent crime rates that make it an appealing destination for visitors.
---
Featured Image Credit: Katherine Welles, Shutterstock