7 Most Expensive Homes in Texas (with Pictures)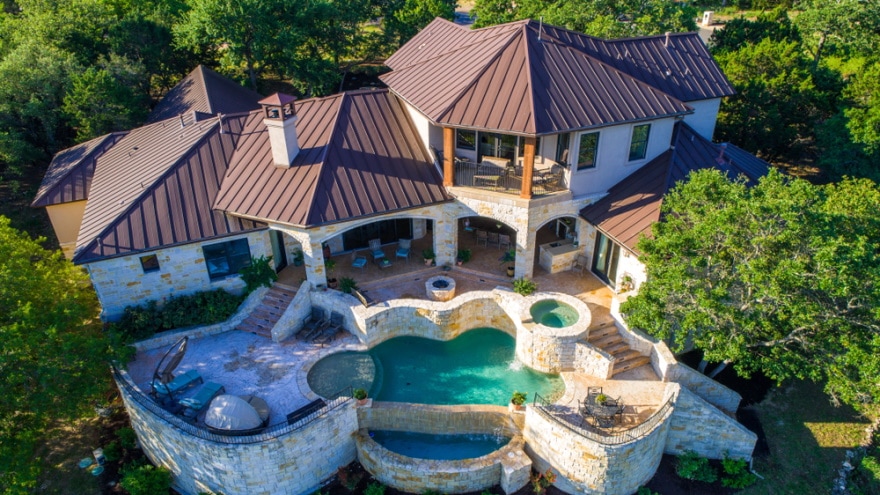 Texas is one of the wealthiest states in the country, second only to California in gross domestic product. To accommodate all those rich folks, the state has some of the most luxurious and expensive homes money can buy. Let's check out some of the most expensive homes in the Lone Star State.

The 7 Most Expensive Homes in Texas
1.

88 W Grand Regency Circle, The Woodlands – $19 Million
Sitting on 4 acres, this expansive home has over 30,000 square feet with 10 bedrooms, 13 bathrooms, and five and a half baths. If you get tired of the stairs, it has no fewer than three private elevators to get you where you're going. And boy, there are a lot of places to go: the home theater, billiards room, retro bar, or kitchen complete with walk-in cooler. With all these party-friendly rooms, you'd think it was tailor made for hosting events. Danny Spence, CEO of Procorps Associates Inc., bought it for a cool $19 million.
---
2.

3839 Inverness, Houston – $5.9 Million
Sold just 5 days after it was listed, this 6,500-square-foot home is one of the smallest expensive homes ever sold. With just four bedrooms and four bathrooms, this house sits on a perfectly manicured half an acre. What makes it so expensive is its pedigree: acclaimed architecture firm Stub Rathers designed it, and it was recently refurbished to boot.
---
3.

74 East Shore Drive, Houston – $5.5 Million
Acquired for just shy of $5.6 million, this 10,000-square-foot Woodlands home boasts five bedrooms, five baths, and two and a half baths. But that's not all! It also has its own putting green, fountain, pool, guest suite, and a gorgeous walk-up driveway. If you're feeling bored, it also has a study and pool room. On cold nights, the occupants can curl up in front of either of the three fireplaces in the home.
---
4.

2930 Lazy Lane, River Oaks – $16.5 Million
This unique treehouse-esque home has a long history. It was designed for an oil CEO, who sold it to entrepreneur John Maher, who sold it to a local attorney. Most recently, it sold for an eye-watering $16.5 million, which makes it one of the most expensive homes ever sold in Texas. Sitting on 5 acres of park-like land, the home has five bedrooms, cherrywood paneling, glass walls in several rooms, and huge decks.
---
5.

Beverly Drive Estate, Highland Park – $50 Million
Once owned by oilman Edwin Cox Sr., this home is the most expensive ever sold in Dallas. The city's most wealthy resident, billionaire Andy Beal, took out a $41 million loan to buy the property, although the sale price wasn't disclosed. Best guess estimates say Beal could have paid as little as $50 million, which is a bargain considering it was designed by the same architect who designed the Neiman Marcus Building.
---
6.

Margaret Crow Estate, Highland Park – $60 Million
Bizarrely enough, this home was also bought by billionaire Andy Beal. The former owners were Trammell and Margaret Crow, who made their fortune in real estate development and lived in the home for over 50 years. It sits on an expansive 6 acres, including a guesthouse and 1,500 square foot servant quarters. When it was owned by the Crows, this home hosted many of the city's elite in dazzling and exclusive to-dos.
---
7.

Crespi Estate – $36.2 Million
This gargantuan 30,000-foot home has a 3,000-square-foot master bedroom, pool, tennis court, and 4,800-square-foot pool house. Originally built for Italian Count Pio Crespi, the home was sold in 2014 to a Dallas developer for $36.2 million. Supposedly, its 25-acre property is going to be carved up into a luxury neighborhood.

Conclusion
Texas has some of the largest and most expensive houses in the country, owing to its rich oil and tech industries. Most of these homes are located in the state's major cities, but all of them are prime examples of Texan opulence.
---
Featured Image Credit: Roschetzky Photography, Shutterstock