13 Motorcycle Theft Statistics in The US (2023 Update)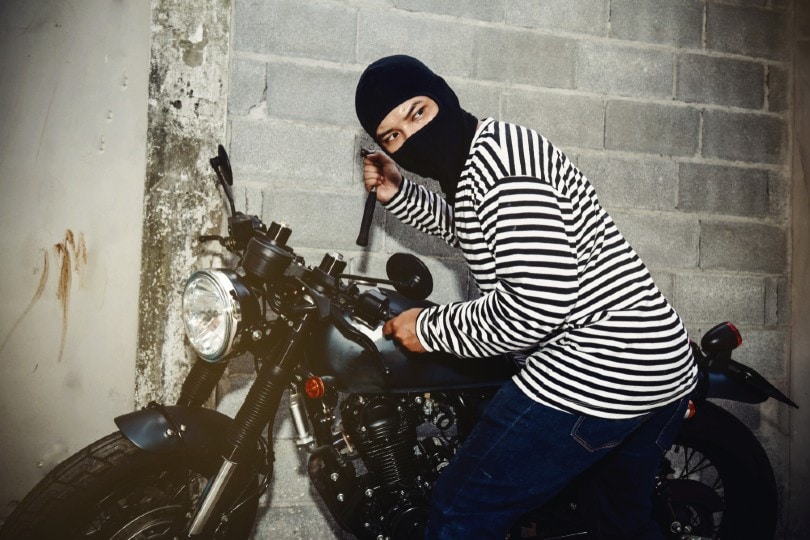 Note: This article's statistics come from third-party sources and do not represent the opinions of this website. Information and statistics are based on data from 2020. 2020 was the most recent year with complete data regarding motorcycle thefts.
One of the biggest fears for any motorcycle owner is walking outside to find that the bike has been stolen. Unfortunately, motorcycles are stolen all the time. Some people even claim that motorcycles are more likely to be stolen than cars. Motorcycle thefts are a large and growing problem in the United States.
Using the most recently published crime statistics and data, we have compiled thirteen facts regarding motorcycle thefts in the United States.
Click below to jump ahead:

Top 13 Motorcycle Theft Statistics for the United States

Motorcycle Theft Data
1.

There were 53,111 reported motorcycle thefts in 2020.
(Statista [1])
The number of motorcycles reported stolen in 2020 was 53,111. Those numbers are the highest reported figures in a decade. The number of stolen motorcycles is compiled from all 50 states. Every state in the United States reported at least 1 motorcycle theft in 2020. The figures per state range from a few dozen to a few thousand stolen motorcycles.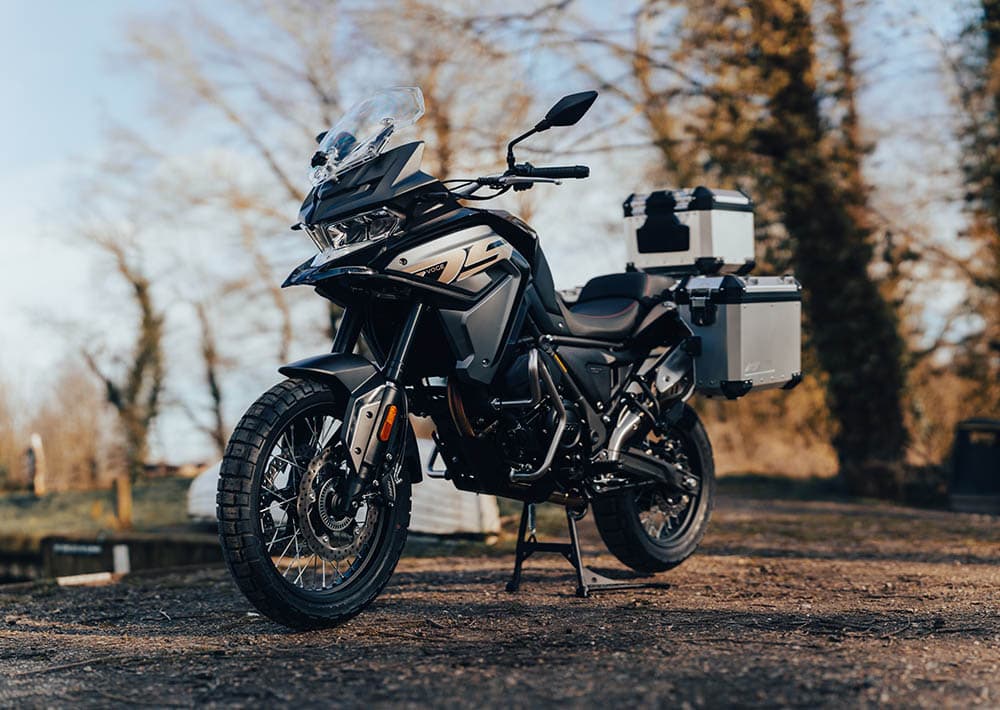 ---
2.

2020 saw a 30% increase in reported motorcycle thefts.
(National Insurance Crime Bureau)
Motorcycle thefts appear to be on the rise. 2020 saw a whopping 30% increase in thefts from the 2019 data. Reports of motorcycle thefts rose by over 13,000 cases from 2019. There were just 40,830 stolen motorcycles in 2019 compared to 53,111 in 2020. Up until 2020, motorcycle thefts had been steadily declining in the United States. Thefts fell from 46,000 in 2016 to just 40,830 in 2019 before spiking in 2020.
---
3.

2020 saw the highest number of motorcycle thefts in a decade
(Statista [1])
The 53,111 stolen motorcycles in 2020 were the highest number in a decade. Between 2011 and 2019, the average number of stolen motorcycles per year hovered between 41,000 and 46,000. The numbers fluctuated slightly, but the trend was largely static. 2020 marked a massive spike in motorcycle thefts nationwide. It also marked the highest number of stolen motorcycles in the past decade going back to 2011. Unfortunately, crime is on the rise across the board and this trend is projected to continue.
---
4.

In 2020, 0.06% of all motorcycles in the United States were stolen.
(Insurance Institute of Highway Safety)
There are roughly 8.6 million registered motorcycles in the United States. That means that 50,000 stolen bikes per year average out to roughly 0.06% of all bikes on the roads being stolen. By comparison, there are over 275 million registered cars in the United States and 800,000 car thefts per year.

Motorcycle Thefts by Location
5.

California reported the most motorcycle thefts, with 9,483.
(Statista [2])
California ranks the highest in terms of motorcycle thefts year after year. That is due to a confluence of factors that make California a motorcycle theft hotspot. First, California has the highest number of motorcycle registrations in the United States. California is also the most populous US state. California is also home to some of America's largest and densest urban centers, including Los Angeles, San Francisco, and San Diego. Large cities and dense urban areas have higher rates of motorcycle theft than other areas.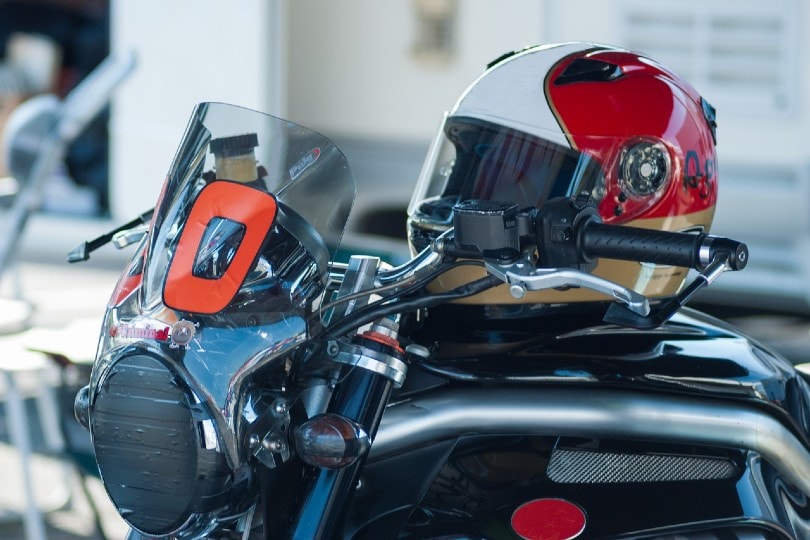 ---
6.

South Carolina has the highest rate of motorcycle theft per capita, with 14.7 per 1,000.
(Value Penguin)
South Carolina might not rank the highest in terms of raw motorcycle theft numbers, but it does rank the highest in terms of thefts per capita. The rate of 14.7 motorcycles stolen per 1000 registrations is the highest in the nation. The second highest state was Nevada, with 11 thefts per 1,000 registrations, with most of the stolen bikes concentrated in and around Las Vegas. Texas came in third with just 9.4 thefts per 1,000. That means that South Carolina has 5 more bikes per 1,000 stolen than the third worst state in the nation in terms of per capita motorcycle thefts.
---
7.

Vermont had the fewest number of motorcycle thefts, with just 14 total reported.
(Statista [2])
If you are looking for a safe place to stash your motorcycle, you might want to consider Vermont. Vermont had the lowest number of motorcycles stolen in the nation in 2020. In fact, the entire northeast had very few motorcycle thefts. Vermont, Maine, and New Hampshire all ranked towards the bottom of the list for states with the most motorcycle thefts reported. The cold environment, ample snowfall totals, and low population density make motorcycle thefts scarce in these states.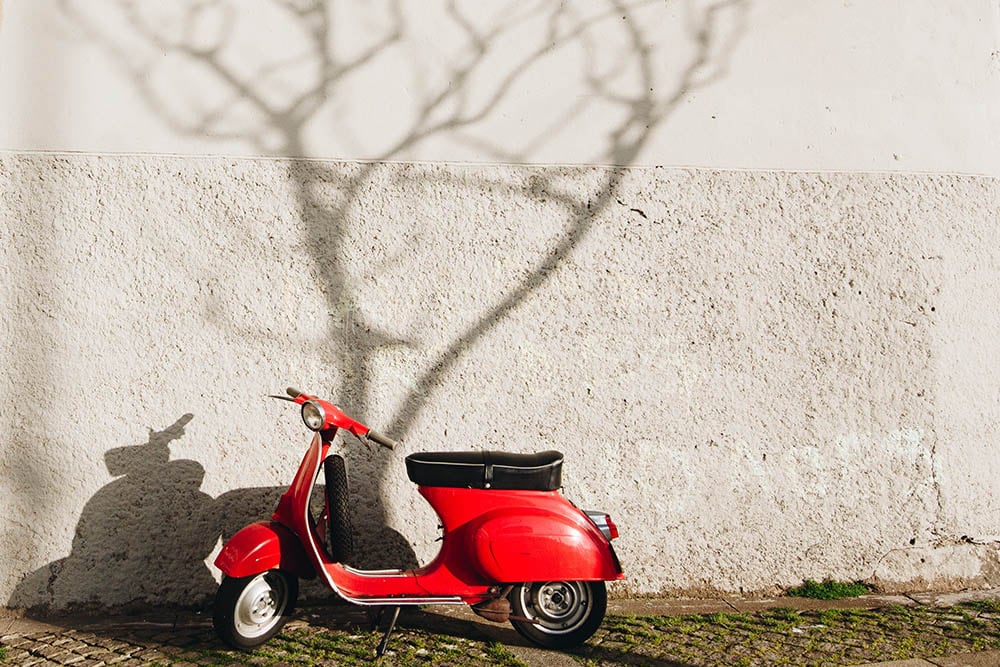 ---
8.

New York City has the highest number of motorcycle thefts per year, with nearly 1,200.
(Statista [3])
New York City ranked the highest in terms of the raw number of motorcycles stolen in 2019. According to crime statistics, New York City saw 1,995 motorcycles stolen in 2019 alone. This is not surprising given the fact that New York City is the largest city in the United States and one of the most densely populated cities in the world. Motorcycles are more often stolen in high density urban areas than anywhere else.
---
9.

San Diego has the second highest number of motorcycle thefts per year, with close to 800.
(Statista [3])
San Diego is a surprising entry on this list. Unlike New York City, which is the largest city in the United States, San Diego is relatively small. San Diego is only the eighth largest city in the United States, but it punches far above its weight in terms of motorcycles stolen. There are a couple of reasons why this is the case. First, San Diego has a large motorcycle population. San Diego's large military population skews towards motorcycle ownership. San Diego also has ideal weather for motorcyclists and is the second largest city in California which has the highest number of motorcycle registrations in the United States.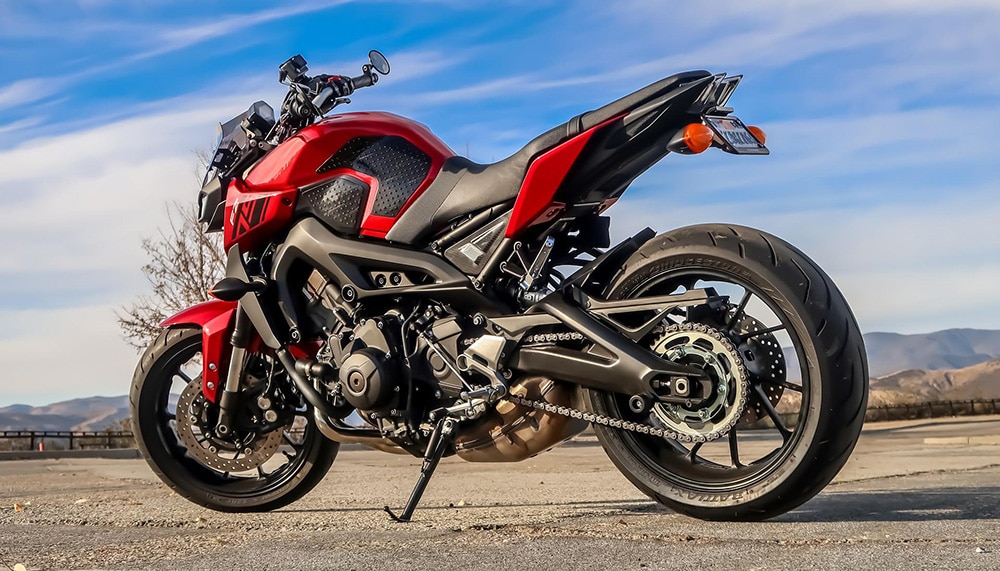 US Motorcycle Theft Trends
10.

Honda has the highest number of thefts by brand, followed by Yamaha.
(NICB Motorcycle Recovery Report)
Honda accounted for a large majority of motorcycles stolen in the United States. According to data accumulated by NICB, there were 8,260 Honda motorcycles stolen in 2018. Yamaha came in second with 6,600 bikes stolen. Honda takes home the prize for the most stolen brand despite being in second in market share behind Harley Davidson. In fact, Harley Davidson only comes in fifth for most bikes stolen per year despite having the largest American market share for motorcycles.
---
11.

Most motorcycle thefts take place over a three-month span running between July and September.
(NICB Motorcycle Recovery Report)
Motorcycle thefts spike during the summer months. June, July, August, and September each account for roughly 10% of annual motorcycle thefts. That means that roughly 40% of motorcycles are stolen during the summer season. Motorcycle thefts drop sharply in the winter, with winter months each accounting for just 5% of thefts. Crime in the summer is generally higher than it is in the winter, but summer weather is also more conducive to motorcycle riding.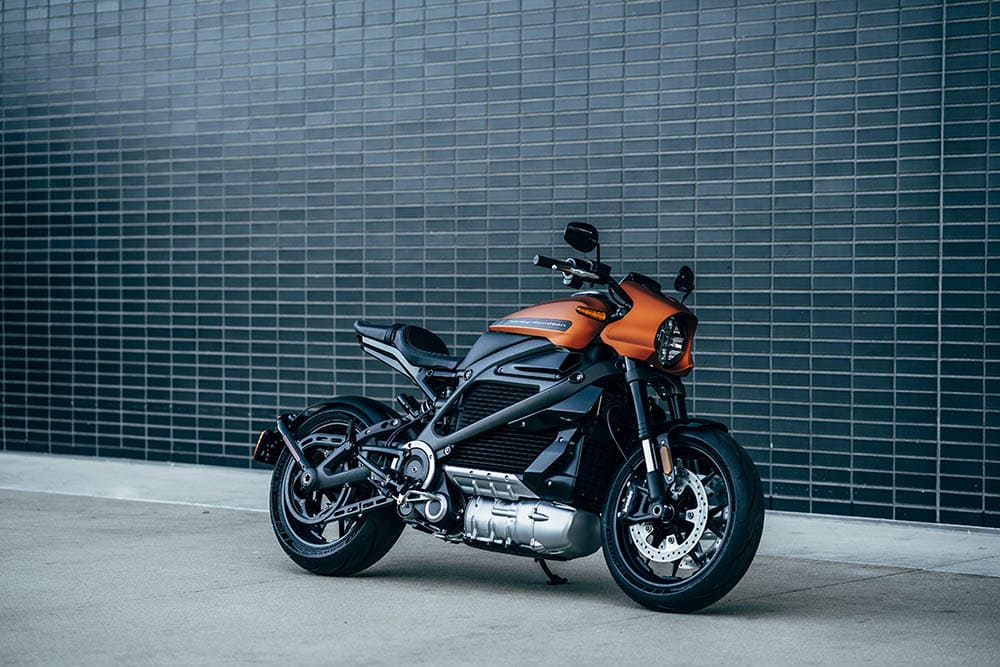 ---
12.

Motorcycles are stolen 15x less than cars.
(Carsurance)
In terms of raw numbers, cars are stolen far more often than motorcycles. The United States reports roughly 800,000 automobile thefts annually, while only 53,111 motorcycles were reported stolen in 2020. However, the percentage of motorcycles stolen is actually higher than cars. According to the most recent data, 0.06% of motorcycles are stolen, and just 0.02% of registered cars are stolen on an annual basis. Despite the relatively large number of cars stolen every year, stolen cars are more likely to be recovered for the owner.
---
13.

Less than half of motorcycles reported stolen are recovered.
(NICB Motorcycle Recovery Report)
If a motorcycle is stolen, there is a low chance of recovering it. Despite the best efforts of law enforcement, stolen motorcycles are only recovered 46% of the time. That means that more than half of all stolen motorcycles are never found. That number is much lower than car thefts. The rate of recovery for stolen automobiles runs between 60% and 70% on average. That means that you have a much better chance of getting your car back if it is stolen than you do a motorcycle.

Frequently Asked Questions
What Style of Motorcycle Is Most Often Stolen?
Street and sports bikes are the most commonly stolen styles of motorcycles. Thieves target these styles specifically for their speed, parts, and clout. Motorcycles that are stolen less often include cruisers, choppers, and scooters. These trends can be seen in the brands of motorcycles that are stolen the most. Hondas are stolen the most, and Honda only makes street bikes and dirt bikes. Harley Davidson is the fifth most stolen brand of motorcycle, and they primarily make cruisers and choppers. Harley Davidson comes in behind Honda, Suzuki, Kawasaki, and Yamaha, which are all primarily street bike manufacturers.
How Can I Prevent Motorcycle Theft?
There are a few things you can do to prevent motorcycle theft. First, you should always strive to park your motorcycle in a well-lit and well-populated area. Never leave your key in your ignition or in your bike's bags. Try to keep important documents such as the title and registration at home in a secure location and only keep digital copies on your person when riding.
You can also purchase aftermarket anti-theft devices such as ignition locks, handlebar locks, and GPS trackers that will prevent your bike from being taken or lost.
Does Insurance Cover Motorcycle Theft?
Some comprehensive motorcycle insurance coverage will cover the theft of your vehicle, but it is not a standard option. Comprehensive coverage that includes theft is an additional addon to a base insurance policy. If you are curious about your individual policy, you can look at the details or call your insurance company. Even comprehensive coverage will usually only pay out the bluebook value of the motorcycle after you pay the deductible.
If you do not have comprehensive motorcycle insurance coverage, then theft will not be covered by your insurance.
Where Do Stolen Motorcycles Go?
Investigators say that the majority of motorcycles are stolen for parts. Most motorcycles are stolen, taken to a garage, and stripped down for parts. After the motorcycles are stripped, the parts are then repackaged and sold. Some stolen parts even get resold on legitimate e-commerce websites. The high rate of stripping motorcycles down for parts contributes to why so few motorcycles are recovered after they are stolen.

Conclusion
Motorcycle thefts are on the rise in the United States. 2020 saw a massive spike in thefts marking a trend that experts expect to continue for the next few years. Thousands of bikes are reported stolen every year, and less than half of them are recovered, marking a troubling trend plaguing bike owners and law enforcement. Hopefully, the trends will start pointing in a better direction as the most recent data is compiled and published. In the meantime, it is a good idea to insure your bike against theft and to take all of the most prudent anti-theft measures you can for your motorcycle.
---
Featured Image Credit: chalermphon_tiam, Shutterstock