Nissan Titan vs. Toyota Tundra: Which One's Best for Me?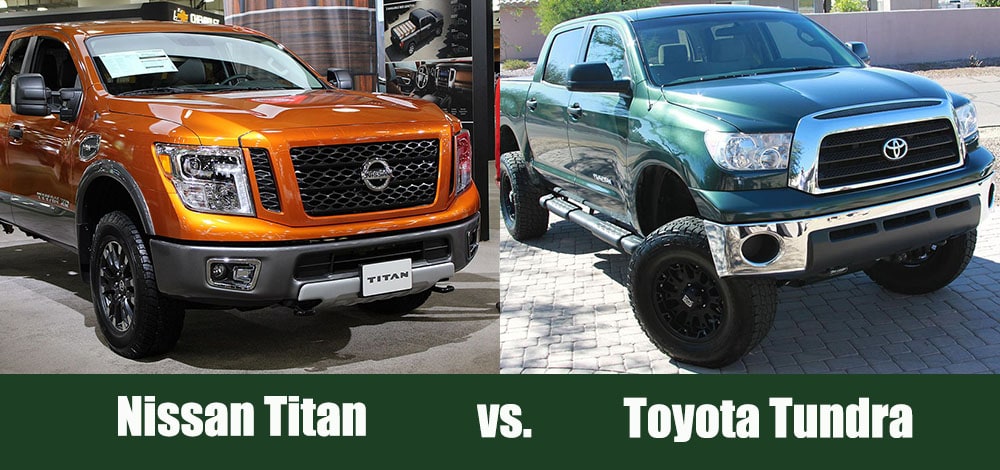 The Nissan Titan and Toyota Tundra are obvious competitors. They are both full-sized pickup trucks that are made by major car companies. Both cars are made in the United States, though the companies that make them are Japanese. Both hold the same amount of people and are practically the same size, though the Titan is slightly shorter.
The Toyota Tundra is quite a bit older than the Nissan Titan. Therefore, it does look a bit old on many design points. However, it still has a nicer interior and you can choose to upgrade to a more powerful engine. It is also a bit more dependable and has a much higher towing capacity if you get an upgraded version.
On the other hand, the Nissan Titan has a more powerful engine that is completely standard. It also drives and rides nicer. Some people may prefer the shorter design, which makes it a bit easier to park in a pinch.

At a Glance
Nissan Titan
15 City/20 HWY MPG
5–6 seats
400-hp, 5.6-liter, 8 Cylinder engine
9-Speed Automatic
Four Wheel Drive
400 HP
9,210–9,400 towing capacity
Toyota Tundra
17 City/22 HWY MPG
5 seats
348-hp, 3.5-liter, V6 Cylinder engine or 389-hp, 3.5-liter, V6 Cylinder engine
10-Speed Automatic
Four Wheel Drive
348-389 HP
8,300–12,000 towing capacity
---
Overview of Nissan Titan: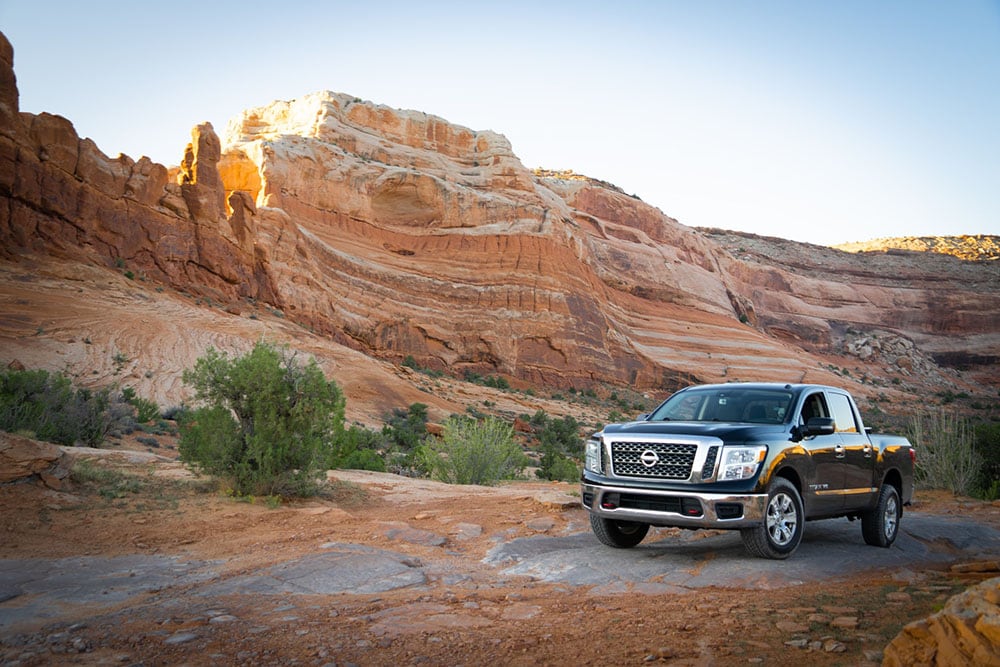 The Nissan Titan is not the most popular pickup truck in America by any means. However, it is still popular enough to be seen driving around on the roads. Many who do not choose an American truck may instead go for the Nissan Titan.
With that said, the Titan is not about towing capacity, which is a feature it is sorely lacking on. It also has an extremely limited configuration with few upgrades. For the most part, it only really comes in one configuration.
Luckily, it is packed with a powerful 400-hp engine and an expected 9-speed automatic transmission. It produces a pleasant driving experience that is well-rated by many drivers. However, it is not very fuel-efficient, which makes it a poor daily driver.
Pros
Smooth and compelling ride
Comfortable cabin
Many new technology features as a default
Cons
Low towing capacity
Poor fuel efficiency
Not as good as other domestic rivals

Overview of Toyota Tundra: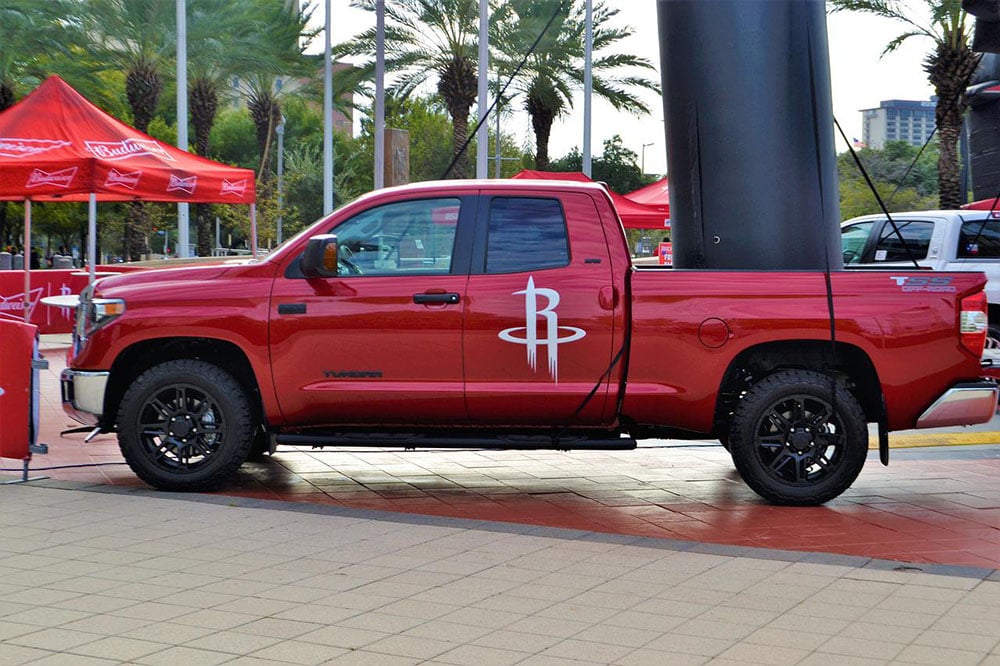 The Toyota Tundra was recently revamped to better compete with domestic rivals. It seems to be designed specifically for those that are loyal to Toyota.
The drive in the Tundra is a bit nicer thanks to the coil springs. It isn't as nearly as rigid as other options out there. However, it can still tow up to 12,000 pounds when necessary, making it a solid option for those that need to get work done.
It does not come with a V8 engine—unlike practically every other full-sized pickup on the market. Instead, it just features a V6. However, it still produces 437 HP at the highest upgrade, so it isn't all bad.
Furthermore, the cabin has gotten a nice upgrade, and it currently has a 14-inch touchscreen. It may not be the best and nicest pickup truck out there, but it has plenty of features to compete on the market.
Pros
Refined rear suspension
Longer bed available
Nice interior
Cons
Limited engine options
Fewer technology upgrades

What are the Differences Between Them?
Engine and Performance
Edge: Tie
Honestly, neither of these trucks is winning any awards based on their engine and performance. The Tundra is only available with a V6 engine. It produces a varying amount of HP depending on the exact engine you purchase. Its rear spring design does give it a nice ride, though. It has decent handling characteristics, for instance.
However, the Nissan Titan features a 400 HP V8 motor as the default. Still, as is the case with most pickup trucks, it sacrifices comfort for ruggedness and capabilities. It may have a stronger engine on paper, but the ride is not nearly as smooth.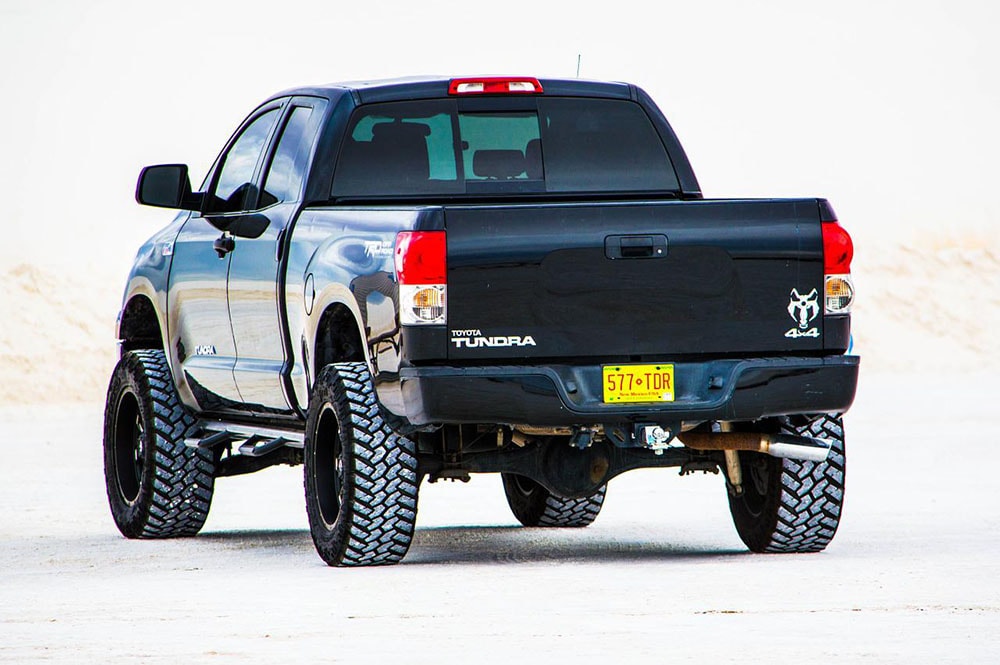 Towing Capacity
Edge: Tundra
The Toyota Tundra has the biggest towing capacity at 12,000 pounds. However, that is still lower than many similarly-sized trucks. On the other hand, the Nissan Titan is 9,660 pounds. While this is lower than most, it is still plenty for most owners out there.
Fuel Economy
Edge: Tundra
The EPA has estimated that the Nissan Titan earns on average 21 MPG when on the highway and a smaller 16 MPG when in the city. On the other hand, you can achieve 20 MPG in the city and 24 MPG on the highway with the Tundra—assuming you purchase the upgraded model.
However, even if you don't have the upgraded version, the Tundra is still better rated.
Interior
Edge: Tie
The Tundra's interior differs depending on the trim model. It has a chunky dashboard that features a digital screen. The screen does get bigger depending on the model. Overall, the new Toyota Tundra is much nicer than the old version, especially in terms of material.
On the other hand, the Nissan Titan has an extremely serene cabin. The seats are known to be some of the most comfortable around. However, the rest of the interior is mostly made out of plastic and there isn't much legroom, either.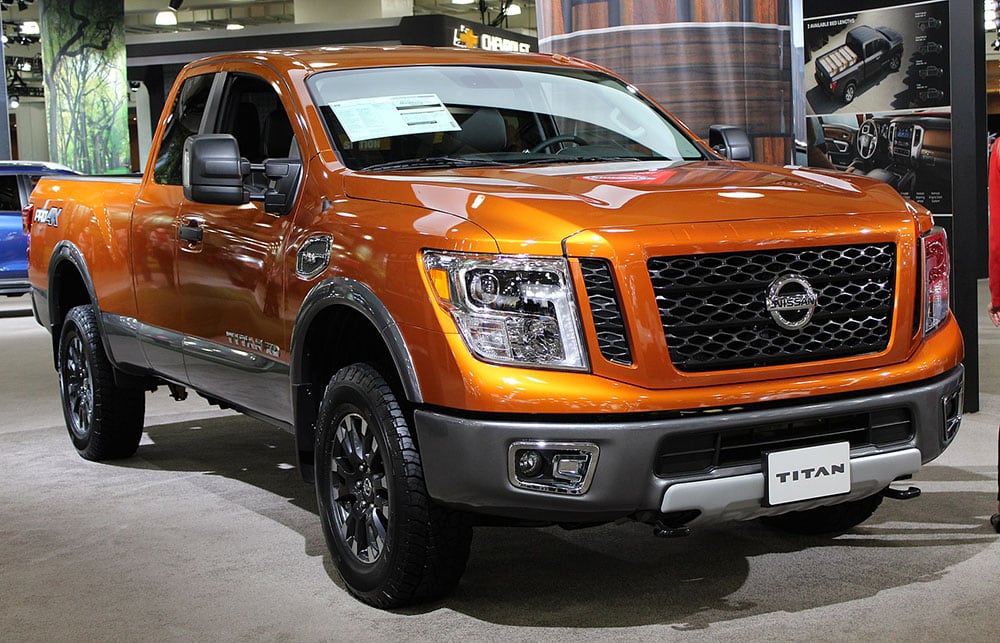 What the Users Say
The Toyota Tundra has moderately positive reviews. It is a cheaper truck compared to many of its rivals, and most users consider it to be a good value. Therefore, it may fit the needs of a budget truck buyer, but it doesn't exactly compete with the RAM or other full-sized trucks out there. However, it also ranks pretty low in fuel economy, so you may end up spending more in the long run.
The Toyota Tundra is very similar to what it was in 2007, so if you've owned or looked at a Toyota Tundra since then, you already have a pretty good idea of what the truck looks like and how it functions. The newer trucks are just spin-offs of the same concept.
Customers had similar complaints about the Nissan Titan. Its MPG isn't great, especially compared to some of the domestic trucks. Plus, it isn't anything revolutionary. Customers did like the look, and all the parts seem to hold up well. There were some complaints about the brakes, but nothing serious.
Overall, the Nissan Titan has pretty average reviews. There is nothing particularly exciting about it, but it is a dependable work truck in most situations.
However, overall, the Tundra did rank just slightly higher than the Titan.

Conclusion
Neither of these trucks is expected to win any awards. While they are dependable, they are mostly suitable for those looking for a budget option.
With that said, we would rank the Toyota Tundra slightly higher than the Nissan Titan. The interior of the Tundra is just a bit nicer with less plastic. It also features a crew cab with a slightly longer bed as an option. The rear suspension is also very nice, which adds to the enjoyable ride.
On the other hand, the Nissan Titan has a lower towing capacity and comes in very few configurations. There are not many opportunities to adjust the truck to fit your needs. It also has fewer features overall, which makes it easily overshadowed by other trucks.
While we would generally recommend a RAM or similar truck over either of these, if you're stuck between them, get the Toyota Tundra.
---
Featured Image Credit: (Left) 2019 Nissan Titan XD Pro4X front NYIAS 2019 | Image Credit: Kevauto, Wikimedia Commons CC-BY SA 4.0; (Right) Image Credit: islandborn, Pixabay