2023 Ford Explorer vs. Toyota Highlander: Which One Is Best For Me?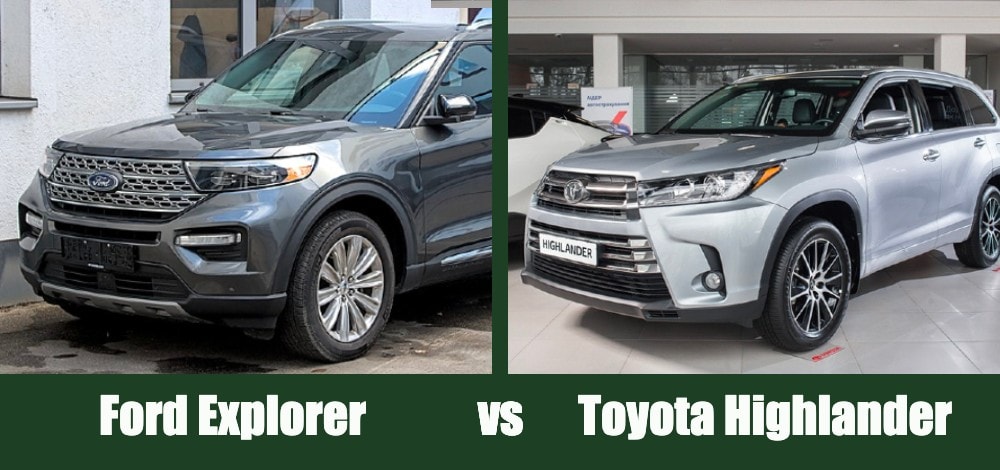 Large SUVs have made a serious comeback in recent years. According to consumer data collected by the EPA, the percentage of sales of trucks and SUVs rose from 49% in 2012 to 77% in 2021. With so much attention being paid to large vehicles, it is no wonder that the 2022 Ford Explorer and 2022 Toyota Highlander are being considered more than ever before.
Both of these SUVs are full-sized, three-row machines designed to hold a whole family and their personal belongings. The Ford Explorer is a little bigger and rides a little higher than the Highlander. But the Toyota has better options and features and gets slightly better gas mileage out of a beefier engine.
If you are looking for the roomiest SUV possible for your busy family, you will probably want to check out the 2022 Explorer. If you are more concerned with safety options and value out of a large SUV with a great track record you will probably want to look into the Highlander.
Both of these SUVs are extremely popular, very roomy, and safe. You likely won't go wrong with either. But here is a breakdown of all of the features, specs, customer feedback, and comparisons between the Explorer and the Highlander. This information will allow you to make the best decision for yourself and your family.

At a Glance
Let's look at the key points of each product.
2022 Ford Explorer
Base Price (MSRP): $33,745
Fuel Mileage: 20 city / 28 highway
Cargo Volume: 18.2 cubic feet
Passenger Volume: 152.7 cubic feet
Horsepower: 300
Base Engine: 2.3L Intercooled Turbo Premium Unleaded I-4
2022 Toyota Highlander
Base Price (MSRP): $35,405
Fuel Mileage: 21 city / 29 highway
Cargo Volume: 16 cubic feet
Passenger Volume: 141.3 cubic feet
Horsepower: 295
Base Engine: 3.5L Gasoline V6

Overview of 2023 Ford Explorer:
The 2022 Ford Explorer is the continuation of one of Ford's most popular models of SUVs ever. The latest edition of the Explorer doesn't rock the boat but returns a solid product that Ford fans will instantly recognize. The Explorer can comfortably seat seven passengers and has a stellar safety rating making it the perfect family SUV. The base model is available for a reasonable price that beats out a lot of competitors. Most people know what to expect out of a basic Ford Explorer and that is exactly what you get here. The 2022 Explorer looks good, especially if you are a fan of the newer designs that Ford has produced over the last couple of years.
The downside is that the Explorer's base engine leaves a lot to be desired. It professes to be able to tow 5000 pounds, but the car often feels sluggish and stiff when it is fully loaded. The 2.3L 4-cylinder engine feels underpowered for a vehicle of this size, especially when the car is full and trying to get up to speed. This small engine also has so-so gas mileage that is not going to impress anyone. While the base model is priced fairly, the standard features and interior finishes at this level leave a lot to be desired. The base model Ford Explorer feels like a base model and that is not a good thing.
Overall, the Explorer is a solid SUV that is large and roomy. It will comfortably seat a family of seven and keep them safe while doing so. It does not rock the boat, but it is not flashy and it doesn't come with any frills. But that is exactly what some people are looking for.
Pros
Familiar Ford design
Lots of cargo space
Feels spacious inside
Cons
Undersized engine
Lackluster gas mileage

Overview of 2023 Toyota Highlander:
The 2022 Toyota Highlander is one of the most popular full-size SUVs on the road today and for good reason. Toyota has packed this car full of standard features and appreciable upgrades. Driver assistance technology comes standard in all models. The base engine is a V6 which most people charge extra for nowadays. The car is decently spacious and is a great fit for families of all sizes.
The back row is pretty squeezy and won't be good for much other than having kids climb back there. The interior size and cargo capacity are slightly less than its competitors. What it loses in interior space it picks up in gas mileage and performance, both of which are above average. But despite having good performance out of the V6, the handling and feel of the car behind the wheel are a little sluggish. You won't be putting down any pace laps in this SUV.
Overall, Toyota has come back with another top-rated ride that is going to attract a lot of attention from parents looking for a bigger and safer car for their family.
Pros
Great standard features
V6 engine
Decent gas mileage
Cons
Small third row
Stiff handling

How Do They Compare In Key Areas?
Performance
Edge: Toyota Highlander
Toyota's Highlander takes the edge in performance for a couple of reasons. First, Toyota ships with a standard V6 engine onboard rather than Ford's I-4 engine. For a car of this size and weight, you are going to appreciate the larger engine in the Highlander. At first glance, it looks like these two SUVs might have similar performance values, but that is not the case. The Toyota's 3.5L engine gives you a lot more punch than the measly 2.3L I-4 in the Explorer. While both claim to be able to tow 5,000 pounds, the Toyota is going to feel a lot better towing with the V6 than the Ford is. The Explorer has options to upgrade the engine above the base model, but the larger engines come with a hefty price upgrade.
Price
Edge: Toyota Highlander
Ford has a slight edge in price at the base model edging out the Highlander by about $2,000. However, that edge quickly evaporates once you start digging into the options and upgrades. An upgraded Toyota Highlander can be found for around $40k, including the hybrid model. The Ford Explorer's upper-tier models quickly blow past $40k into the mid and upper 40s. The Explorer Hybrid starts at $50k, which is a full $10k more than the Highlander Hybrid. The Explorer Hybrid's price tag is the highest in its class, according to US News. If you are looking solely at the base models, you can get a good deal on a Ford Explorer but if you want to look at any models or trim packages above base you are going to get a better deal on a Toyota Highlander in almost every facet.
Safety
Edge: Tie
The good news is that in terms of safety, both the Ford Explorer and the Toyota Highlander receive top safety marks from IIHS. Each vehicle received the top rating of Good in every major crashworthiness test performed by IIHS. Perhaps it is not so surprising since both the Explorer and Highlander are similar in size and shape, but it is comforting to know that these vehicles, oriented for families, are as safe as can be. If safety is a top priority for you, you can't go wrong with either one of these two SUVs.
Size
Edge: Ford Explorer
If you are looking for a roomy SUV that can comfortably seat seven people, the Explorer edges out the Highlander. The Explorer has two extra cubic feet of cargo space behind the third row, which is an extra bag, more groceries, or sports equipment that can fit. The Explorer also has a roomier cabin than the Highlander. The Explorer has 11 additional cubic feet of passenger volume over the Highlander, which means they didn't sacrifice cabin comfort for cargo volume. The Explorer is simply bigger, it is roomier and it fits more stuff than the Highlander.
Fuel Efficiency
Edge: Toyota Highlander
The base models of these two vehicles have very similar expected miles per gallon. The Highlander edges out the base model Explorer by a single mile per gallon. Where the two models start to diverge is in their options. The Ford Explorer gets mired in its 20/28 MPG split at every level of trim. Even the hybrid model barely raises the expected fuel efficiency, which is extremely disappointing. The Toyota Highlander Hybrid boosts fuel efficiency to 35 miles per gallon. The starting edge plus the huge boost that the Highlander Hybrid has over the Explorer Hybrid gives Toyota the edge on fuel efficiency.

What Drivers Say
Let's take a closer look at what experienced car users have to say about these two rides.
Ford Explorer
Drivers often praise the Explorer's trunk space. This SUV can fit a lot of stuff which is perfect for busy families. The car rarely feels cramped and it gives a smooth ride. Many people like how high the Explorer sits and they said the vantage point gives them a great view of the road.
Some of the most common complaints stem from the third-row seating. Adults say the back row is too small to comfortably fit fully-grown people. That shouldn't be a concern for most but if you are thinking about toting around seven adults in your Explorer the back row is not going to be popular.
Toyota Highlander
Buyers like how many features come standard on the 2022 Toyota Highlander. Many driver assistance features and interior trim upgrades come included in the base price which is greatly appreciated. The car looks great and is easy to get in and out of. A lot of people were also enticed by the hybrid option which greatly improved the gas mileage and was available for a reasonable price.
However, everyone seems to find the Highlander stiff to drive. The handling is tight. The Highlander doesn't have a lot of zip to it. It feels flat on the highway. Driving enthusiasts will easily get frustrated behind the wheel of the Highlander.
Related Read: 2022 Ford Ranger vs. Toyota Tacoma: Which One's Best For Me?

Conclusion
Any family is going to love the look and feel of either the Explorer or the Highlander. Families looking for the biggest SUV for the lowest price will find something to love in the base model Explorer. Eco-conscious families who want to pay a little more will love the performance that the optional Highlander Hybrid offers them. These are two of the best large SUVs on the market today that are heavily geared towards families and both would be a great option under certain circumstances.
---
Featured Image Credit: (Left) Ford Explorer (sixth generation), Alexander Migl, Wikimedia Commons CC SA 4.0 International (Right) BONDART PHOTOGRAPHY, Shutterstock