Toyota Tundra vs Ford F150: Pros, Cons & Differences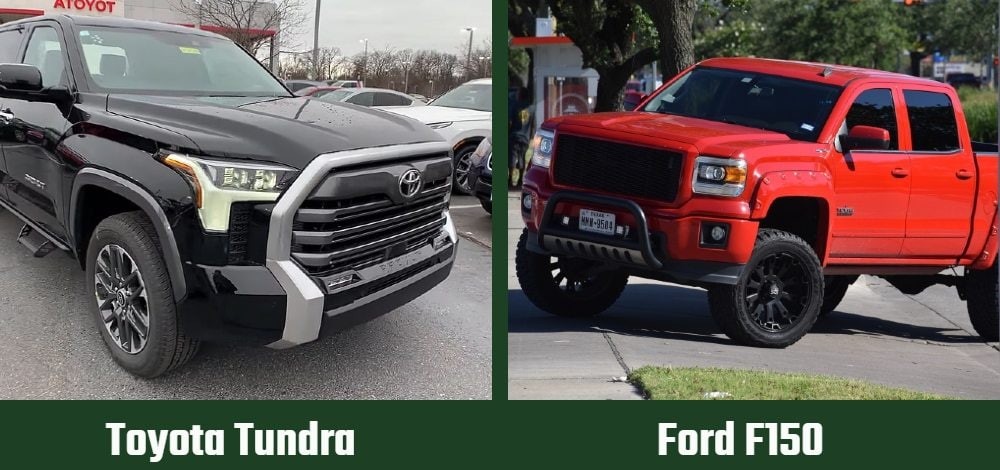 Are you deciding between purchasing the Toyota Tundra or the Ford F150? As with any major car purchase, you want to know which one is the best for you.
If you appreciate raw power and a wide selection of engines, the Ford F150 will be the obvious choice. With it, you get to choose between six different motors, while Tundra only offers two. On top of that, F150 puts out more HP (450 vs. 437 max), which makes it the better pick in terms of the powertrain. This truck has a higher towing capacity too (14K vs. 12K), meaning it can tow heavier cargo. However, the Tundra has more pound-feet of torque.
That equals faster acceleration and better performance on steep climbs, thanks to higher low-RPM HP. Both vehicles are available in 4WD and RWD and come packed with 10-speed automatic transmissions. F150 is more fuel-efficient, though, and not just by a mile or two. With 26 MPG city/highway, it easily beats Tundra's 18 MPG city/23 highway estimate. So, if efficiency is your top priority, Ford has got you covered. On the road, Tundra feels more controlled due to the refined ride quality.
It also boasts a higher reliability score compared to F150. Therefore, you should go with Tundra if you put security/durability first. On the inside, the F150 is cozier and more comfortable, but Toyota's full-size truck's infotainment system is slightly better. The same is true for the technological features. Last but not least Toyota Tundra's premium tiers are cheaper than the F150.
Read on to learn more about these two trucks models to help you make the final decision.

At a Glance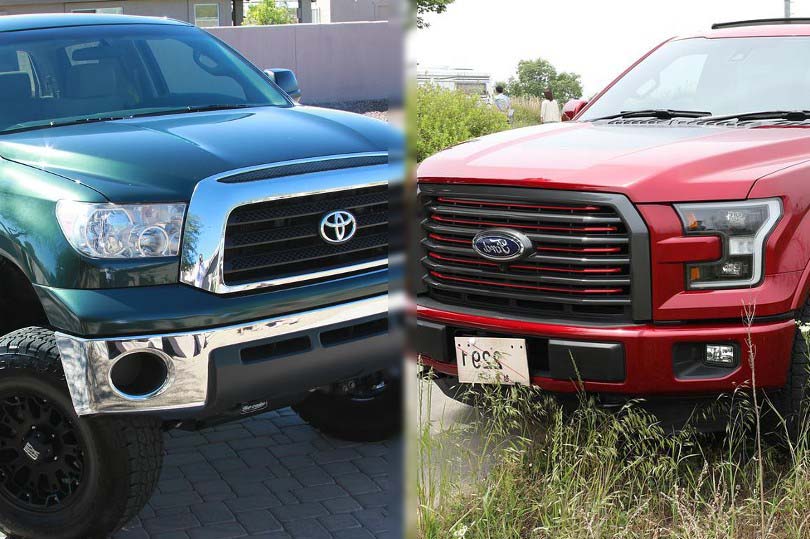 Let's look at the key points of each product.
Toyota Tundra
Powertrain: 389–437 HP, 405–583 pound-feet of torque
Drivetrain: 4WD, RWD
Transmission: 10-speed automatic
Fuel Economy: 18 MPG city/23 highway
Towing Capacity: 12K pounds
Seating: 5
Ford F150
Powertrain: 290–450 HP, 265–570 pound-feet of torque
Drivetrain: 4WD, RWD
Transmission: 10-speed automatic
Fuel Economy: 16-26 MPG city/20-26 highway
Towing Capacity: 14K pounds
Seating: 3–6

Overview of Toyota Tundra: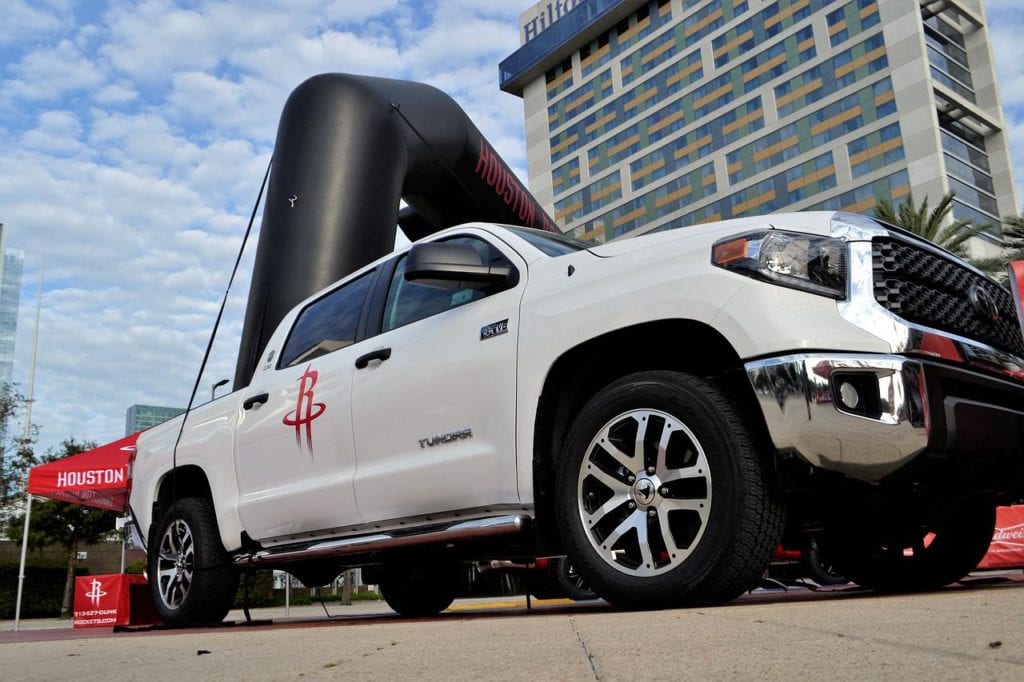 Tundra is one of the very few pickup trucks to compete with US-based brands like Chevy, Dodge, and Ford. A reliable and long-lasting truck, it boasts premium ride quality, a decent powertrain, and has lots of techy and safety features. Take a closer look.
Refined Ride Quality, But with a Caveat
Fully redesigned for 2022, Tundra offers a comfortable ride and easily handles highways, city streets, and off-roading terrain. The composed ride quality is backed by refined handling—great news if this is your first-ever truck. Responsive steering, a reliable suspension, and little to no body roll make it one of the best full-size trucks to drive. Trail-backing isn't its strongest suit, though: it's nowhere near as helpful as Ford's Trailer Backup Assist system.
Advanced Dashboard and Techy Features
The built-in infotainment system is very intuitive, user-friendly, and easy to navigate. Every single knob and button is within reach. As for the touchscreen, it's quick to respond. Voice controls are a part of the deal as well. Even the entry-level trims come packed with an 8-inch display, a 6-speaker stereo unit, climate control, and more.
Fast Acceleration + High HP At Low RPMs
Do you like to do some camping and off-roading on the weekends? Then go with Tundra. Packing 583 pound-feet of torque, it delivers above-average HP at lower RPMs. That means faster acceleration and stronger performance on rough terrain. The 10-speed automatic transmission, in turn, delivers timely shifts—also very important in off-roading.
Reliable, Yet Not Very Upscale
Tundra has a predicted reliability score of 86/100, which is classified as "Great" by J.D. Power. It's quite a durable truck, too, with a long list of standard safety features. These include forward-collision warning, automatic emergency braking, lane keep/tracing assist, departure warning, and more. Sadly, Tundra isn't particularly cozy. The plastic in the basic trims is cheap, and while the seats are comfortable, they're not a match for the F150.
Pros
Smooth, controlled ride quality
Premium infotainment system
Easily handles steep inclines
Reliable and durable
Cons
The interior could use some work
Lackluster trailer-backing system

Overview of Ford F150: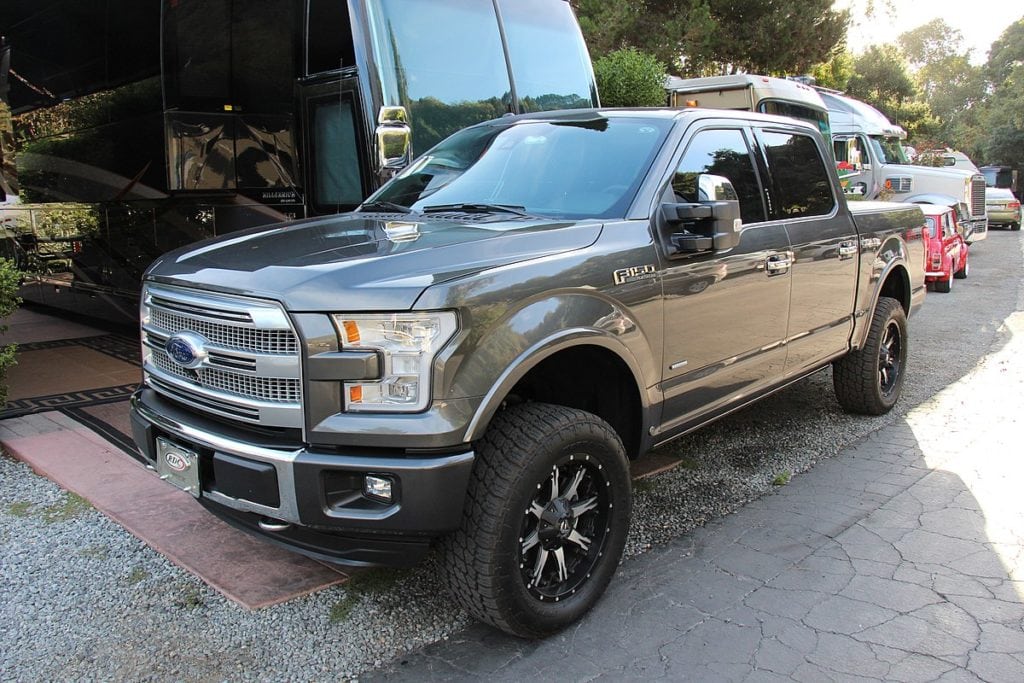 The F150 needs no introduction. First revealed back in 1975, it's been one of the best-selling vehicles in the States for almost 50 years. The 2022 edition has a generous selection of engines, a comfortable interior (for a truck), and solid towing capabilities. Plus, it's quite fuel-efficient.
Lots of Powertrain Options, But Not Very Cheap
The grand staple of engines is the biggest selling point of the F150 truck. It's available with six different powertrains, and they're all up to the task. You have naturally-aspired and twin-turbocharged V6s, a mighty V8, and even a hybrid system. Every single motor is paired up with a 10-speed automatic transmission (yes, just like Tundra). Unfortunately, while the basic tiers and engines are affordable, the top trim levels are somewhat pricey.
Solid Fuel Economy for a Full-Size Truck
How good is the F150 at fuel economy? It's pretty great! As mentioned, it comes in at 16–26 MPG city/20–26 highway (the exact mileage depends on the engine). If you want to get the best MPG ratio, go with the hybrid motor. The 2.7-lit EcoBoost engine is also quite efficient, while the 4WD Raptor model is the "hungriest" one (14/16 MPG).
Spacious, But Not Very Reliable
F150 is quite a spacious truck—you won't feel cramped in the seats. They're comfortable enough to drive around for many hours without any back pain. On the downside, reliability ratings are a bit low. With a total score of 77/100, it falls behind Toyota's Tundra. F150 did perform quite strongly in some of the IIHS tests, though.
14K Pounds of Towing Capacity
Another big reason to pick this truck is the towing capacity: F150 can tow 14K pounds. That means a large RV/camper van, fishing boat, and even a plain.
Pros
Six different engines to choose from
Impressive fuel efficiency for a truck
Above-average towing capacity
Spacious, comfortable interior
Cons
Poor predicted reliability scores
The top tiers are a bit expensive

How do they compare?
Real-World Performance/Powertrain
Ford is widely praised for giving drivers a generous number of powertrains to pick from. The entry-level motor is good for 290HP and 265 pound-feet of torque, while the most powerful engine—a twin-turbocharged V6—packs 450HP and 501 pound-feet of torque. More importantly, they're all very fuel-efficient. We're not saying that Tundra is a gas-guzzler, but it's not nearly as economical. Speaking of Tundra, it comes standard with a V6.
It's also a twin-turbocharged engine but with 389HP/479 torque. The hybrid powertrain, in turn, is quite impressive: 437HP and 583 pound-feet of torque. That's right—Tundra has more "oomph" than F150. This gives it an edge on rough terrain. But F150 is still the undisputed champ when it comes to the powertrain, as it has more HP, better mileage, and stronger towing/hauling capabilities.
Pricing and Warranties
Are you on a tight budget but still want to buy a brand-new truck? Then pay extra attention to Ford. The entry-level trims are significantly cheaper compared to Toyota Tundra. At the same time, the premium F150 trims are much more expensive than what Tundra has to offer. Thus, there are no obvious winners when it comes to pricing—it all depends on what you're in the market for. As for warranties, both companies offer a standard 3-year/36K-mile limited and a 5-year/60K-mile powertrain deal.
The Interior/Tech
F150 is one of the most comfortable trucks to be in. The seats are nice and wide and do a decent job supporting the driver for long hours. The lower-cost trims aren't particularly upscale, but the higher trims do offer extra layers of comfort. The materials are more than decent, and the construction quality is solid. Plus, F150 can seat up to six people. With Tundra's premium trims, you'll get to enjoy soft-touch, high-quality materials, and a comfortable rear seat.
However, none of this will be a match for the F150 interior. F150's infotainment system is very straightforward, which is a good thing. It does miss a couple of important features/options, though, and the physical controls are a bit of a setback. Still, F150 is the more preferable choice, because its interior is more comfortable, and the dashboard isn't that bad compared to Tundra.

What the Users Say
Despite COVID-19, chip shortages, and the economy, Ford managed to sell 726K F-Series units in 2021, beating the competition by a landslide. That just shows how much the US drivers love these trucks. We still took to the most popular forums and read hundreds of comments to see what people think about these trucks. With the F150, they mostly like the wide range of available engines. Others appreciate the above-average fuel economy rating.
Folks that do hauling/towing for a living point out the cozy seats. The entry-level F150 trucks are quite affordable, too, and that's another thing that Ford is praised for on dedicated forums. In contrast, the higher trim levels could've been cheaper—that's the consensus. And what about Tundra, though? While its engine line-up isn't nearly as impressive, it's still quite powerful and the drivers are happy with both options.
The fans of off-roading swear by Tundra because of its strong torque output and the ability to push through mud, snow, and rocks, and overcome steep climbs. It's also easy to drive and more reliable than F150. This is another key factor that makes truckers choose Tundra over Ford's bestseller. Summing up, F150 gets more compliments from the average American driver as it's generally a more capable truck. With that said, Tundra doesn't lag very far behind and is considered a top-5 full-size truck.

Conclusion
Looking for a fuel-efficient, powerful, and comfortable truck? Then F150 is the right investment for you. It's spacious, comfy, and tows anything up to 14K pounds. But it's not as reliable as Tundra. Toyota's truck also has more torque, despite the lower number of "horses". It goes zero-to-60MPH faster and is perfect for off-roading. Next, Tundra has a better infotainment system and a higher resale value; plus, the top tiers are cheaper.
The entry-level F150 is more affordable, however. So, if you're on a tight budget, Ford's truck will be up your alley.
---
Featured Image Credit: Left: 2022 Toyota Tundra Limited( Image Credit: Oxmoor Toyota, Wikimedia Commons CC BY 3.0) | Right: Ford F150 Pick up: Pixabay