Porter-Cable vs Ryobi: Which Power Tool Brand is Better in 2023?

Porter-Cable and Ryobi are well-known power tool manufacturers. They produce everything from hand drills to power saws and both offer lines of lithium-ion battery-powered tools.  Both brands have more than 75 years' experience, with Porter-Cable boasting a history of more than 100 years in the space. Both brands are also preferred by DIY enthusiasts thanks to the combination of reasonable power, the mobility of battery-powered devices, and reasonable prices.
While many of the products look similar and have similar features, there are differences. Below, we'll look at the different product lines, typical prices of the brands' products, and factors like warranty and reputation to determine which of the two tool manufacturers is better.

A Quick Comparison
Rating
Image
Product
Details

Porter-Cable

Established: 1906
Headquarters: Jackson
Tennessee
Product lines: Air Compressors
Drills and Drivers
Metalworking Tools
Woodworking Tools
Nailers and Staplers
Saws
Vacuums
Parent company/ major Subsidiaries: Stanley Black + Decker
CHECK PRICE

Ryobi

Established: 1943
Headquarters: Hiroshima
Japan
Product lines: Power Tools
Lawn and Garden
Benchtop Tools
Cleaning Tools
Combo Kits
Parent company/ major Subsidiaries: Techtronic Industries
CHECK PRICE

Brief History of Porter-Cable
Porter-Cable was founded by R.E. Porte, G.G. Porter, and F.E. Cable in Syracuse in 1906. The three invested in a tool shop that they ran out of a garage. In 1914, they concentrated their efforts on the manufacture of lathes, buying a manufacturing plant three years later.
It wasn't until 1926 that the group started to concentrate their efforts on the manufacture of portable power tools. Their first foray into this market was the Take-About Sander, which was an electric belt sander. This was followed by a helical drive circular saw, invented in 1929, and a design that still pervades today.
In the 1960s, the brand underwent some detrimental changes. They were bought out by Rockwell International, who moved production to Jackson, Tennessee, where the company headquarters remain today, and introduced a range of inexpensive power tools to compete with the likes of Black + Decker. The change harmed the brand's image.
In the 1980s and 1990s, the company, which had now been bought by Pentair Inc, reintroduced its commercial-grade tools and started to sell them in popular outlets and stores.
In 2004, Porter-Cable was bought out by Stanley Black + Decker. They are still headquartered in Jackson, Tennessee, but most of the manufacturing has moved out of the USA to Mexico and China.
---
Brief History of Ryobi
Founded in 1943, Ryobi started manufacturing diecast products in 1944. In the 1960s, the company started manufacturing printing presses and was listed on the Tokyo Stock Exchange. It wasn't until 1968 that the Japanese manufacturer started to produce power tools.
Ryobi Tools is licensed by Techtronic Industries of Hong Kong, along with the likes of Hoover US, Dirt Devil, Vax, and AEG. In the USA, Ryobi Tools are primarily sold via Home Depot and online. The tools are available throughout the world, including in the UK and Australia.
The company has its headquarters in Fuchu, Hiroshima, Japan and has 12 manufacturing facilities across six different countries.

Porter-Cable vs Ryobi: Manufacturing
Porter-Cable
Although Porter-Cable does have its headquarters in the USA, very little of the company's manufacturing is conducted here anymore. Some reports state that some products may still be assembled in the USA, but parts and components are manufactured in Mexico and China. Porter-Cable is owned by Stanley Black + Decker, who also make Stanley, DeWalt, and Black and Decker tools, among others, and only a very select few products from these brands are manufactured in the US.
Ryobi
Ryobi is a Japanese company, although their tools are licensed by Techtronic Industries of Hong Kong. The company headquarters are in Hiroshima, but the manufacturing arm of Techtronic Industries is in China and it seems likely that no Ryobi Tools are manufactured in the USA.
---
Porter-Cable vs Ryobi: Product Line
Porter-Cable
Porter-Cable is well-known for its production of DIY-grade power tools. If you're specifically looking for power tools, woodworking, and metalworking tools, Porter-Cable is likely the winner here.
In particular, they manufacture and sell a range of battery-operated tools. Having pioneered the portable belt sander and the helical-drive circular saw, they continue to sell these types of products today.
Power Tools
The company's power tools include those with brushless motors, as well as drills and drivers, packs that contain multiple power tools, and a host of battery-operated, wireless tools. Although Porter-Cable power tools are considered high-end commercial tools. They are well-priced, portable, and reasonably powerful, but they lack the features of high-end professional tools.
Jobsite Equipment
You will find a selection of Porter-Cable job site equipment. Cordless 20V lights enable you to start early or finish late, and they are beneficial when working in low light areas. Cordless flashlights, radios, and speakers are among some of the other heavy-duty worksite equipment.
---
Ryobi
Ryobi has a broader range of products than Porter-Cable. They are known for appliances and tools like mowers and blowers, as well as power tools. Like Porter-Cable, they have a cordless range that has proven very popular as it is portable, mobile, and convenient.
Lawn and Garden
Ryobi's lawn and garden products include every from mowers to cut the lawn, to chain saws, pole saws, and hedge trimmers to help keep the rest of the garden in check. Most of these devices are 40V models, which operate using a 4AH rechargeable battery. The batteries are interchangeable, meaning that you can swap a single battery between any of more than 50 home and garden maintenance products.
Power Tools
Similarly, Ryobi Tools portable tools use the One+ HP compact brushless motor, and all benefit from the inclusion of the 18V battery. A single battery and charger will do for your whole range of power tools. The range includes drills, sanders, saws, and more. Like Porter-Cable, Ryobi's tools are most commonly bought by homeowners and commercial users, rather than professionals.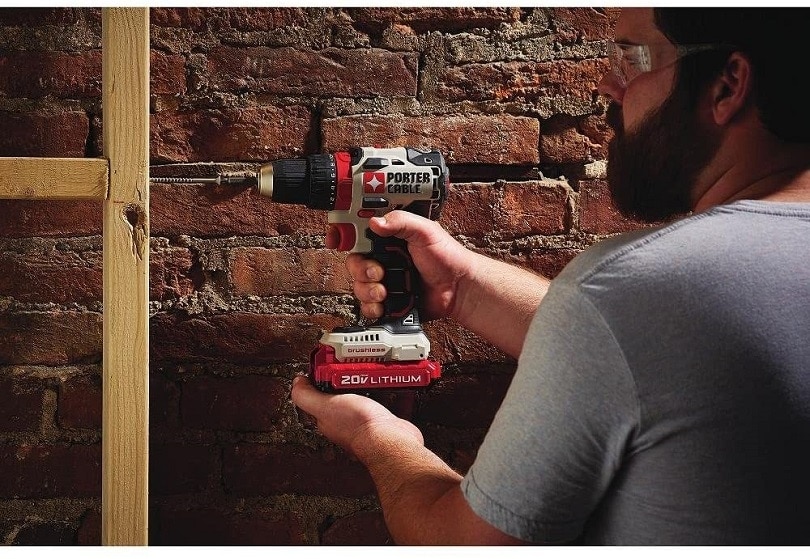 ---
Porter-Cable vs Ryobi: Warranty
The two companies are similar in a lot of respects, and it is difficult to separate the warranties that they offer, too.
Porter-Cable
Porter-Cable offers a three-year limited warranty on its tools.
Ryobi
Ryobi offers a 5-year warranty on its 40V products, but a 3-year limited warranty on its 18V One+ products. A very select range of manual tools, like hammers, do include a limited lifetime warranty but these are unusual.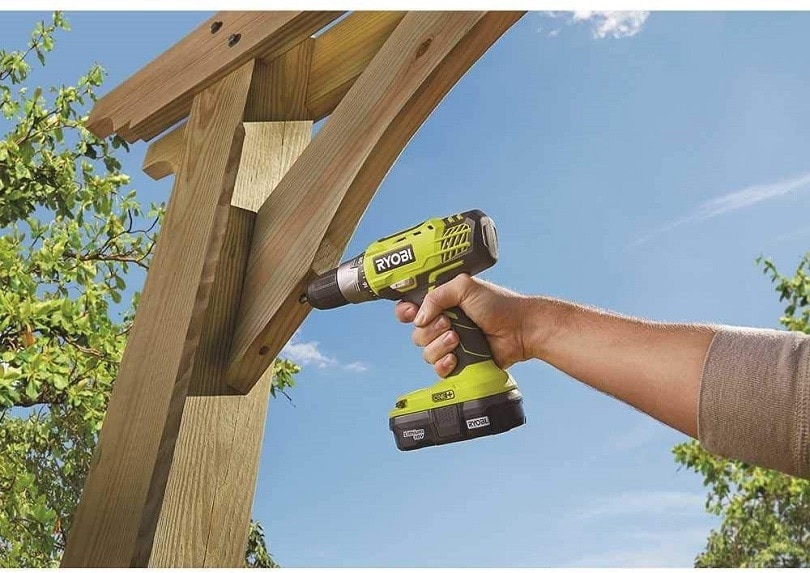 ---
Porter-Cable vs Ryobi: Customer Service
Whether your power tool breaks down, you need a replacement part for your bench saw, or you have questions about the warranty, the responsiveness of customer service can make a big difference to the overall experience with a company. Without prior experience with that brand, you can only base this on other peoples' experiences.
Porter-Cable
The brand claims to have unmatched customer service and, to be fair, there are very few complaints about Porter-Cable's customer service. They offer a customer service phone line, email address, and they have 70 factory-owned customer service centers, as well as more than 1,000 authorized repair centers across the US.
Ryobi
Ryobi also has a good reputation for its customer service. They also have a phone number and email address. They offer access to a national network of service centers, but you will need to contact the service center before visiting, to ensure that they can make the required repairs to your chosen product.

Head-to-Head:
Porter-Cable Vs Ryobi 6-Piece Combo Kits

A combo kit is a great way to bulk out your tool kit, which can be especially beneficial if you're moving to a new house or you need to replace lost or broken tools. The 20V Max 6-Tool Combo Kit from Porter-Cable includes an impact driver, hammer drill, reciprocating saw, circular saw, oscillating tool, and a flashlight. The kit includes two batteries, both of which will work with all of the tools, and a charger. You also get a decent storage bag that can be used to keep or to transport your tools. The circular saw could be bigger and the flashlight brighter, but the kit is generally well powered and each tool has its own light. The inclusion of two batteries is a good touch.
Ryobi offers a similar kit. It includes the same basic tools. There's a similar problem with the circular saw and the Ryobi includes onboard LED lighting and two batteries, as well as a big. There really is very little difference between the two kits. The light is better on the Ryobi, and its battery is compatible with more devices, which makes it the marginal winner in this competition.
Our Verdict: Ryobi 6-Piece Contractor's Kit

Head-to-Head:
Porter-Cable PCCK607LB vs Ryobi P252 Cordless Drill
The Porter-Cable PCCK607LB and the Ryobi P252 are both cordless ½ inch drills. They are roughly the same price, although the Ryobi is usually on offer at a lower price than the Porter-Cable. Both devices come with two batteries, a single charger, and storage or carry bag. The Porter-Cable has a maximum of 1,700 RPM and torque power of up to 400 inch-pounds. The Porter-Cable has a 1,800 RPM maximum RPM. It is a compact 7.4-inch design and weighs just 3.3 pounds, minimizing user fatigue and ensuring a truly portable driver.
Overall, there is little difference in power, weight, or other features of these two drivers. The Ryobi tends to work out noticeably cheaper than the Porter-Cable when offers are taken into account, and this, combined with the fact that its battery is compatible with over 100 devices, means that it is the slight winner here.
Our Verdict: Ryobi P252

Head-to-Head:
Porter-Cable vs Ryobi Cordless Oscillating Tools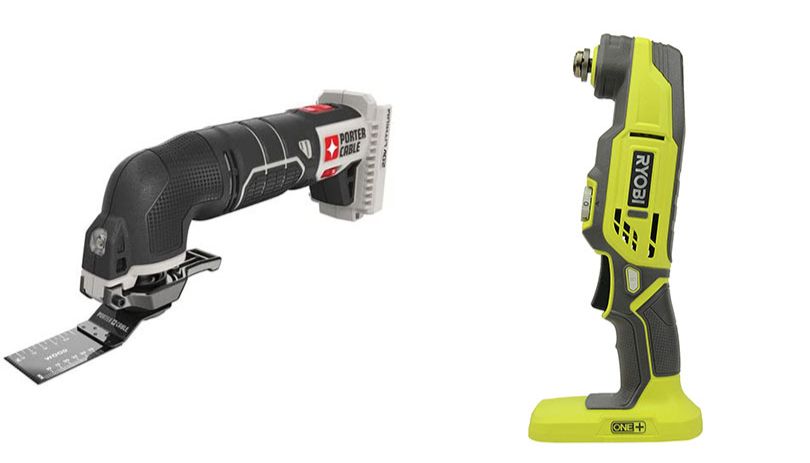 Cordless oscillating tools are mobile, convenient, and can be used for a wide range of jobs and projects. They are relatively inexpensive and they need to be lightweight and have a small form factor so that they can fit the space and the area that you need to use them. Both Ryobi and Porter-Cable offer a selection of these tools, including cordless units that are priced roughly similar and have similar features.
The 20V variable speed oscillating multi-tool from Porter-Cable offers a speed ranging from 8,000 to 18,000 OPM. It has its own work light, so is suitable for use in dimly-lit conditions. The kit also includes 2 blades, a sanding pad, and 8 pieces of sandpaper. It doesn't include the battery.
Ryobi's cordless oscillating tool includes pretty much the same tools and accessories, two blades, a sanding pad, and sandpaper. It doesn't include the battery but is one of nearly 200 tools that are compatible with Ryobi's 18V battery system. It does have a slightly higher speed, offering a maximum of 20,000 OPM, and it has an LED work light.
Our Verdict: Ryobi One+ 18V Cordless Multi-Tool

Overall Brand Reputation
Performance
Edge: Ryobi
As in all areas, this is a very close run competition, but Ryobi wins out. Most of its comparable tools offer a little extra power to its Porter-Cable counterpart. You get a little extra speed or a slightly higher maximum power, and that little bit extra can make all the difference. Ryobi also has a slightly better reputation for its tools' performance.
---
Price
Edge: Ryobi
Another very close fought battle, but Ryobi devices tend to be on offer or discounted most of the time, and this pushes them under the price of the Porter-Cable. Considering how similar the devices tend to be, this makes Ryobi the marginal winner of this category.
---
Durability
Edge: Draw
Both sets of tools have a reputation for being hard wearing and durable. Both companies offer similar three-year limited warranties, and whichever you buy, you should expect them to last for several years before you consider having to replace them.
---
Design
Edge: Ryobi
Honestly, it is difficult to tell the products apart, when you look at features and power. However, Ryobi has a wider range of products and nearly 200 products that run using the same battery system. As long as you don't have anything against the green plastic of the Ryobi aesthetic, there is really no reason to go against the Japanese manufacturer.

Conclusion
It is very difficult to find differences between the products offered by Ryobi and Porter-Cable. They have similar power, similar features, and a similar range of power tools. Ryobi does offer a broader selection and a single 18V battery can be used with a greater variety of tools, all of which will feel familiar once you have got used to the brand. They tend to be a little cheaper, too, and this gives them a very slight edge over Porter-Cable and their products.