4 Privacy Fence Ideas in 2023 You'll Love (With Pictures)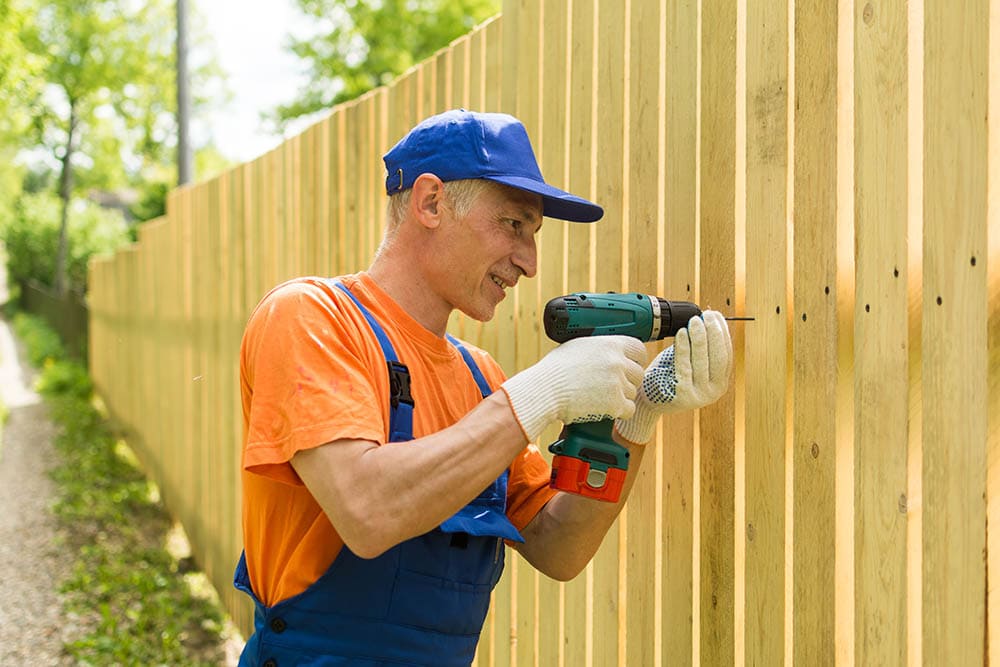 Modern privacy fences offer a wealth of innovative and appealing ideas. But with so much selection, it can be tough to decide which one is right for you and your home. Don't worry, though—we have you covered.
In this article, we'll show you some of the best privacy fence ideas for this year. From easy to intermediate, we have projects for everyone to ensure you make the best decision for your home.

The 4 Privacy Fence Ideas
1.

Horizontal Slat Fence
| | |
| --- | --- |
| Materials: | 2×4, 4×4, 1×6 boards |
| Tools: | Miter, drill, screw gun, post hole diggers, screws |
| Difficulty Level: | Easy to intermediate |
If you're looking for a relatively easy project that will give your home a lot of privacy, a horizontal slat fence is the way to go. This type of fence is made mostly from 1x6s, giving you lots of coverage without tons of lumber.
This is a fairly easy project to do by yourself, and it's a great way to keep your space safe from animals and outsiders. Difficulty level aside, however, this fence is pretty affordable compared to a lot of other options out there.
So if you're on a tight budget and a tight schedule, give this one a look. Most people can complete it in a weekend with just a few tools.
---
2.

DIY Privacy Fence
| | |
| --- | --- |
| Materials: | 4×4, 2×4, pickets, post caps (optional), stain (optional), concrete mix |
| Tools: | Kreg jig, saw, hammer, nails, drill, screws |
| Difficulty Level: | Intermediate |
This is a great option if you're looking for a little more privacy in your backyard. It's also a pretty easy fence to build if you're handy with tools. Plus, it's a great way to add some extra character to your yard.
With an intermediate difficulty level, this fence is a great option for those who are looking for a challenge. And it's a great way to add privacy to your backyard without breaking the bank.
Don't be discouraged if you don't have experience building things. With determination, you can complete this project and give your yard the protection it needs for optimal privacy.
Feel free to add post caps or leave it as-is. You can also stain your new fence or leave it bare for a more natural look.
---
3.

DIY Pallet Wood Fence
| | |
| --- | --- |
| Materials: | 4×4, 2×4, 1×1 boards, wood pallets, stain |
| Tools: | Saw, drill, screws, screw gun, nails, hammer |
| Difficulty Level: | Intermediate |
If you're looking for an eco-friendly and cost-effective privacy fence option, look no further than the humble pallet. Pallets are easy to come by and can often be repurposed for free or very cheaply. With a little elbow grease, you can turn them into a stunning privacy fence.
To build a pallet wood fence, you'll need to gather up some pallets (ideally of the same size), 4×4 posts, 2x4s for the frame, and 1x1s for the slats.
The end result is a highly effective and good-looking privacy fence that will keep your nosy neighbors and bothersome critters at bay.
---
4.

Horizontal Privacy Fence
| | |
| --- | --- |
| Materials: | 2×2, 1×2, 2×4 boards |
| Tools: | Drill, nail gun, nails |
| Difficulty Level: | Easy |
This horizontal privacy fence is a modern take on the traditional picket fence. It's made with simple 1×2 boards, which give it a clean, sleek look. The fence is attached to 2×2 posts.
This project is incredibly easy and works best as a partial privacy fence at the end of a deck or porch. However, you can extend the fence to create a full privacy fence if you desire. So if you're looking for an easy and inexpensive privacy fence option, this is it!
What's more, you don't need to be experienced in woodworking to build this fence. It's a great project for beginners and professionals alike.

DIY Privacy Fence Tips
Building a privacy fence can be a great way to keep your home and yard private from nosy neighbors or passers-by. But before you start building, there are a few things you should know about privacy fences to make sure you get the most privacy possible. Here are a few tips:
Know Your Local Ordinances
Before you start building your privacy fence, it's important to know what your local ordinances are. Some municipalities have height restrictions on fences, so be sure to check with your local building department before you start construction.
Choose the Right Materials
The type of material you use for your privacy fence will also play a role in how much privacy it provides. Solid wood fences, such as cedar or redwood, provide the most privacy, while chain link and wire fences provide the least.
Think about how high you want your fence to be. A taller fence will obviously provide more privacy than a shorter one. But a taller fence will also be more expensive and require more work to install. If privacy is your primary goal, a 6-foot tall solid wood privacy fence is a good choice.
Install It Yourself or Get Some Help?
Some of the projects featured here can be completed by one person in a weekend, while others will require the help of a friend. If you're not confident in your ability to build a privacy fence, or if you don't have the time to do it yourself, consider hiring a professional to do the job for you.
Plan Ahead
Even though the directions to these entries walk you through the process of building a privacy fence step-by-step, it's always a good idea to plan ahead before you start any construction project.
Read through the instructions completely before you begin, and make sure you have all the tools and materials you'll need on hand.
With the right approach, building a privacy fence can be a fun and rewarding weekend project. Just be sure to do your research beforehand and plan ahead, and you'll be sure to end up with a fence that provides the privacy you're looking for.

Conclusion
Privacy fences are becoming increasingly unique and innovative. Perhaps best of all, you don't have to spend a fortune to get a great privacy fence. With a little creativity and determination, you can have the privacy fence of your dreams.
Feel free to adjust these ideas to your liking if you are confident in your handyman skills. You can create a custom privacy fence that's completely unique to your space!
See also: 10 Tips on How to Clean a Wood Fence Without a Pressure Washer (Step-by-Step Guide)
---
Featured Image Credit: Khromova Anna, Shutterstock