30 DIY Plywood Projects You Can Build Today (with Pictures)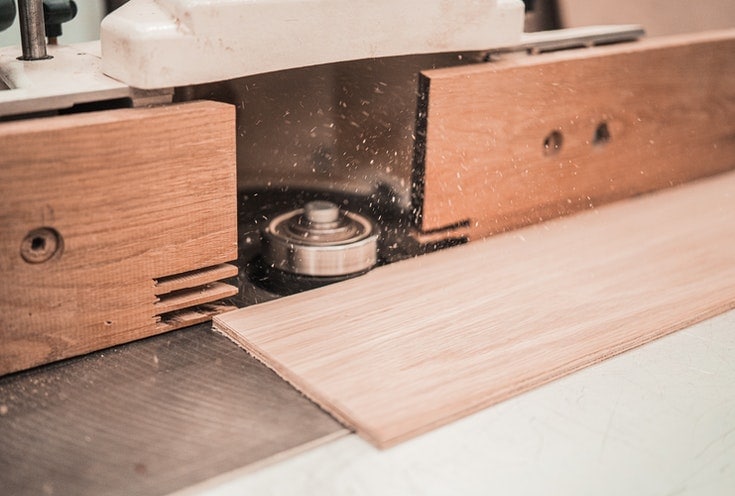 Plywood is inexpensive, readily available, and it comes in a variety of thicknesses, depths, and designs. It is used in home building, shipbuilding, and has a huge range of commercial and industrial uses. Choose your finish and style of plywood carefully and you can effectively use it for almost any DIY project around the home.
As well as various styles and even colors of plywood, there are different ways to use the wood. While the most common is to cut the pieces down to size, certain items can be made by first stacking the plywood to give a sculptured look to the finish.
The first few items on our list are made using this stacking technique, and we have included 30 different DIY projects that can you start building today and that use plywood.

The 30 DIY Plywood Project Plans
1.

Stacked Plywood Bench
This stacked plywood bench can be used indoors or, with the proper weatherproofing treatment, it can be used to make comfortable and durable outdoor furniture. Stacking the plywood first not only gives the bench a unique design but also increases the strength of the piece so that the seat will not crumple during its first use.
---
2.

Stacked Plywood Lamp
Learn how to build a stacked plywood lamp by using a rectangular base design, but with careful planning, you could spiral the pieces of wood, curve the exterior to make a globe, or use any design you choose. The rectangular lampshade finishes the design, and although a lamp doesn't need to be as structurally strong as a bench, this piece is strong enough that it will last for years.
---
3.

Stacked Plywood Planters
These planters not only use thick leftovers of plywood, but they also use a dip-dye technique. This means that the bottom portion of the planter is dipped in a liquid dye, removed, and then left to dry. It gives the planter a professional finish that would not look out of place in any home.
---
4.

Stacked Plywood Wall Art
Combining some thick pieces of plywood and a few sheets of fabric, you can create something like ts his piece of wall art. It can hang anywhere in the home, office, or other building, and despite being really easy to make, it looks professional.
---
5.

Furniture Cube
Call it a cube, call it a modular box, or add fabric and call it an upholstered cube. Whatever you call it, it is a simple shape and easy to make. You can add wheels to make it easier to move, and you can add a door, drawer, or hinged lid to allow for easy access. Made from plywood, these pieces cost very little to make.
---
6.

Pegboard
Pegboard storage panels are really popular. They are highly versatile, thanks to their modular nature. You can add shelves, cupboards, rods, or hangable items. The industrial look of the pegboard means that it is ideal in a loft apartment or a modern home, as well as being great in a home office or commercial building.
---
7.

Plywood Clock
Clocks really are easy to make despite being impactful, looking professional, and being highly functional and useful items. You can buy a clock mechanism for a few dollars and all you need is a clock face and hands. There are various ways to use plywood, including stacked plywood or with this dip-dye effect.
---
8.

Flooring
Plywood is essentially veneered particleboard or another type of wood with a veneer finish. Although this does include inexpensive and potentially lackluster looking designs, it can also include woods like teak and walnut, which can make a great looking floor.
---
9.

Toy Shelves
These plans enable you to design and teach you how to build a plywood toy storage cubby. It has six cubby shelves of different sizes, and the slanted cubby design prevents toys from sliding out too easily. You can make your shelves any size and include any number of cubbies, with a few alterations to the plans.
---
10.

Rolling Lego Storage
Lego storage is something that not only kids but plenty of adults dream of, too. With this rolling lego storage drawer, you can sort bricks into color and size order, although we can't in any way guarantee that the bricks will go back in the right order.
---
11.

Easel
This easel looks a lot more complicated to build than it actually is. It is made from a single piece of plywood, although that will obviously depend on the size of plywood sheets that are available to you.
---
12.

Cornhole Game
Cornhole boards are a great addition to any garden party. They can also be stored in the shed or the games room and taken out whenever you want to play them. What's more, because they are essentially just large boards of wood, you can design and decorate them however you want.
---
13.

Simple Hanging Sign
This sign uses a print done at Staples, attached to what is basically just a plywood board, but you can create the sign and then you can use whatever technique you like to get the lettering and sign design onto the plywood, whether that is etching, branding, burning, or painting.
---
14.

Mosaic Wall Art
Create the design before you start, break it down into simple geometric shapes, and then saw the plywood down to the desired shape and size. Using this technique, you can create an attractive and individual piece of mosaic wall art that will take pride of place anywhere in your home.
---
15.

Under Cabinet Wine Rack
Oak veneer plywood looks classy and can take plenty of weight, so no matter how many bottles of wine you need to store, this under cabinet wine rack will take the weight and the regular use. If you have spare room under your kitchen cabinet or in the utility room, a substantial wine rack could be the way to go.
---
16.

Closet Organizer
The Closet Organizer is a great way to declutter a large walk-in closet. It offers compartments for clothing, as well as hanging rails for jackets, shirts, and more. This is another design that can be made from a single sheet of plywood and is surprisingly simple to tackle, although you may need to adapt the design to match your closet dimensions.
---
17.

Book Shelves
A single sheet is all it takes to make this plywood bookshelf, too. It boasts of being a simple project and, although it is billed as being a bookshelf, it could be used to hold anything from games to general household items.
---
18.

Patterned Plywood Key Holder
This patterned plywood key holder has a unique, almost 1960s and psychedelic look to it. It has a small shelf that is a great place to keep folded umbrellas, wallets, and other items that you need when leaving the house. The hooks under the shelf are meant for storing keys.
---
19.

Storage Bench
A storage bench is a simple piece of furniture. After all, it's really just a rectangular box, but it has a hinged lid. The hinged lid allows quick and easy access so that you can use it for storing anything from cushions and linen to toys or other equipment.
---
20.

Storage Chest
This storage chest is described as a DIY toy box, but it can also be used as a storage bench for the hallway or other room in the house. It's easy to make, sturdy, and it won't look out of place wherever you want it to reside.
---
21.

Wood Crate
Wooden crates can look especially effective in kitchens and hallways, and if treated with the proper weatherproofing stain or paint, they can also make a beautiful addition to the exterior of a property. This wooden crate looks authentic and is made using plywood and some simple tools. It doesn't take long and doesn't require extensive woodworking skills.
---
22.

Window Seat with Storage
A window seat alone is a great addition to a home. It allows you to sit comfortably under the window and benefit from the natural light and sunlight. It can be a great place to read, relax, or watch the day go by. If the window seat also happens to offer plenty of storage, then all the better for you.
23.

Bed with Built-In Night Stands
This minimalist looking plywood bed only takes four power tools to construct, and as well as offering somewhere to lay your head, it also has built-in nightstands that can house bedside lamps and offer somewhere to keep your favorite read.
---
24.

Headboard
A headboard is really only a piece of wood, sometimes upholstered but not necessarily, that sits behind the bed. In keeping with the minimalist design of the bed above, this plywood headboard has a similarly simplistic design. Despite being basic, it is effective and the shelves make it highly functional, too.
---
25.

Barn Door
This plywood barn door does utilize some 1×6 boards in its construction, too, but it is easy and inexpensive to make, so it still makes the list. You can also add your own design details and the author of the plans suggests wood shims, which do look very effective. We also like the way that the door is hung from a sliding mechanism.
---
26.

Modern Table
This modern dining table is a simple but effective design. It takes a single piece of plywood and just two power tools to make so is something that most of us should be able to handle, regardless of our DIY and woodworking skill level.
---
27.

Hairpin Coffee Table
Hairpin refers to the hairpin shape of the table legs, and these give the plywood coffee table a great looking finish as well as the stability and support that the table requires. Easy to make, the plans actually call for spruce but you can use any style and finish of plywood in its stead.
---
28.

Console Table
The design of this console table, for the hallway, couldn't be simpler. It has a waterfall edge, is made from a single sheet of plywood, and you only need to cut the plywood down into three sheets. You could alter the plans to incorporate a shelf on the bottom, too, if you wanted additional storage options.
---
29.

Round Truss Table
A truss is a series of beams that are used to strengthen the design of an item, in this case, a round table. Therefore, the round truss table not only looks great but is strong enough to be used for any purpose and to withstand regular and ongoing use. As well as plywood for the surface, you will also need some 2×4 and 4×4.
---
30.

Countertop
The kitchen countertop can be a huge expense and one that many of us could do without when we're looking to update or remodel the kitchen, or if the existing countertop has taken damage and needs replacing. Create your own countertop, from plywood, using these plans. You'll save money and enjoy the sense of satisfaction, every time you use it.

Plywood Projects You Can Build Today
These 30 plywood projects are quick to make, will last a lifetime, and can be made using any of a variety of styles and finishes of plywood. You can also finish plywood with stain or weatherproof protection, offering further ways to modify and personalize the designs. Don't be afraid to modify the designs to match the required dimensions, or simply to change the look of the finished project. It can make a big difference to how effective a piece of furniture or other design is.
See Also: 
---
Featured Image: Cleyder Duque, Pexels