19 Cheap Fencing Ideas for Your Yard In 2023 (with Pictures)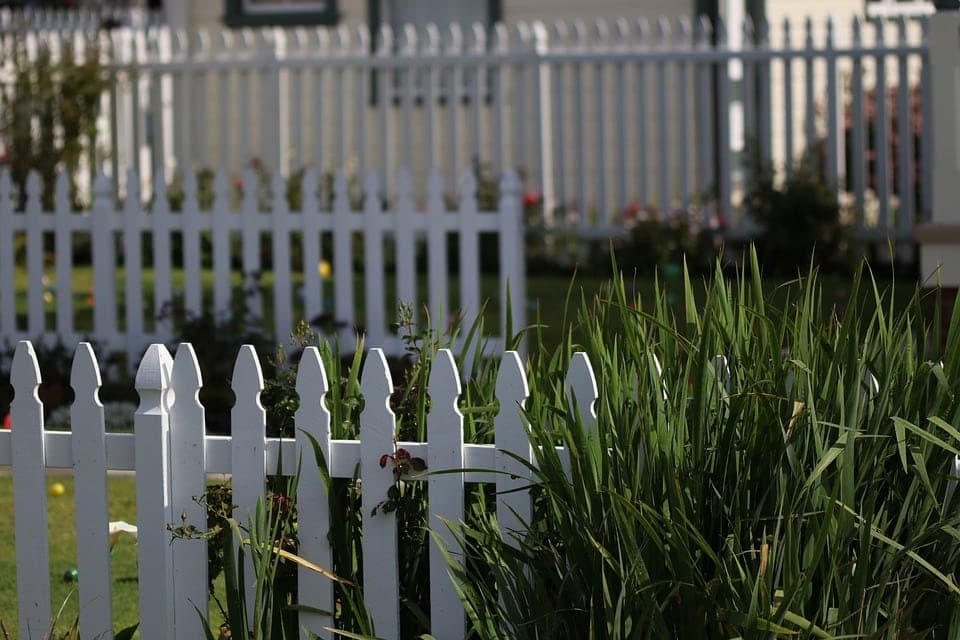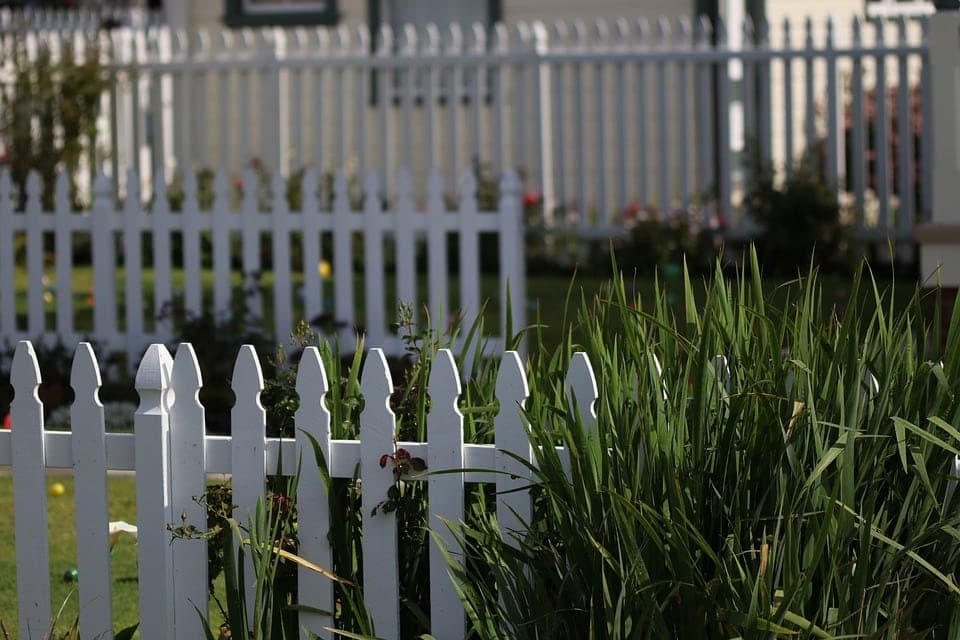 Since the beginning of time, mankind has been marking their territories with lines. Not only does it mark where our land ends, it also keeps unwanted pests out. Today, we do this by fencing in our yard or property.
Fencing can take a huge chunk out of our landscaping budget, upwards of thousands of dollars. That doesn't even include your garden area or front yard, should you choose to fence that in too.
You can slash that budget and avoid spending precious time searching the internet by following these cheap fencing ideas for your yard or garden.

The 19 Cheap Fencing Ideas for Your Yard
1.

Wood Pallet Fence
Thanks to Pinterest, we have found countless creative ways to use wood pallets in our lives. Mark down fencing as one of them! Many distributors give away pallets for free, making this fence idea nearly free. You can choose to keep the pallets connected or break them apart.
For this particular fence, disassembling is not necessary. You need some 4x4s, a sledgehammer, some screws, a drill, and some hours of labor. Simply connect the pallets to the 4x4s and you have yourself a DIY fence. Beautify this project with a coat of spray paint!
---
2.

Split Rail Fence
These fences are more commonly seen around farms, pastures, and ranches. They are excellent at keeping big livestock contained and are a great climbing playground for kids. You don't need to be a cowboy to have this fence constructed in your yard! While you could buy them readymade, it's much less expensive (but more work) to construct a split rail fence yourself.
---
3.

Split Rail With Mesh
For people with smaller pets, animals, or children, it's possible to have the split rail look with extra security for your needs. Many people add mesh or chicken wire to their split rail fences and it still looks spectacular. This could be as easy as installing the mesh directly behind the split rail fence, if you don't mind the look from the inside.
This fence could be a great way to keep rabbits or squirrels out of your garden, too.
---
4.

Rail Horse Fence
While split rail normally has 2 horizontal pieces of wood in the fence, a 4 rail horse fence obviously has 4 rails in it. The 4 rails are flat and slightly wider with smaller spaces between them. This gives a more obstructed view from the outside and a little more protection from the inside.
---
5.

Reed Fence
One of the least expensive options for fencing is a fence made out of reed. These can be readily purchased at your local home improvement store in a 7-8-foot-tall roll.
Though slightly flimsy, it could be a quick fix to a privacy problem while still maintaining a nice aesthetic. This fencing could be easily reinforced with wire or poles.
---
6.

Corrugated Metal Fence
You might recognize this kind of metal from tearing down an old shed or shop. It can add a nice, semi-industrial look to your yard. The metal sheets can be placed on welded metal posts, or install the metal with some wood posts and you have a nice blend of industrial and rustic.
Bonus points (and more dollars in your pocket) if you can find recycled corrugated metal.
---
7.

Gabion Fence
Gabion fences are essentially long cages filled with a lot of rocks. This can be done all the way around the fence or can be broken up by sections of wood or greenery.
This could be a great option if you already have a supply of rocks laying around. Lower the cost even more by constructing your own mesh cage for the rocks.
---
8.

Bamboo Fence
Bamboo is a fast-growing plant, so it is more plentiful and cheaper to manufacture products with than wood. You can easily construct a fence using poles and strips of bamboo. You could either hammer them into the ground next to each other or wattle the strips between bamboo poles spaced apart.
People in warmer, tropical climates could plant their own bamboo around the perimeter of their yard as a privacy fence.
---
9.

White Picket Fence
Consider going the traditional route: this classic American-style fencing can come in composite or vinyl. Because it is such a mainstay, it can be a relatively cheap option for the backyard on a budget.
---
10.

Vinyl Fence
Modern vinyl fencing comes in an array of styles, not just white picket. What's nice about choosing vinyl is you do not have to ever worry about re-staining as you would with a wooden fence, therefore cutting long-term maintenance costs on your fence.
---
11.

  Chain Link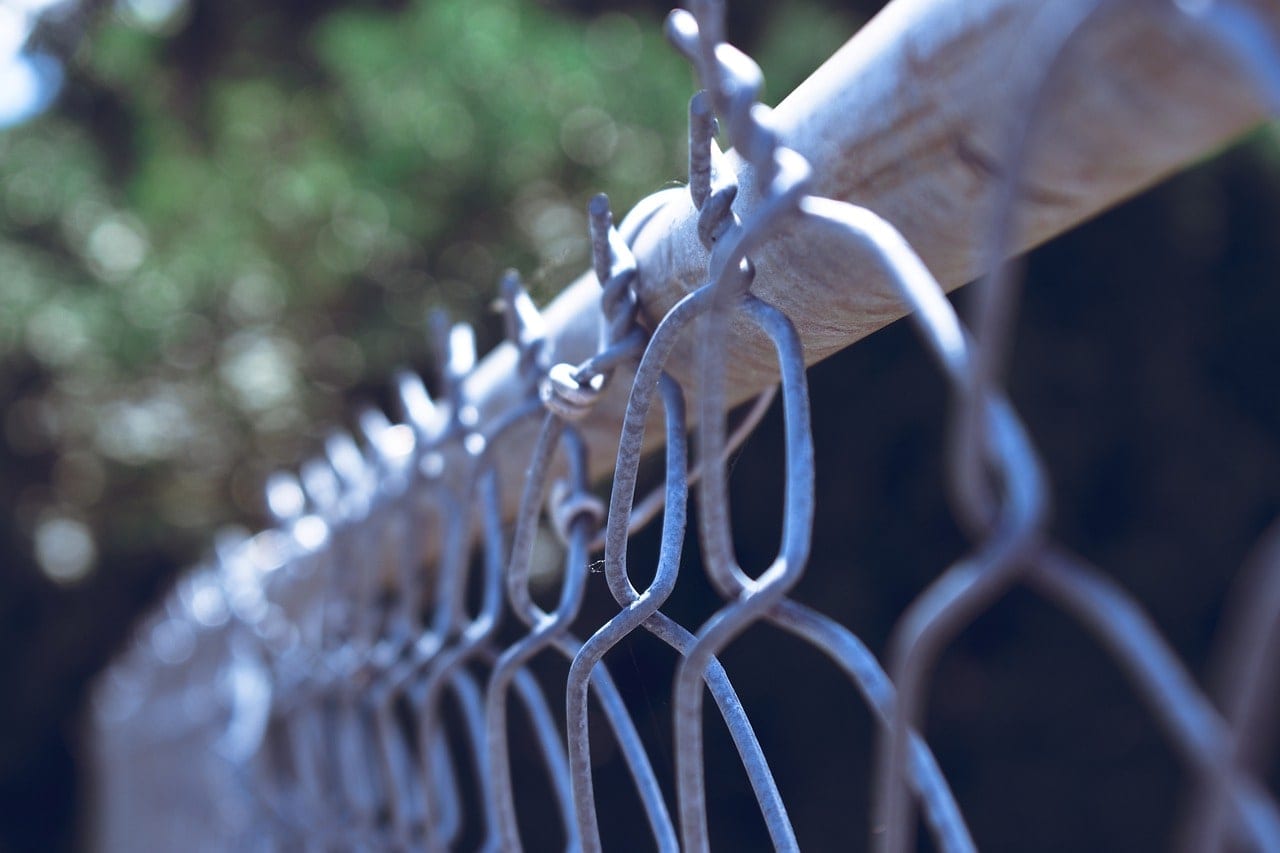 Though visually unbearable to some, chain link fences can be a great cheap fence idea. What's wonderful about this option is not only the low cost but how creative you can get with it. You can dress it up with weaving material between links, encase the posts in wood, or even paint the entire thing.
---
12.

Barbed Wire
For obvious reasons, this fence idea is not recommended for people with small kids in the yard, but if you are looking for an old-fashioned farm-style look, you could go with a barbed wire fence. Instillation could be as simple as hammering posts in the ground and wrapping barbed wire around the posts. You could also get fancy with it and create a framed barbed-wire fence.
---
13.

Recycled Materials
Reclaimed wood or metal can make a really cool-looking fence, especially if the colors are different and coordinated. Work hours put into this fence are higher, but the cost can be very low. Renovating a house creates a lot of waste of lumber, metal, and even broken-up pieces of concrete, but all of these things can be reused to make a fence.
---
14.

Hedge Fence
When you have time on your side and a knack for growing things, hedge fencing (or any other large bush or plant) can look very nice in a yard while maintaining some privacy. This is a great method as it does not use any industrial materials and is great for the planet. Your maintenance costs to this fence are limited to trimming and watering.
---
15.

Artificial Greenery Fence
For those without a green thumb or people who don't want to maintain a living fence, artificial greenery is an option. Stores like Walmart and Wayfair sell large sections of grassy walls or trellises with fake weaving branches intertwined in them. You could also rotate a "green" wall for a wooden or industrial wall for a unique look.
---
16.

Lattice Fence
Lattice or trellis can be used as a barrier for pets and kids and can also have greenery growing on it, if you wish. They look great as is too. These can be erected any number of ways, by either attaching to posts directly or framing in with wood. If total yard privacy is not as big of a deal to you, this could be a great cheap option.
---
17.

Wattle Fence
Wattle is the art of weaving material between posts. This can be done with strips of wood, willow, or bamboo, which could easily be found for free or cheap near you. Though quite a bit of initial work, this type of fence produces a beautiful result. It could be a great option for someone needing a smaller fenced-in area, like a garden.
---
18.

Wire Fence
Using chicken or hog (or sheep or goat) wire between fence posts is an inexpensive and secure option when you have small animals or a garden to protect. The least expensive wire is chicken wire, but for added strength go for hog wire. Using wire is a great way to keep animals in or out when privacy is not a concern and you want to see through a fence (like around a garden or in front of a lakeside view)
---
19.

Log Stack Fence
Got a ton of unused or downed trees in the area? Unless you are needing the firewood, get out your chainsaw and get to work on this easy fence project. Cut the trees and branches in even chunks and stack them on top of each other between posts (purchased or homemade). Now you've got yourself a sturdy and incredible-looking fence.

Conclusion
Fencing in a yard or garden doesn't have to cost you your next vacation budget. Get creative and think of what's already readily available around you before making a purchase. A great fence is protective, increases privacy, and adds curb appeal to your property. We hope we have made it manageable for your budget, too.
---
Featured Image Credit: Pixabay