15 Recycling Projects for Kids — You Can Make Today (With Pictures)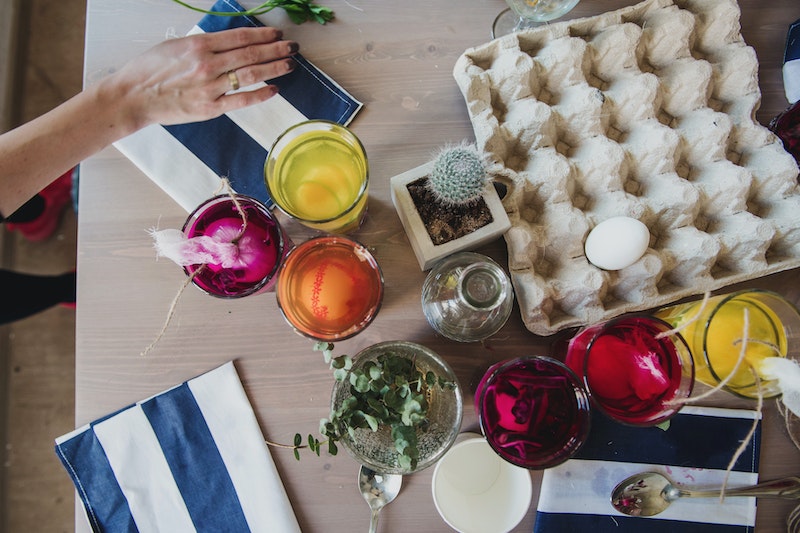 You don't need to go too far out of your way when you have antsy, bored children to entertain. All it takes, in most cases, is a trip to the recycling bin!
Old plastic bottles, paper towel tubes, and other unused items can find a new purpose around the home as fun and functional creations. A few bits of waste offer an inexpensive avenue to push your children's imagination while providing an offbeat lesson in responsibility. Get crafting with your family today with these 15 recycling projects for kids.

The 15 Recycling Projects for Kids
1.

Recycled Seed Planters by From Engineer To SAHM
| | |
| --- | --- |
| Tools and Materials: | Toilet paper tubes, water bottle, tape, small stones, soil, seeds |
There's more than one way to start a seed, as you and your kids will learn with this recycled seed planter duo.
One seed planter involves a biodegradable toilet paper tube serving as a housing, which is a handy pod that you can return to the earth in an eco-friendly fashion. Meanwhile, a halved plastic bottle turns in on itself to hold soil atop a bed of river rocks. Fill the bottom half with water, and you'll enjoy the convenience of a self-watering planter, all from repurposed parts!
---
2.

Magazine Bead Bracelet by Kids Activities Blog
| | |
| --- | --- |
| Tools and Materials: | Magazines, scissors, glue, straw, piper cleaner |
Give your kids a quirky way to accessorize via recycling. DIY magazine jewelry is a fantastic way to repurpose an unused periodical, providing hours of entertainment as your kids create assorted bracelets and necklaces.
Making magazine beads is easy and engaging, and there's no telling what kind of colorful creations will result. Once they start, don't be surprised if your kids turn this one-off project into a favorite hobby.
---
3.

Tin Can Lantern by There's Just One Mommy
| | |
| --- | --- |
| Tools and Materials: | Old cans, hammer, nail, pipe cleaner/wire, tea candle |
A tin can lantern harkens back to colonial times, but you don't need to let this crafts project devolve into a history lesson. Instead, discover the breadth of your kid's creativity as you brainstorm new designs to bring to life through the soothing glow of a flickering flame. You may need to hammer out the dotted shape, but the little ones can have free reign over the design.
---
4.

Earth Day Seed Paper by Views From A Step Stool
| | |
| --- | --- |
| Tools and Materials: | Screen or mesh material, can, multi-colored construction paper, blender, seeds, circle cookie cutter, paper towel |
You don't have to wait until Earth Day to take advantage of these seed paper crafts. Art and nature blend beautifully in this project, giving your children a chance to flex their creativity now and something to look forward to in the garden. Create a mix of blue and green construction paper for a holiday-themed seed vessel, or have fun exploring different color combinations and unique designs.
---
5.

Milk Jug Bird Feeder by Great Stems
| | |
| --- | --- |
| Tools and Materials: | Milk jug, decorations, scissors, sticks, non-toxic outdoor glue, hanger (e.g., twine, wire), paint brushes, markers, birdseed |
If it hangs and holds birdseed, there's no wrong way to make this milk jug bird feeder. Bring beauty to your yard in an easy, eco-sensitive project your kids will love. After cutting the holes, building the perch, and adding the hanger, they can decorate the feeder with paints, markers, glue-on ornaments, and more. Fill it with birdseed when it's ready, and see how many feathered friends you can spot in your backyard.
---
6.

Homemade Paper by Craftulate
| | |
| --- | --- |
| Tools and Materials: | Tissues and scrap paper, large container, paper-making kit, blender |
Discover the magic of recycling in your own home as you and your kids learn how to reprocess old paper scraps into all-new creations with a homemade paper project. You will need a paper-making kit, and it could be too complex for a young child to enjoy. But if you want a cool activity to share with a creative teenager, it can make for a great experience on a rainy day at the house.
---
7.

Easy DIY Kaleidoscope by Darcy and Brian
| | |
| --- | --- |
| Tools and Materials: | Aluminum foil, beads, paper towel tube, thin clear plastic, cardboard, hot glue gun, scissors, marker, decorations |
It may not function exactly like the real thing, but the pride in making a DIY kaleidoscope will ensure your children love it all the same. They will need some direction and help with the scissors and glue gun, but the decorative side is theirs to enjoy. Encourage their creativity with varying bead combinations, mixed materials, and different designs on the outside.
---
8.

Dog Marionette by Easy Peasy and Fun
| | |
| --- | --- |
| Tools and Materials: | Toilet paper rolls, paint, scissors, googly eyes, colored paper, glue, pencil, wooden stick, yarn, bottle cork |
While they will need some supervision with the cutting tools, your kids can control most of the process with these toilet paper tube marionettes. Create an entire litter, and relax as your kids engage their imaginations with their new toys.
---
9.

Paper Roll Cat Pencil Holder by Hello Wonderful
| | |
| --- | --- |
| Tools and Materials: | Ruler, black marker, pencil, glue stick, scissors, clothespin, toilet paper rolls, colored paper |
Any feline-loving kids in the house will get a kick out of this kitty cat craft project. With four toilet paper tubes as the body, you can create a cat (or any of your favorite animals) to hold pencils, pens, scissors, and more. It's a wonderfully functional and sentimental accessory for your office desk.
---
10.

Recycled Ball-in-a-Cup by Cool Creativity
| | |
| --- | --- |
| Tools and Materials: | Plastic bottle, twine, Kinder eggs, permanent markers, super glue, scissors, bead |
The most worthwhile recycling projects for kids are the ones they'll use again and again. That's what makes these neat DIY ball-in-a-cup designs so valuable. Your kids get to make clever upgrades to the classic game with plastic bottles, like catching fish in a shark's mouth or bees in a flower, and they'll always have it available for quick entertainment when they're bored.
---
11.

Milk Jug Piggy Bank by Thrifty Fun
| | |
| --- | --- |
| Tools and Materials: | Milk carton, soap, scissors, pink acrylic paint, black acrylic paint, paint brushes, newspaper, hairdryer |
Teach your children the value of saving money and saving the planet in one fell swoop as they craft their own milk jug piggy bank. But ensure you give the carton a good wash to remove any milk residue before painting, or you could have a stinky swine to manage after the fact.
---
12.

Egg Carton Turtles by Frugal Fun 4 Boys
| | |
| --- | --- |
| Tools and Materials: | Egg cartons, paint, pom poms, googly eyes, pipe cleaners, craft foam, scissors, glue gun |
Create a collection of egg carton animals to adorn your child's room. Turtles, caterpillars, and frogs are possibilities outlined in this tutorial, but the small egg holders can readily serve as a suitable base for an entire zoo's worth of critters. See how far your kids can stretch their imaginations by finding new combinations for their pipe cleaner legs, egg carton bodies, and pom-pom heads.
---
13.

Plastic Bottle Monarch Butterflies by Our Family Code
| | |
| --- | --- |
| Tools and Materials: | Plastic bottle, oil-based marker, white paint pens, orange brush tip marker, butterfly template |
The majesty of the migratory monarch is a sight to behold but also rare for most of the population. With these life-like plastic bottle butterflies, you can make their magnificent forms a permanent fixture in your decor. You and your kids can stay disciplined and vie for the most realistic recreation or have freewheeling fun by creating brilliant, colorful patterns.
---
14.

Cereal Box Guitar by My Teaching Station
| | |
| --- | --- |
| Tools and Materials: | Cereal box, paper towel tube, scissors, craft knife, rubber bands, crayons |
Inspire a healthy love of music by building a recycled instrument with your child. Everyday materials like an old cardboard box and paper towel tube make this acoustic guitar an easy and exciting activity any day of the week. Let the kids work out their creative muscles by decorating the outside and tweaking the strings and neck to create various audio effects.
---
15.

Cardboard Gumball Machine by Hello Wonderful
| | |
| --- | --- |
| Tools and Materials: | Cardboard, clear plastic container, toilet paper roll, jumbo pop stick, plastic domed drink lid |
Although it's the most complicated design on the list, this recycled gumball machine is also one of the most rewarding. The plan calls for you to use a toilet paper tube and cut-out cardboard pieces to build a dispenser, complete with a clear candy holder on top. You'll likely have to do most of the assembly, but once it's finished, the kids can take over the blank canvas for decoration.
Conclusion
Seeing the potential in unused materials is a valuable skill and one you can inspire through fun recycling projects for the kids. By understanding the point of repurposing, your children can begin taking a new perspective on how waste works and making better disposal decisions in their daily lives.
---
Featured Image Credit: ksenia-chernaya, Pexels