9 Wild Fire Statistics to Know in 2023
Note: This article's statistics come from third-party sources and do not represent the opinions of this website.
Wild fires are extremely dangerous and can start without warning, resulting in millions of dollars in property damage annually. They kill countless animals and release tons of carbon into the atmosphere, which is bad for the environment and contributes to global warming. If you'd like to know more about wild fires, keep reading while we dive into the statistics to learn the facts and find out if there's anything we can do to help prevent them and help the average person be better informed.

The 9 Most Interesting Wild Fire Statistics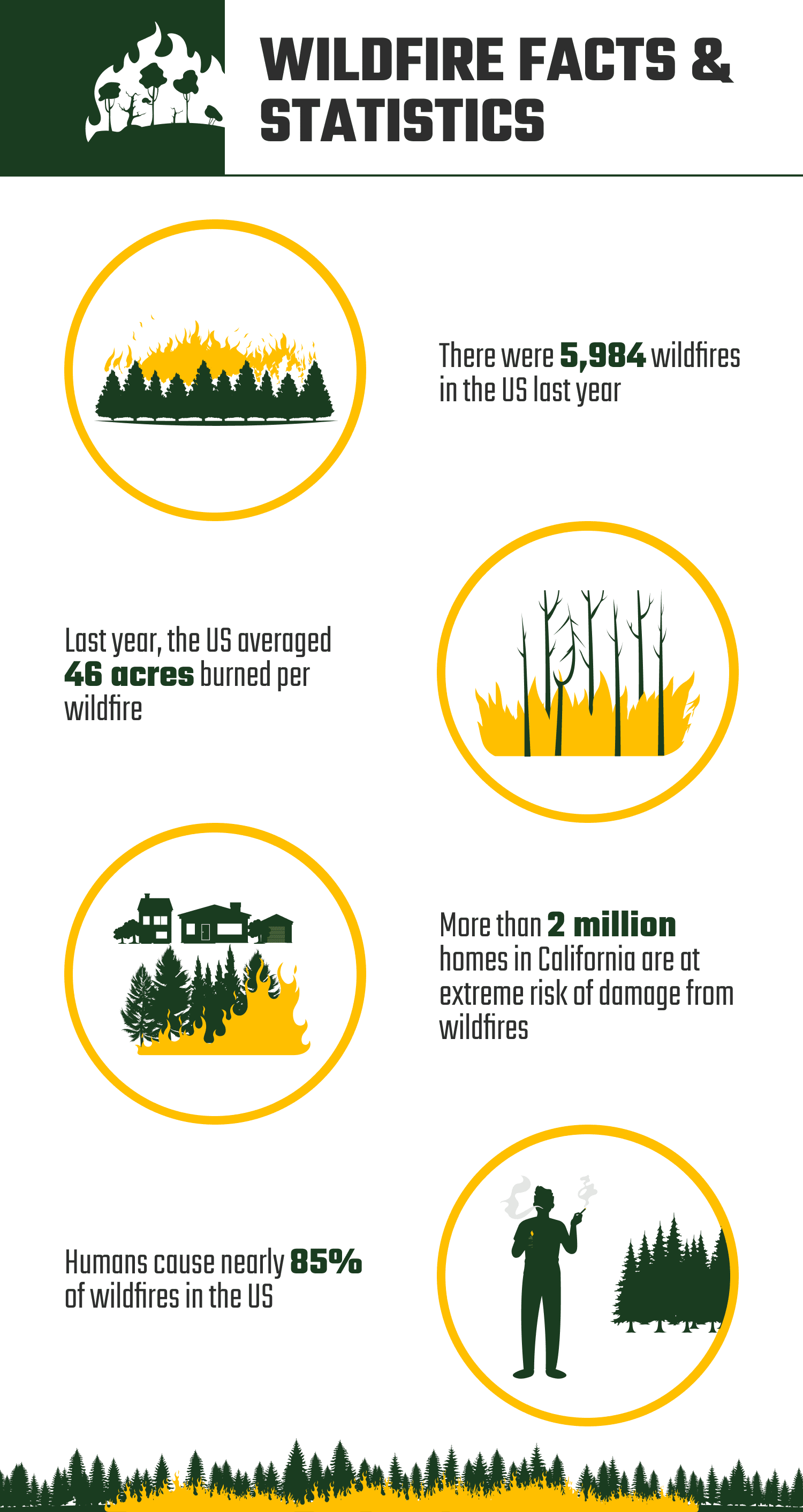 Wild Fire Statistics
1.

There were 5,984 wild fires in 2021.
(National Center for Environmental Information)
The National Center for Environmental Information reports that there were 5,984 wild fires reported in 2021, which is up 244 from the year before. The highest number of fires since 2000 was in 2001, when there were 10,223 fires, and the least was in 2004, with only 1,368 fires.
---
2.

The United States averaged 46 acres burned per fire in 2021.
(National Center for Environmental Information)
The National Center for Environmental Information reports that in 2021, we lost an average of 46.58 acres for each of the 5.984 wild fires in 2021, resulting in a total loss of 278,740 acres. It's interesting to point out that while we had more fires in 2021, the acres burned per fire was much higher in 2020, at 173.24 acres per fire, which resulted in the loss of almost 1,000,000 acres.
---
3.

More than 2 million homes in California are at extreme risk of damage from wild fire.
(Verisk)
Verisk Wild Fire Risk Analysis determines how many properties are at risk of damage from wild fire. It turns out the number is quite high, with California leading the list at 2,040,600 homes currently in danger. Texas is also quite high, with 771,800 homes in danger. There are 15 American States and Canadian provinces listed, including Colorado, British Columbia, Arizona, Oklahoma, Oregon, Montana, New Mexico, and more. Alberta Canada is the least threatened on the list, with 30,800 homes in danger. The total number of all areas listed is more than 4.5 million.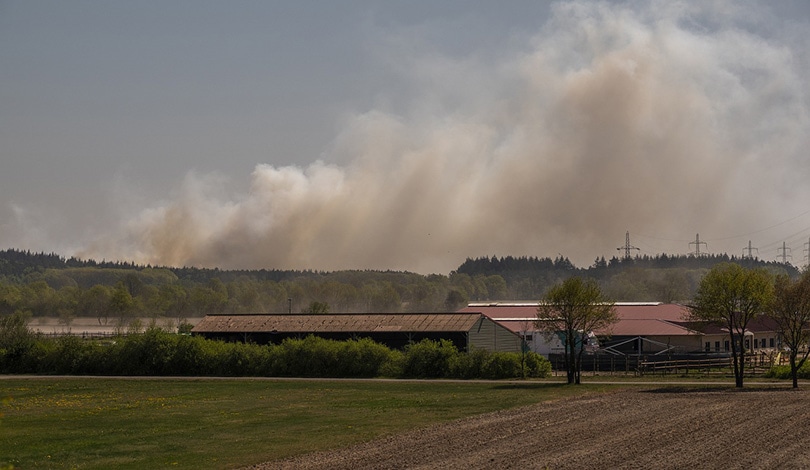 ---
4.

Humans cause nearly 85% of wild fires.
(National Park Service)
The National Park Service reports that careless humans cause nearly 85% of wild fires. Carelessness is the main cause, but arson is also to blame. They blame unattended campfires, discarded cigarettes, and mechanical failure for many of the fires that occur.
---
5.

Wild fires caused $16.5 billion in damage in 2020.
(Yale Climate Connections)
The United States experienced a terrible drought in 2020, with a higher amount of dry lightning that resulted in several wild fires, leading to the most acres burned since we began keeping records in 1983. Five out of six of California's largest fires occurred, resulting in more than $16 billion in damage.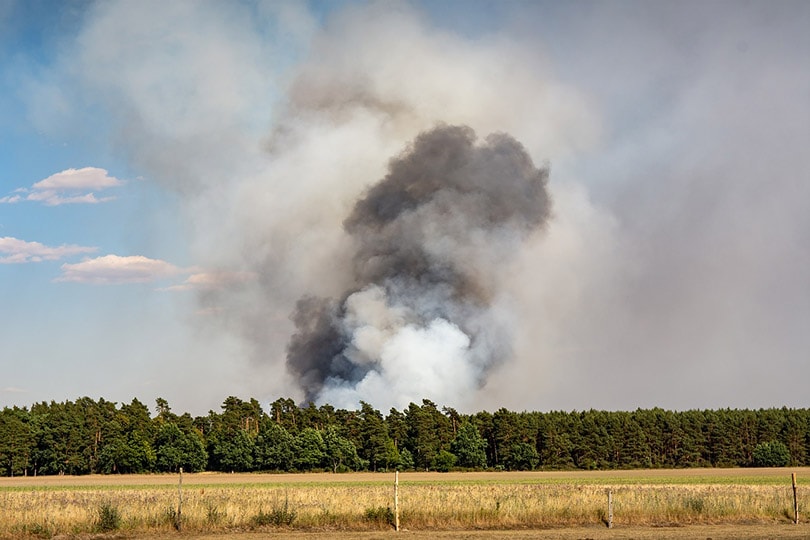 ---
Forest Fire Statistics
6.

There has been a clear increase in the number of forest fires since the 1980s.
(Forest Fire)
In the American southwest, there's been a significant increase in the number of forest fires. Before the 1930s, fires on the ponderosa were not an important issue. However, in 1960, the numbers began to increase significantly, and in 1980, they spiked again to an all-time high, where they remain today. As much as 5% of the total ponderosa is in danger, and many locals blame careless smoking in the extremely dry environment for the fires.
---
Death by Fire Statistics
7.

People living in New Jersey are the least likely to die by fire.
(U.S. Fire Administration)
The U.S. Fire Administration used its data to determine the risk of death by fire for each state in America and found 24 with a higher-than-average risk. Of those with a higher risk, Alaska, the District of Columbia, Mississippi, and Oklahoma are especially high. Florida, Hawaii, Massachusetts, and oddly, California are all fairly low-risk areas. New Jersey is the lowest, with a fire death rate of only 5.2 per million people.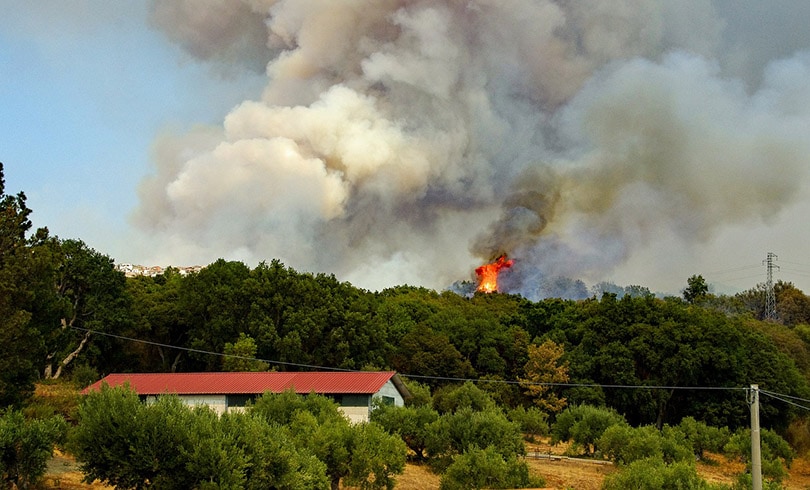 ---
8.

The fire death rate for children has decreased since 2010.
(U.S. Fire Administration)
The U.S. Fire Administration reports that the fire death rate for children has been decreasing since 2010. In 2010, 204 children aged 0 to 4 died by fire, while in 2019, there were only 105 deaths, which is a significant reduction. The years between also had reduced numbers, but none as low as 2019. Children aged 5 to 9 also saw fewer deaths by fire, from 103 in 2010 to 85 in 2019. Most of the years between had lower numbers than 2010, but a few years were quite high. In 2019, the deaths in children aged 10 to 14 were lower than in previous years but about the same as in 2010.
---
9.

Fires killed more than 1,400 senior citizens in 2019
(U.S. Fire Administration)
Unfortunately, the senior citizens in the United States face the greatest risk of dying by fire. Lack of vision and other senses can increase the chances of starting a fire, while arthritis and other health problems can make it more challenging to escape in time. The U.S. Fire Administration reports that 1,479 senior citizens died in 2019, and while that number is down from previous years, it's been well over 1,000 every year since at least 2010.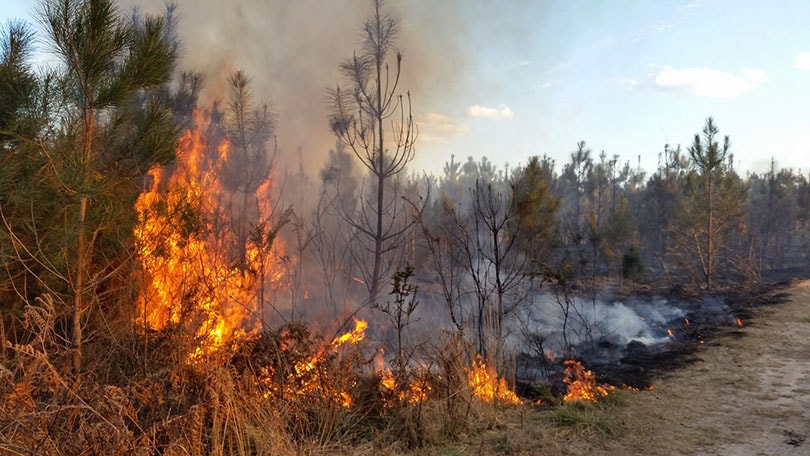 What Causes Wild Fires?
Drought
Drought is a major cause of forest fires because it dries out the ground and makes it easy for the fire to spread. Areas like California, Oregon, and Washington can experience very little rain at certain times of the year, and large portions of those states can face drought conditions. As the ground gets drier, fires can start easily and will burn quickly. Checking a drought monitor can give you a heads up as to what parts of the United States are facing dry conditions, so you can stay informed and be more careful when the threat is greater. (Drought Monitor)
Humans
Cigarettes
Humans are responsible for as much as 85% of wild fires. While some angry humans might do it on purpose, most fires are likely started by accident and are simply the result of carelessness. If someone tosses their lit cigarette during a severe drought on a windy day, there might suddenly be a fire. If the careless person is driving, they could be miles away before the fire is big enough to see and will never think that they are to blame.
Campfires
Campfires are another big cause of wild fires because they can be hard to put out completely, and many people leave them to go out on their own. However, if you've been around many campfires, you'll know that the hot wood tends to pop and crack, which can send hot embers outside the campfire pit, potentially starting a fire. Unfortunately, wood can explode even when the fire is almost out and there are no visible flames.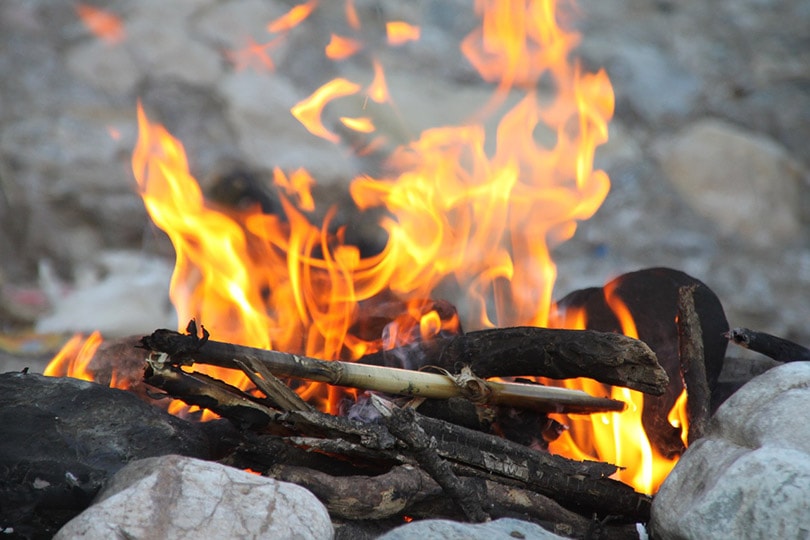 Lightning
Lightning can be a cause of wild fires, and there are two types of lightning: hot and cold. The cold variation is intense but doesn't last long and is less likely to start a fire. The hot variation has less voltage but lasts quite a bit longer, so it has enough time to heat an area enough to catch a tree or another flammable object on fire. (National Park Service)
How Can I Prevent Wild Fires?
The best thing you can do to prevent wild fires is to be careful when you're outside and use items that can start a fire. Cigarettes are among the biggest causes of fire, so if you smoke, make sure that yours is out before you get rid of it. It's even better to put the finished cigarette in the container to discard later, so there is no chance of fire.
If you go camping, make sure any fires you start are a good distance away from any dry materials that might catch on fire, and make sure it's completely out before you leave the area, even for a short time.
What Should I Do If I See a Wild Fire?
If you are driving or walking and see evidence of a wild fire, we highly recommend calling the local fire department and staying far away from it. Even a small fire can spread very quickly and surround you, putting you and anyone with you in life-threatening danger. Firefighters can respond faster because of your call and bring the equipment to deal with the fire.

Conclusion
Unfortunately, wild fires are on the increase in the United States largely due to heavy drought conditions we've been facing. Careless behavior with cigarettes, campfires, cooking grills, and other items during these severe weather conditions can cause an uncontrollable wild fire faster than most people think, so spreading awareness can be one of the most effective tools to reduce the number of fires in the United States.
We hope that you enjoyed reading over these statistics and found a few facts you didn't know.
---
Featured Image Credit: PublicDomainImages, Pixabay