Rotary Hammer vs Hammer Drill – Which Is Best for Your Needs?

As you can imagine, driving a screw into concrete is no easy task. If you find yourself needing to do this, you will either have to use a rotary hammer or a hammer drill. Both of the tools are powerful enough to sink screws into concrete, but their hammering mechanisms differ, providing the tools with different advantages and disadvantages.
To find out which tool is right for your needs, read on. We provide an overview of both rotary hammers and hammer drills, effectively answering which is right for you. Let's get to it.

Overview of Rotary Hammers
Between these two tools, rotary hammers are often the preferred option for professionals and other people who need to hammer screws into concrete often. For those who need advanced strength and high shock absorption, rotary hammers are superior to hammer drills.
Hammering Mechanism
The hammering mechanism in a rotary hammer includes a cylinder of air and piston. The piston compresses the cylinder of air, in turn beating the bit. This provides an effective and powerful hammering mechanism that can hammer screws into concrete with little to no problem.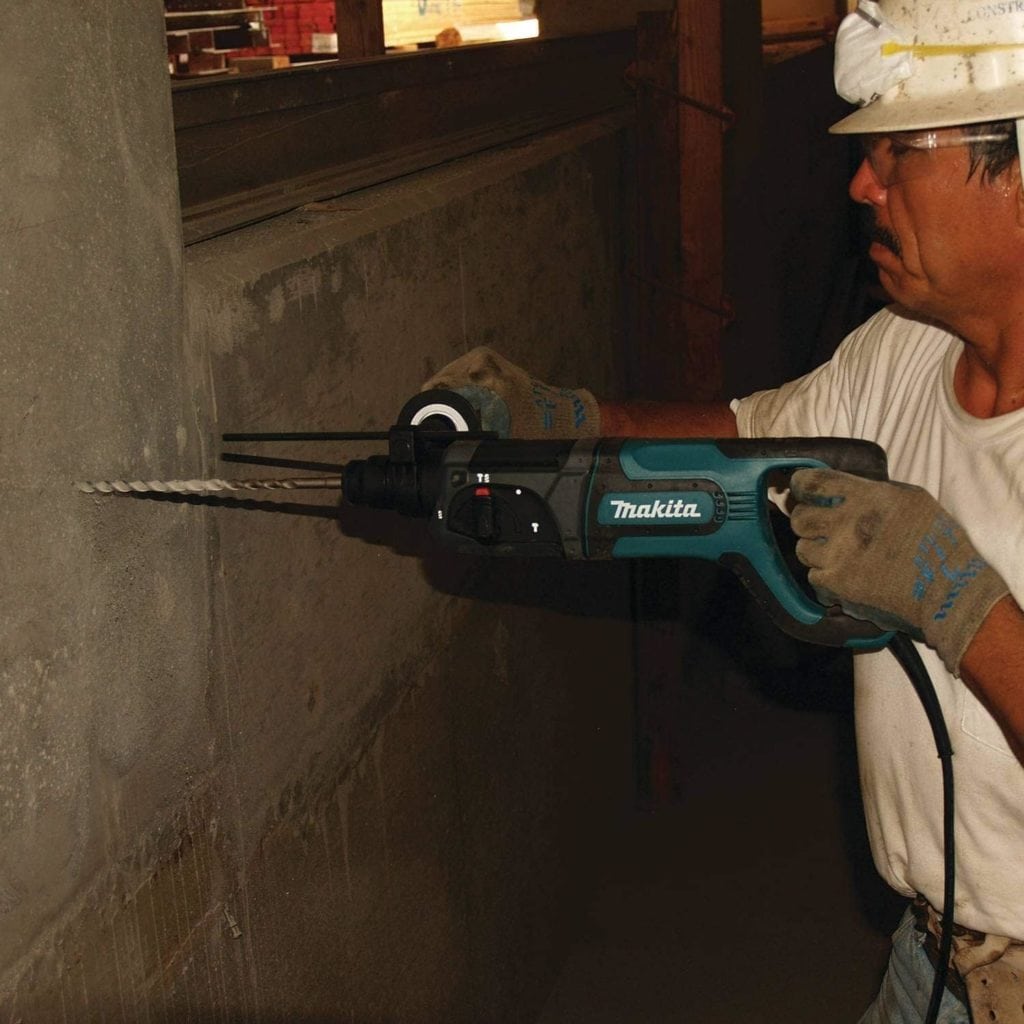 Benefits
The biggest benefit of rotary hammers is their sheer strength. Because of the way the hammering mechanism works, rotary hammers simply provide more strength than hammer drills. For those who have more intense or frequent hammering needs, the rotary hammer will be the best option. Rotary hammers are ideal if you need to create holes that are bigger than one inch in diameter.
Even though rotary hammers provide more force, they're not more difficult to use. In fact, rotary hammers absorb more shock than hammer drills on average. On average, rotary hammers can create 6000 beats per minute. This makes the rotary hammer more comfortable and easier to use, especially if you have intense needs.
Drawbacks
Since rotary hammers provide more power and less shock, they are often pretty bulky and heavy, especially compared to a hammer drill. The lightest rotary hammer weighs about 15 pounds, nearly double the weight of heavy hammer drills. This can be a drawback if you don't have a lot of muscle or have to use it for long periods of time.
Additionally, rotary hammers are rarely battery operated. Because they are so powerful, they almost have to be plugged in. Though this is great for those with intense power needs, it makes them more inconvenient, especially if you don't have free access to a power outlet.
Best For
Because of their enhanced power, rotary hammers are best for construction jobs or other professional needs. For personal use, the rotary hammer may be too big and unnecessary for your needs, making the hammer drill more ideal.
Pros
Enhanced power
Absorbs shock effectively
Great for professional use
Cons
Heavy
Not battery operated
More expensive

Overview of Hammer Drills
Hammer drills are often viewed as a less powerful but more affordable and portable option. With a smaller striking mechanism, hammer drills are the best option for people who need the tool for personal or occasional use.
Hammering Mechanism
Hammer drills have a much smaller striking mechanism. The impact is caused whenever two ribbed metal discs go in and out of one another.  This hammering mechanism is great for small to medium size jobs, but it isn't as powerful as the mechanism inside the rotary hammer.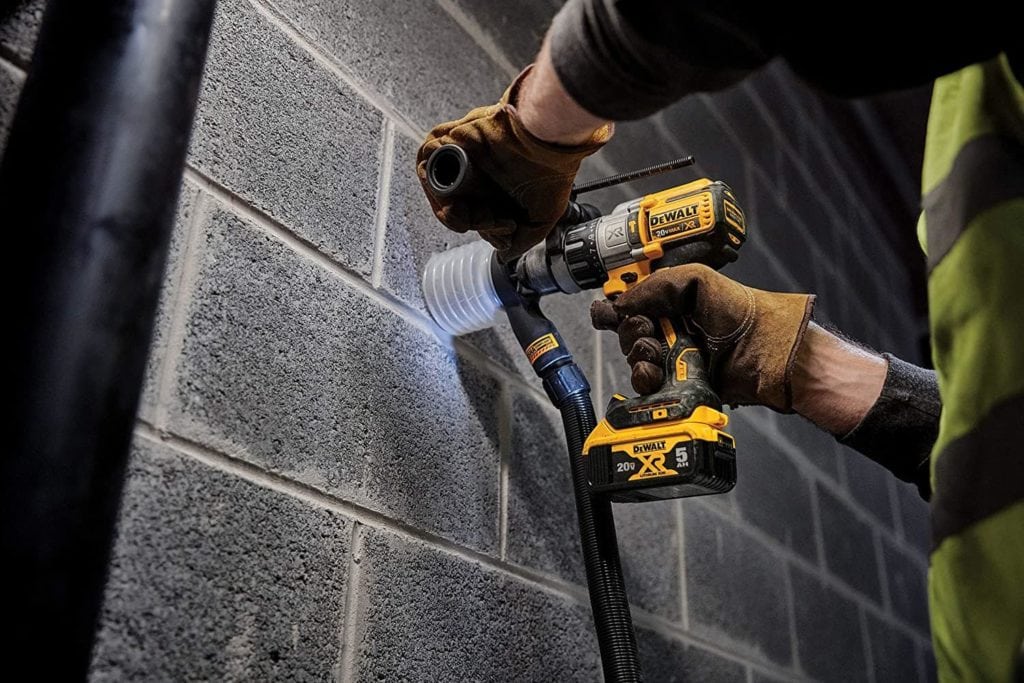 Benefits
The benefits of the hammer drill lie in the drawbacks of the rotary hammer. Most notably, the hammer drill is incredibly lightweight and portable. Since this option has less power, these tools can be battery operated, and the actual striking mechanism weighs less due to its smaller size. This allows even the heaviest of hammer drills to weigh half of the lightest rotary hammer.
As a result, hammer drills are much more ergonomic. You'll much easily be able to maneuver with this tool and bring it around the house.
Another benefit of the hammer drill is affordability. Since these tools are less powerful, they are often way more affordable. If you are on a super strict budget, you are more likely to find a hammer drill that fits your price range than a rotary hammer.
Drawbacks
Obviously, the biggest drawback of the hammer drill is that it is not as powerful as the rotary hammer. If you have intense drilling needs, the hammer drill simply might not provide enough punch to get the screw in deep enough.
The other drawback of the hammer drill is that it does not absorb as much shock as the rotary hammer. It can create up to 30,000 beats per minute. This means that it creates much more shock that makes it more difficult to hold and handle.
Best For
Even though the hammer drill is less powerful and absorbs less shock than the rotary hammer, it is still useful and superior in the right context. Most notably, the hammer drill is best for small to medium sized jobs, such as those around your house. You should not use a hammer drill for professional or semi-professional use.
Pros
Great for around the house, personal use
Easy to use
Lightweight
Cordless
Affordable
Cons
Not as powerful
Does not absorb as much shock
Not suitable for professional use

Which Is Right for You?
| | |
| --- | --- |
| Scenario | Which to Get? |
| Drill holes larger than 1 inch in diameter | Rotary hammer |
| Drill holes smaller than 1 inch in diameter | Hammer drill |
| Professional/commercial use | Rotary hammer |
| Personal use | Hammer drill |
Although there can be many factors that go into deciding between whether you need a rotary hammer and hammer drill, the most important factor is the size of your project. In other words, we recommend looking at the concrete or masonry work when selecting a tool.
If you need holes that are larger than one inch in diameter, you absolutely need a rotary hammer. Though these tools are more expensive and cumbersome, they are the right tool for this sort of job. In contrast, you should get a hammer drill for anything smaller than that.
Getting a hammer drill for smaller jobs will save you money and arm power. Most people who need to drill into concrete occasionally around the home find the hammer drill to be the superior option for their jobs and pocketbook.
Factors to Consider
Whether you are using a rotary hammer or hammer drill, there are some factors you need to consider before buying a model. Here they are:
Power
Whether you need a tool for professional use or around the home, make sure that it is powerful enough to get the job done. Buying a tool that is not powerful enough for your job is completely pointless. Look at the power and torque before making any final decisions.
Hole Size
The hole size matters a lot. Always look at the range of core bits a model can hold. The exact size of the core and bit will depend on the hammer. If you want your model to last a long time, it is normally recommended to select a slightly larger hammer if you plan to use it frequently. If you constantly push your tool to its extremes, it will break more easily, and you will not get your money's worth.
Ergonomics
Make sure that you can use your tool for long periods of time. The ergonomics will affect how comfortable and usable the tool is. Look at the weight and overall design of the model to get a feel of the ergonomics. The more comfortable and lightweight the model is, the easier it will be to use.
Price
There are a variety of rotary hammers and hammer drills on the market today. Have your budget in mind before selecting a model. You should be able to find a tool that matches your needs and budget, though expect rotary hammers to be more expensive than hammer drills.
A Note on Rotary hammers: SDS Chucks
Though not always, many rotary hammers use an SDS chuck. All this means is that the bit is twice screwed into the chuck. You begin by screwing the bit into the chuck. Then, you screw a left threaded screw through the opposite end.
The benefit of this is that it provides you a much stronger connection. The drawback is that you can use fewer bits on models that are SDS compatible. Some more modern tools will have a tool-free insertion of SDS bits. These models will be more expensive, but they are more convenient. It is up to personal preference on whether or not you get this sort of model.
Staying Safe
Drilling into concrete can be incredibly dangerous. Make sure that you stay safe when using a rotary hammer or hammer drill. Wear protective gear, like gloves and goggles. Goggles will be especially beneficial in the case that any materials should fly up during the drilling process. Even if you have drilled into concrete many times, never forgo your safety.

Quick Look: Our Top Choices
Rating
Image
Product
Details

Our Favorite Pin Moisture Meter

General Tools MMD4E Digital Moisture

Accurate
Affordable
Easy to use
CHECK PRICE

Our Favorite Pinless Moisture Meter

Wagner Meters Orion 910 Pinless Moisture Meter

Versatile
Highly accurate
High quality
CHECK PRICE
Our Favorite Rotary hammer: Makita HR2475 1 Inch Rotary hammer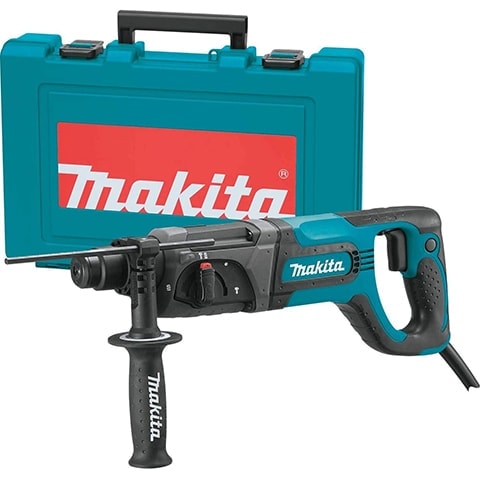 This Makita Rotary Hammer is a powerful and durable option for drilling holes into concrete and masonry. It includes a 7 amp motor, which delivers 1100 RPM and 0 to 4500 BPM. This allows the tool to deliver in the most demanding situations. The model includes a motor that is engineered with dual ball bearings, the interlocking steel laminations, and copper commutator bars. This increases the energy transfer efficiency, making it more powerful and long lasting.
Our Favorite Hammer Drill: DeWalt 20V MAX XR Hammer Drill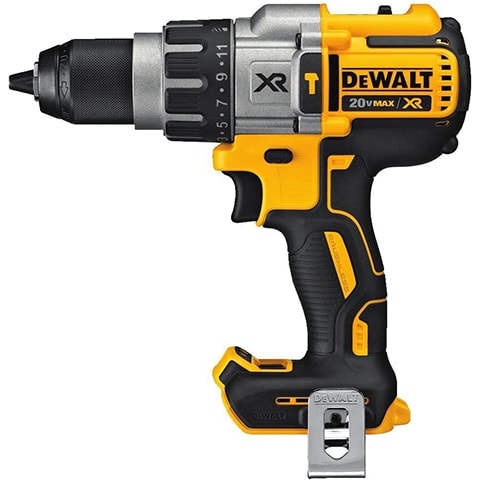 Like other DeWalt products, this DeWalt Hammer Drill is powerful and long lasting. It includes a high-performance transmission and brushless motor that offers 0 to 38,250 BPM. For convenience, the model is cordless and comes with a 3 mode LED light with spotlight mode. This makes it easier to both hold and see with this model in dark situations.

Conclusion
Although rotary hammers and hammer drills perform the same jobs, rotary hammers are more powerful, while hammer drills are more ergonomic and lightweight. If you need a tool for construction work or other professional uses, get a rotary hammer. In contrast, select a hammer drill for light to medium-sized jobs around the house. The power of the rotary hammer won't be worth it for lighter jobs.