7 Best Hammer Drills of 2023 – Top Picks & Reviews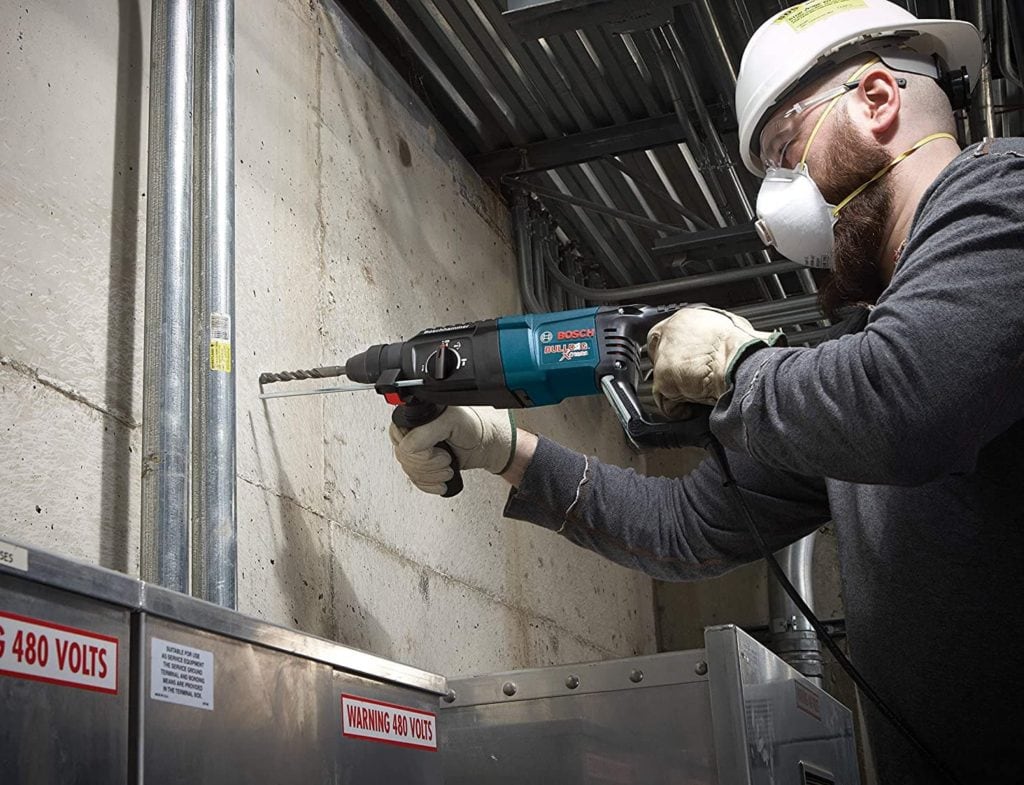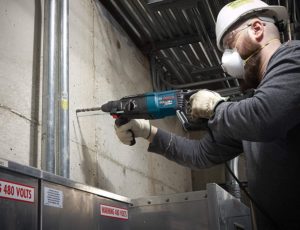 Drilling into hard surfaces is accomplished much easier if you've got a proper hammer drill. It rotates like a regular power drill, but it has a forward action like a hammer. Hence, it's far more effective for heavy-duty work than a power drill.
With so many hammer drills on the market, how do you know which one to buy? It depends on what you're looking to do. To save you hours and days of looking for the best drills, we've selected 7 hammer drill reviews that you should look at to determine if they're right for you. To help you make that decision, we've included their features, how they're going to help you and where they lack.
Then, we've gone a step further. We've included a buyer's guide that should answer questions you've got about hammer drills. We'll include everything that you should look out for to decide which hammer drill will do the job you need. Now let's get started on our hammer drill reviews!

A Quick Glance at the Winners of 2023:
Rating
Image
Product
Details

Best Overall

Bosch 11255VSR Bulldog Xtreme Hammer Drill

D-handle grip
3 modes of operation
Great power
CHECK PRICE

Best Value

Ryobi P214 One+ Torque Hammer Drill

Affordable
Good battery life
High Power
CHECK PRICE

Premium Choice

DEWALT Hammer Drill Kit

Soft grip
Powerful motor
Durable
CHECK PRICE

KIMO T20 Cordless Hammer Drill Driver Kit

LED light
Light
Forward/reverse switch
CHECK PRICE

PORTER-CABLE PCC620B MAX Hammer Drill

Powerful
Good warranty
LED light
CHECK PRICE
The 7 Best Hammer Drills:
1.

Bosch Bulldog Xtreme Hammer Drill – Best Overall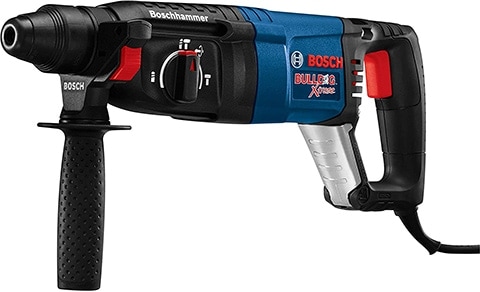 If you're searching for a top of the line product, then the Bosch 11255VSR should be your pick for top hammer drill. Its rotary tool motor is powerful since it produces 0-1,300 rotations per minute (RPM) and 0-5,800 blows per minute (BPM). That'll give you plenty of power to drill through some tough materials, especially since the rotary hammer packs 2 foot-pounds (ft/lb) of impact energy. Don't fret about the comfort if you're going to use this drill every day for prolonged periods because it's got a vibration control that ensures comfort. It's also the D-design handle that helps you avoid hand ache by using the drill overhead or downwards.
You can operate this drill in 3 different modes: rotary hammer, rotation only, and hammer only mode. Bosch has also included a variable-speed trigger that will give you better precision control or easier fastener removing. Then, there's the SDS-plus bit system, which ensures maximum impact energy transfer, dust protection and automatic bit locking.
After comparing the features of this hammer drill to the rest on our list, we found that it was the overall best overall hammer drill. Just keep in mind that this hammer drill isn't the best option for concrete drilling.
Pros
D-handle grip
3 modes of operation
Great power
Cons
Concrete drilling is subpar
---
2.

Ryobi P214 One+ Torque Hammer Drill – Best Value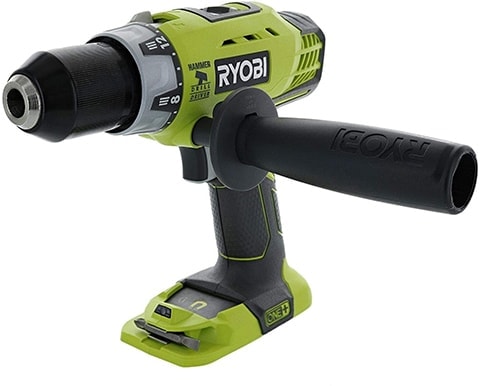 Besides being available at an affordable price, Ryobi P214 offers quite a few great features. This drill has a 2-speed gear box and a ½-inch ratcheting chuck for optimal strength and long-term durability. You can also use the clutch override to quickly change between drilling and driving modes.
You should use the drive mode for screw and bolt driving, and the drill mode is for drilling holes into metal, plastic, and wood. You'll get up to 1,600 RPM and 24,000 BPM. That's quite a bit of power, but they've designed a GRIPZONE so that you get proper grip and comfort. The ½-inch hammer drill/driver comes with a screwdriver bit and an auxiliary handle, and a 24-position clutch so that you can deal with high-torque applications with ease.
This hammer drill operates with Lithium-Ion batteries, which have a reputation for long life. One of the drawbacks is that this drill doesn't include a depth gauge. Comparing P214's features to its price has revealed to us that it is the best hammer drill for the money.
Pros
Affordable
Good battery life
High Power
---
3.

DEWALT Hammer Drill Kit –  Premium Choice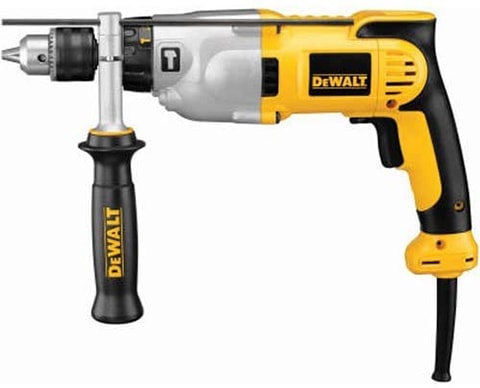 It's important that a drill is powerful but is also easy to use. That's what DeWalt has done well since it incorporated a 10-amp motor but also included a soft-grip handle, as well as a two-finger trigger so that you can have better control and comfort. The 360-degree locking side handle ensures optimal comfort. The drill's motor is more powerful than most on the market, while at the same time, increasing overload protection.
It comes in a dual-mode, so you can use the hammer drill or drill for steel drilling, wood, and masonry applications. They've also included a metal gear housing to ensure that it is durable and doesn't overheat during prolonged usage. You can get up to 3,500 RPM, and you can use the 3-year warranty if something goes wrong with the machine.
Considering this drill is 14 inches long and weighs 6 pounds, it can become heavy after extended use.
Pros
Soft grip
Powerful motor
Durable
---
4.

KIMO T20 Cordless Hammer Drill Driver Kit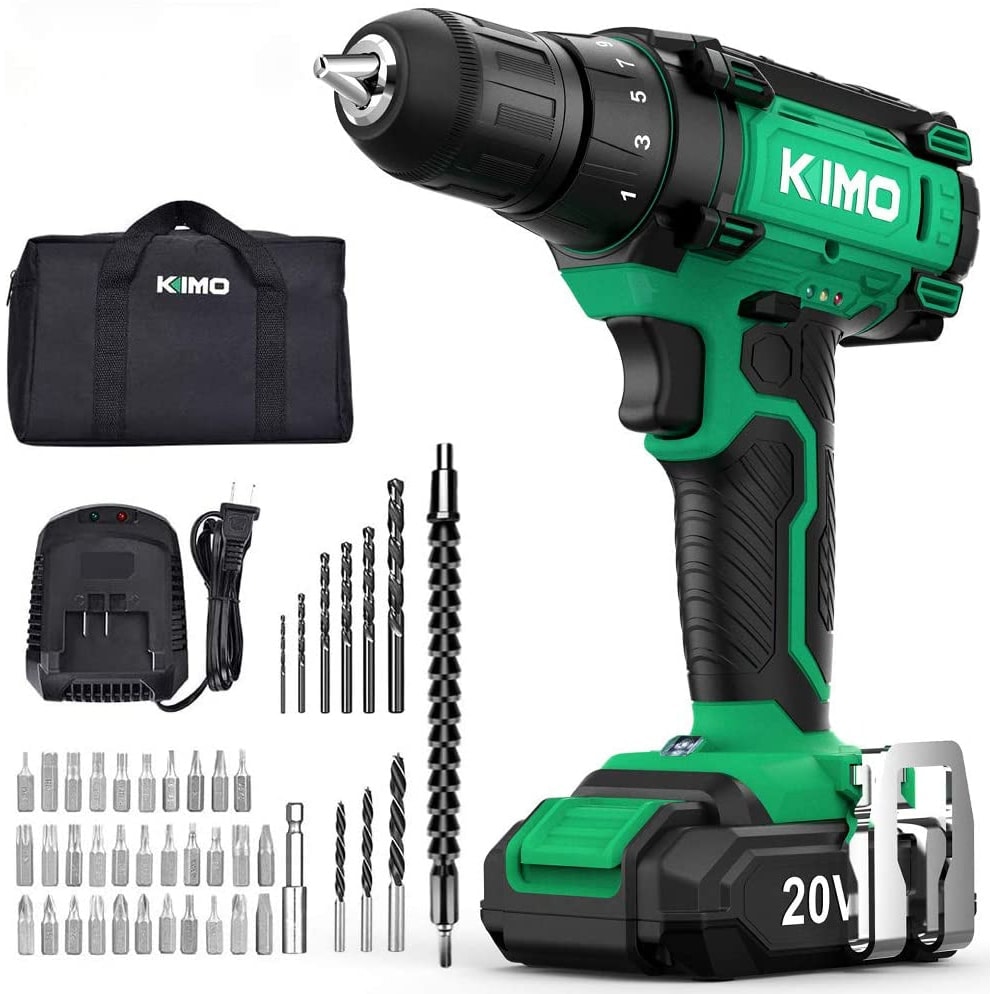 KIMO T20 is another drill that uses Lithium-ion batteries, so you can be certain that it's going to last a while. It's supposed to last at least 1,000 cycles. You can choose from three functions: impact drilling, drilling, and screwdriving through the two variable speeds that provide 0-350 RPM and 0-1,350 BPM.
Working on it throughout the day won't strain your hand because this drill weighs only 2 pounds, and they've designed it to fit into tight areas. They've also included a LED light so that you can see better. To make the operation even easier, KIMO fitted a forward/reverse switch so that you can remove screws or replace them after they're secured. This cordless drill provides a maximum of 330 inch-pounds (in/lb) torque so that you can easily drill through metal, plastic, and wood.
Since this is a kit, you get 46 pieces of accessories such as 6 twist drill bits, 3 nut driver bits and several other components such as a carrying bag. The ⅜-inch keyless metal chuck secures your bits easily so that you don't have to exert yourself.
It happens sometimes that the drill bits are bit slow.
Pros
LED light
Light
Forward/reverse switch
Cons
Drill bits sometimes are slow
---
5.

PORTER-CABLE PCC620B MAX Hammer Drill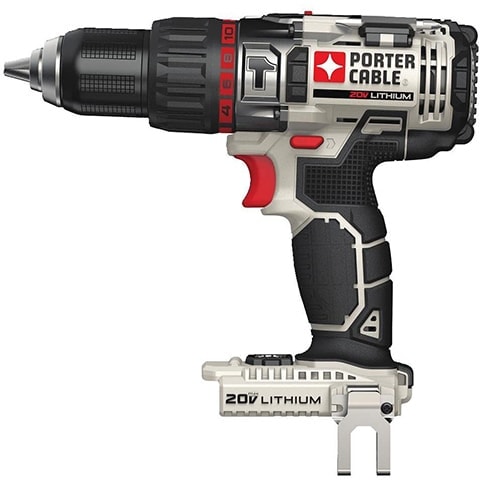 If you're looking for a powerful hammer drill, then this might just be what you're looking for. It delivers 27,200 BPM and a 2-speed gear box that produces 0-400/0-1,600 RPM. That's enough power to let you complete small and big projects. When you're working in dark areas, you can use the LED light.
The Porter-Cable Hammer Drill is perfect for masonry and concrete drilling, as well as metal and wood. You can use the 23-clutch settings to make the work easier and the ½-inch metal racheting chuck to change bits quickly so you don't slow down. This drill is battery-powered, but you're going to have to buy the battery separately. It needs a pair of Lithium-ion batteries, which will definitely last you long, and the product also comes with a 3-year warranty.
After fitting the two batteries, you might find that it's slightly heavier than most drills.
Pros
Powerful
Good warranty
LED light
---
6.

SKIL PWRCore Brushless Hammer Drill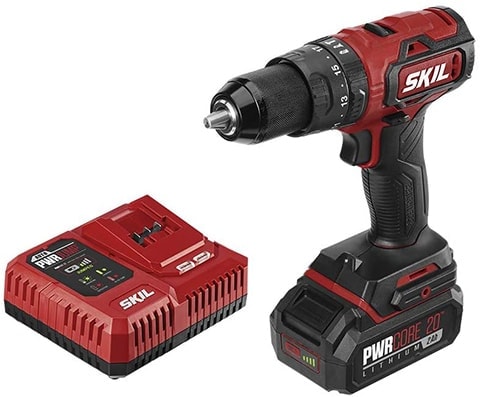 The difference with this drill from most of the ones on the list are that it comes with 2.0-Ah Lithium Battery. That's an extra item that you don't have to buy. Skil has manufactured the PWR Core battery with cooling material so that it can run longer. You've got the option of charging the battery by plugging it into a USB port. Also, the PWR Jump Charger charges the battery in five minutes.
This drill is like a 3-in-1 because it lets you change from hammer drilling to screwdriver mode to drilling. That's going to save a lot of time. You'll find that the motor is very efficient as it's capable of going through tough surfaces such as masonry, brick, and concrete while you use the 17 torque settings.
PWRCore comes with a 2-inch single-sleeve, keyless metal ratcheting chuck so that you change bits efficiently and not need to slow down the project.
The only hiccup with this drill is that it can shake sometimes.
Pros
Great battery life
USB rechargeable
Three modes
---
7.

CRAFTSMAN Cordless Hammer Drill
Craftsman produced a ½-inch cordless drill that produce 280 watts so that you can do heavy-duty jobs. They've also included a ½-inch ratcheting chuck so that you can get better retention. When it comes to concrete and brick, you can use the drill's 25,500 BPM to do that job.
The supplier has fitted a 2-speed gearbox and also included Lithium-ion batteries that will give you lots of running time and should last for a while. The charging is going to take about an hour for the battery to be full. You can work in dark areas with ease thanks to the LED light, and Craftsman has included several accessories such as six spade, HSS, and Drive bits.
The supplier could've included extra accessories to make this product really appealing.
Pros
Powerful
Batteries included

Buyer's Guide: How to Choose the Best Hammer Drill
Hammer Drill vs Rotary Hammer
The main factor that separates these two types of drills is the mechanical process of the pounding force that each deliver. A hammer drill contains two discs that resemble the ridges on a poker chip, so as the one drill disc slides past the other, it goes up and down. That results in the chuck to pound forward and back. The clutch separates the disc when there's no force on the chuck, bringing the pounding to an end.
The pounding action in a rotary hammer comes from a piston that's driven by a crankshaft. When you drive a piston forward, that's when air pressure is created. Professionals prefer rotary hammers because they tend to be much tougher than hammer drills, therefore last longer and can do the job more efficiently. Rotary hammers are used more for bigger projects, whereas a homeowner can use a hammer drill for smaller jobs.
Important Features
Power Source
If you're going to work around the home on small projects and use your hammer drill for odd jobs, getting a cordless drill will work perfectly. You can move around without worrying about having sufficient cord length or getting tangled up and possibly tripping over the cord.
The drawback of cordless drills is that they are less powerful than corded ones. Professionals tend to use a corded drill because it gives them more RPM so that they can tackle the heavy-duty jobs with ease.
Speed
One of the key reasons that you should look for variable speed drills is that it allows you to exercise better control. Being able to speed up the drill or slow it down enables you to be more precise in the job, not only providing better results, but you'll do the job quicker by avoiding unnecessary mistakes.
Different speeds also allow you to accomplish various tasks, so you can choose the surfaces that you want to drill. Softer woods might require a lower speed so that you are accurate and don't damage the wood while drilling metal will require you to have quite a bit of power so that you can drill through.
Speed has everything to do with motor power. If you're going to drill concrete, you want to get a drill that provides high blows per minute (BPM). The other factor also to consider rotations per minute (RPM). Both have an effect on the efficiency and effectiveness of the job. To perform heavy-duty jobs, look for drills with high BPM and RPM.
Safety
Safety is always the primary key, so make sure that the drill you choose allows you to practice that. The most common safety feature in a hammer drill is the two handles, providing you stability. It also helps if the hammer drill is ergonomic so that you get the utmost comfort but also that they have absorption technology. That's key, especially in corded drills due to their power.
The other features that you should consider are goggles. It's something that most people tend to neglect because they don't see drilling as a high risk to their eyes, but goggles can prevent bits from flying into your eyes. You can also don a face mask if you're busy with masonry since the dust isn't pleasant to inhale.
Using the right amount of pressure will not only help you to prevent damaging the motor or snapping the bit, but it could avoid an injury. When you apply too much pressure, you can slip up and drive the drill into an unintended object or into yourself.
Chuck
Most hammer drills these days have keyless chucks so that you can change the bits quickly and easily, but you might consider getting a drill with a keyed chuck. That means you'll have to manually tighten it, but the benefit is that you will get better retention and don't have to worry about it slipping out of place.
Drill Bits
Besides searching for a hammer drills that provides good power and durability, you should also look for one that comes with many accessories. A good hammer drill should include an array of drill bits. Preferably, there should be several styles and sizes that come with the drill. That variety is going to help you when you need to do different jobs. It would help if some of the accessories consisted of carbide-tipped bit heads since these are known for their durability.
Batteries
Since most hammer drills operate on batteries, you're going have to factor this aspect as well. The reason it's important to consider is because some manufacturers include a battery while others make it a separate cost. The other things to consider with batteries are their charging time and longevity. Some drills need only a few minutes to charge, while others need an hour or longer.
You'll have to look at how long the batteries can last before you have to replace them. With some hammer drills, you can even plug it into a USB port to charge it.
More buying guides like this:

Conclusion
The reviews featured in this post consist of seven hammer drills that you can consider. Each review highlights the product's features, their strong points and possible factors that might prevent you from achieving the best possible job. After looking at all the products and comparing them to each other, we have determined that Bosch 11255VSR Bulldog Xtreme Hammer Drill is the best overall. Its features were exemplary, and it stood out from the pack.
You also have to prioritize finding a product that has lots of great features but isn't expensive. The product features have to justify its price, and of all the products on the list, it was evident that Ryobi P214 One+ Torque Hammer Drill was the best hammer drill for the money. Consumers looking for a premium product can take a look at DEWALT Hammer Drill Kit. It's slightly more expensive than the rest but also offers great features.
See Also: