10 Shabby Chic Interior Design Ideas (with Pictures)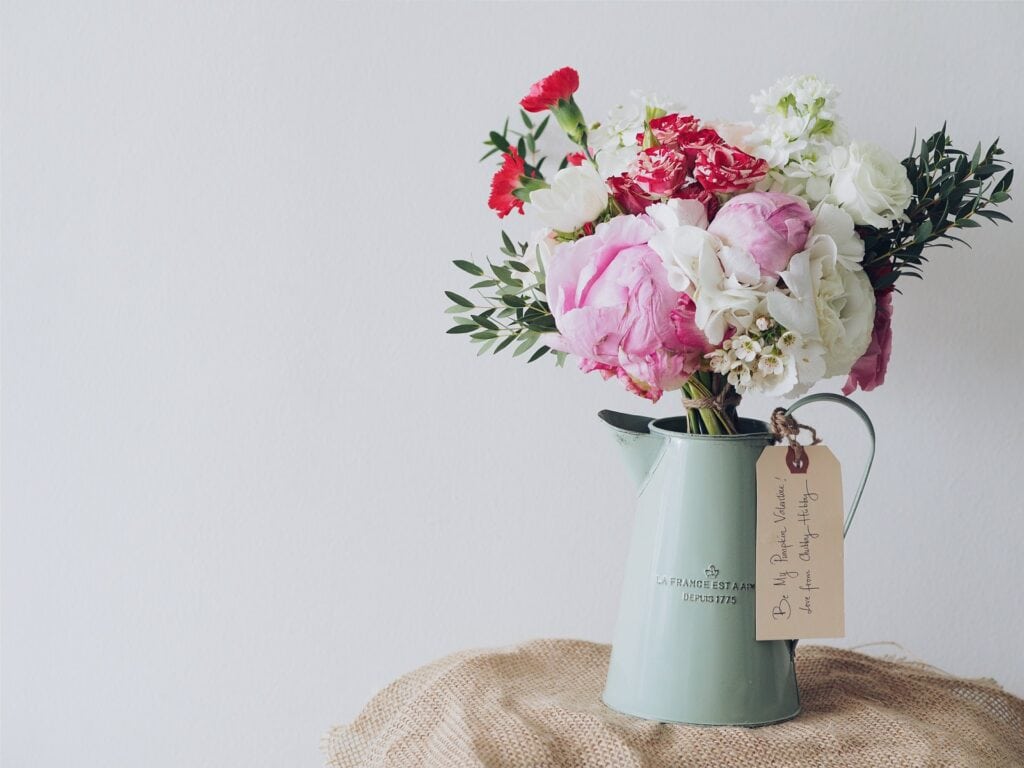 It's an all-around win when your interior design is fashionable, functional, and affordable, which might explain the shabby chic appeal. Since it's more focused on flea market finds than high-end luxury looks, shabby chic lets you engage your creative side with reclaimed and reimagined elements.
Vintage flair is a timeless element, so the design has staying power. It's delightfully eclectic without being gaudy, with a fresh assortment of hidden treasures to charm and inspire. If you have a decent eye and a shoestring budget, you have all you need to pull off this warm, inviting style. Get started with your home update with these 10 shabby chic interior design ideas.

The 10 Shabby Chic Interior Design Ideas
1. Vintage Antique Accents
Nearly everything in a shabby chic interior can come from a second-hand store. While you may want to buy new country cottage bedspreads, half the fun of shabby chic is the hunt for unique statement pieces among the mish-mash of a thrift shop.
Antiques can (and should) pop up everywhere, from the area rug under the coffee table to the picture frames on the wall. Look for aged distressing and patinas in ornately detailed designs.
---
2. Mix and Match
Freedom from perfection is the beauty of the shabby chic interior design trend. Take flights of fancy as you collect your display pieces while staying grounded in the vintage direction.
Each accessory should make a statement on its own. But when brought together, a brimming display cabinet becomes a single work of art that's so much more than the sum of its parts. Build a mismatching China set, blend vintage pieces with plants, or arrange an eclectic array of vases, bottles, and bins for an intriguing gestalt.
---
3. Well-Worn Furniture
Furniture is no exception to the retro treatment, and again, you can look to thrift stores for one-of-a-kind finds. It's crucial to focus on quality when shopping for these functional pieces. While reclaiming is part of the shabby chic journey, rebuilding broken furniture can become a little tedious.
Stick to pieces you can reshape and revive by swapping out seat cushions or, even better, adding a light and loose slipcover, a shabby chic staple.
For primary pieces of furniture, like sofas and dining tables, don't feel bad about buying new. Plenty of factory-fresh pieces come with a faded country feel and shabby chic-ready stylings.
Classic design elements like cabriole legs, English rolled arms, pleating, and skirts can all have a place in shabby chic interiors. Choose light-colored or off-white furniture with plush, squishable, and flippable cushions. You want something that easily breaks in and takes on a comfy, cozy look. Use "softness" as a theme, displaying it via graceful curves and muted, chalky colors.
---
4. Explore Wall Patterns
There aren't many hard and fast rules to designing shabby chic walls, so take the opportunity to explore the space. If you're overflowing with accessories, here's another perfect display platform. Decorative plates and platters have as much business on the walls as any painting or family photo.
Keep your walls basic and versatile with an even coat of matte creamy-white paint if you please, or get bold with pattern and texture. Shabby chic loves a whitewashed panel wall or bold vintage wallpaper. Florals are a popular direction, with flowing chintz patterns adding colorful flair and interest to the backdrop.
---
5. Feminine Forms
Shabby chic interiors are bright, inviting, and tranquil, with soothing forms and soft colors gracing every corner of the room. It's a distinctly feminine style. Natural elements are brilliant and fragrant, and furniture and accessories follow organic forms and delicate structures. Seek out creative and cozy elements like ornate lace, floral fabrics, airy wicker, and anything sporting stylish flourishes.
---
6. White and Pastel Palettes
Layered whites and off-whites are a solid foundation for any shabby chic room. Use texture and pattern to break up your elements and create depth. For instance, a cream wall, downy white comforter, whitewashed poster bed, and natural fiber rug in the bedroom offer a harmonious diversity.
Soft colors are the key. White linen and touchable cottony fabrics are a safe starting point. It isn't minimalist, so feel free to explore colors as long as you keep them light and pastel.
Matte chalk paints diffuse light for a gentle glow, and a light sanding will give your painted fixtures and furniture a distressed look that defines shabby chic. If you want to incorporate more striking elements like reflective porcelain, find a unified area to showcase them, such as a display cabinet.
---
7. Reclaim and Repurpose
There's so much freedom in shabby chic, not just in the items you bring home from the flea market but also in how you incorporate them. Wall décor is a perfect example. Add rustic and vintage elements like barn door decor, chipped pastel window frames, or antique hand mirrors alongside your hanging paintings.
Case goods are also versatile throughout a shabby chic home. A vintage trunk makes an appropriate cocktail table just as a dresser or vanity can become a functional hall storage space.
---
8. Ornate Lighting
There are no cookie-cutter dome or can lights in a shabby chic interior. A radiant glow emerges from a hanging chandelier adorned with quintessential distressing, flowing forms and sometimes even a little crystal glitz. Connect your lighting displays and open the room with some carefully placed embellished sconces.
---
9. Set the Table
When you add an antique chandelier overhead, it needs a match underneath in an equally alluring dining arrangement. Take pride in a well-designed table prepped and ready for comfortable socializing. Layer light-colored and lace table cloths and set the table with dainty linen napkins, antique silver, and floral china.
---
10. Colorful and Fragrant Flowers
Plants factor heavily into many contemporary design schemes, but shabby chic takes a slightly different direction than you'll find in modern styles. Shabby chic can include the tall, floor-standing fiddle-leaf fig or exotic greenery in the corner, but it shouldn't start there. The natural element should exude a familiar feminine country charm; nothing does that better than a crisp bouquet. 
Fresh-cut flowers are the perfect tabletop accent against the layered whites and neutrals that anchor the decor. A collection plucked right from the garden offers vivid colors, delicate textures, and floral fragrances for a sensory highlight. 
Bump up the cottage element of your garden flower display with a crafty vase. An antique metal planter, chipped porcelain ewer, wicker basket, or painted Mason jar can all make a quaint complement.

Conclusion
Shabby chic is a joyous array of styles that celebrates the beauty of imperfect and aged interiors. It's boho, rustic, and farmhouse in a not entirely seamless blend to create a wonderfully warm and casual arrangement. Take a trip to your local thrift shop and start designing your perfect shabby chic interior today!
---
Featured Image Credit: nardoleo, Unsplash