17 Vintage Interior Design Ideas (with Pictures)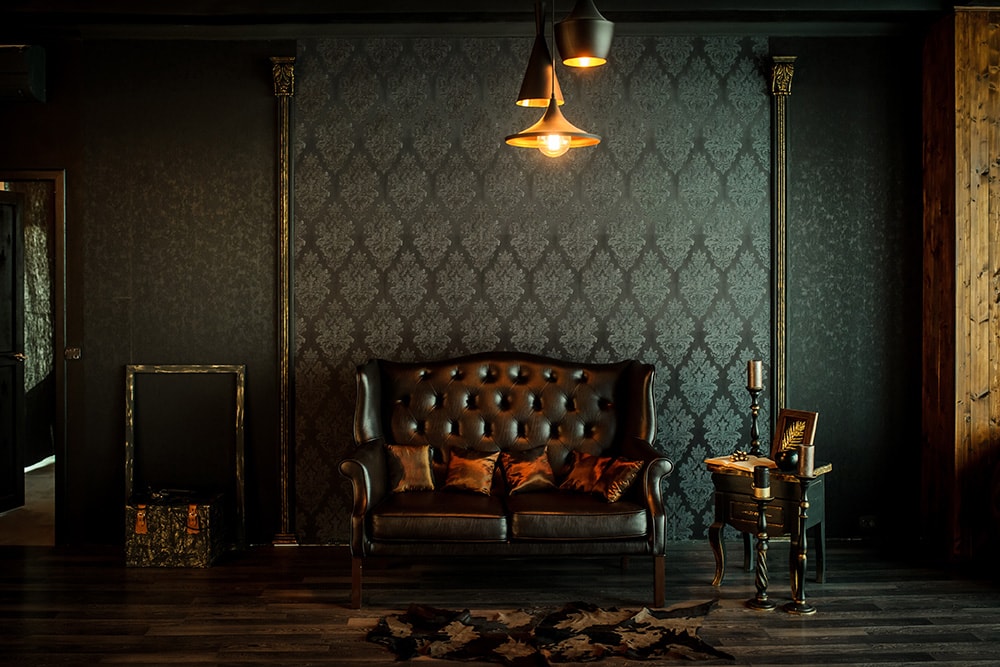 Looking to change the interior of your home to give it more of a vintage feel? Are you tired of feeling like your place is lacking a certain charm or vibe? Well, perhaps vintage design ideas can add the elements that you're looking for.
You can make your space way more inviting by adding small things like old-school accents, rugs, wall art, and collectibles–and you can do it on a budget. So, in what ways can you give your home more of a vintage or retro look?
We've got the answers for you. In this article, we're going to show you several ways that you can add an interesting visual and classic look that's both comfortable and functional.

The Top 17 Vintage Interior Design Ideas for Your Home
1.

A Versatile Sofa That Fits Into Any Room
Often, furniture is the main focal point of the room. However, if there are already several pieces of furniture in a space, you may want something simpler that will blend in with the rest. For a vintage feel, add a leather sofa that has a rustic feel or neutral colors.
The sofa can also be used as a divider between the living and kitchen areas. Leather sofas can give the room a rustic, vintage look. Also, consider adding brown elements and a bit of greenery for a bit of character. Perhaps include a beautiful tribal rug as the floor centerpiece of the room.
---
2.

Old-School Wall Art
If you don't give your home that personal touch, it won't feel like home. Wall art can be a true representation of a family. Modern prints can be given a retro feel with candid black-and-white photos in polished or worn art deco frames. Hanging flowers and a vase with multi-toned flowers add character to your wall.
---
3.

Add a Grandfather Clock
Remember these? A grandfather clock is the ultimate antique collector's item. It instantly adds a memorable and timeless feel to your living space. Many old grandfather clocks have been restored and painted to go into modern spaces. The colors on these clocks will stand out and compliment your walls. Beautiful and intricate designs can also be found on the clock's face and back.
---
4.

Create a Media Center
The TV doesn't have to be a major feature in your vintage living space. But a media center takes attention away from the TV and focuses it on the beautiful parts of the room. The media center's glass doors conceal every little item that goes with it. The room will feel like home thanks to the few bright accents of color such as lamps, flowers, and accent pieces.
---
5.

Mid-Century Style Chairs
And let's not forget about seating. You can add seating to your living room to make it more comfortable, decorative, and conducive to entertaining. For example, mid-century furniture like chairs can add a lovely accent to any living space.
These chairs have a retro, elegant look that transports you back to the 1960s thanks to their old-school upholstery and stitching. The chairs are also easy to move because most are on casters. A wicker accent table, lamps, tweed chairs, and antiques with eye-catching orange or reddish elements complete the look.
---
6.

Unique Personalized
People often add photos of their family and friends to personalize their spaces. Personalizing your living space in a creative way is one of the best vintage living room decor ideas. Consider burlap and wicker storage bins, or maybe a large coffee table in the center.
Or, perhaps add a wire basket of wood to the room for a warm feeling that reminds you of cozy old school days at the fireplace.
---
7.

A Sitting Space with Wooden or Wicker Chairs
A sitting area near the window is a good addition to a vintage living room or bedroom. This is the ideal place to relax with a book or a glass of lemonade. The wicker chair gives this area a vintage feel. Add a backdrop of striped or solid curtains. This will add a fresh, inviting touch to the space along with the addition of other neutral colors such as brown (or tan), yellow, and light gray.
---
8.

Curvy Furniture Made of Wood
Curvy furniture will always give an old-school look to any room. And wood is one of the best materials for vintage decor. Few other materials seem to match the warmth and inviting vibe of wood furniture throughout your home. You can fix any missing legs or hardware by simply removing them. To give the piece a weathered look, you can airbrush or use sandpaper to clean it.
---
9.

Mid-Century Area Rugs
Mid-century and Persian rugs just scream vintage. When selecting a carpet for your vintage-decor-inspired home, think about the color, patterns, and seams on the piece. Avoid rugs that have solid or predictable color patterns and go for those with intricate designs. Consider any discoloration or slight wear and tear as imperfections that can only enhance the beauty of your home.
Related Read: 10 Mid-Century Modern Interior Design Ideas
---
10.

Find the Right Modern-Vintage Balance
When combining modern and vintage interior design, the most important thing is to strike a good balance between them. You should pair bold colors with modern decor that has a lighter foundation. Don't ignore the other–try to mix and match elements from each. The vibe can be influenced by patterns, colors, and textures, as well as furniture.
---
11.

Keep It Neutral
Modern looks will usually have more bold colors such as blues, greens, and vibrant reds. For a vintage appeal, try to keep things neutral with beige, white, brown, and duller version of blues, reds, and greens. This method combines soothing colors with antique items and bold decor. You can combine both interior designs by using whites and various neutral shades on the walls. Brighter colors can be complemented by the rest of your decor.
---
12.

Add a Touch of Velvet
Velvet is a timeless element in both vintage and modern interior design. It's attractive, elegant, and very charming. Consider adding velvet seating with dark or painted wooden tables and chairs. Light-shaded velvet seating will add a modern touch, so be sure to balance it with darker pieces and other furniture. And don't forget about velvet throws, rugs, and pillows. Also, try to use colorful velvet pieces so that the texture stands out.
---
13.

Make Antiques a Mainstay
Vintage interior design is simply incomplete without at least one or two antiques. One approach to vintage design is to make antiques the main focal point of your interior design. Go rummaging through the nearest antique store bin to find small and large items to add to your rooms.
Make sure the antiques match the interiors and color scheme you want. You can enhance your vintage look with things like handicrafts, Indian art, handicrafts, mirrors, and clocks.
---
14.

Vintage Style with Vibrancy
Modern interior design is more about simplicity and minimalism. Vintage interior design is all about elegance and timeless attraction. Both are different styles, which is why it's so fun to combine them. Bold hues can be neutralized with lighter tones by using lighter shades.
You can mix pink with neutral or white pieces in a room to create a harmonious combination of the two. An accent wall in bold colors can be added to give the room a contemporary feel.
---
15.

Use Various Patterns and Textures
You can create a vintage look by using vintage-inspired textures and various patterns. Your sofas can be made from upholstery fabrics or leather. Light colors like nudes, pastel pink, and grays tend to work best.
These fabrics will be the focal point of your living space and will help enhance the ambiance. For a vintage look, you can choose from velvet drapes and pastel floral drapes with neutral wall tones. The vibe can be amplified by pillows and throws with various patterns. To add more warmth (and comfort), add rugs or carpets that complement the tones of the sofa.
---
16.

Make the Walls Stand Out
Your interior walls can make or break your vintage design. Plain white walls will do little for your look, but they can be enhanced with wall art, photos, and lighting. And let's not forget about wallpaper. You can either go "full floral" with wallpaper, or you can keep it more laid back by using neutrals and lighter and simple patterns.
If you want floral walls, make sure the ceiling is kept simple. Otherwise, it may look like a bit of a maze. Instead, try focusing on the floors. Consider marble, checkered, or wooden floors instead of plain tiles or carpeting.
Also, try adding shelves to the wall and placing small plants and other greenery on them. If the walls still look plain, consider adding antique glass vases, brass plant holders, or metallic picture frames.
---
17.

Use Vintage Lighting Fixtures
Vintage lighting can also help to add character to your design. These lights will often have pastel-colored finishes, tinted glass shades, simple silhouettes, weathered wood or metal finishes, or vintage-style light bulbs.
Actually, the bulbs are often the central feature of these types of lights. Lights such as chandeliers, table lights, and wall sconces can help them bring your vintage design to life.

Wrapping Things Up
You can easily transform the rooms in your home by adding more vintage designs to the space. Little things such as lighting, wall color and decor, furniture textures, and accent pieces can make a world of difference in turning your modern design into something more classic and charming.
There are so many options to choose from that it can be a bit overwhelming initially. However, if you start by adding only three or four elements to the room, you will quickly see how a little can go a long way to making this transition happen. Consider starting with a few pieces of furniture, accent items such as tables or art, and then just go from there.
You might also like:
---
Featured Image Credit: Med Photo Studio, Shutterstock