SketchList 3D Pro CAD System Review 2023 – Pros, Cons, & Verdict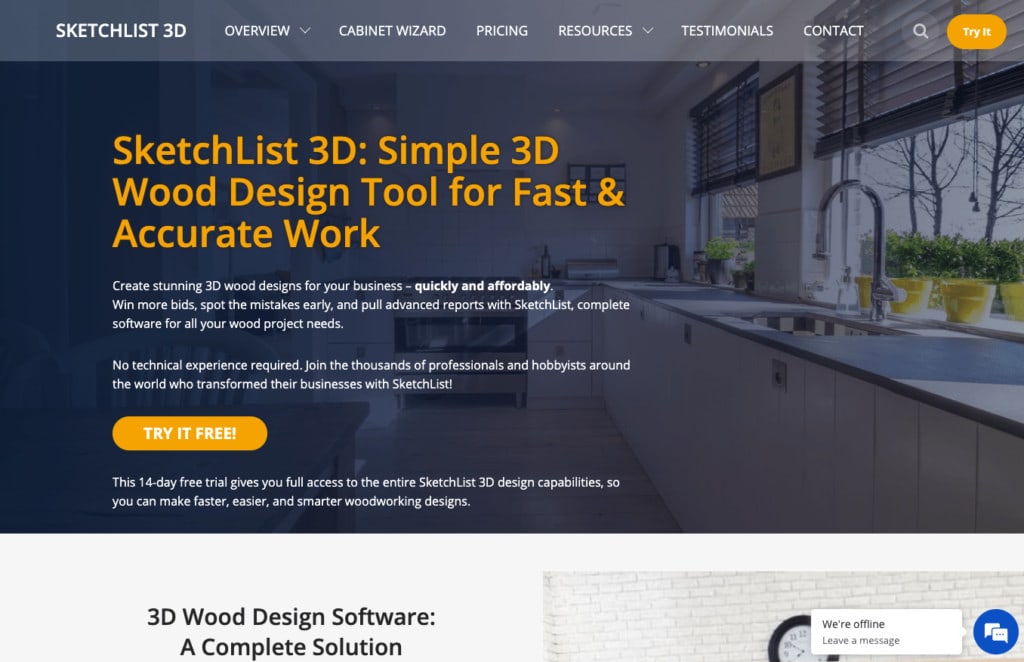 We give the SketchList 3D Pro a rating of 4.8 out of 5 stars. 
Ease of Use: 4.8/5
Features: 4.9/5
Feature Manipulation: 4.8/5
Import/Export Option: 4.8/5
Price: 4.5/5
Review Summary
When creating cabinets or any other woodworking project, it's helpful to invest in a CAD, computer-aided design, system. These systems will help you visualize and create the best woodworking designs that are both attractive and practical. One of the more impressive CAD systems is the Sketchlist 3D Pro.
The system is incredibly easy to use, complete with killer customer service, technical support, and tutorial videos. On top of that, it helps you to easily modify and visualize your creations, including grain and color. These features make it a great option for woodworking professionals and business owners. Amateurs, however, may want to look for a different option because of its high price tag.
To find out more about the Sketchlist 3D Pro system, read on. This guide provides you with a complete overview of its features, benefits, and drawbacks. Let's get started.
Sketchlist 3D Pro – A Quick Look
Pros
Easy to use
Good technical support and customer service
Tutorial videos
A lot of modification options
Versatile
See actual color and grain
Ideal for professionals
Cons
Expensive
Too expensive for amateur use
Specifications
Specifications
Brand: Sketchlist
Suitable For: PC and Macintosh
Recommended RAM: 2 GB
Requirements: Internet connection for registration and updates
Design Capabilities: Full design
Number of Library Objects: Unlimited
Easy to Use
Many CAD tools are pretty hard to use, especially for a newbie. Luckily, the Sketchlist 3D Pro system is really easy to use. To get started, all you need to do is open the program, enter your dimensions, and get to work. This easy setup means that you can start learning quicker than ever.
One of the most useful features of the software is the cloning and mirroring feature. This will allow you to easily create mirrored designs without the fear of throwing off symmetry in your final project, which is a common flaw of most system designs.
Even if you have a little bit of trouble at first, Sketchlist has many tools to help you out. For example, there are a lot of tutorial videos online. They also offer live technical support and impressive customer service. Both of these tools can help you really figure out how to use this system to your advantage.
Versatile and Diverse
Any woodworker knows that there are countless of designs and materials to choose from. You want your system to be able to offer a variety of images, not just one or two designs. The Sketchlist 3D Pro provides many material and design options, allowing it to be more versatile and showcase diverse designs.
Feature Manipulation
Sketchlist 3D Pro makes it easy to modify any of the features that you design. For example, you can modify the shape, thickness, or design of just about anything. This will be really helpful when creating doors, for example, because you may need to vary thickness or swinging design.
You can also add other features, such as waterproof materials. These materials obviously protect your final project, but the system itself will help you see what the final product will look like with these protective materials.
See Actual Color and Grain
One unique feature of the Sketchlist 3D Pro system is that you can see the actual color and grain. This can help you visualize what the final products will look like. This feature is especially helpful if you need to show a client their potential finished product. Since most clients aren't familiar with what certain woods or finishes look like off the top of their head, this feature is really helpful.
Ideal for Professionals
The Sketchlist 3D Pro system is ideal for professionals. Since it comes with so many features and is easy to use, you can easily integrate this CAD system into your business so as to maximize profit and show clients the final product.
Though the system is a bit on the pricier side, professionals shouldn't have a problem investing in the system. Its large variety of offerings makes its price completely justifiable within a commercial setting.
Expensive for Hobbyists
With that in mind, this system will be too expensive for hobbyists. Since hobbyists will not need to use the system too often, there really is no point paying the high price for the Sketchlist 3D Pro. Luckily, Sketchlist 3D offers other options that are much more affordable. Something like Sketchlist 3D Hobby will offer impressive features that are much more affordable to the average DIYer.

FAQ
Is this software suitable for a beginner?
Yes. Sketchlist 3D Pro is easy enough that anyone can learn how to use it, especially considering the extensive tutorials and technical support. Of course, there will be a learning curve for more detailed work, but you should be able to figure it out relatively quickly in comparison to other tools.
What systems support Sketchlist 3D Pro?
Both PC and Macintosh support the Sketchlist 3D Pro. When you checkout, you will have to select one of these two options.
Does this system provide full design capability?
Yes. The system provides full design capability. This includes unlimited library objects, five types of joinery, seven types of contours, photo rendering of files, shop drawing, and much more. Together, these features ensure that you can design every aspect of your woodworking project with little to no additional hassle.
What the Users Say
To find out what other people thought about this product, we looked online. Generally, most users loved it, causing it to be listed on several top CAD systems for woodworking lists. Still, some people came to the same conclusion as us, which is that it might be too expensive for amateur use.
Benefits
Almost everyone who reviewed this system agreed with our general assessment that it was incredibly easy to start and use. Users thought that the many features and support options made it easy enough for anyone to get started on this software. Customer support was frequently cited as being one of the best features of this system.
Users, like us, love this product for business purposes. Several reviews noted that this software took their business to the next level by creating designs that they could show their customers. Some customers recommended doing the free trial first to make sure you get your money's worth, but they thought most should upgrade to Pro after the free trial.
Drawbacks
Most of the negative reviews of this product weren't necessarily negative. They were more like recommendations. For example, several reviewers noted that this is not the best option for hobbyists. They thought it was too expensive for someone looking to help out with their DIY plans. They recommended going with the hobby version or something else more affordable instead.
A few people also noted technical glitches, claiming that it wasn't worth the price. We caught a few technical glitches ourselves, but they were way less in number than other CAD systems we have tried. So, we did not think they were that notable. Consider this drawback for yourself during the free trial.

Conclusion
The Sketchlist 3D Pro is a great CAD system for woodworking professionals. Its easy-to-use design and technical support make it a great option for businesses. Due to its price, though, amateurs ought to look for something more affordable.