Sun Joe SPX3000 Pressure Washer Review 2023: Pros, Cons, FAQ, and Verdict
Review Summary
Our Final Verdict
We give Milwaukee Sun Joe SPX3000 a rating of 4 out of 5 stars.
Editor Rating 4/5
Power: 4/5
Features: 3.5/5
Price: 4.5/5
A pressure washer is a fantastic tool for cleaning high-traffic, heavily soiled areas and hard surfaces around your home. However, finding a unit that works well at a fair price can be challenging. If this sounds like your situation, you might want to consider the Sun Joe SPX3000. Here, we go over its most important features, list all its pros and cons, and what other users say about it, so you can see if it's the right machine for your next cleaning project.

Sun Joe SPX3000 — A Quick Look
Specifications
| | |
| --- | --- |
| Brand Name: | Sun Joe |
| Model: | SPX3000 |
| Product Dimensions: | 15.6 x 13.5 x 33.9 inches |
| Item Weight: | 31 pounds |
| Cord Lock? | Yes |
| Cord Length: | 35 feet |
| Onboard Cord Storage? | Yes |
| Hose Length: | 20 feet |
| Maximum Flow Rate: | 1.76 gallon per minute |
| Maximum Pressure: | 2,030 pounds per square inch |
| Number of Tips Included: | 5 |
| Pump Type: | Wobble Plate Piston |
| Wheels? | Yes |
Pros
Portable
Inexpensive
Quiet operation
Powerful motor
Long hose
Cons
Not suitable for large jobs
Short wand
Hard
Tangling hose and power cord
Difficult to assemble

Sun Joe SPX3000 — The Details
Lightweight and Portable
One of the most important things about any power washer is the ability to move it around so you can use it where you need to, and in many cases, you will need to load it in and out of a vehicle to clean places away from your home. The Sun Joe SPX3000 excels in this area because it weighs only 31 pounds, so it's easy to lift and carry around if you need to. It also has large 7.5-inch wheels that enable you to roll it into position over any terrain easily.
Quiet Operation
While the Sun Joe company does not list a specific noise level on the packaging, it's considerably quieter than many other brands. It also doesn't make any noise unless you squeeze the trigger, unlike a gas-powered machine, so it's a good choice for busy neighborhoods that might have restrictions on noise.
Easy to Use
One of the greatest features of the Sun Joe SPX3000 is its easy use. The hose connections are easily accessible with the garden hose connection on the opposite side, so you don't get confused, and there is less chance of a tangle. It also has well-placed nozzle hoses and an easily accessible cord storage hook. It has two soap containers and a dial switch that enables you to select your choice. This system makes it easy to switch from detergent to rinse without stopping and changing containers. The long hose and power cord ensure that you have plenty of room to move around.
Slow Cleaning
One complaint about this machine is that while the Sun Joe SPX3000 works well, it doesn't clean fast and is best suited for small projects, like a sidewalk or a deck, than big jobs, like a parking lot or a driveway.
FAQ on the Sun Joe SPX3000 Pressure Washer
How long can I use this pressure washer at a time?
You should have no trouble using your Sun Joe SPX3000 for several hours without issue.
Can I get an extension wand to reach higher areas without a ladder?
Yes. The Sun Joe company sells extension wands for about $30. Some off-brand extension wands will work, but many will not.
Will the water pressure in my home affect the pressure in the machine?
No. The Sun Joe SPX3000 creates the water pressure that you use for cleaning inside the machine, and the resulting pressure is not affected by your home's water pressure.
Can I use the Sun Joe SPX3000 to clean patios and sidewalks?
Yes. The Sun Joe SPX3000 works well on hard surfaces like concrete, brick, stone, or treated lumber.
Can I use this pressure bar with a well pump?
While the Sun Joe SPX3000 might work fine with a well pump or sump pump, the manual states to use only filtered water, so it's best to use only tap water with this pressure washer.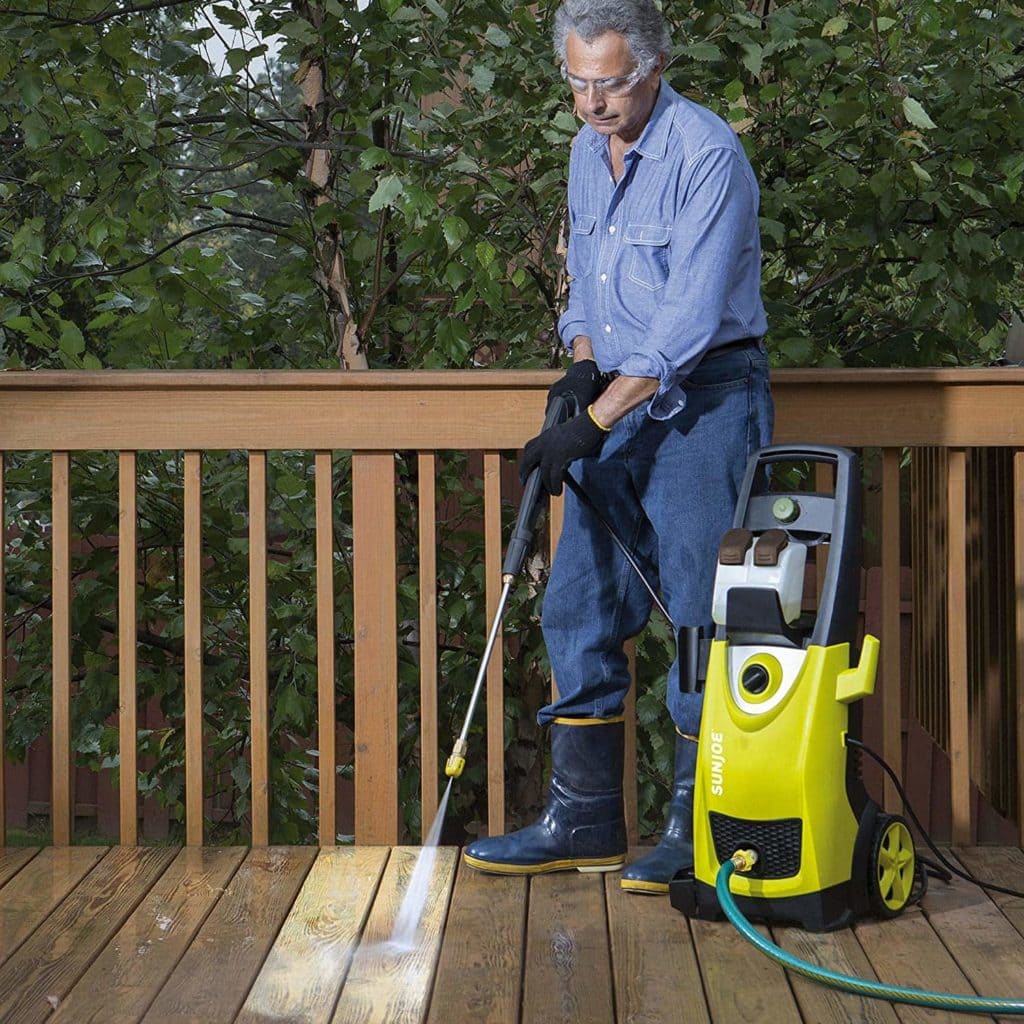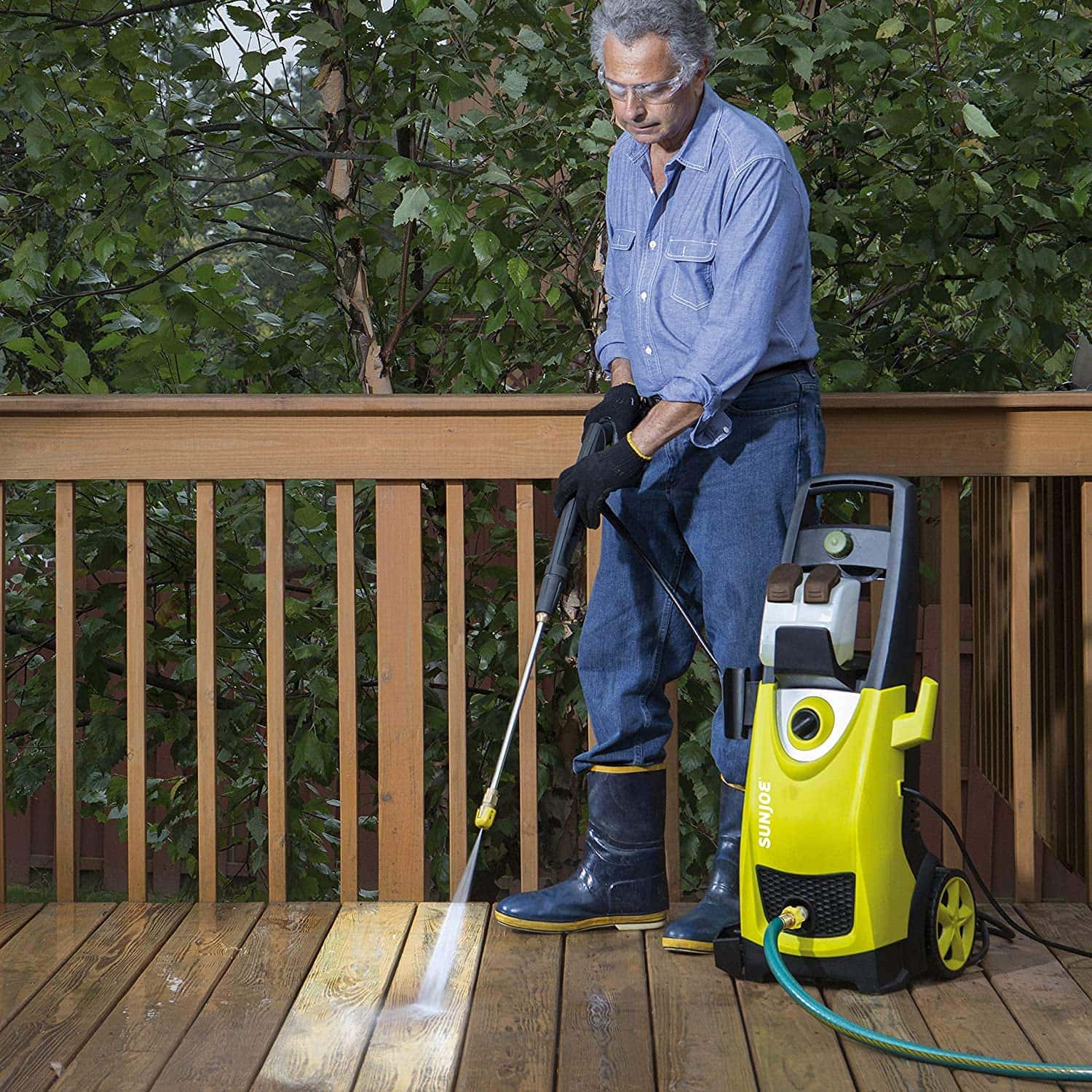 What the Users Say
These are a few of the opinions that other people have about the Sun Joe SPX3000. You can read more of them yourself here.
Most people feel that the Sun Joe SPX3000 is a great value.
Most people say that the Sun Joe SPX3000 is easy to assemble.
Many feel that the Sun Joe SPX3000 is a little underpowered.
Many people say that the Sun Joe SPX3000 cleans well.
Many people comment on the low price of the Sun Joe SPX3000.
Several people complain that the hose and power cord become tangled frequently and are hard to manage.
Several people enjoy how lightweight and maneuverable the machine is.
A few people complain that you can't purchase replacement parts from anyone but Sun Joe.
Conclusion
If you need a great budget-friendly power washer to clean the sidewalk and patio, the Sun Joe SPX3000 is a great option. It has a long hose and power cord, so getting into position is easy. You won't have trouble transporting it or rolling it over rough terrain because it's lightweight and has large wheels. That said, it might not be suitable for some large jobs, and the cleaning process might take longer than with more expensive brands.
See also: