Husqvarna HB32 3200 PSI Pressure Washer Review 2023 – Pros, Cons & Final Verdict
Review Summary
Our Final Verdict
We give the Husqvarna HB32 3200 PSI Pressure Washer a rating of 3 out of 5 stars.
Editor Rating: 3/5
Build Quality: 4/5
Design: 3/5
Power: 4.2/5
Features: 3.5/5
Price: 3/5

Husqvarna HB32 3200 PSI Pressure Washer – A Quick Look
Specifications
| | |
| --- | --- |
| Weight: | 76 lbs. |
| PSI: | 3200 |
| Flow Rate: | 2.7 gallons per minute |
| Engine: | Briggs & Stratton gasoline |
| Fuel Capacity: | 0.3 gallons |
| Torque: | 9.5 ft./lbs. |
| Hose Length: | 30 ft. |
| Hose Diameter: | 5/16 in. |
The Husqvarna HB32 3200 PSI Pressure Washer is a strong pressure washer anchored by a good engine and hampered by some questionable design choices. The engine provides a lot of power which translates to fast flow rates and good cleaning results. Husqvarna includes four quick-release tips for a variety of different cleaning methods and a durable wand that is easy to attach and easy to use. Assembly is simple, requiring just a few pairs of bolts that need to be inserted in pre-drilled holes.
The issues arise from two curious design choices. First, this pressure washer has to be tipped forward in order to move it. Most instincts will want to pull it back to move it, like a dolly, but that is not the case with this unit. The other problem is the fact that the pump seems to overheat and can even wear out when there is not enough water in the system. The problem here is that there is nothing to indicate that the pump is low on water which can lead to the pump burning out seemingly without warning or notice.
If you can recognize and move past these quibbles beforehand, then there is a powerful pressure washer with a good warranty waiting for you on the other end. Still, there are cheaper and simpler machines on the market for those out there who want a basic machine for light use around the house.
Pros
Powerful Briggs & Stratton engine
Great flow rate
Sturdy wand
Easy to start
3-year warranty included
Cons
Heavy
Pricey
Some questionable design choices

Husqvarna HB32 3200 PSI Pressure Washer – The Details
Reliable and Powerful Engine
The best part of the Husqvarna HB32 3200 PSI Pressure Washer is the engine. The engine runs the pump and is made by Briggs and Stratton. Briggs and Stratton is one of the best small engine makers in the United States, and their products are durable, powerful, and easy to use. The Briggs & Stratton CR950 Series engine starts in a snap and provides 208 cc of direct cleaning power. Coupled with the ample flow rate, this engine provides all of the power you need to tackle both large and small jobs around the house or on the road.
Husqvarna also offers a 3-year warranty on parts and labor for the Briggs & Stratton CR950 Series engine. That means if you run into any issues with the engine for the first three years after purchase, you should be able to get the repairs compensated by Husqvarna if you go through their warranty process.
---
Quality Attachments
The Husqvarna HB32 3200 PSI Pressure Washer comes with some quality attachments that make your life easier. One of the best parts of the Husqvarna HB32 3200 PSI Pressure Washer is the wand. The sprayer is very well-balanced and well-made. Some pressure washers have cheaply made wands that are uncomfortable to wield and are made with poor materials that quickly wear out. The sprayer wand on the Husqvarna HB32 3200 PSI Pressure Washer is made from good materials and is comfortable to use on a regular basis.
This pressure washer also comes with four different sprayer nozzles for various jobs. This pressure washer includes a 0°, 15°, 40°, and soap tip. Each attachment is a high-quality quick release tip that is easy to swap out and won't wear out. These attachments add appreciable value to this unit.
---
Difficult to Move
One of the biggest gripes about the Husqvarna HB32 3200 PSI Pressure Washer is the fact that it is difficult to move. The large, sturdy frame and powerful engine come with quite a bit of weight. The unit weighs 76 lbs. when fully assembled, and that number can go even higher if you try to move the unit with water, fuel, and oil in it.
The weight itself is not the only problem. The way that the Husqvarna HB32 3200 PSI Pressure Washer is designed leaves much to be desired in terms of movability. The unit is unbalanced and feels awkward to roll. The wheels that come with the unit are just fine, but the way that the frame and the handle are assembled makes it, so you have to tip the unit forward and move it in an unnatural way. This makes it hard to maneuver over rough or uneven ground. It does move fine over hard flat surfaces.
---
Finicky Pump
The pump on the Husqvarna HB32 3200 PSI Pressure Washer is a little finicky. It needs a constant supply of water and consistent water pressure to work properly. If pressure drops or the flow rate decreases for any reason, the pump can start overheating from lack of water which can cause damage to the engine. For inexperienced users or people with inconsistent water pressure, this can be a real issue. Some people who reported that their machines gave up the ghost after just a couple of uses were often suffering from pump issues related to the water levels.
Most machines have an automatic cut off that trips when the pump is not receiving enough water, but this model does not seem to have such a feature which can lead to trouble if you are not careful.
FAQ
What Kind of Warranty Is Included?
Husqvarna includes a 36-month (3 year) limited warranty that covers the pump and the engine. The warranty is offered through Husqvarna and covers both labor and parts for the pump and the engine separately. Some people have reported having difficulty getting someone on the phone at Husqvarna, but the warranty is one of the best in the market. It will not cover things like the frame, the wheels, the handle, or the hose. One sticking point seems to be the battery which is difficult to find a replacement for and is not covered under warranty. Overall, if the pump or the engine craps out early, you should have recourse to get it fixed by the manufacturer.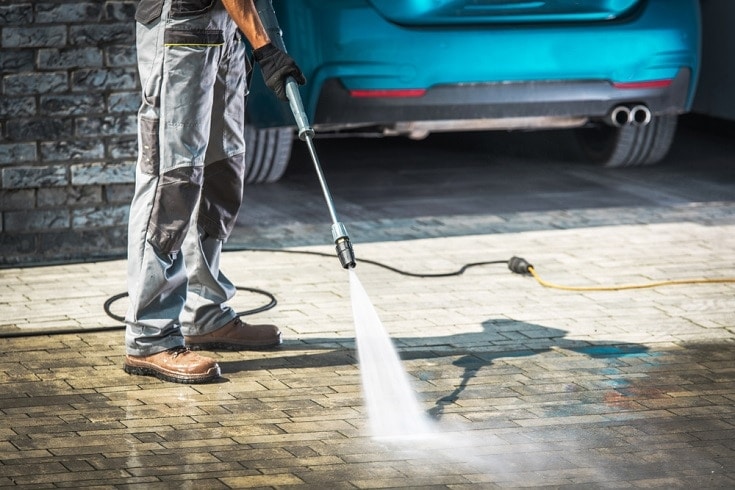 Is This Model Good for Homeowners?
Yes. This model can be good for homeowners. It is a touch more powerful than the typical homeowner needs, but it includes a solid 36-month warranty on labor and parts for both the pump and the engine. That eliminates some of the anxiety regarding a few of the reported problems if you have the patience to go through a warranty process. It also feels nice to use, with a comfortable handle and quick-release tips included.
Is This Pressure Washer a Good Value?
The value of this pressure washer is debatable. On the one hand, the engine is very good. It provides a lot of power and includes a good warranty. On the other hand, it is more expensive than some competitors and has some hiccups that could turn off regular users. If you are someone looking for extra power and don't mind upkeeping a larger engine, the extra money could be worth it. If you are on a budget or are looking for something easy to use and forget about after you are done, you might want to look for something cheaper.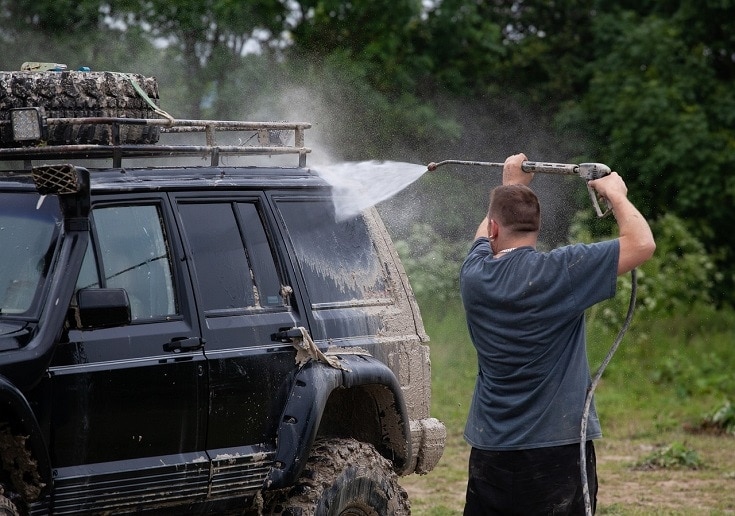 What the Users Say
The Good
Users love the volume of water that is moved through the Husqvarna HB32 3200 PSI Pressure Washer. The generous 2.7 gpm flow rate translates to a lot of cleaning power. Some 3200 PSI machines have a much lower flow rate (2.0 gpm) which leads to slow cleaning and smaller areas covered than this model. Users also say that the engine is easy to start and hums along nicely when in use. Some people have used their machines for many years and are reportedly still very happy with them.
The Bad
The biggest annoyance reported by users is with the design of the cart. Some users have gone as far as to say that the unit feels like it was designed and built backward. One user said that the design was baffling and difficult to handle. The balance and feel of the unit feel unintuitive and awkward, even in the best circumstances. The best way to move it is to drag it behind you, but that makes the unit extremely difficult to navigate up and down stairs or to be put into the back of a van or truck.
Conclusion
The Husqvarna HB32 3200 PSI Pressure Washer is a solid pressure washer with some small hiccups that hold it back from truly being great. The engine is really well made and provides ample power and performance. However, the overall design and balance of the cart, combined with the weight, make it unwieldy to move around. It does have an objectively good warranty that comes included with each purchase and is good for three years to help resolve any issues you may have with the durability. This pressure washer would be a good choice for most people looking for a bit more power than the smaller models. However, the weight and price might make other similar purchases just a little more attractive due to some of the drawbacks found with this model.
See also:
---
Featured Image Credit: Husqvarna.com