How to Recycle Clothes: 9 Expert Tips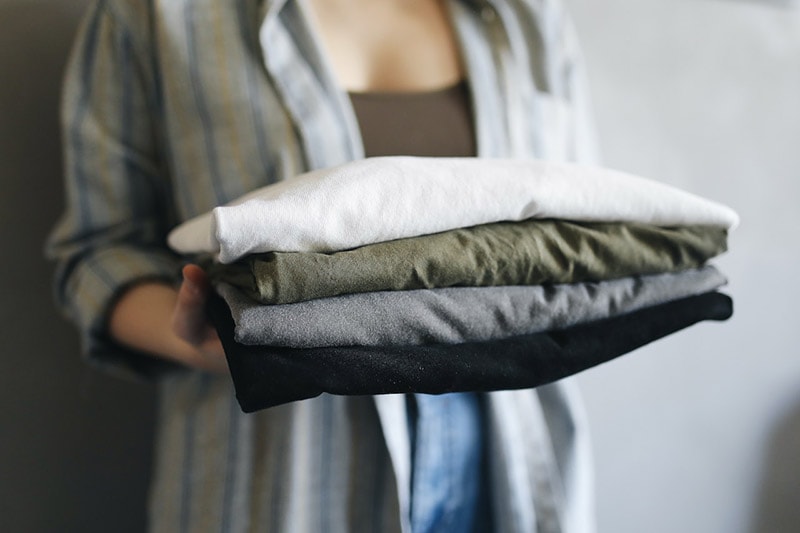 Eventually, even the best jeans and T-shirts will wear out, and it's good to know what you can do with old clothing items. If you're looking to keep your old clothes out of a landfill by recycling them, you've come to the right place.
We'll highlight a few different ways you can recycle your old clothes for you here, and we'll even give you a few tips to make it easier for both you and the recycling company to sort through your clothes!

The 9 Tips on How to Recycle Clothes
1.

Sell Them
| | |
| --- | --- |
| Ease of Completion: | Moderate |
| Cost: | Free |
If the clothes you're trying to discard are still in good shape, why not see if anyone else wants them and is willing to pay for them? You can't make a ton selling most clothes, but even smaller amounts are better than getting nothing by throwing them away.
Finding the right buyer might take a bit more work and time, but the clothes will get more use and you'll get a little extra money in your pocket.
---
2.

Donate Them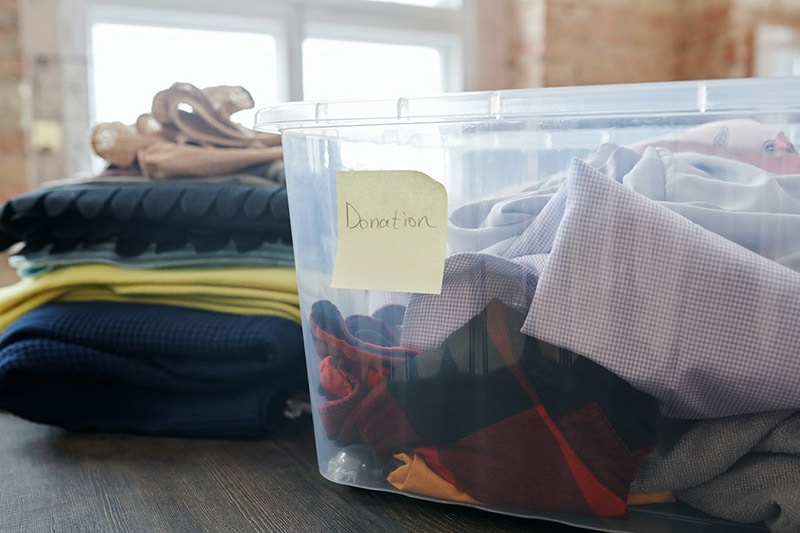 | | |
| --- | --- |
| Ease of Completion: | Easy |
| Cost: | Free |
If you don't want to take the time and put in the effort to sell your clothes but they're still in good shape, you can quickly donate them to a wide array of locations. Stores like Goodwill will take them from you, and plenty of places have drop boxes where you can leave the clothes.
Don't donate junk or trash, but if the clothes are still in decent shape, there's no reason you can't give them away so someone else can wear them.
---
3.

Complete a Clothing Swap
| | |
| --- | --- |
| Ease of Completion: | Moderate |
| Cost: | Free |
If you know someone else trying to get rid of some clothes, then a clothing swap might be the way to go. In short, a clothing swap consists of you and another family member or friend swapping some clothes.
This gives you both a new wardrobe without the need to pay for anything. Even better, if you decide you want something back in the future, you should be able to talk to them and get it all figured out.
---
4.

Upcycle Them
| | |
| --- | --- |
| Ease of Completion: | Challenging |
| Cost: | Low |
Upcycling clothing is a great choice if you have a little creativity and want to make something completely new. One of the perks of upcycling is that the clothes don't need to be in the best condition, although you should ensure the textile itself is still in decent shape.
You can make a new clothing option or go a different route and make something completely different. The only thing holding you back from upcycling is your creativity.
---
5.

Only Donate Gently Used Clothes
| | |
| --- | --- |
| Ease of Completion: | Easy |
| Cost: | Low |
You might think that people looking for used clothes will take anything you have, but that's not the case. Gently used clothing is fine, but clothes with holes or loose threads aren't the best choice to donate. Don't treat the donation bin like your personal trash can!
---
6.

Wash Them
| | |
| --- | --- |
| Ease of Completion: | Easy |
| Cost: | Low |
This isn't a way to donate your clothes, but it is a tip you should follow before you drop off your clothes anywhere. Nobody wants your dirty clothes, so do everyone a favor and put them through the washing machine and dryer before you drop them off anywhere.
---
7.

Consign Your Clothes
| | |
| --- | --- |
| Ease of Completion: | Moderate |
| Cost: | It pays you! |
If there's a consignment shop near you and you have decent clothes, you can always drop them off there and see if anyone wants to buy them. If they do, you can make a little bit of money without putting in a ton of work of posting, marketing, and selling it all yourself.
Just keep in mind that if the consignment shop doesn't want your stuff, you'll have to find a different way to recycle it.
---
8.

Sort Them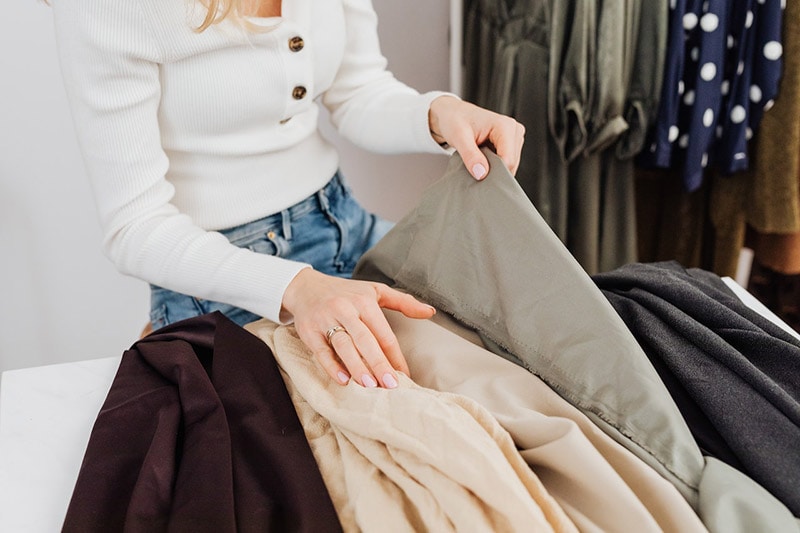 | | |
| --- | --- |
| Ease of Completion: | Easy |
| Cost: | Free |
This is one of the simplest things you can do, but it can make everything a lot easier for the next people who get your clothes. Take the time to sort everything out, paying special attention to the quality and wear and tear on each item.
This will give you a better idea of what you can sell, what you can donate, and what you need to figure out something else to do with. This won't cost you a dime, but it's something that everyone appreciates.
---
9.

Recycle Them Professionally
| | |
| --- | --- |
| Ease of Completion: | Challenging |
| Cost: | High |
This isn't our first choice, but that's because of the astronomically high price. There are no wide-scale professional recycling services for clothing, so if you want to go this route, you'll need to pay a bit more. The options do exist, but unless you have quite a bit of cash, this isn't a great choice for larger quantities of clothes.

Can You Put Clothes in the Recycling Bin?
No. While you recycle old textiles at a textile recycling center, that's not where your regular recycling bin goes. Those facilities typically don't have the capability to recycle old clothing items.
If you can't find a textile recycling center and need to throw the clothes away, a waste management company that takes them to a landfill is a better choice than the recycling bin.
What Clothing Items Can't You Donate?
When it comes to clothing items you can't donate, at most donation centers there's really only one stipulation: used underwear. Most donation centers will not accept used underwear, but they'll usually accept gently used bras that are still in good condition.
If you have old underwear at home, you'll either need to find a textile recycling center to drop them off at or you'll need to throw them away.

Conclusion
If you have piles of old clothes to get rid of, it's time to get sorting! Figure out what's still usable and what you want to do with your old clothes, then figure out where to do it. No matter how you decide to recycle your old clothes, it's better than just throwing them away and having them fill up a landfill for years to come.
---
Featured Image Credit: Polina Tankilevitch, Pexels