Makita 18V Chain Saw Review 2023 – Pros, Cons, FAQ & Verdict
Our Final Verdict
We give Makita 18V Chain Saw a rating of 4.5 out of 5 stars.
Build Quality: 5/5
Power: 5/5
Features: 5/5
Price 4/5
The Makita 18V Chainsaw is a powerful tool that uses lithium-ion batteries and a brushless motor to give homeowners more than enough power to complete their tasks, and it might even be suitable for various commercial applications. It's perfect for removing limbs and small trees and is light enough to be comfortable to use. Keep reading as we look at the other benefits that you can receive from this saw, along with the cons.
Makita 18V Chain Saw — A Quick Look
Specifications
Brand name: Makita
Model: XCU06SM1
Horsepower: .73 hp
Chain Speed: 4,720 FPM
Dimensions: 9.21 x 14.96 x 8.78 inches
Item Weight: 7.2 pounds
Motor: 18V brushless
Bar Length: 10 inches
Battery: 18V lithium ion
Pros
Variable speed trigger
Extreme Protection Technology
Torque boost mode
Soft grip handle
Brushless motor
Cons
Requires frequent charging

Makita 18V Chain Saw Details
Extreme Protection Technology
The Makita 18V Chain Saw uses Extreme Protection Technology, a series of protected seals inside the engine that channel water and debris away from the vital components of the tool. This helps reduce wear and tear so it can go longer without maintenance or repair.
Brushless Motor
The brushless motor that Makita uses in its 18V chainsaw helps it work more efficiently, enabling longer run times and more power than traditional electric motors. The brushes in older motors add drag, which uses up energy and creates dust that could affect performance. You would also need to replace the brushes as they wore out, increasing your maintenance requirements.
Well-Designed Top Handle
Another great feature of the Makita 18V Chain Saw is its well-designed top handle. It has a built-in lock-off lever that prevents the blade from engaging when you are not holding it correctly, and the front hand guard will activate the chain brake if hit. It also has a variable speed trigger, providing you with complete control over your cut, and the torque boost button is easy to reach.
Runtime
Even though this tool has a long runtime, especially for a battery-powered unit, and has a good amount of power for its size, you will still need to recharge it frequently. It typically gets a little over 30 minutes of runtime before needing a charge, depending on what you are cutting, which is perfect for removing small limbs and trees around the yard. However, many homeowners need a chainsaw to help cut firewood, and users might find that they must frequently stop to recharge, which can be time consuming.
FAQ
How Much Does the Makita 18V Chainsaw Weigh With and Without the Battery?
Your Makita 18V Chainsaw weighs 6.2 pounds without the battery and 7.2 pounds with the battery.
Does the Bare Tool Version Come With a Chain?
Yes, the bare tool designation means that the Makita 18V Chainsaw does not include the battery or charger.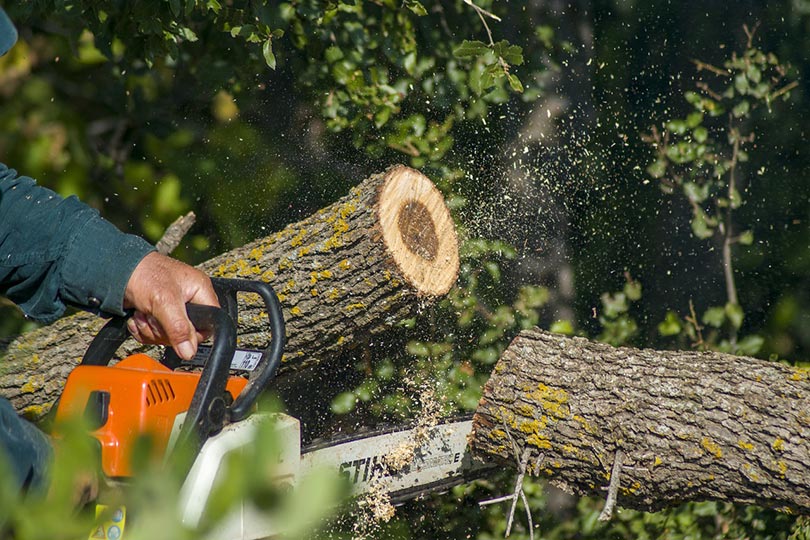 How Long Does the Oil Last Before You Need to Refill It?
The oil lubricates the chain as you cut, so you are always depleting it. You can adjust the oil flow to conserve it, but you risk wearing out the chain. In most cases, you will need to refill it before you recharge the battery.
What Size Branches Can I Cut With This Saw?
If you have experience using these tools, cutting from two directions, you can cut a tree up to 18 inches thick with the 10-inch blade of the Makita 18V Chainsaw. However, most people will keep the diameter to about 6 inches with this saw.
Will This Saw Work With 3.0 Ah Batteries Instead of the Recommended 5.0 Ah Batteries?
Yes. The Makita 18V Chainsaw will work using smaller batteries, but its runtime and cutting power will suffer.
What the Users Say
We searched the internet to find out what other people are saying about this saw, and these are a few of the things that we found.
What the Users Say:
Most people are satisfied with their Makita 18V Chainsaw.
Many people feel that the battery life for this saw is reasonable, though a few complain it is too short.
Many people notice that you can't push the saw too hard or it will stall.
Many people comment that they like how lightweight it is.
Several people comment that they don't know how they went so long without this saw.
A few people wish that it had a little more power to cut through thicker wood.
A few people mention that it's easy to overtighten the chain.
A few people feel that the construction materials in the Makita 18V Chainsaw are flimsy.
A few people comment that it is quite noisy.
Conclusion
The Makita 18V Chainsaw is a lightweight tool that almost any homeowner can operate. The powerful brushless motor will deliver the power that you need to remove small trees, branches, and other debris from your property without needing a big expensive machine. It charges quickly, requires little maintenance, and is comfortable to hold. The best part is that you won't need to pull any cords to get it running, nor will you need to purchase gasoline. The only downside is that it won't cut large trees, and the charge might run out before you complete certain big jobs.
---
Featured Image Credit: Bilanol, Shutterstock