TORQ 10FX Random Orbital Polisher Review 2023 – Pros, Cons, & Verdict
We give the TORQ 10FX Random Orbital Polisher a rating of 4.4 out of 5 stars. 
Build Quality: 4.4/5
Power: 4.5/5
Features: 4.5/5
Price: 4/5
Review Summary
Although TORQ is a relatively newer brand, they have put out impressive polishing devices and chemicals that are quickly becoming a favorite among mechanics and hobbyists. They create a culture around creating the best polishing products for cars and boats. One such device that has been showered with love is the TORQ 10FX Random Orbital Polisher.
Both professionals and hobbyists enjoy this polisher because of its high power, precision, and intuitive features. From its ergonomic design to its digital reader, just about anyone can use this high-powered polisher with ease. Beginners will especially benefit from this fact. At the same time, even professionals will enjoy the device because of its six variable speed, high power, and versatile use.
Although the pads break easily, the polisher is heavy-duty and ultra-precise. Really anyone would benefit from this tool because of its more affordable price and high functioning features. To find out more about the TORQ 10FX Random Orbital Polisher, read on.
TORQ 10FX BUF 501 – A Quick Look
Pros
Electronic feedback
Powerful motor
Ergonomic design
Vibration reduction
Lightweight
Harmonious balancing
Beginner-friendly
---
Specifications
Specifications
Manufacturer: TORQ
Brand: Chemical Guys
Model: BUF_501
Weight: 5.5 lbs.
Dimensions: 20.31 x 8.82 x 8.31 inches
Power: 110V/700W
Speed: 6-speed variable 1,500 to 4,200 opms
Variable Speed
The TORQ 10FX Offers a variable speed option. You have your choice between 6 speeds that range from 1500 to 4200 opms (oscillations per minute). This ensures that you can get precise polishing power based on your exact project or needs.
The variable speed feature even comes with digital controls, making it much easier to achieve high levels of precision and accuracy. By showing the range in opm, as opposed to meaningless metrics, you know exactly what speed your 10FX is going.
After every start, the variable speed features a gradual start. This means that you will not fling newly applied product on your shirt or all over the car. Instead, it starts smoothly and then transitions from one speed to the next. This transition creates a much smoother experience that is more manageable and less messy.
Versatile
No matter what job you have, you can count on the TORQ 10FX to provide you the polishing powers you need. The polisher comes with two 5-inch backing plates. Additionally, the spindle thread accepts plates ranging from 3 inches to 6 inches. This provides you access to a variety of accessories and pads, meaning that you'll be able to provide just about any finish to your car, even in tight corners.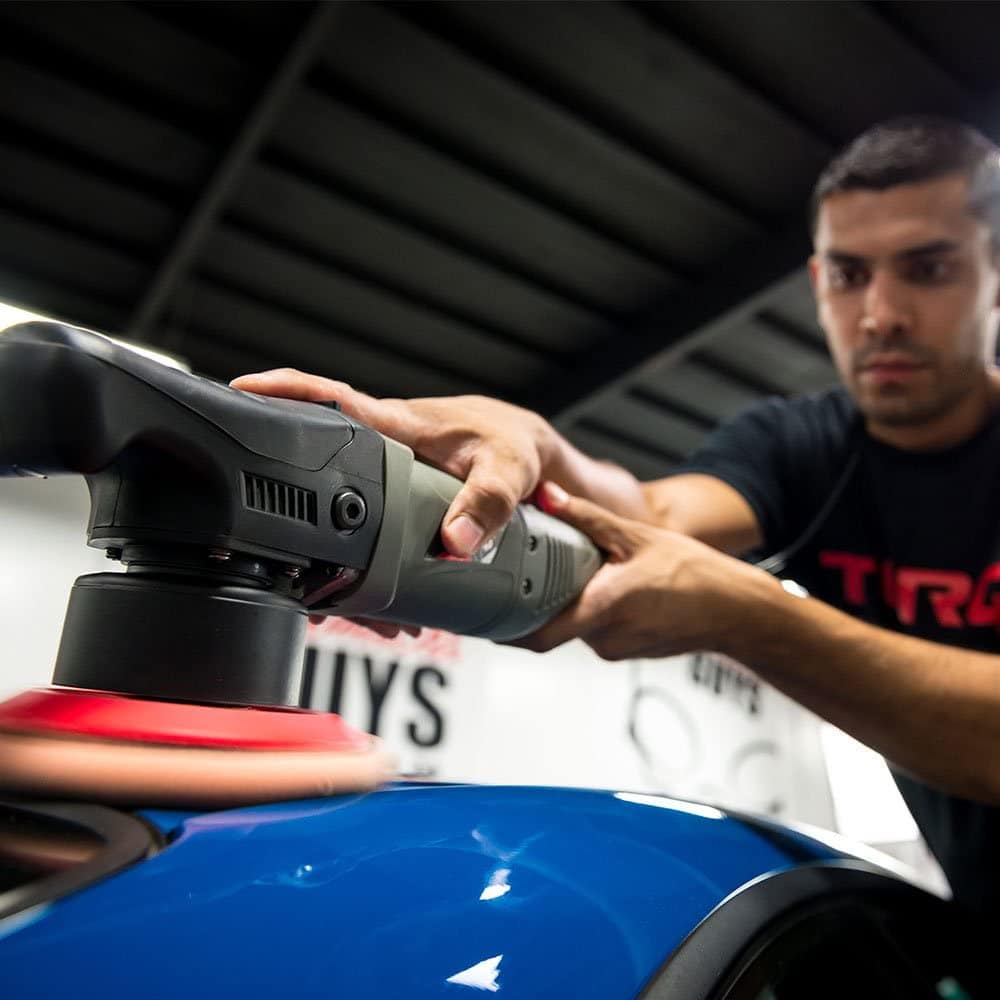 Ergonomic Design
With all that power, the polisher needs to be manageable, too. Weight and design can affect the functionality and comfortability of any polisher. The TORQ 10FX is specifically designed with an ergonomic feel. By weighing only 5.5 pounds, this polisher is impressively light and easy to carry. This makes it much easier to hold the polisher for extended amounts of time.
The ergonomic design is enhanced with its vibration reduction technology, too. Although lower-powered devices may not need this technology, a polisher of this caliber does. Despite its high power, though, the advanced technology keeps the vibration at bay so you can hold it and use it more comfortably.
Beginner-Friendly
Even though the TORQ 10FX offers impressive power and high precision, it is also great for beginners. Because of its digital readout and intuitive design, beginners and professionals alike will find this device highly easy to use. The vibration reduction technology also makes the tool easier to use for beginners. By this, we mean that the high power will not throw off anyone, even amateurs, due to the vibration reduction technology. Pair that with its intuitive design, and anyone will be able to use it.
Pads
When you buy the TORQ 10FX Random Orbital Polisher, a set of pads comes with it. Although the polisher itself is highly durable, the pads are not so much. These pads easily rip with minimal use. Though you can try the pads out for yourself, you may want to get separate pads that are more durable and don't rip under pressure.

FAQ
Can I use this as a sander?
You cannot use the TORQ 10FX as a sander. The spinning action will stop spinning if you exert the force required for sanding.
Are the pads disposable or reusable?
According to the manufacturer, clean and care for the pads properly to reuse them several times. They will eventually wear out, and you will need to buy new pads.
From our own research, though, these pads can break easily, making them more of a disposable option than a reusable one.
Do you have to buy accessories, or does the kit include everything you need?
The kit comes with everything you would need for basic polishing. You only need to buy accessories if you have a specific need not covered by most polishing kits.
Can you use this polisher on a fiberglass boat?
Yes. You can use this polisher on a fiberglass boat. Many users of this product use the polisher on boats, not cars.
What the Users Say
We went online to see what other people thought about the TORQ 10FX. for the most part, their views matched our own assessments. Below is what we found.
Pros
Most reviewers found the 10FX to be highly impressive. Several people posted before and after pictures of their car, showing the tool's power and impressive features. Because of the high power and variable speed offered with this polisher, it could get deep scratches out of car bodies.
Most users also found the TORQ 10FX incredibly easy to use. Beginners and professionals alike noted that the design is intuitive and easy to follow. The digital reader was especially helpful, although some users had trouble with accidentally changing the settings with their hands.  We're not shocked by this review since we also thought it to be one of the more user-friendly options available.
Overall, reviews for the 10FX were overwhelmingly positive. Beginners and professionals alike enjoy the power and precision of the model. The ergonomic design and intuitive features were also a major plus among most users.
Cons
There are very few negative reviews about the polisher itself. Really the only negative reviews that were brought up were about the pads, not the polisher. The orange pad in particular was noted multiple times for ripping upon first use. The same went for the yellow pad. It broke easily. The pads were the only things that were frequently criticized.

Conclusion
Polishers can be a big expense, so you need to select a model wisely. Whether you're polishing a car or a boat, grab the TORW 10FX for high power, precise, and intuitive polishing.
The TORQ 10FX is a great model that bridges the gap between professional use and personal use. It offers high power and precision, but it is also easy to use and intuitive. Though you might want to be careful with the easy to rip pads, the polisher itself will last you many years and satisfy your needs.