10 Best Chainsaw Sharpeners of 2023 (Manual & Electric)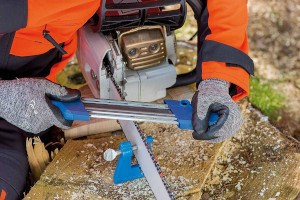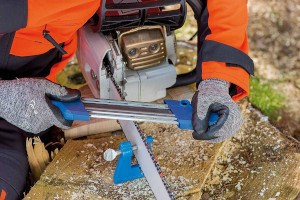 If you're paying someone else to sharpen your chainsaw blades, you're missing out on a great opportunity to save money and have a super sharp chainsaw. Once you learn how to sharpen your blades, you can save a small fortune, and you might even do a better job than the "professionals".
Of course, you need a great chainsaw sharpener to do the job properly. When shopping online, it can be hard to tell if you're getting one that will work with your chainsaw chain and if you're getting it at a justified price.
Our reviews show you the best and worst features of several chainsaw sharpeners, so you can find the right one. There's also a buyer's guide that covers everything there is to know about chainsaw sharpeners.
---
A Glance at the Winners of 2023:
Rating
Image
Product
Details

Best Overall

Oregon Manual Chainsaw Sharpener

Works with many chain types
Manual grinder
Manual grinder
CHECK PRICE

Timberline Manual Chainsaw Sharpener

Fast & Portable
Even sharpening
Can leave chain on saw
CHECK PRICE

Best Value

STIHL File Chainsaw Grinder

Sharpens using depth gauge
Great durability
Great for beginners
CHECK PRICE

Best Electric Chainsaw-Sharpener

Buffalo ECSS

Easy mounting
Electric operation
Uses standard wheel size
CHECK PRICE

Pferd Cs-X ChainSaw Sharpener File

Easy use
Easy use
Sharpens both cutters and depth gauge
CHECK PRICE
The 10 Best Chainsaw Sharpeners:
1.

Oregon Manual Chainsaw Sharpener – Best Overall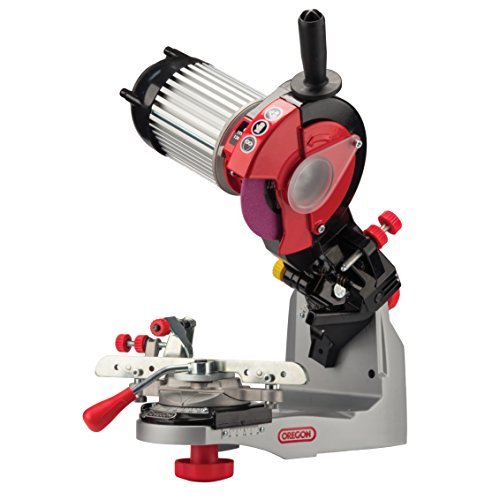 The Oregon 520-120 Manual Chainsaw Grinder is one of the best manual chainsaw sharpeners ever made. Part of its success comes from the wide range of chainsaw sizes it can work with, ranging from ¼" to as much as .404", and its compatibility with low-profile chains. Since it's a manual grinder, you can take off as much or as little as you need to rehabilitate your chain, leaving you with the control you need to do a great job.
It has a self-centering chain vise, which saves you time during setup since the chain will always be in the right place. It also has a built-in light, so you'll be able to use this grinder just about anywhere. The only thing we don't like is the poor user manual. This sharpener is better for those with some experience. However, if you want sharp chains without too much hassle, you'll love this manual chainsaw grinder's performance.
All in all, we think that this is the best chainsaw sharpener of the year.
Pros
Works with many chain types
Manual grinder
Self-centering chain vise
Built-in light
---
2.

Timberline Manual Chainsaw Sharpener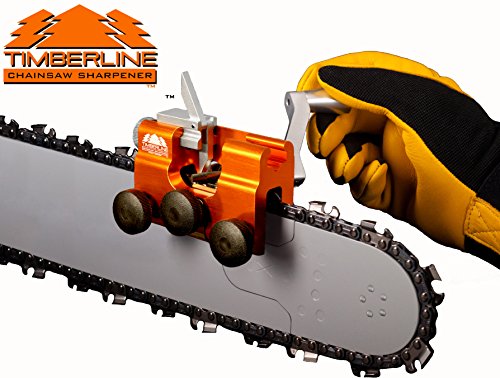 The previous sharpener is too bulky to take into the field, but the void in portability is filled by the Timberline Manual Chainsaw Sharpener. This sharpener weighs just two pounds, and it's small enough to take anywhere. It allows you to sharpen blades without taking them off the chainsaw, which saves time. Plus, it requires less time per tooth than most sharpeners, so you get even more speed from this model.
A lot of users love the fact that this model produces an even sharpening from tooth to tooth. This reduces the chance of kicks or pulls that result from uneven sharpening. However, the setup is critical and can be deceptively tricky. If you mess it up, you can really mess up your chainsaw blades. This means this sharpener has a steeper learning curve than most competitors. While you can achieve very good results, that's enough of a knock against its value to drop it to second place.  Still, once you figure this model out, you'll be able to sharpen your chainsaw blades quickly and effectively without too much downtime.
Pros
Fast
Even sharpening
Portable
Can leave chain on saw
---
3.

STIHL File Chainsaw Grinder – Best Value
The STIHL 2 in 1 Easy File Chainsaw Chain Sharpener is a great tool for beginners. If you're looking to start sharpening your chainsaw chains for the first time, you'll benefit from a tool that isn't too complicated but still gets the job done. This model sharpens using the built-in depth gauge, which saves you time and means you can do your entire chain in just one pass. It's also extremely well-built, so you can expect it to be in good shape for years, and possibly decades.
However, the best thing about this model is its low price. You're going to be out hundreds of dollars for other models on our list. This sharpener costs just a fraction of that. That makes it the best overall value for the money on our list. Note that this tool is restricted to sharpening just a single chainsaw chain size, so if you have multiple different sizes, you'll need to invest in multiple files. However, you may still save money versus other options on our list. If you want to sharpen your chainsaw at a low price, this is the sharpener for you as we've rated it the best chainsaw sharpener for the money.
Pros
Sharpens using depth gauge
Great durability
Great for beginners
Excellent price
Cons
Only works with one chain size
---
4.

Buffalo ECSS – Best Electric Chainsaw-Sharpener
The Buffalo Tools ECSS is the best electric chainsaw sharpener here. It's easy to mount, so if you have a workbench where you can affix this tool, you're already in good shape. It also uses a standard 4¼-inch grinding wheel size, so you can replace it easily if you wear it out from heavy use. This model is electric, so you don't have to provide any of the power with your hands. This can be good for those with weak or arthritic hands.
This sharpener is also very inexpensive. If you want a good deal on a chainsaw sharpener, but don't want to break the bank to get it, you'll really like this model. Given all these upsides, you might wonder why this model can't crack the top three. It comes with poor instructions, which require extra research to get started if you're not familiar with sharpening chainsaw blades. Overall, there's a lot for experienced users to like, but it may not be right for amateurs.
Pros
Easy mounting
Electric operation
Uses standard wheel size
Inexpensive
---
5.

Pferd Cs-X ChainSaw Sharpener File

The Pferd 17301Pferd Cs-X Chain Sharp Filing Guide is another easy-to-use file type, so it's a good choice for people who are just learning how to sharpen chainsaw blades. Most people report that they can sharpen an entire chain in just 15 minutes, which is extremely fast for a simple manual sharpener like this. It also sharpens both the cutters and the depth gauge at the same time, so you don't have to make two passes, which is always a good thing.
However, it has some significant shortcomings compared to other manual models on our list. It has some incorrect angle marks, so if you're trusting it to be correct, you're going to mis-sharpen your blade. You can still use it correctly, even though the markings are wrong. This model also struggles with skip chains, so you'll want something different if you're mostly going to be working with those. Overall, this chain sharpener is available for a good price, but ultimately, the value is just low enough that most people will be able to get a better deal with a different one.
Pros
Easy use
Fast
Sharpens both cutters and depth gauge
Cons
Incorrect angle marks
Not great with skip chains
---
6.

Granberg Bar-Mount Chainsaws Sharpener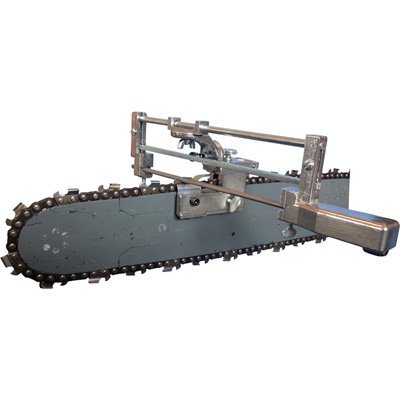 The Granberg Bar-Mount Chain Saw Sharpener is a great multi-size chain sharpener but you have to provide your own files, which is something of a downside. The upside is that you can get the files for any size of chainsaw chain, so you can get different files if you use multiple sizes. This sharpener mounts to the chainsaw itself, so you don't have to take the chain off to service it. You could potentially use this model in the field, but it's not as small as some other portable options. However, it does come with accurate markings that make it easy to get the right angle for your sharpening, regardless of chain type.
This tool isn't the most expensive one you can find, but that doesn't mean it provides great value. Unfortunately, you shouldn't expect it to last for more than a year of regular use. That's one of the shortest lifespans of any sharpener on our list, and it's short enough that it should give you pause. If you're looking for a tool that will last forever, you won't like this one, though some who don't need to use it frequently will still get good value.
Pros
Works with all chain sizes
Mounts to chainsaw
Accurate measurements
Cons
Doesn't include files
Poor durability
---
7.

Drixet Chainsaw Sharpening & Filing Kit
The Drixet Chainsaw Sharpening & Filing Kit is designed with beginners in mind, though it has a number of problems that render it unsuitable for that purpose. The good news is that this kit comes with 5/32", 3/16", and 7/32" round files, plus a flat file. You'll be able to work with most chains with the tools included in this kit. It has a depth gauge, filing guide, instructions, and pouch, so you should be able to do good work and keep your pieces together without much trouble. It also costs very little compared to most tools on our list, so there are a lot of reasons beginners would like it.
However, we're not sure this is a good kit for beginners. The tool's overall quality is inconsistent and often quite low. That could lead beginners to believe that they'll never figure out how to sharpen a chainsaw chain, even when it's the tool's fault and not theirs. Because of the low quality, you can't expect expert-level sharpening from this kit. Consequently, this is a kit without a definite audience, and it won't be the right thing for most people.
Pros
Files for all situations
Includes instructions
Inexpensive
Cons
Questionable quality
Poor sharpening
---
8.

Oregon PowerSharp Chainsaw-Sharpener Kit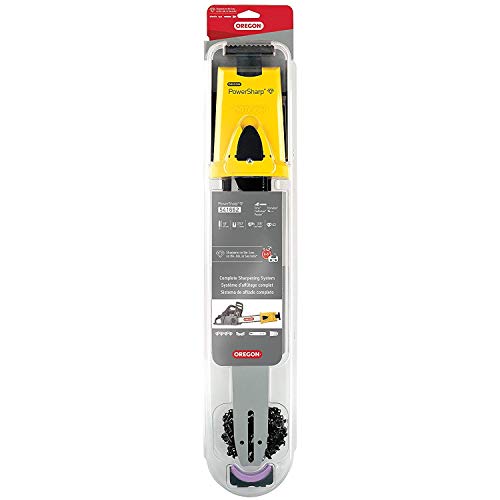 The Oregon 541662 PowerSharp Chainsaw Chain Sharpening Kit is an excellent chain sharpener if you're willing to commit to a proprietary system. It comes with a sharpener, a low-friction bar for your chainsaw, and a chain. After installing the bar and chain, you can sharpen the chain in as little as three to five seconds using the sharpener. Just mount it on the end of the bar and run the chainsaw for a few seconds, and the chain cuts like new. As a bonus, the bar comes with LubriTec technology, which retains oil longer, and reduces how often you have to perform necessary maintenance.
However, since this kit requires you to replace the bar and the chain on your chainsaw, you're locking yourself into a proprietary system run by Oregon. If you like using specialized chains for different tasks, you won't be able to use this system to sharpen them. In fact, if you want to use them at all, you'll need to replace the bar, which is a hassle. Overall, this is a good design for people who like the chain and need quick sharpenings while they work, but others won't be fond of the proprietary parts.
Pros
Low-friction bar
Extremely fast operation
Great for field work
Cons
Requires special chain
Requires bar replacement
---
9.

Timber Tuff Portable Electric Chainsaw Sharpeners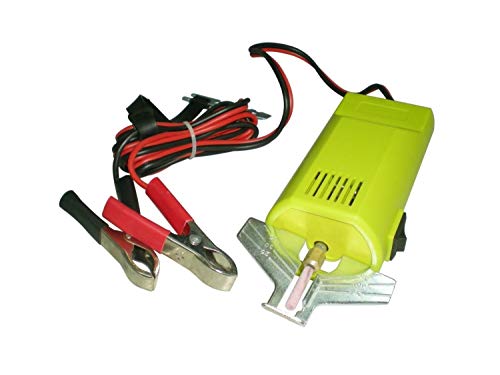 The Timber Tuff CS-12V 12-Volt Portable Electric Chain Saw Chain Sharpener is one of the more portable electric chainsaw sharpeners available. It uses a 12-volt system that will remind many people of jumper cables. As you may have guessed, you need a 12-volt battery, like that found in your vehicle, to power this model. That means this tool is only as convenient as the nearest vehicle when you need to sharpen your chain. This sharpener has a solid angle guide, though it's a little bulky and some people end up removing it in favor of spotting the angle by eye.
It also includes three grinding stones, so you can work with 3/16", 5/32″, or 7/32″ chains. However, the lack of great quality displays itself most prominently in the grinding stones, which sometimes only last for a few sharpenings. That's poor quality in an important part of the sharpener, and it suggests that other areas may not be up to par. This is a very portable electric model, but it has some problems that will frustrate many users.
Pros
Battery-powered
Angle guide
Multiple grinding stones
Cons
Needs battery
Underwhelming quality
---
10.

Chicago Electric Sharpener for Chainsaws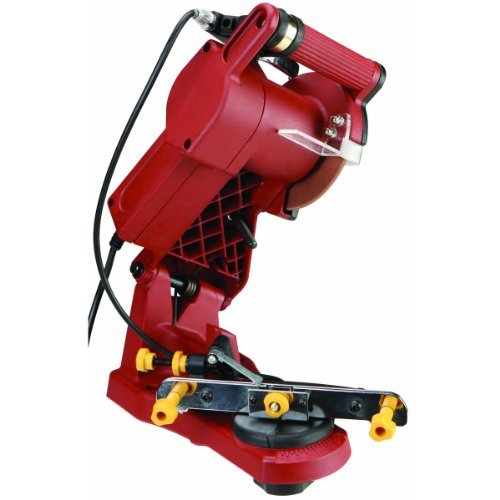 The Chicago Electric Chain Saw Sharpener works with all chains, which is not something that all manual or electric models can do. It also has chain rotation rollers, which reduce the amount of time between sharpening each link, so you can get the job done faster. Plus, this model is easy to mount to a tool bench or wall, or on a vise, so you can use it in a variety of places.
This sharpener lacks a light. If you can't see what you're sharpening while operating this unit, you'll be blocking ambient light from most sides. It also struggles to hold chains perfectly still, which means you can make imprecise cuts even when using the tool correctly. The best tools help minimize mistakes due to user error, but this one is likely to multiply any mistakes you make and ruin blades that still had a lot of use left in them.
Pros
Works with all chains
Reduced time
Easy mounting
Cons
Lacks light
Poor chain security
---
Buyer's Guide: Finding the Best Chainsaw Sharpener
Electric vs manual chainsaw sharpeners
The first thing to note when comparing electric and manual chainsaws is that both require care in order to sharpen your chainsaw correctly. If you're looking for an easier experience, there are other qualifications you should consider before looking at this area.
Manual sharpeners are easier to control, but their big downside is that they're slow relative to electric models, and they require you to provide the force used to sharpen the blade. However, they work more slowly, which reduces the chance of an accident with an inexperienced user.
Electric models are much faster, and you can cut a lot of time down per blade with one. More invasive electric models can do the task in seconds, but they require modifications to your chainsaw.
Ultimately, this choice is a matter of preference, as you can get low-priced and expensive manual and electric models. If you want more control, go with a manual model. If you prefer speed, an electric model is probably the one you'll enjoy.
Angle and height
If you're new to chainsaw sharpening, you should know what the angle and height measurements are describing. Every tooth on a chainsaw has a height, and you need a file of a particular size to sharpen teeth of a certain height correctly. Different tooth heights require different files.
Teeth also need to be sharpened at a particular angle to achieve maximum sharpness. You can find this angle on the chain's original packaging. Not only do you have to use a file that's the right size, but you also have to carve the new blade at the correct angle on the tooth. All sharpeners have angle markings to help you align the file, but not all models can handle all tooth heights or angles.
With disk-based electric models, be doubly careful with the angle. These models can handle all tooth heights, but they can rapidly remove too much material, which can greatly reduce a chain's life if you use the wrong angle.
Portability
If you need a sharpener while away from your shop, you'll be better off with manual models in most situations. They tend to be smaller and lighter, and don't require electricity.
However, some electric models are designed with portability in mind. Some can run off cigarette lighters or 12-volt batteries. Others require you to replace your bar and chain but provide extremely fast sharpening. If you're willing to switch to a proprietary system like that, or you'll have access to a vehicle while you're working, you'll be able to get the benefits of electric sharpening while on the go.
Conclusion:
The Oregon 520-120 Manual Chainsaw Grinder is our choice as the best overall manual chainsaw sharpener because of its compatibility with many chain types, its self-centering chain vise, and its built-in light. Second place is taken by the Timberline Manual Chainsaw Sharpener, which provides fast, even sharpening, and great portability, though its careful setup requirements knock it from the top spot. The STIHL 2 in 1 Easy File Chainsaw Chain Sharpener has two-in-one functionality and is great for beginners. Its low price makes it the best overall value for the money on our list.
We hope that our buyer's guide has given you the information you need. We truly hope that our reviews help you find the best chainsaw sharpener for your needs. Good luck!