2023 Toyota Camry vs. Corolla: Which One's Best For Me?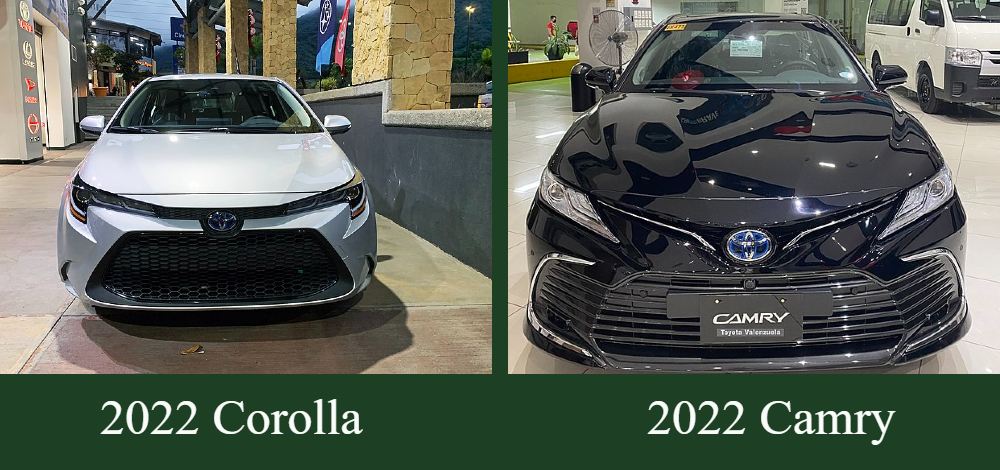 Toyota's Camry and Corolla are two of the most popular and best-selling sedans of all time, and their popularity remains high. In fact, the Corolla frequently tops the charts for best-selling cars, so is there any reason that you'd choose the Camry?
It's a tricky question, because the Camry is a midsize sedan, and the Corolla is a compact sedan. Different types of people buy each of them, and it's not really fair to make direct comparisons like they're in the same class. Instead, they each do different things very well. Let's do a quick overview of their strengths and weaknesses:

Review Summary
The Camry has more power in its base model than the Corolla, making it ideal for someone who regularly hauls limited cargo or passengers. However, the Corolla has better fuel economy and would make a better vehicle for someone who just wants to commute and drive back and forth to get groceries.
The Camry has a more spacious trunk than the Corolla by about 2 cubic feet, though there's a hatchback Corolla that beats out the Camry's trunk as far as size.
If price is a big concern, the Corolla starts at about $5,000 cheaper than the Camry. Combined with future fuel savings, that's a pretty good deal if you just need a reliable vehicle with good mileage.
Judging by their respective sales, the Corolla enjoys greater popularity among drivers. This doesn't necessarily mean the Camry is a worse car, though.
At a Glance
These are both great cars with differing strengths, and it's well worth looking at their key points so you can make a more informed buying decision.
Toyota Camry
Starting MSRP: $25,395
Horsepower: 203 HP at 6100 RPM
Torque: 184 HP at 5000 RPM
Includes Toyota SafetySense 2.5
All-wheel drive
8-speed automatic
5L 4-cylinder engine
Toyota Corolla
Starting MSRP: $20,175
Horsepower: 139 HP at 6100 RPM
Torque: 126 HP at 3900 RPM
Includes ToyotaSafetySense 2.0
Front-wheel drive
CVT transmission
8L 4-cylinder engine

Overview of 2023 Toyota Camry: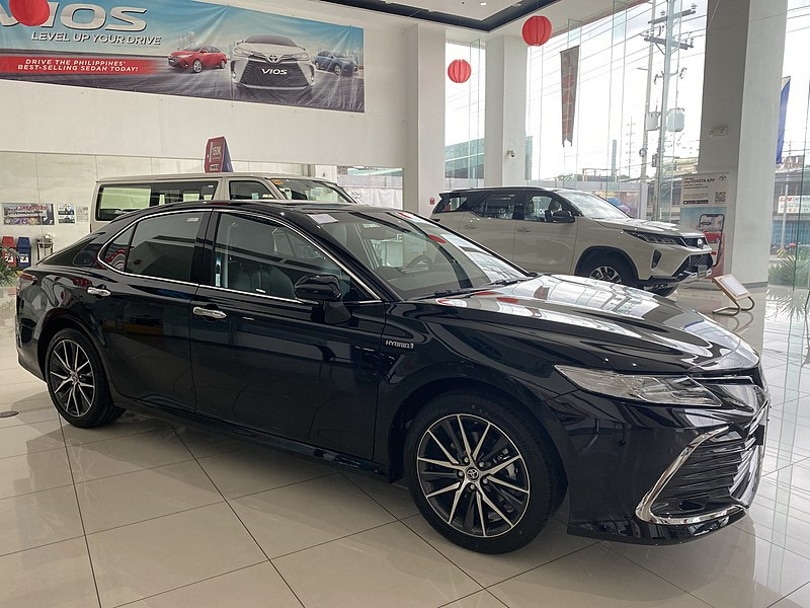 Overall, the Camry offers a more premium driving experience than the Corolla, with a more upscale cab including a heads-up display, ventilated seats, and a heated steering wheel. On top of these luxury interior amenities, you have the increased power of a midsize sedan. While Toyota isn't revolutionizing cars any time soon, they make extremely reliable cars. The Camry is no exception.
Pros
Upscale interior
More power than the Corolla
Includes the most up-to-date Toyota safety suite: Toyota SafetySense 2.5
All-wheel drive provides superior maneuverability
Superior backseat legroom
Bigger fuel tank than the Corolla
Cons
Less trunk space than the Corolla hatchback model
Bigger turning radius than the Corolla, making tight turns more difficult
Wider than the Corolla, which limits parking space availability
Higher performance engine equates to higher insurance premiums

Overview of 2023 Toyota Corolla: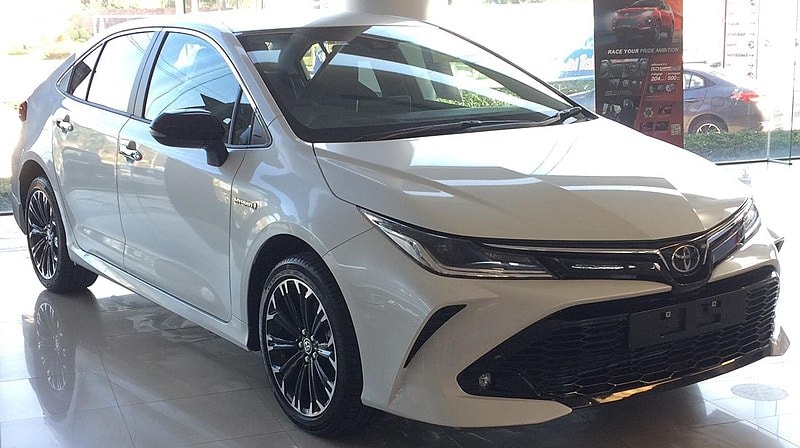 The Corolla is a great choice for city commuters and people who have no need for cargo space or increased performance. If all you're worried about is saving on gas and having a reliable car, the Corolla is one of the best options you have this year. Limited space on the base trims might be difficult for people with long legs or if you carry passengers often, but it's not exactly a deal-breaker.
Pros
Great fuel economy
More affordable at base trim than the Camry
Superior trunk space in the hatchback model
Smaller turning radius, making tight turns easier
Overall smaller than the Camry, making cramped parking easier
The hybrid model gets up to 53mpg and doesn't need to be plugged in
Cons
Less power than the Camry
Less interior space
Front-wheel drive limits mobility in adverse road conditions like snow, ice, mud, etc.
Less legroom in the backseat makes transporting passengers uncomfortable

What Are The Differences Between Them?
Performance
This one is a no-brainer. The Corolla's comparatively smaller engine simply can't compete with the Camry's superior powertrain and engine, even if it does have slightly better handling. More power means you can get where you're going faster, even if it costs you a bit on mileage.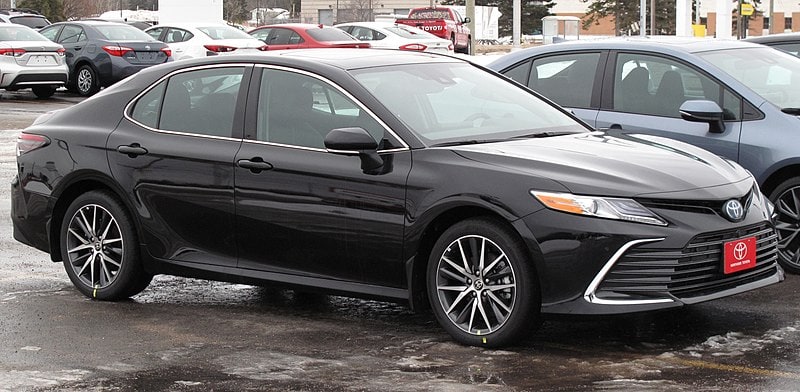 ---
Price
Looking at the base models, the Corolla is the undisputedly cheaper option. $5,000 cheaper means you can save money to put elsewhere, or perhaps opt for a more extravagant trim package. The hybrid saves even more money in the long run, which is something to keep in mind if you're money-minded.
---
Reliability
Along with Honda, Toyota is known for making great, reliable cars that last a long time. Think about how often you see a 20-year-old Toyota driving around, and you have an idea of how long these cars last. The Camry and Corolla might be for different niches, but they're both well worth the money for reliability.
---
Handling
Even without all-wheel drive, the Corolla is significantly smaller than the Camry. Especially in urban areas, you can get into the tightest parking spaces and make maneuvers the Camry can't. In more rural areas, this might not be such a big deal.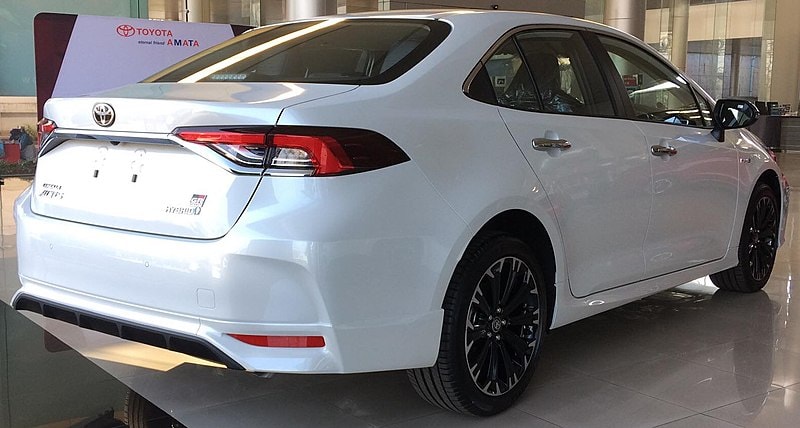 What the Users Say
You don't just want to hear our opinion, so we looked high and low for reviews from real owners of these two vehicles. Here's what they had to say:
Users indicate the Camry has a better engine, transmission, and suspension than the Corolla, but that they're both extremely reliable cars.
Drivers state that the Corolla's interior feels cheaply constructed, but at base prices, you can upgrade to a better trim and have a comparable experience for similar prices.
Users say the Camry is more comfortable because it has a more spacious interior, with more legroom for backseat passengers.
Drivers agree that the Camry is more expensive at every level than the Corolla, making it a value buy versus the Corolla as a budget pick.

Conclusion
Toyota continues to build some of the most reliable and long-lasting cars out there for every class. The Corolla is better for city commuters who don't need the power or upscale interior of the Camry, whereas the Camry is overall a better value. If you're on a budget, you can't go wrong with the Corolla, but the Camry offers a more luxurious experience.
---
Image Credit: Left: 2022 Toyota Corolla (Image Credit: Mariordo-Wikimedia-Commons CC BY-SA 4.0) | Right: 2022 Toyota Camry 2.5V (Image Credit: Captainmorlypogi1959, Wikimedia Commons CC BY-SA 4.0)