2023 Toyota Highlander vs. Honda Pilot: Which Should You Choose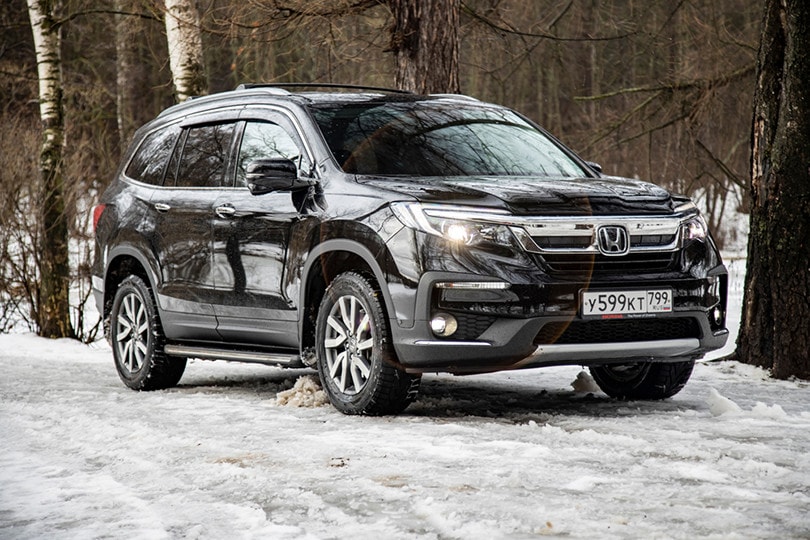 Parents vying for minivan practicality without a minivan look or feel have two terrific options in the 2022 Honda Pilot and Toyota Highlander. These mid-size SUVs offer optional third-row seating and versatile configurations to suit the comfort needs of any family of four or more.
Honda and Toyota have shaken up their lineups for their competing family SUVs, with each step-up adding more on top of their already generous standard features and flexible roominess.
Taking a closer look, you can see where both models diverge to offer unique benefits. Honda's Pilot takes the comfort route with a bulkier exterior and more spacious interior than the Highlander. But with a lower starting price, economical hybrid options, and tons of infotainment features in base packages, Toyota's offering is no less rich in value.
The market may be similar, but the appeal is distinct between the 2022 Honda Pilot and Toyota Highlander. Let's compare the key differences between these two mid-size heavyweights.

At a Glance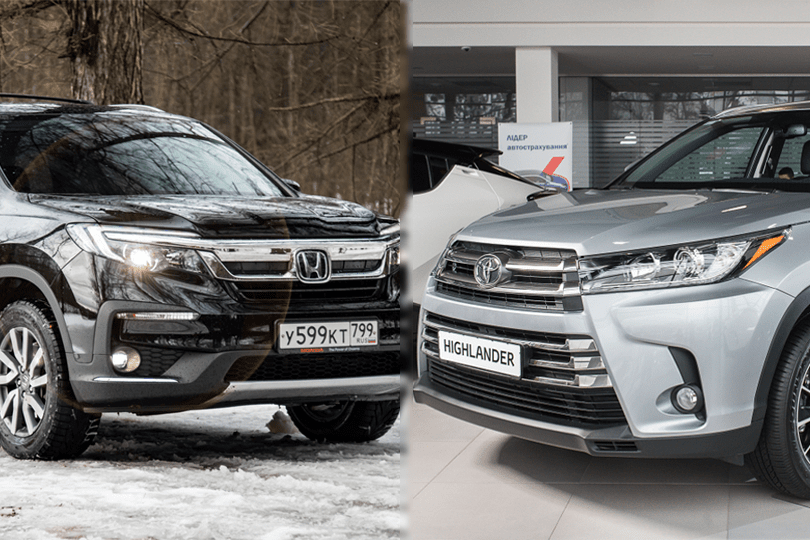 Honda Pilot
Engine: 3.5L V6
HP: 280
Transmission: 9-speed automatic
MPG: 20 city/27 highway/23 combined FWD; 19 city/26 highway/22 combined AWD
Tow rating: 5,000 lbs. AWD; 3,500 lbs. 2WD
Toyota Highlander
Engine: 3.5L V6; 2.5L 4-cylinder dual-electric motor in hybrid models
HP: 295
Transmission: 8-speed automatic
MPG: 21 city/29 highway/24 combined FWD; 20 city/28 highway/23 combined AWD; 35 combined hybrid
Tow rating: 5,000 lbs.; 3,500 hybrid
Honda Pilot Overview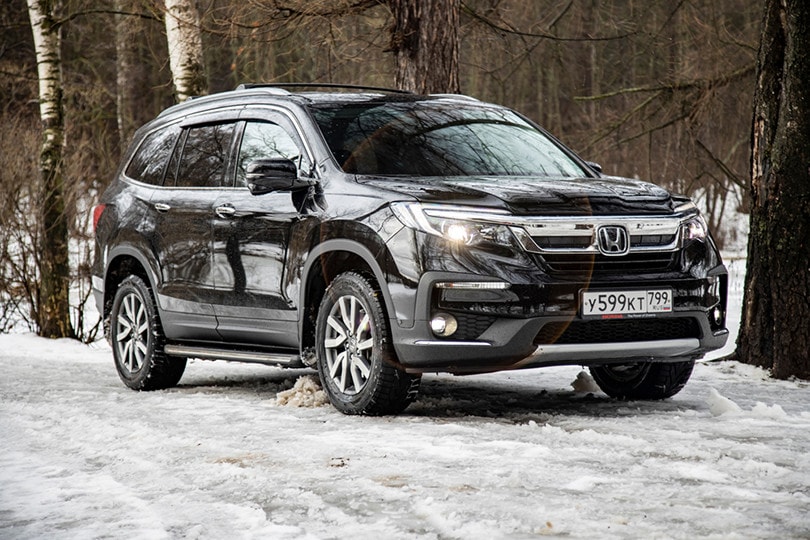 Honda switched up their Pilot lineup for 2022, replacing the LX and EX starter with a Sports model. From there, shoppers can choose from six upgraded models:
EX-L
Special Edition
TrailSport
Touring
Elite
Black Edition
Each upgrade adds a few thousand dollars to the price and offers various feature changes. All have V6 engines and FWD drivetrains, with AWD available for $2,000 more. The TrailSport, Elite, and Black Edition come standard with AWD, which could appeal to many consumers because it offers an extra 1,500 lbs. of towing capacity.
The Pilot's V6 engine and 9-speed transmission combine for a smooth ride, even when loaded with people and cargo. It accelerates from 0–60 in about 7 seconds, which is snappy enough for an SUV, and its braking is equally responsive. AWD versions supplement comfortable control and maneuverability with different terrain settings and variable torque management. The system automatically distributes torque between axles to maintain traction and adjust to varying driving conditions.
Space is a central selling point of the Pilot compared to other mid-size options. Most models are available as 8-seaters, except for the Elite and Black Edition, which have captain's chairs in the second row instead of the 3-seater bench. The Touring offers the option of either 7 or 8 seats.
The third row is restrictive in many mid-size SUVs, but there's surprisingly enough room for full-grown adults back there. If you have a lot of gear and kids constantly getting in and out, it gives you access and space to make it easy on everyone.
Pros
Ample seating and storage space
Smooth handling, solid acceleration, and power
Standard 8" touchscreen, full LED headlights, smartphone compatibility
Easy-to-use dashboard features
Standard Honda Sensing safety suite
Cons
High starting price
Low ground clearance
Dull exterior design
Toyota Highlander Overview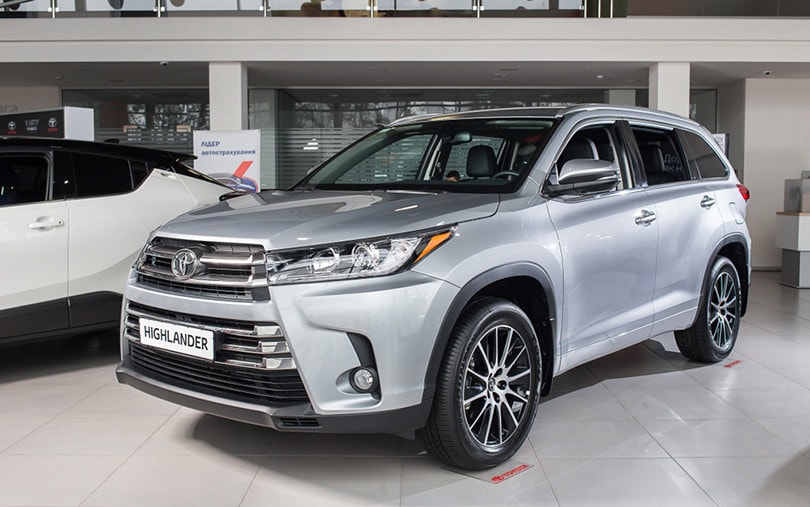 With a bevy of hybrid options available, the Toyota Highlander encompasses 11 models, starting with the value-packed L series and going up to the $50,000+ Hybrid Platinum series for those seeking the most luxury Toyota has to offer.
The 295 HP V6 in non-hybrid Highlanders can compete with the Pilot, but the 8-speed transmission doesn't provide as seamless of an upshift as the Honda's 9-speed. Still, the towing capacity and acceleration are comparable, especially in AWD models, and the ride is otherwise smooth. When you consider the slight edge on combined mpg rating (and the much higher 35 combined mpg in hybrids) and superior exterior stylings, you could still give the performance edge to the Highlander. You may just have to deal with a slightly noisier motor at times with the hybrid's 4-cylinder engine.
Performance and style are nice, but features and control are the Highlander's primary appeal. Basic models have tons of infotainment options and standard driver-assist automated safety tools. Safety is an essential highlight, and the Highlander earns its NHTSA 5-star and IIHS Top Safety Pick ratings with an intelligent array of technology and crash protection features.
Pros
Impressive safety features
Stylish exterior design
Good gas mileage
Standard infotainment package includes 4G hotspot, 5 USB ports, and 8" center touchscreen
Standard Toyota Safety Sense 2.5+
Cons
Limited third-row space, only suitable for kids
Performance is not as smooth or responsive as similar mid-size options
How do they compare?
Performance
The Toyota Highlander wins in fuel economy—especially when you consider the hybrid—and it has more horsepower than the Pilot. The Pilot does have slightly better acceleration and handling, particularly with a car full of people. Overall performance still goes to the Highlander, as it edges the Pilot in several categories, from ground clearance to torque.
Price and Value
With 11 different models compared to the Pilot's six, the Highlander has a wider range of options to suit more shoppers. The basic L series is less expensive than the Pilot Sport, and the standard entertainment features on the Highlander are superior in nearly every way.
Safety
The Highlander and the Pilot have numerous standard safety features to put any driver at ease. Some of the standard safety options with both vehicles include:
Automatic high-beams
Forward collision warning with automatic emergency braking
Lane-departure warning and lane-keep assist
Adaptive cruise control
One advantage of the Pilot is that its blind-spot warning is standard on all models, whereas the Highlander does not offer it on their L series. But Toyota bumps their package up a notch with pedestrian and cyclist warnings, evasive steering assistance, and traffic sign recognition for even more help on the road.
Entertainment
It all depends on who you want to entertain, you or the kids! Both the Highlander and the Pilot have 8" touchscreen displays with Apple CarPlay and Android Auto. However, the Honda includes a Blu-ray player and a 10" rear entertainment screen for passengers on their Touring series and above. Meanwhile, the Highlander makes the front seat more comfortable with Amazon Alexa, a Wi-Fi hotspot, and an optional 12.3" touchscreen in its Limited and Platinum series.
Comfort
The seating arrangements are nearly identical, so the Pilot wins primarily due to the more spacious third-row seat. It's easier to get in and out of than the Highlander, and there will be fewer compromises between carrying people and carrying cargo.
What the Users Say
Consumers appreciate the Toyota Highlander for its advanced safety features and enjoyable ride. Some owners liken the performance of the higher-end versions to more expensive Lexus models. However, many owners also agree that the front seats can be uncomfortable.
Honda Pilot owners have a similar affinity for their vehicles' Honda Sense safety features. And despite the comparatively clumsy outward appearance, many still find the ride full of style, power, and comfort.
Conclusion
Improved performance, better standard safety features, and lower starting prices help the 2022 Toyota Highlander overcome its inferior roominess to win the head-to-head with the Honda Pilot. It's full of style inside and out, and the overloaded entertainment options will make any drive a pleasure for all.
Toyota and Honda added thoughtful touches to their mid-size SUV lineups this year. Whether you choose the features of the Highlander or the spacious comfort of the Pilot, you'll be sure to land in one of the best family vehicles this year.
---
Featured Image Credit: Mariaprovector, Shutterstock