Toyota Rav4 vs. Honda CR-V: Which Should You Choose?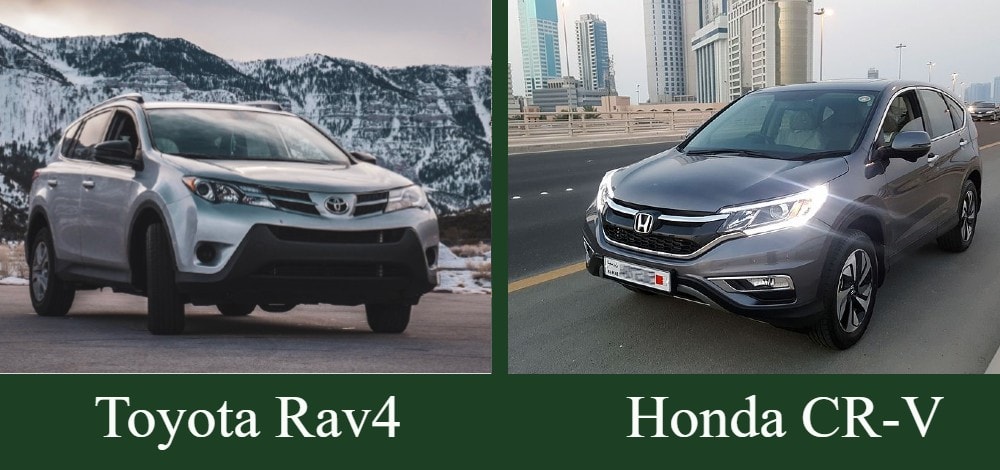 If you're looking to buy a new car, get ready for a few hours of online research! You've identified the make and model you want. Now, it's time to compare models before actual shopping.
The Toyota Rav4 and Honda CR-V are two of the most well-known and sought-after compact SUVs. You may be torn between these two. Both have their pros and cons.
But which one is better? We'll help you save time with this side-by-side Toyota Rav4 vs. Honda CR-V comparison.

Review Summary
The Honda CR-V and Toyota Rav4 are two of the bestselling SUV models today. Auto journalists and consumers have tested these two SUVs many times. Comparisons between the two models are inevitable since they're in the same category.
Toyota Rav4 comes with many features. Additionally, it's fuel-efficient compared to Honda CR-V. Busy people prefer Toyota Rav4 because it can go long distances without consuming too much fuel.
On the other hand, if you want large cargo space, go for Honda CR-V. It has a larger cargo space compared to Toyota Rav4.
But still, Toyota Rav4 is the overall best SUV despite its slightly higher cost compared to Honda CR-V. It's reliable and comes with many safety features in addition to its fuel efficiency.
At a Glance
Toyota Rav4
Five people carrying capacity
203 Horsepower at 6600 RPM
Front-Wheel Drive
Optional All-Wheel Drive
9 cubic feet of passenger space
8 cubic feet of cargo volume
35/27/20 Highway/City/Combined MPG Rating
Honda CRV
A carrying capacity of five people
190 Horsepower at 5600 RPM
Front-Wheel Drive
All-Wheel Drive (Optional)
9 cubic feet of passenger room
8 cubic feet of cargo volume
32/27/29 Highway/City/Combined MPG Rating

Overview of Toyota Rav4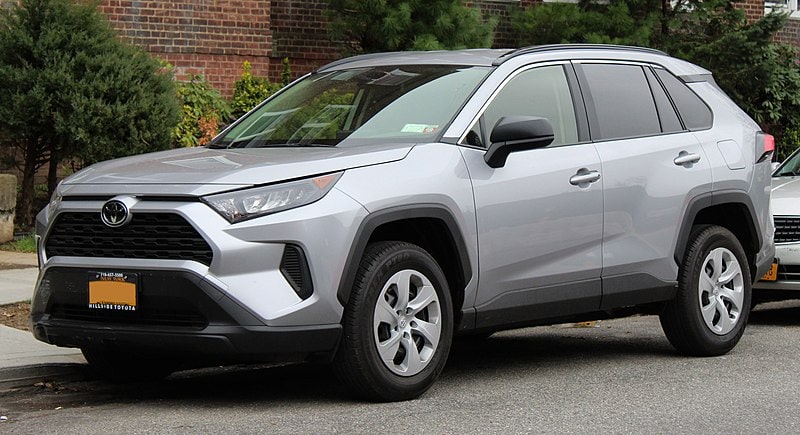 Toyota Rav4 is a crossover SUV that was first released in 1994. Since its creation, its popularity has made it one of the top-selling vehicles in the United States. Here are a few features of this SUV.
Exterior
The Toyota RAV4 features an exciting exterior design that will get you noticed wherever you go. At the front end, you'll find LED headlights and LED Daytime Running Lights.
The muscular wheel arches house your wheels and tires. The rear has standard LED tail lights. It also features 18-inch alloy wheels. They will ensure all eyes are on you.
The RAV4 also offers color-keyed heated power outside mirrors with turn signal indicators. They will make it easier for you to see what's on the road.
The exterior of the Toyota RAV4 has been updated to give it a more rugged look while still maintaining the classic lines that define this SUV. One of its favorite features is the XLE AWD trim level.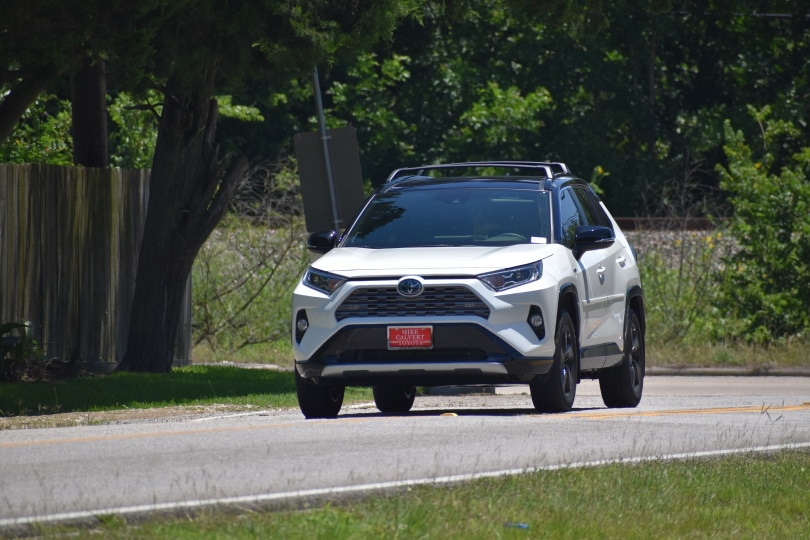 Interior
The Toyota RAV4's cabin is spacious and well-built. The front seats are comfortable and supportive even on long trips.
The rear seats are also comfortable and spacious. It isn't surprising given that this vehicle is classified as a midsize SUV.
The infotainment system features a responsive touch screen with clear graphics. It also has large icons that are easy to read from across the cabin.
Head and legroom are abundant in both rows. The second row slides fore and aft to help balance rear passenger comfort with cargo space. The cargo space is also generous.
Fuel Consumption
The RAV4 is designed for the economy. So, it won't cost you a fortune to run. It consumes just 6.6L/100km on the combined cycle. It is more fuel-efficient than other vehicles in its class such as the Honda CR-V.
Front-wheel-drive versions of the Toyota Rav4 are rated at 8.8 L/100 km in the city and 6.9 L/100 km on the highway. All-wheel-drive models are rated at 9.2 L/100 km and 7.0 L/100 km in the city and on the highway respectively.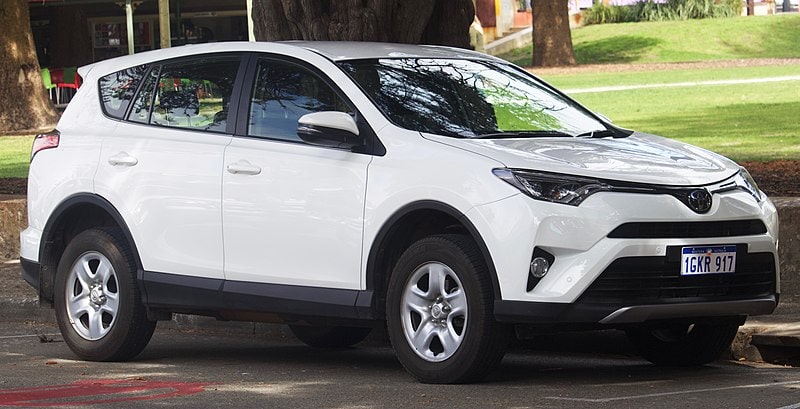 Engine and Performance
The Toyota RAV4 Hybrid is an excellent and compact SUV. It offers a smooth ride, a comfortable and spacious interior, and an easy-to-use infotainment system.
Additionally, it has excellent fuel economy for the class and has standard driver assistance features.
The RAV4 is powered by a 2.4-liter four-cylinder engine and two electric motors (one for each axle). They combine to produce 203 horsepower, which is average for the class.
Pros
Excellent fuel economy
Plenty of standard and optional features
It offers a comfortable ride
Large cargo space
Perfect for busy people
Cheaper compared to Honda CR-V
Excellent off-road capability
Cons
The powertrain is noisy and whiny
The touch screen is somewhat slow to operate
It only comes with CVT Transmission
Overview of Honda CR-V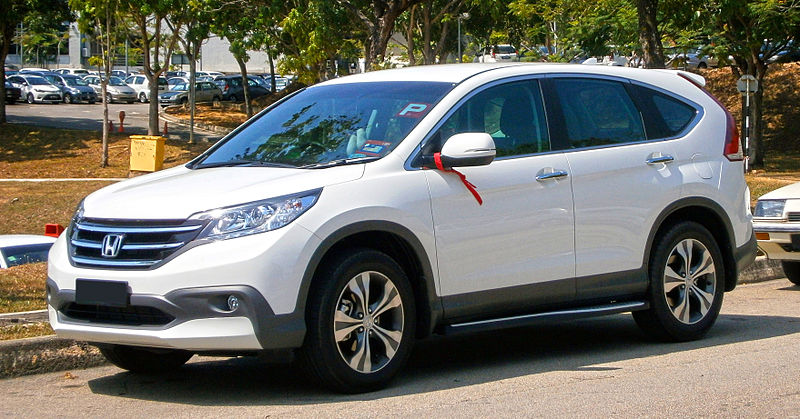 The all-new Honda CR-V is an impressive SUV. It's built with up-to-date and high-quality materials. This SUV is also available in several trim levels with two engine options.
It will exceed your expectations. Let's dig a little deeper to find out why you should consider buying the Honda CR-V.
Exterior
The new CR-V has a bolder look than before. It's noticeable upfront. There's also a large chrome grille and LED headlights standard on all models.
Around the back, there's a set of LED taillights and dual exhausts on some models. The exterior design is also improved in other areas.
Previous Honda CR-Vs were boxier in appearance. The body panels of this new one are more sculpted to give it a sleeker profile.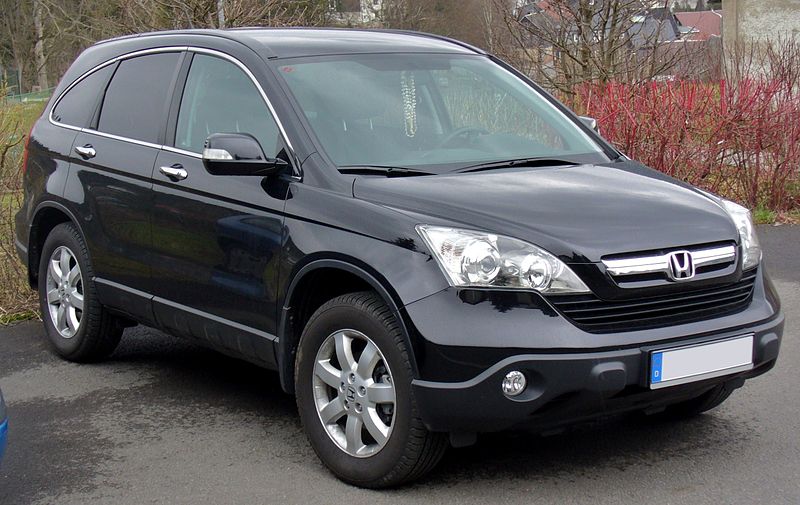 Interior
The interior of the CR-V is driver-centered. It means that everything is within easy reach of the driver's seat. The controls are ergonomically designed and intuitively placed. So, you don't have to take your eyes off the road to find what you're looking for.
The cargo area is also spacious. With all seats upright, there are 25-cubic feet of storage space available. When you fold down the rear seats, that space expands to 72 cubic feet.
It makes the CR-V perfect for those who need extra cargo room from time to time but still needs that third row of seating on occasion.
Fuel Consumption
The Honda CR-V is a popular SUV. It's perfect for weekend adventures and running errands around town. It has better fuel economy than most SUVs in its class.
Honda CR-V's fuel consumption is around 8.7 km/l to 13.1 km/l in city traffic and up to 14.8 km/l to 20 km/l in highway traffic. It depends on the type of engine, engine size, and driving conditions.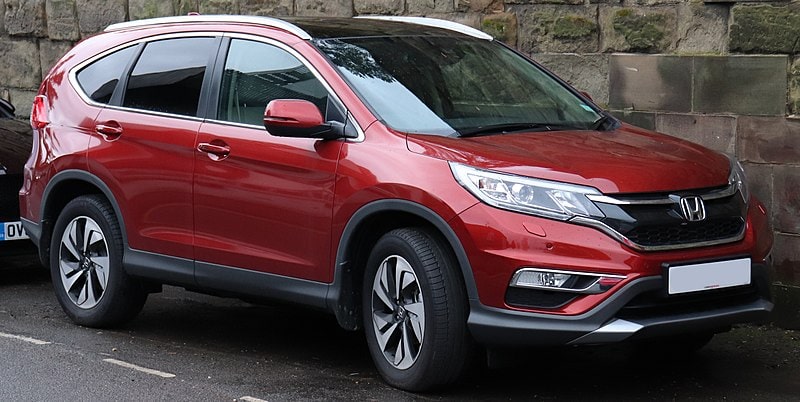 Engine and Performance
The Honda CR-V has one of the most sophisticated SUV powertrains in its class. It has a 190-horsepower four-cylinder engine and a continuously variable automatic transmission (CVT).
There's plenty of torque for acceleration and enough passing power to put it at the top of the class.
The CVT responds well to throttle inputs and has simulated gear ratios for a more traditional feel. The Honda CR-V feels powerful for its size. It runs quietly with minimal noise intrusion into the cabin.
Pros
Large interior storage
Top trims are high-end
It's a family-friendly model
Excellent Honda Sensing
User-friendly latch system
Many standard infotainment features
The turbo engine is fast and easy on gas
Cons
It has a small media screen
The cabin materials feel cheaper
The Bluetooth voice recognition is somewhat slow

How Do They Compare?
Toyota Rav4 vs. Honda CR-V are both fantastic crossover vehicles. They are great for people who need space and the convenience of driving a car.
There are many reasons why you should choose a Toyota Rav4 over a Honda CR-V or vice versa. Researching is worth the time. You should look for the details and figure out which vehicle suits your style and needs.
Here, we will look at the differences between these two vehicles and help you understand which SUV is right for you!
Differences Between Toyota Rav4 & Honda CR-V
1.

Cabin Space
Both the Honda CR-V and Toyota Rav4 are compact SUVs. But does that mean they are equally spacious inside? No. There is a big difference in cargo space between these two models. So, if you need to carry lots of gear, the Honda CR-V is the way to go.
The RAV4 offers 37.6 cubic feet of space behind the second row and 69.8 cubic feet when you fold the seats down. These are below-average numbers for the compact SUV class.
Meanwhile, the CR-V has 39.2 cubic feet behind its second row and 75.8 cubic feet when you fold the seats. These are above-average numbers for this class. It makes the CR-V one of the most spacious vehicles in its segment.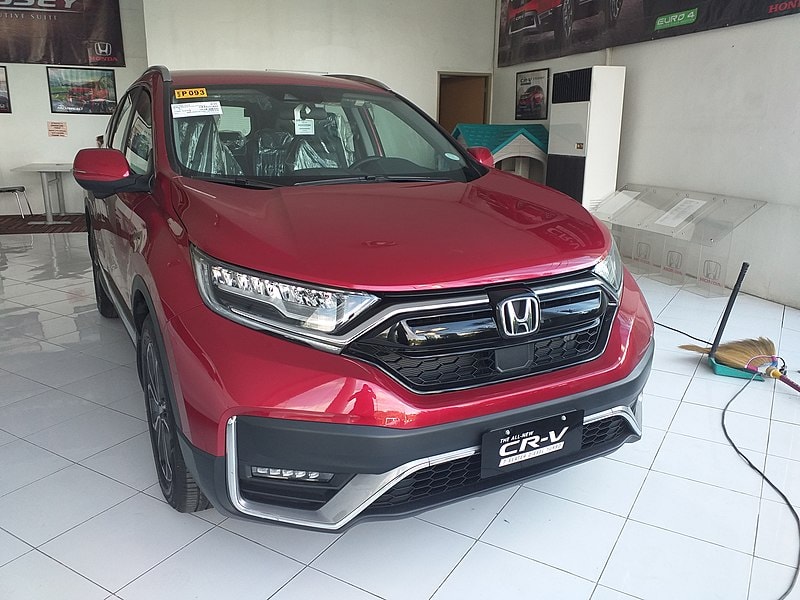 ---
2.

Powertrains
There are three powertrain options for the RAV4. Also, it has an eight-speed automatic transmission, and the base engine is a 2.5-liter four-cylinder. It makes 189 pound-feet of torque.
An upgraded version of the same engine is tuned to produce 219 horsepower and 235 pound-feet of torque. A hybrid model is also available. The fuel economy for the hybrid is 40 mpg combined.
The CR-V has only one engine on offer. It has a 1.5-liter turbocharged four-cylinder that produces 179 pound-feet of torque. But, it's paired with a continuously variable transmission (CVT) instead of a traditional automatic transmission.
---
3.

Fuel Economy
The Toyota Rav4 is more fuel efficient than the Honda CR-V. The 2.5L four-cylinder engine in the Toyota RAV4 has a fuel rating of 22 MPG in the city. It has a fuel rating of 28 MPG on the highway.
The Honda CR-V's standard 2.4L four-cylinder engine gets an EPA estimated 23 mpg in the city and 30 mpg on the highway.
---
4.

Safety
Toyota Safety Sense is Toyota's suite of driver-assist technologies. It's available on the Toyota RAV4. The SUV also has adaptive cruise control and forward-collision warning with pedestrian detection. Additionally, it comes with automatic emergency braking lane-keep assist, and a lane departure warning.
The Honda CR-V comes with Honda Sensing. It also has a forward-collision warning with automatic emergency braking, and lane-departure warning. It also has a lane-keeping assist and adaptive cruise control.
---
5.

Cost
The Honda comes in at a slightly lower price point than the Toyota Rav4. But it's not such a significant difference that you should rule out the Toyota. Besides, the Toyota Rav4 has more features for money than the Honda does.
The difference between these two SUVs may matter more to those seeking a new vehicle rather than those in the used car market. Both SUVs hold their value well.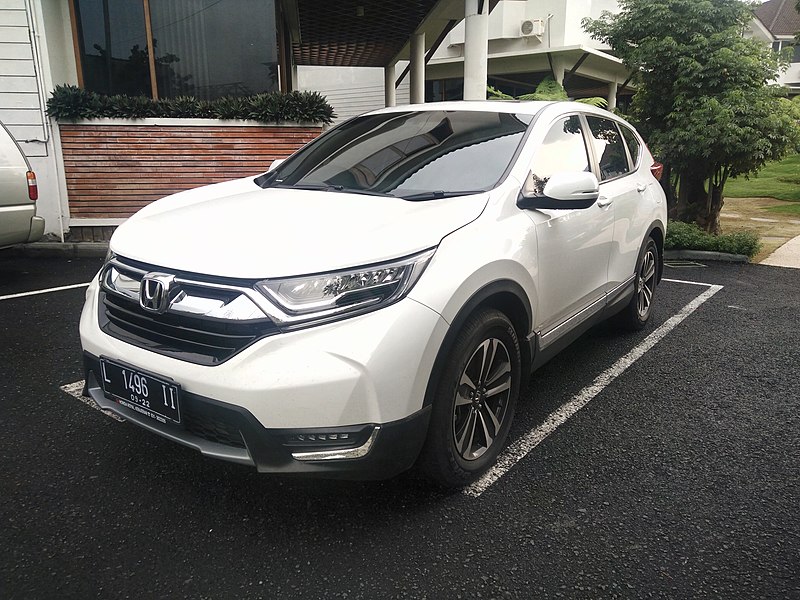 ---
6.

Driving and Handling
Toyota RAV4 offers a smooth drive on the road. It's no surprise, given its wagon-like look. Also, it's responsive to driver input. So, you'll have no trouble making your way around tight corners or going in reverse. But, it's more firm compared to Honda CR-V.
The Honda CR-V is an excellent choice for drivers who want a little more excitement from their daily commute. This crossover boasts athletic handling that makes it fun to drive. It's also quite nimble. So, it can navigate tight spaces such as winding roads or crowded city streets easily.
---
7.

Interior Features
The Honda CR-V has comfortable seats with all of your favorite features, such as heated front seats. Also, it has a leather-wrapped steering wheel and automatic climate control with air filtration.
The Toyota RAV4 also boasts features, such as SofTex upholstery. It mimics the look and feel of leather. But it's easier to clean. It also has an Entune audio system with Bluetooth technology for hands-free phone calls.
The RAV4 also features dual-zone automatic climate control and navigation with App Suite. You can find your way around town without asking for directions.
What the Users Say
We've gone through various customer reviews about these two SUVs. We have also done extensive research on them, and here's what we found out.
The two SUVs indeed share many strengths and weaknesses. It includes strong acceleration and a comfortable ride. Despite this, customers had their say on which the best between these two SUVs is.
Both models scored high in handling, reliability, and quality. The Honda CR-V was rated somewhat higher for overall performance. But the Rav4 was better for ride quality and value.
The Toyota Rav4 is a favorite to many buyers due to its fuel economy and reliability. Also, users say that the Honda CR-V gives them a top-notch interior and cargo space.
Other users say that the Honda CR-V isn't fuel-efficient despite its large cargo room. Honda CR-V's cargo space is ideal if you want to carry a lot of luggage on a long journey or if you're going camping.

Conclusion
The Rav4 and the CR-V are capable cars that make sense for families on a budget. The SUV you pick will be informed by your individual needs, preferences, and taste.
Do you want more cargo space, power, or features? If you're looking for a reliable, comfortable, and versatile SUV, the Honda CR-V is your best bet. The Rav4 also has its strengths. It performs admirably on the road and comes with plenty of useful features as standard.
The question then becomes, "is it worth spending more to get the features you want?" It depends on what you consider more important. Is it price or performance? Generally, both of these models are great, but the specifics will come into play in making the ultimate choice.
See also:
---
Featured Image Credit: Left: Toyota Rav4: Piqsels | Right: Honda CR-V: Honda CRV (Image Credit: NavinS, Wikimedia Commons CC BY-SA 4.0)