2023 Nissan Rogue vs. Toyota Rav4: Which One's Best for Me?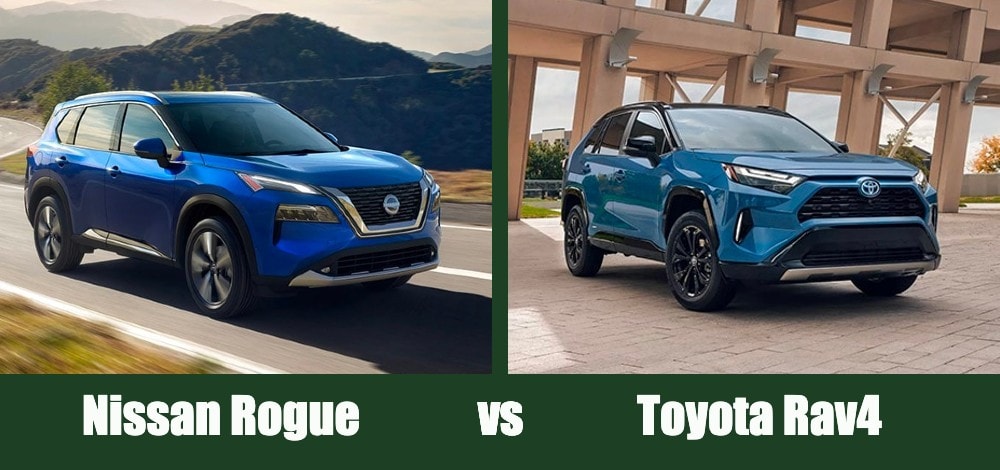 Review Summary
There is no clear winner in this head-to-head. Both Nissan and Toyota offer excellent options if you're looking to get into a compact SUV. You won't find your answer in performance, safety, or warranty because both brands compete fiercely. As a result, their specs are almost identical in many areas. However, there are some slight differences that we will discuss in this article.
While their specs may be similar, they each have their own identity. Each SUV is crafted with care and precision, and both have their own unique colors, curves, and lines. If horsepower doesn't make up your mind, maybe the visual appeal will.

At a Glance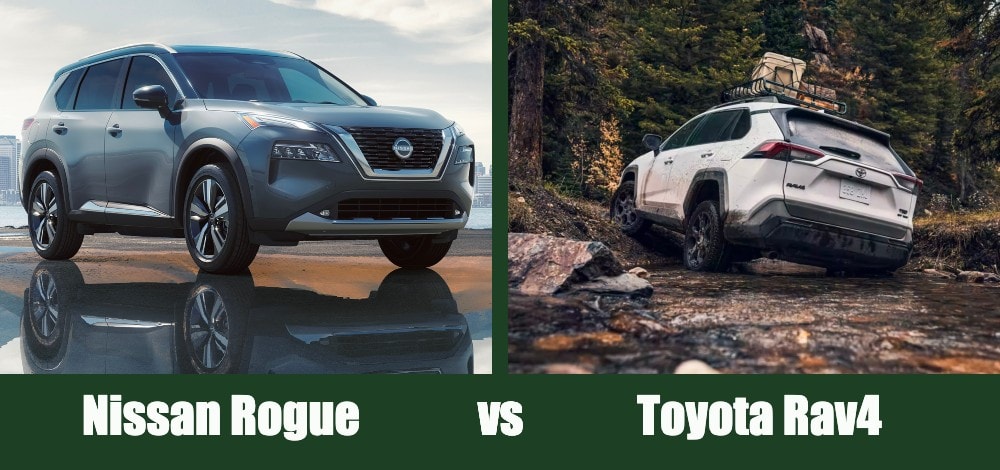 Let's look at how these two SUVs stack up to each other.
Nissan Rogue
Starting MSRP: $26,850
Warranty: 36 months / 36,000 miles
Horsepower: 201
Engine: 1.5-liter VC-Turbo™ engine
Drivetrain: All-wheel drive (AWD) / Front-wheel drive (FWD)
Estimated mpg: Up to 30 city / 37 highway
Seating capacity: 5
Rav4
Starting MSRP: $26,525
Warranty: 36 months / 36,000 miles
Horsepower: 203
Engine: 2.5-liter VVT-i
Drivetrain: AWD / FWD
Estimated mpg: Up to 27 city / 35 highway
Seating capacity: 5

Overview of the Nissan Rogue: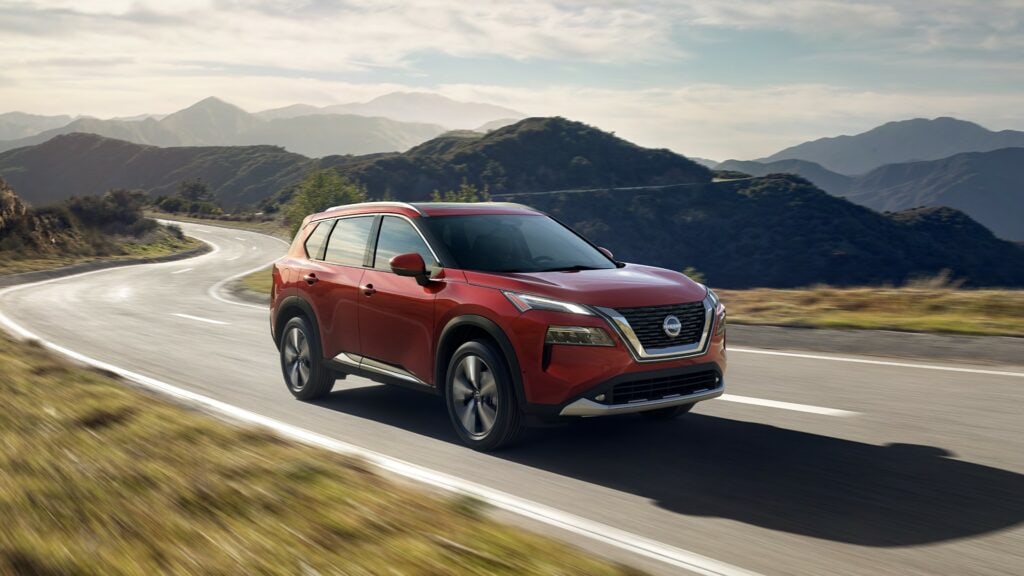 Nissan is constantly pushing the limits. With the release of the world's first variable compression turbo engine (VC-Turbo™), they are pushing the envelope again. This incredible engine pushes out 201hp and 225 ft-lb of torque when you stomp on the gas.
If practicality and value are your goals, the Rogue is an excellent choice. Capable of seating five adults, it has a spacious cab with plenty of storage. Even with the spaciousness, it maintains sleek, sharp lines on the outside and doesn't look like a bulky SUV.
Mechanical
When Nissan dropped the 2.5-liter naturally aspirated engine in favor of this year's brand new engine, the horsepower increased, and the fuel efficiency also improved. According to Nissan's specs, you can expect to get up to 30 mpg in the city and 37 mpg on the highway.
If you live where the roads tend to get ugly, you'll be happy to know that AWD is an available option. However, you'll have to pay extra for the upgrade because FWD is the standard drivetrain.
Warranty
The Rogue is backed by Nissan's 36-month / 36,000-mile limited warranty and their 60-month / 60,000-mile powertrain warranty. This warranty is on par with the industry average. When financing a vehicle, you can often purchase an extended warranty package if the length of Nissan's factory warranty is concerning.
Safety
The Rogue comes with many standard safety features, such as an automated braking system or blind-spot monitoring. There are also advanced features available, like a semi-automatic driving mode or adaptive cruise control.
NHTSA overall safety rating: 4/5

Overview of the Rav4:
Like the Rogue, the Rav4 is not the fastest or sportiest vehicle in Toyota's lineup. However, it offers tremendous value for the consumer looking for an affordable and reliable SUV to drive. The nice thing about the Rav4 is there isn't any new engine technology this year. So, its 2.5-liter engine is not only factory-tested, but it's "real-world" tested as well.
Mechanical
The 2.5- liter naturally aspirated engine boasts 203 horsepower. Many SUVs in this class are going toward smaller, turbocharged engines, giving them better fuel efficiency. But Toyota sticks to the naturally aspirated engine, which offers decent power. And according to their specs, you can expect to get 27 mpg in the city and 35 mpg on the highway.
Warranty
Toyota's warranty stacks up against the industry average with a 36-month / 36,000-mile limited warranty and a 60-month / 60,000-mile powertrain warranty. If you're not happy with this warranty, Toyota also offers a 10-year / 125,000-mile extended warranty as an additional purchase with your new SUV.
Safety
If there is one thing that Toyota has always taken seriously, it's their safety ratings. The Rav4 comes with a host of standard safety systems such as an automated braking system, lane-departure warning and lane-keeping assist, and adaptive cruise control. If you want to stick with the base model, you can add other features like blind-spot monitoring or rear cross-traffic alert.
NHTSA overall safety rating: 5/5

How Do These SUVs Stack Up?
Nissan and Toyota have made SUVs for many years, and they both do it well. There is no clear winner in a head-to-head competition. However, there are few places where one has a slight edge.
Performance
Edge: Rav4
Suppose you're looking for that slight advantage of extra horsepower. In that case, the Rav4's naturally aspirated engine will offer you a few extra ponies.
Economy
Edge: Rogue
The Rogue may sacrifice a bit of horsepower with a smaller engine. Still, its VC-Turbo™ engine gives it a noticeable advantage over the Rav4 in city and highway fuel economy.
Price
Edge: Tie
Both SUVs are within a couple of hundred dollars throughout the trim levels. The Rav4 has a slight advantage due to having a few more factory trim level options but overall, they are still neck and neck with pricing.
Safety
Edge: Rav4
This category is almost a tie again because both SUVs have excellent safety ratings. However, the Rav4 has a noticeable advantage because it offers more technology as standard equipment across the trim levels.
Related Read: Toyota Highlander vs. Subaru Ascent: Which One Is Best For Me?
What the Users Say
Don't take our word for it, though. We've researched what consumers are saying about these two SUVs. Check out a few of the common praises and complaints we've found.
Many consumers are praising the comfort of both the Rogue and Rav4.
According to reviews on KBB, drivers are happy with the reliability of the Rav4.
A common theme among many comments is the incredible value that both SUVs offer for the price you pay.
According to a review on KBB, one consumer found that the vehicle's technology was overly complicated. This could be a pro or a con, depending on what you're looking for in an infotainment system.
Many drivers complain about the Rav4 having a noisier engine. Especially highway driving while passing.

Closing Thoughts
If your only concern is safety or the absolute max horsepower for your dollar, the Rav4 is calling your name. However, if you're looking for the most fuel-efficient vehicle to combat the rising fuel prices, the Rogue will ultimately keep more of your hard-earned dollars in your pocket. Whichever SUV you decide to go with, you can rest easy knowing you've made a good choice.
---
Featured Image Credit: (Left) Nissan, (Right) Toyota