9 Different Types of Floor Molding (With Pictures)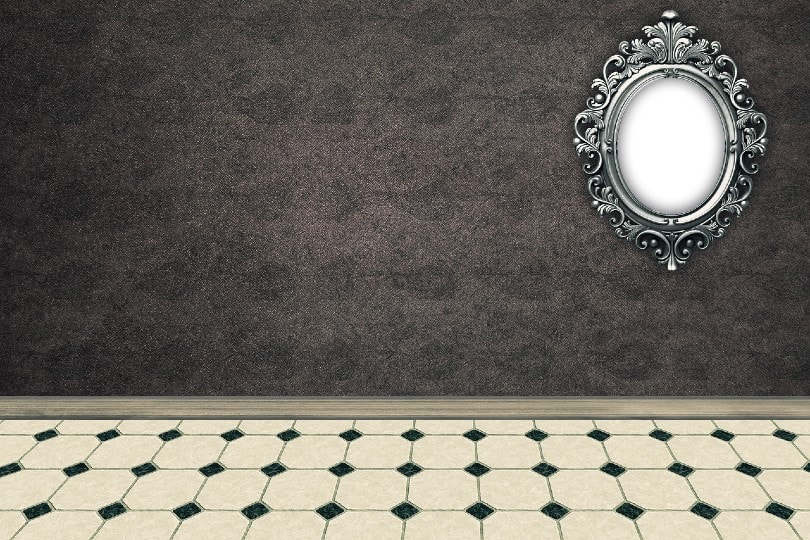 Floor molding is a versatile woodworking material perfect for any home renovation project. It's called floor molding because it adds a finished, decorative edge to the top of the floor. It is an easy and inexpensive way to give character to your room. If you have a sharp sense of design, one of the first details to decide is the type of floor molding you'll use.
There must be a balance of colors, designs, and beauty to make the surroundings attractive. Many people don't use floor molding because they want a plain look. But different types of floor molding can make your house more appealing.
This guide will help you choose the best floor molding for your project.

The 9 Different Types of Floor Molding
Floor molding is one of the finishing touches that leads your gaze in a specific direction. It's not only an accessory but also a sealant.
Several different moldings are used for flooring as seen below.
1.

Baseboard
Baseboards are the most common type of floor molding. They look like chair rails, but are thick and tall. They may be as tall as 6 inches or more. Usually, they are made of wood but can also be in plastic and MDF (Medium-Density Fiberboard).
The baseboard is installed at the bottom of the wall. It covers the joint between the floor and the wall. You can also use it as a decorative element in any part of your room to define a space or add depth.
They are available in different shapes, sizes, and designs. You can paint or stain baseboard to match your decor or leave it natural for a more rustic look.
Baseboards protect the walls from any damage that may result from vacuuming.
Pros
It's easier to install
It's more durable than other types of floor molding
It hides small building imperfections
Cons
There are limited colors and styles
---
2.

Cove Molding
Cove molding is a concave molding that comes in either pre-made sections or custom lengths. You can attach it to the wall with nails. Usually, it comes in 8-foot lengths. But you can find longer pieces.
Install Cove molding with the broad side facing outward where it meets the wall, while the narrow side faces outward where it meets the floor. It creates a clean rounded edge that is seamless when finished. Also, it looks great with any floor style or color.
Cove molding provides a stylish transition between your wall and floor. This molding style is commonly used in kitchens, bathrooms, and other rooms where moisture can be an issue.
It's designed to divert water away from the joints and back onto the floor, preventing damage to the joint.
Pros
Inexpensive
Gives your interior a great decorative touch
Comes in a wide range of colors
Cons
You cannot run wires through cove molding
---
3.

Farmhouse Base Trim
This floor molding is an excellent choice for a country or farmhouse-style home. It's painted white or off-white and has an ornate pattern on it.
The molding is installed along the bottom of a wall same height as baseboards, providing an elegant transition from the wall to the floor.
Farmhouse base trim is made from various types of wood, including oak and pine. So, you can find the right type for your floors. It also comes in a wide range of styles. It includes modern, classic, traditional, country, and much more.
There are many different brands of this type of floor molding; choose the best one for your needs.
Pros
It is an antique and stylish home improvement
Comes in different decorative base trims
Strong and durable
Can be used in any room
Cons
Costs more than the regular base trim
It takes longer to install
Consult a flooring expert
Find a flooring specialist in your area, and get free, no-commitment estimates for your project.


---
4.

Two-Piece Base Trim
The two-piece base trim comprises of two pieces of wood installed separately. The taller piece (also called the base shoe) is installed along the bottom edge of the wall baseboard. It has a rounded profile, but you can find other shapes.
The thinner piece covers the seam where the base shoe and wall meet. When installing the two-piece base trim, put up the shoe mold first. Then, install the baseboard on top of it. This type of molding is excellent for a more traditional classic look.
The two-piece base trim is available in a variety of styles and materials. It's ideal for floors that may need replacement someday. If your floor is damaged or if you ever need to replace your hardwood floor, two-piece base trim can be removed easily, without damaging either piece.
Pros
Easy to install and assemble
Varied edge finishes available
Long-lasting
Can be used for replacement or a new construction
Cons
electrical connections through it can be tough
---
5.

Mop Board Base Trim (One-Piece Bases)
Most people are familiar with mop board base trim. It's straight and rectangular, with a small lip at the bottom resting on the floor.
Mop Board base trim is designed to hide the seam where the wall meets the floor. Install it after all other types of flooring have been put down.
Usually, Mop board base trim is made of painted wood, but it can also be vinyl. This type of molding is usually painted white. But you can find it in different colors. It also comes in a variety of widths and heights.
This floor molding covers the expansion gap running around the perimeter of a room. It also protects the wall from damage caused by vacuums and mops. You can buy Mop board base trim in any length, but it usually comes in 8-foot pieces.
Pros
Has less chances of warping
It's durable
Doesn't show nail holes or gaps in the flooring
Cons
Needs an extra coat of paint to smooth out the edges
---
6.

Quarter Round Floor Molding
Quarter round molding is one of the most common types of moldings used with floors. This floor molding is shaped like a quarter-circle.
Also, it has a rounded top edge and can be nailed or glued against the wall. It's installed between the baseboard and the floor. The rounded edge gives it a sleek look while hiding gaps between the wall and the baseboard.
This molding comes in a wide range of materials such as wood, vinyl, and plastic laminates. It's available in many different colors to match any decorating scheme.
When quarter-round molding is used with baseboards, it hides the gap between the two materials. If you don't install quarter round, dust and dirt will accumulate in this gap over time. It makes cleaning difficult and compromises your indoor air quality.
Pros
Adds style and comfort
Affordable
Maintains the natural finish of the wood
Creates a seamless smooth transition between the wall and the floor
Cons
Cleaning it is challenging
---
7.

Square Nose Molding (End Cap)
The square nose molding is a small end cap used to finish an unfinished floor. You can place it on the edge of a wall or in a doorjamb.
The square edge provides a finished look at the transition between the wall and the edge of the floor.
You can find this molding at the bottom of a stairway or the front of a sliding glass door. The square nose molding is ½-inch thick and 3¼-inch wide.
The length of this molding depends on the size of the room. Also, it relies on how many rows are needed to complete the edging. You can use it with engineered wood floors or laminate floors. The molding has a lip on one side that snaps over the edge of the flooring to hold it in place.
Pros
It increases the visual appeal of your home's interior
It's easier to cut compared to other types of molding
Looks more professional and clean
It's versatile and you can use it in any room
Cons
It traps moisture in the room, which may cause health concerns
---
8.

Reducer Molding
Reducer molding is used at the threshold between two floors of different heights. For example, if you want to transition from a high-pile carpet to a hardwood floor, you'll use reducer molding.
Usually, it's used when transitioning from hardwood flooring to tile. It's because of the height difference between those two types of floors. This molding also works well when transitioning from vinyl or laminate flooring to hardwood or tile.
The reducer helps create a smooth transition from one room to the next. When placing a transition molding at a doorway, make sure that the molding will stick out far enough so as not to catch on anything that may roll over it.
The thickness of the reducer you use depends on the height difference between the two floors.
Pros
Easy to install and maintain
High-quality product at a reasonable price
Many different styles and materials to choose from
Prevents water and vapor damage
Cons
It can easily chip; scratch up, burn, and dent.
It's more difficult to replace in case you want to change floors in future
---
9.

T-Molding
T-molding is a type of floor molding that fits in between two surfaces. This may be the most common type of transition molding.
This transition molding is called a T-molding because of its shape. It has a track that goes around three sides of it. The final side has a lip under it so that you can push it into place, and it will stay flush with the rest of your floor.
You can use this type of molding anywhere there is a doorway, and the floors are the same height. It's used between two rooms, such as a kitchen and dining room or bathroom and bedroom.
T-molding can be found in a wide range of sizes and wood finishes matching your flooring. You may also find it in aluminum, which looks great when used with laminate flooring.
Pros
It's easier to clean
It's thicker than other types of flooring. So, it won't break easily
It still looks stylish after years of wear and tear
Protects the edge of hardwood floors
Cons
Installing T-Molding takes time and is expensive
There are limited color choices available
What are the Benefits of Installing Floor Molding?
There are many benefits of installing baseboards in your home. Not only does it add an element of style to your home's interior design, but also offers more tangible benefits as well. They include:
Protects your Walls
Installing baseboards protects your walls against any scuffs or dents. Without baseboards to absorb some of the impacts, you run the risk of scratching or damaging your wall.
Makes Cleaning Easier
Without baseboards where the wall meets the floor, you will find yourself constantly cleaning up dirt and grime right along the line. So, installing floor molding makes cleaning a breeze.
It Gives Character to Your Room
Floor molding is one of the easiest ways to give your room character. You can install floor molding in any room. It acts as a transition between the walls and the floor. Also, it gives each room a unique character.
Adds Value to Your Home
Floor molding can increase your home's resale value if you plan on selling your property in the future. Potential buyers prefer homes that have well-designed interiors with appropriate floor molding installed at strategic locations within each room. Buyers are willing to pay more for such properties since they do not need extra renovations after purchase.
It's Easy To Install
Installing floor molding is one of the most DIY-friendly projects out there. It's easy for anyone to do. You don't need any experience with construction work such as carpentry or plumbing. All you need are a few basic tools such as sandpaper and wood glue!
Conclusion
Floor molding can make all the difference in any flooring project, not only through its visual appeal but also its functionality. If you're looking to revamp your home's floor, adding floor molding is one of the easiest and most economical ways to enhance any room with a custom look.
We've looked at several different types of floor molding, the options available, and the advantages of each one. Before picking your floor molding for the job, consider each type carefully. Make sure you make the best choice for your project and your work will last for years to come.
---
Featured Image Credit: Darkmoon_Art, Pixabay