20 Types of Hedges Compared: Pros & Cons (With Pictures)
Hedges are attractive additions to any landscape. They provide interest and can act as focal points. They can also serve several functions, such as privacy screens, habitats for wildlife, and windbreakers that can help you save on heating and cooling costs. However, hedges are a commitment. They can take up a great deal of space and require maintenance, especially during the first year.
There are several things to consider before you break out the shovel, such as whether a plant will tolerate your location's weather conditions. Your first task is finding out what your area's plant hardiness zone is. That just scratches the surface of compatibility. There are also the local conditions, which can play a significant role in the plants' health.
You should think about the hedges' full-grown size too. We recommend measuring your available space so you can choose the right species. Consider whether they may block a view or access. Finally, look into the necessary maintenance. Some hedges are more invasive than others. That will mean frequent pruning. Armed with this information, you can make an informed choice.

Deciduous Hedges
You can classify the types of hedges into two main categories: deciduous and evergreen. Deciduous plants follow the seasons with a dormant period during the winter. They have annual cycles of blooming that offer excellent ways to ensure that something is always in flower during the warm months. We suggest looking at pictures of any hedge throughout its seasonal pattern.
Some plants have attractive foliage that will add interest to your landscaping, even if the flowers aren't in bloom. Others are not as good-looking once its active season has passed. Find out what to expect year-round.
The 20 Types of Hedges Compared:
1.

Butterfly Bush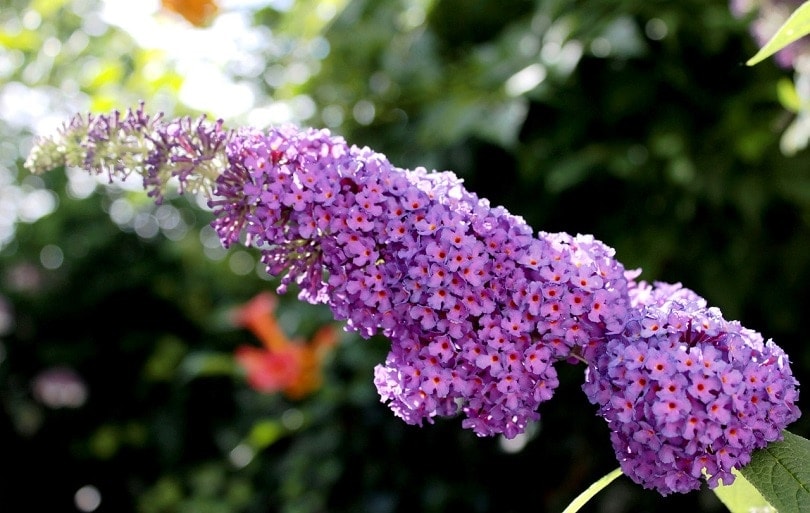 Butterfly Bush is appropriately named for the insects that it attracts with its fragrant blooms. It's an excellent choice if you don't have a green thumb. This plant is highly adaptable — as long as it gets full sun. There are many cultivars available to give you plenty of colors from which to choose. On the downside, it is sometimes invasive, requiring extra maintenance.
Pros
Fragrant flowers
Stunning colors available
Attracts butterflies
Zones: 5-9
Height/Width: 10' H x 10' W
---
2.

Hibiscus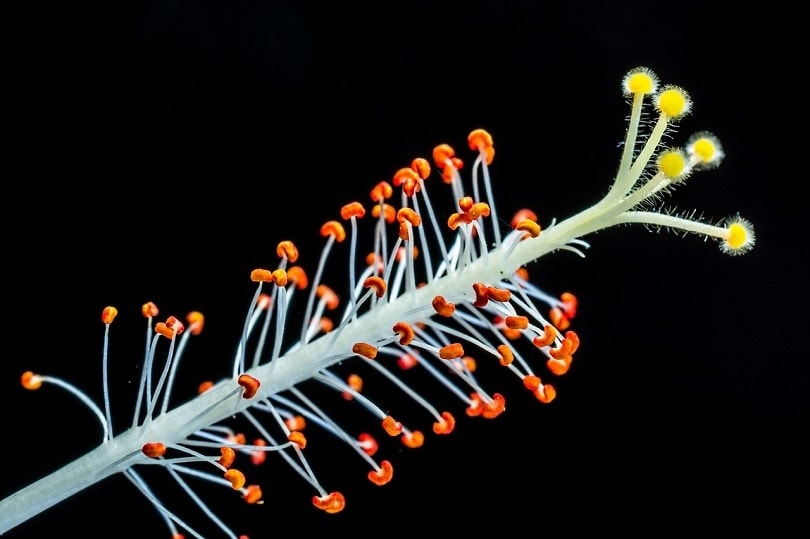 A row of Hibiscus shrubs planted in your yard is sure to make a statement. An array of its big, brilliant flowers will make a stunning focal point. They bloom later in the season and last a relatively long time too, which only adds to their beauty. While they are tolerant of different conditions, they prefer well-drained soils, which may cross them off the list for certain sites.
Pros
Gorgeous flowers
Long blooming
Tolerant
Zones: 5-10
Height/Width: 6-8' H x 6-8' W
---
3.

Hydrangea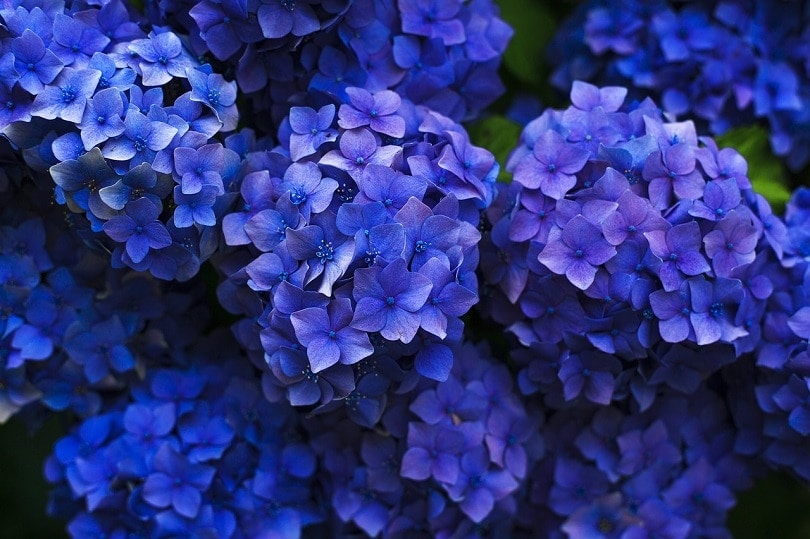 The Hydrangea is a striking shrub that will make an excellent hedge when planted in groups. There are many cultivars of varying sizes and colors. One of the best things about Hydrangeas is that they grow fast. You can fill that bare spot in your yard quickly, with an attractive focal point to boot. It does require partial or full sun with well-drained soils to thrive, however.
Pros
Long-lasting blooms
Many cultivar choices
Fast growth rate
Cons
Not suitable for clay soils
Zones: 4-9
Height/Width: Starting at 4'-5' H x 4'-5' W
---
4.

Barberry
Barberry is a tough customer when it comes to hedges. This plant handles trying conditions that other species may find hard to endure. It comes in several cultivars, with flowerings and foliage of varying colors. It has red berries protected by sharp thorns. It's essential to keep an eye on this shrub because it can become invasive and take over your yard.
Pros
Beautiful fruit and flowers
Compact size
Tolerant
Zones: 4-8
Height/Width: 5' H x 6' W
---
5.

Spirea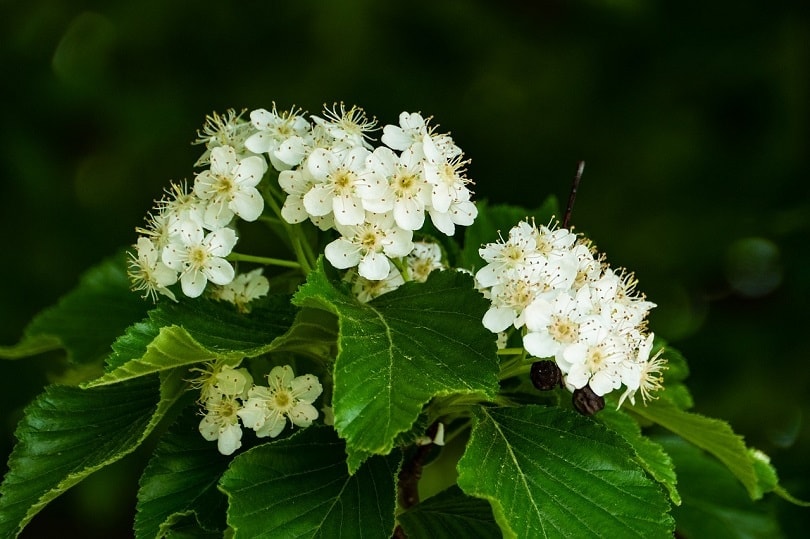 Spirea is a classic choice for a row of hedges. Its white flowers are small yet beautiful. It's not a large shrub and isn't invasive, which makes it an excellent choice if space is an issue. This plant has a wide range of acceptable hardiness zones, making it an option if you live in a colder area. The only downside is that it isn't the best-looking shrub when it's not in flower.
Pros
Suitable for small spaces
Weather tolerant
Pretty flowers
Cons
Not attractive when not in bloom
Zones: 3-8
Height/Width: 24"-48"
---
6.

Lilac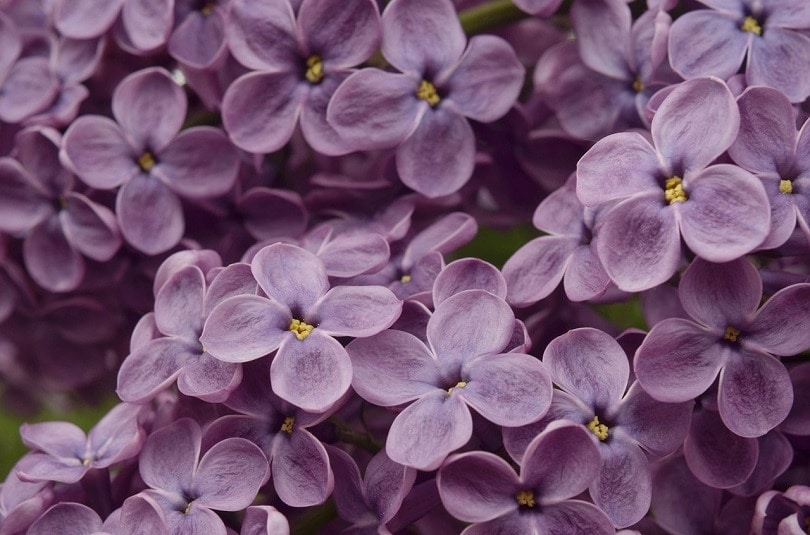 Lilacs are an excellent choice for hedges on many scores. The flowers are beautiful and bouquet-worthy. The scent is incredible too—even if the bees like it. Some varieties are quite large, but you'll find many smaller ones if you need something different. It is fast-growing and unfortunately, invasive, so it's a restricted species in some states.
Pros
Lovely fragrance
Attractive year-round
Fast-growing
Zones: 4-8
Height/Width: 10'-12' H x 5'-10' W
---
7.

Viburnum
Viburnum is a dense shrub that will make an excellent hedge. It's not that tall, which is another point in its favor. While it is deciduous, its burgundy leaves in the fall give it an eye-catching look. It's an early blooming plant that grows slowly into its place. It is a picky species when it comes to the soil type, though. It doesn't tolerate alkaline conditions well.
Cons
Not tolerant of all soils
Slow growth rate
Zones: 5-9
Height/Width: 4'-5' H x 4'-5' W
---
8.

Oleander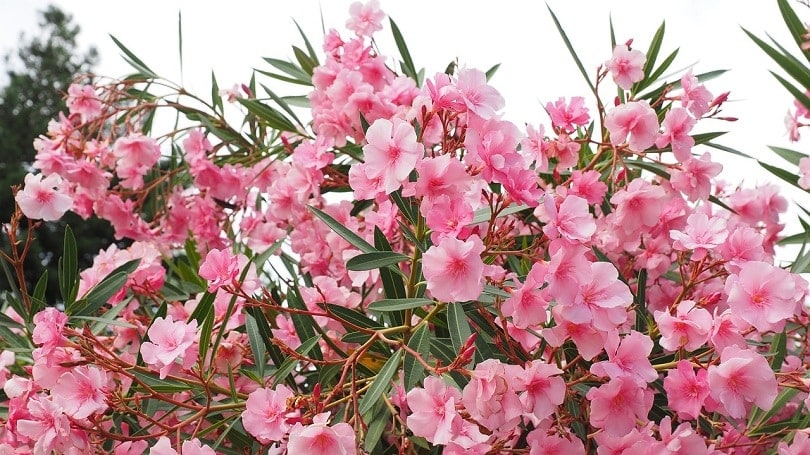 Oleander is a shrub that you'll either love or hate. It is a fast-growing species that is native to the southern United States. It blooms in the summer, with flowers that have a strong, almost syrupy scent that will attract bees. The wood is attractive with sparkly branches. It is quite tolerant of poor conditions.
Pros
Drought resistant
Tolerant
Fast-growing
Zones: 8b-10
Height/Width: 7'-20' H x 5'-8' W
---
9.

Fragrant Sumac
Like others in its genus, Fragrant Sumac is a stunner in the fall with gorgeous colors that signal the start of the season. The flowers bloom early in the spring and early summer, bringing their sweet scent to your yard. It's a wildlife-friendly tree, providing a reliable source of winter food for birds. That said, it is deer-resistant.
Pros
Pleasant scent
Beautiful fall colors
Food for wildlife
Zones: 3-9
Height/Width: 6'-12' H x 4'-6' W
---
10.

Shrub Rose
The Shrub Rose is a rustic version of this popular landscaping shrub. It is a low-growing plant that is tolerant of a variety of conditions. It produces gorgeous red hips in the fall, which provide food for birds. The plant forms thickets, which make it an excellent choice for a hedgerow. The thorny stems will help deter deer.
Cons
Thorny stems
Well-draining soils preferred
Zones: 2-7
Height/Width: 3'-8' H x 3'-5' W

Evergreen Hedges
These types of hedges keep their leaves all year round.
11.

Boxwood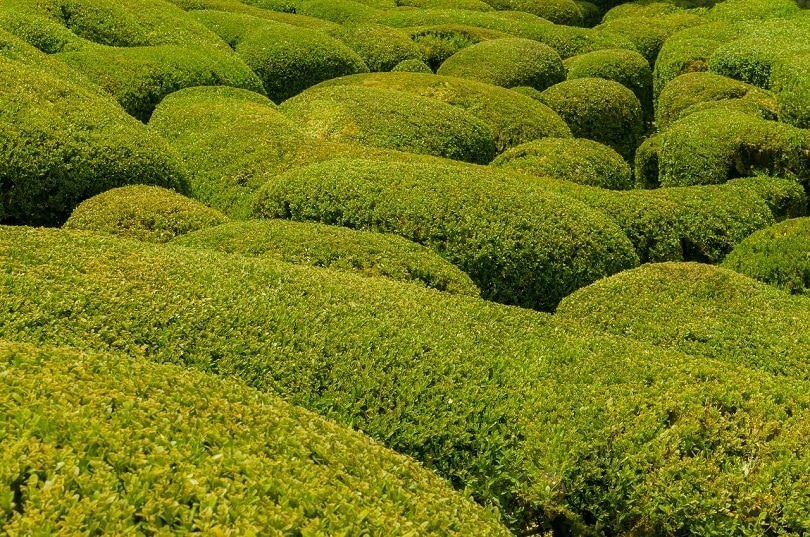 Boxwood is the quintessential hedge with a form and growth pattern that makes it an excellent choice for any landscaping. However, it is low and slow-growing and won't provide privacy. It isn't a showy plant, but it will make a thick hedge that will offer shelter for wildlife and birds. While it grows slowly, you must keep up with the pruning to keep it from looking unruly.
Pros
Low-growing
Dense growth pattern
Cons
Regular pruning essential
Intolerant of road salt
Zones: 5-8
Height/Width: 3'-5' H x 3'-5' W
---
12.

Yew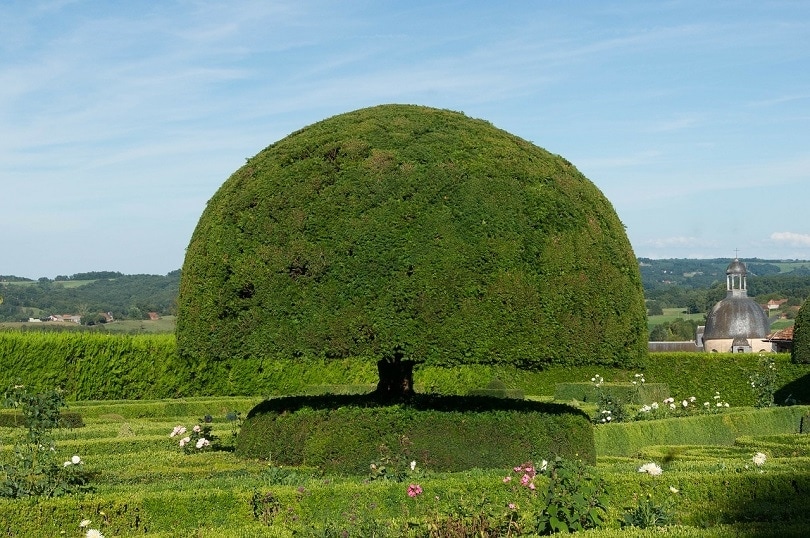 Yew is an attractive shrub that will form a dense hedge, albeit with softer needles. The rich, green color is gorgeous and perfectly offset by its red berries. It prefers dry, acidic soils, although it is a tolerant plant that can handle short drought spells. Regular pruning is essential, even though it grows slowly. Yew does best if there is at least partial sun.
Pros
Beautiful year-round color
Dense shrubs for privacy
Tolerant
Zones: 3-7
Height/Width: Up to 8' H x 5' W
---
13.

European Privet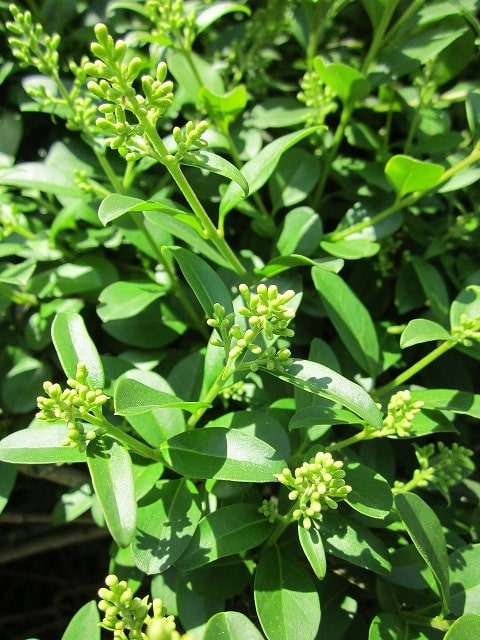 The European Privet is one of the best choices for a hedgerow if privacy is your goal. It is a fast-growing plant that can become invasive if not kept in check. It produces small, fragrant white flowers in the spring, which will attract butterflies. It does best if it is in full sun. However, it can tolerate some shade.
Pros
Fast-growing
Excellent for privacy
Butterfly-friendly
Zones: 4-7
Height/Width: 10'-12' H x 10'-12' W
---
14.

Evergreen Azalea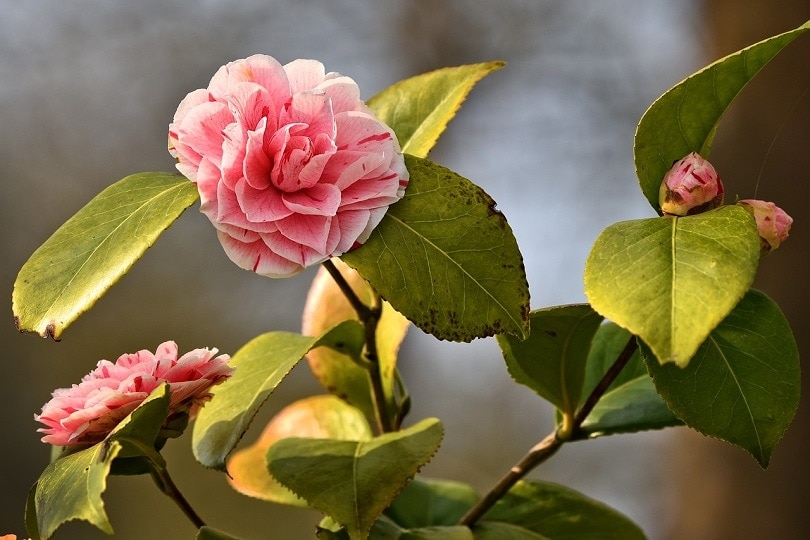 Evergreen Azalea is a gorgeous shrub year-round. Its dark green foliage is stunning against the white snow during the winter. The flowers are equally as striking, with large pink blooms. It's an excellent choice if you need a plant in an area with partial shade. However, it is not wind-resistant. Therefore, it'll do best in a place with protection from the elements.
Pros
Compact size
Year-round color
Cons
Too small for privacy uses
Zones: 5-8
Height/Width: 2'-2.5' H x 2'-2.5' W
---
15.

English Holly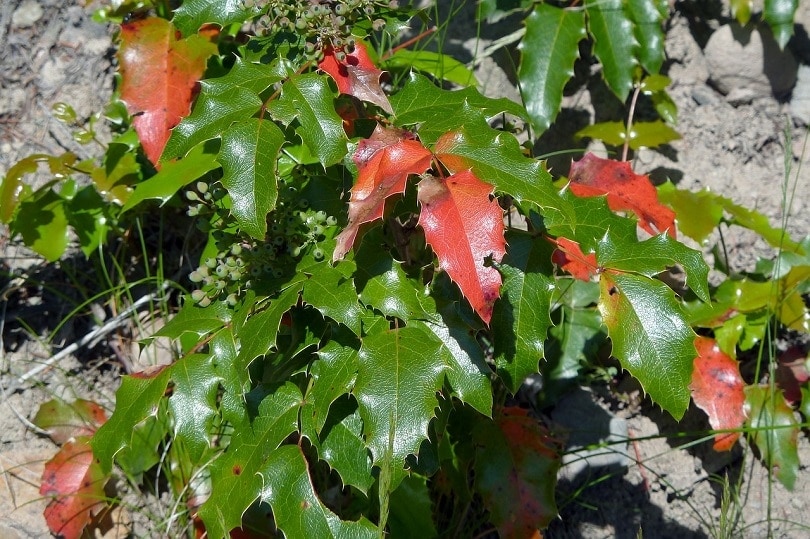 English Holly has all the makings of a beautiful focal point. The foliage is a rich, dark green that provides year-round color. It is large and will form a dense shrub. While the flowers aren't much to write home about, the berries — present only on female shrubs — are striking. It does best in shady areas with acidic or neutral soils.
Pros
Gorgeous colors
Dense hedge growth
Cons
Spiny leaves
Intolerant of alkaline soils
Zones: 5-7
Height/Width: 3'-8' H x 3'-8' W
---
16.

Rhododendron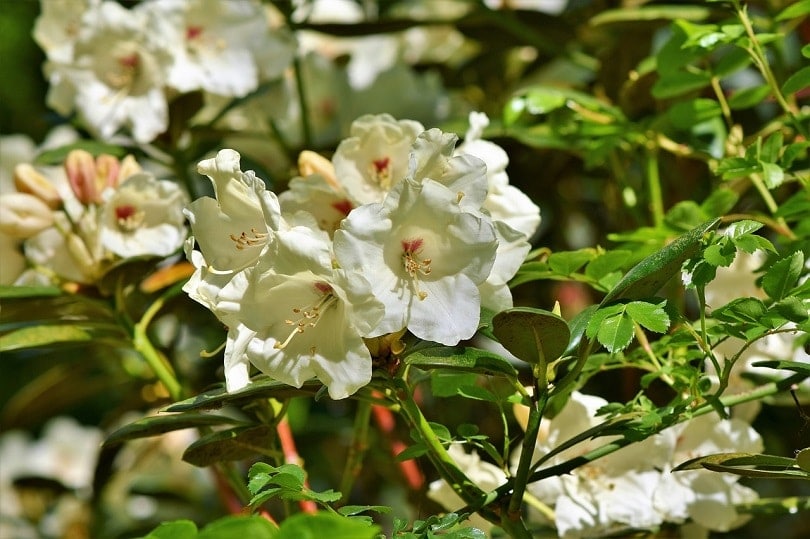 The winter-hardy cultivar of Rhododendron is a fast-growing shrub that forms dense mounds for your hedge. It produces lovely pink flowers in mid to late spring. It's a low-maintenance plant that requires little pruning. However, you will need to mulch it in the fall because of its shallow roots. You should also plant it in protected areas out of the wind.
Pros
Low maintenance
Attractive flowers
Cons
Well-drained soils only
Shallow-rooted
Zones: 4-7
Height/Width: 3'-8' H x 3'-8' W
---
17.

English Laurel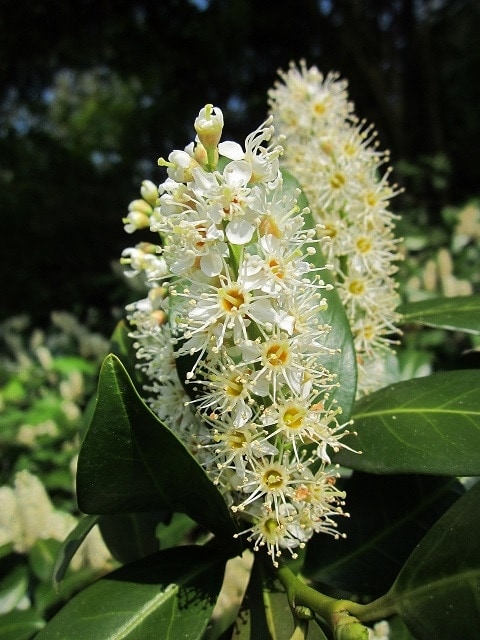 English Laurel is a large plant that will take up a large amount of space unless you keep it pruned. Even its leaves are big. It's a wise choice if you want to put it close to the road, as it'll handle road salt better than many other shrubs. It is a hardy plant that has few issues with insects or disease. It can handle drought too.
Pros
Insect-resistant
Tolerates road salt
Drought-tolerant
Cons
Too large for some places
Pruning essential
Zones: 6-8
Height/Width: Up to 20' H x 6'-10'W
---
18.

Juniper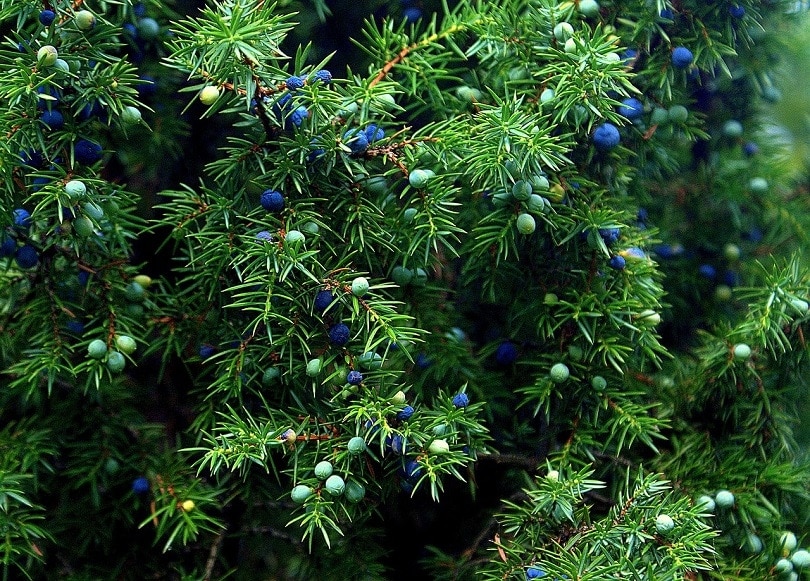 Juniper is both a tree and a shrub, depending on the cultivar that you get. Some are low-growing and will spread to fill up a space. Others make excellent hedges. They are hardy plants that do best in full sun. They can handle adverse conditions, except standing water. Juniper is slow-growing but will form a dense hedge.
Pros
Hardy
Dense growth pattern
Wildlife habitat
Cons
Well-drained soils only
Slow-growing
Zones: 4-9
Height/Width: 3'-8' H x 3'-8' W
---
19.

Arborvitae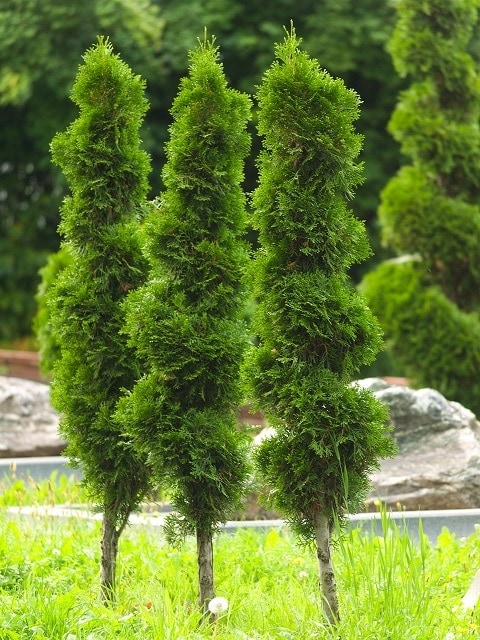 There are many cultivars of Arborvitae, so you're sure to find one that will fit your landscaping needs. It's an excellent choice as a privacy screen because you can plant them densely. They are fast-growing too, so you won't have to wait long. They prefer partial to full sun in well-drained alkaline soils. While they are hardy, they are not as tolerant of salt and acidic soils as other hedges.
Pros
Beautiful foliage
Fast-growing
Wildlife-friendly
Zones: 3-7
Height/Width: 3'-10' H x 3'-8' W
---
20.

Firethorn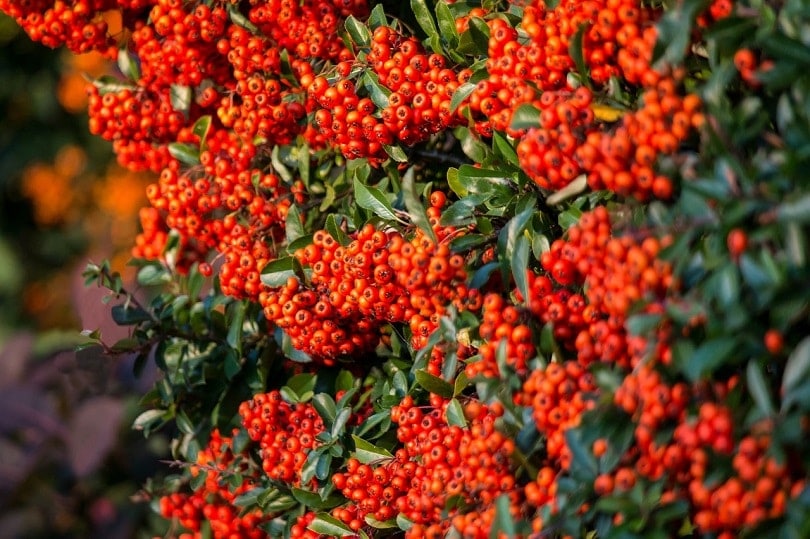 Firethorn gets its name from its striking orange berries that provide beautiful fall color and food for birds. Interestingly, it'll produce best if you keep pruning to a minimum. It has shiny green foliage with lovely white flowers in the spring. Its moniker also speaks to its long, sharp thorns. It will provide a dense hedge that will keep deer out of your yard.
Pros
Year-round color
Excellent privacy screen
Wildlife-friendly
Zones: 5-9
Height/Width: 10'-15' H x 8'-10' W

Final Thoughts About Types of Hedges
There are many choices of hedges that can fit into any landscape design. The essential thing is to consider how they fit into your yard. Many are excellent options for wildlife. Others provide seasonal or year-round cover. While not all double as a privacy screen, you'll find several that can do both. In any case, they can add value to your yard and enhance your landscaping.
Related Read: How and When To Plant Lilac Bushes – What You Need To Know
---
Featured image credit: AnnaER, Pixabay