6 Types of Home Security Systems (2023 Update)
A home should be everyone's safe haven. Unfortunately, malicious people are an inevitable reality of the world we live in. The kind of people who will stop at nothing to get their way, including defiling the sanctity of your home. This is perhaps why home security systems are becoming more popular.
Home security systems range from the minimalist doorbell to a more comprehensive and customized security setup. Finding a security system that suits your individual needs and preferences can be overwhelming.
However, with the help of this article, you can make a wise purchasing decision concerning the type of security system that is best suited for your home. Read on to learn more about the types of security systems available today, how they work, advantages and disadvantages of each.

What Is a Security System?
A security system is essentially a device or group of devices that protect an area from attacks or unauthorized access. These systems can be something as simple as a lock on the door or as comprehensive as an integrated network of sensors, alarms, and cameras.
In the last few years, security systems have become more sophisticated, now incorporating security features such as automatic security alerts and facial recognition.
The 6 Types of Home Security Systems
1.

Wired Home Security Systems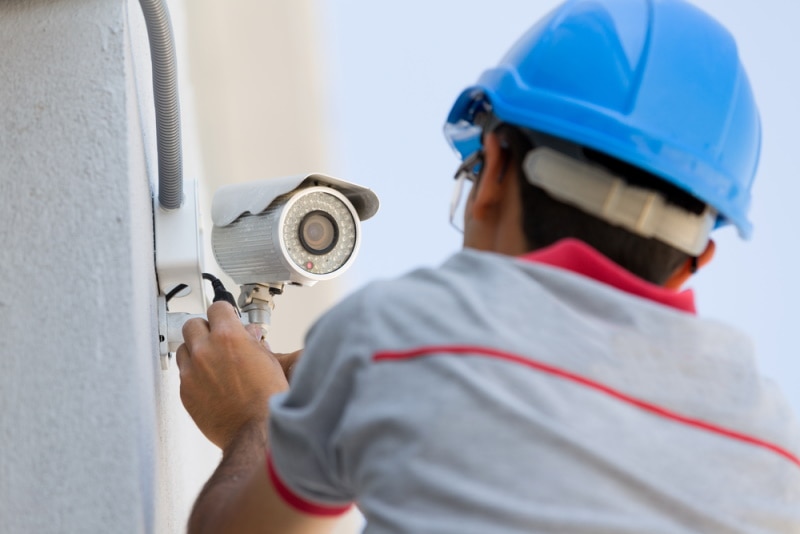 Most homeowners opt to install wired home security systems when they want a more traditional home security option. As the name suggests, wired home security is hardwired into your home. The system is connected to an alarm panel via low-voltage wiring.
This system is made up of components, which include cameras, sensors, motion detectors, and other peripherals strategically positioned for complete coverage. Wired home security systems have to be set up by a professional due to the intricacies involved in the installation.
Once this system is installed, it will stay in the home for years to come, much like solar panels. Moving the system is not recommended because it can easily damage the equipment or your property. A wired security system is popular among homeowners because it is highly reliable and durable. Since this security option is part of the home itself, it offers more protection especially if you opt for a monitored variety.
Pros
Only way to disable the system is to physically cut the wiring
Features several peripheral devices, ideal for large homes
System is powered from the home grid
Cons
Installation services and components are very expensive
Needs to be installed by a trained home security system expert
Are difficult to uninstall
Can only control the security system from a panel installed inside your home
Vulnerable to buglers who can cut the wiring to gain access to your home
---
2.

Wireless Security Systems
If you do not want to deal with the inconveniences of a wired home security system, you can opt for the wireless variety. They are virtually identical to wired systems, minus the wiring, of course. In addition, the peripherals and base components may be different, but they virtually do the same job.
This system works with a three-step process. It starts with detection, followed by directing attention to the activity detected, and finally, the system alerts the monitoring agency about the anomaly detected.
Since this system is not wired, it relies on Wi-Fi for communication. You can check the status of your home security from anywhere and anytime. However, if there is a poor Wi-Fi connection, your security system may struggle. Furthermore, wireless security systems are more susceptible to hacking when compared to their wired counterparts.
Pros
Easier to install than the wired system
Usually come with DIY tool kits to allow users to set up the system themselves
Easy to disassemble and transport
Allows users to upgrade almost every component
Less vulnerable to destruction by buglers
Can control it from just about anywhere
Cons
Uses more batteries
Weak and non-existent encryption makes the system vulnerable to hacking
More expensive than wired ones
Affected by signal interference from large objects and electrical installations
---
3.

Monitored Home Security System
This is a popular home security option among homeowners, especially those who reside in suburban areas. The system works by alerting a call center, an emergency response team, or a security team once it detects suspicious activity. These security systems not only monitor for criminal activity but also check for fire and other home emergencies. Monitored home security systems¹ are available in two options.
Self-Monitored Systems: If you do not want to delegate monitoring to a security company, you can get a self-monitored system. With a self-monitored system, the control is left to the homeowner. This system utilizes easy-to-use technology, which can be controlled via a smartphone or a desktop computer.
Company-Monitored Systems: If you do not have the time or the patience to monitor your property, you can opt for a company-monitored home security system. You can hire professional security companies to take care of the system, making the process easier to manage. Even better, you can communicate with live representatives in case of home emergencies.
Pros
Get real-life notifications allowing you to contact your local authority
Can easily transfer these security systems if you want to relocate¹.
Affordable
Company-monitored systems come with battery backup
Alarms are enough to ward off any potential intruders in your home
Don't need to contact the police yourself
Can cover your entire home, eliminating any blind spots in your property
Cons
If accidentally triggered, you have to notify the security company and disable the system yourself
Must engage the alarm system before leaving the house or sleeping for it to be active
Company-monitored systems require a contract and a monthly fee
Will not work in case of a power outage
Self-monitored systems lack an alarm system to ward off intruders
Not as effective in areas with poor cell reception
Camera system coverage is limited to the area they are installed
---
4.

Unmonitored Home Security Systems
Unmonitored security systems work by activating a loud alarm whenever prompted by the security sensors. You can use an expert security professional to install these systems or install them yourself. Since the homeowner is the primary operator, they are simple to use.
Furthermore, unmonitored security systems are among the cheapest in the market because they do not require a monthly subscription fee.
This system is made up of security components such as a control panel, motion sensors, sirens, glass-break sensors, smoke detectors, and window sensors. Some of these systems are also compatible with smartphones¹, which allow for remote monitoring.
Pros
Are easy to operate
Provide a good level of security
Are cheaper and more cost-effective because they do not require a monthly or ongoing fee
Cons
Are less robust and secure than monitored systems.
Contacting law enforcement in case of emergencies can be difficult
Not effective when the homeowner is away from the property
---
5.

DIY home security systems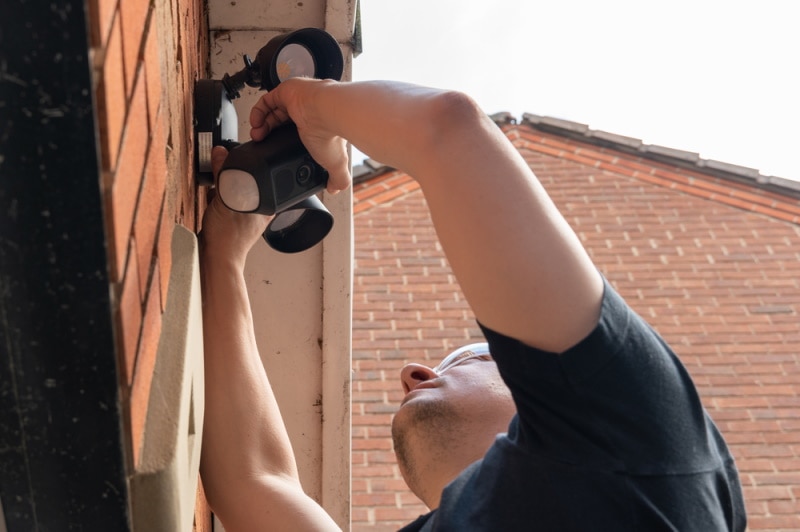 If you are the kind of hands-on person who prefers creating a personalized security system, you can opt for DIY security systems. They may not be as reliable and robust as the other security systems we have discussed above, but they are effective and may not even require you to purchase anything new.
With just $200, you can buy a standard security kit that includes alarms and entry sensors. If you are willing to spend more on your security system, you can add connections to video doorbells, security cameras, and smart door locks, among other components. You can even get an additional monitoring package with a monthly subscription.
Pros
User-friendly, affordable, and easy to install
Do not require extended contracts as traditional security companies do
DIY systems can also integrate with smart devices like Google Assistant and Alexa
Cons
DIY home security solutions are limited in scope
Do not offer enough coverage for big properties and homes
---
6.

App-Based Security Systems
Many modern home security systems have mobile apps that are compatible with smartphones¹, These apps allow homeowners to watch live camera feeds, check the property status, and receive real-time notifications of home disturbances. However, most of these apps are not associated with a particular brand or model.
These apps aim to protect the homeowner against intrusion more than the property itself. For instance, most apps utilize your phone's location tracking capabilities, allowing you to choose the people who will see your location and intervene if necessary.
The primary purpose may not be to protect your home, but you can use them for that purpose too. The apps will allow someone to send help to your location even without knowing your exact address.

How to Choose a Home Security System
Whether you opt to use a security system linked with a security company or a third-party retailer, you can choose from several available security options. To help you make a worthwhile decision regarding the best home security system for your home, consider the following factors.
Installation
As you may have gathered, some security systems give homeowners the option to choose the type of installation they want on their property. This is especially common for security systems associated with professional security companies.
Due to the advancements in wireless technology, you do not necessarily need a trained professional to install a security system. With just a smartphone and an internet connection, you can learn the necessary skills required to install wireless home security systems.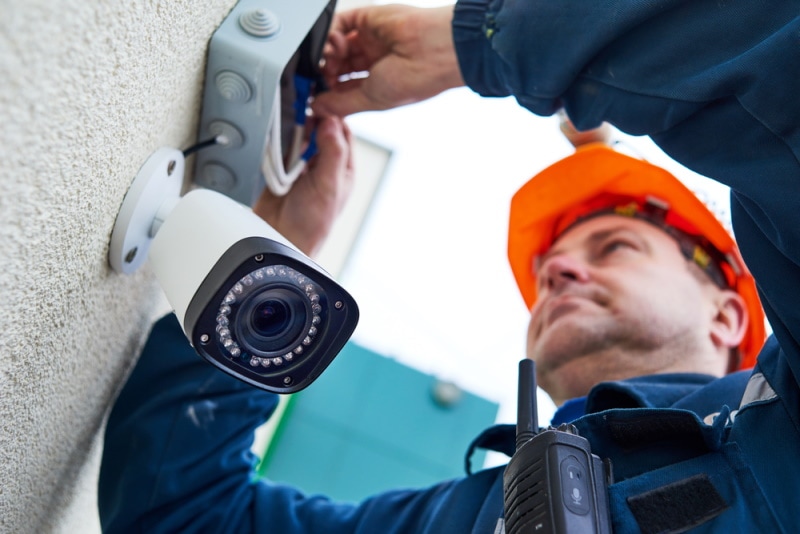 Monitoring
The next important decision you have to make is whether you want your system to be monitored or not. You have to ask yourself what type of system you need and whether you can afford it. You should also research the different monitoring companies, making sure you understand all aspects of the contract before committing.
Miscommunication or misunderstandings can have unwanted consequences when home security is involved.
Prices
Due to the various home security options available in today's market, the cost tends to be varied and flexible. The overall cost will vary with the year, package, and specific home security requirements.
However, there are some specific price considerations that will influence the security system you opt for. These include equipment costs, monitoring service fees, and installation fees.
Set-up Costs: These costs cover installation, equipment prices, and any other contract fees charged by a security company. These fees can change depending on the professional installation fees and bundle discounts. They will also fluctuate based on the monitoring bundle that you choose.
Monthly Fees: Monthly subscription fees are only applicable if you opt for professional monitoring. Even though you can lease or rent the security components, some companies tend to increase the monthly fees. Some companies also offer discounts for homeowners who pay in bulk, like for a full year. As you choose a home security package, you should keep in mind that the monthly fee tends to fluctuate.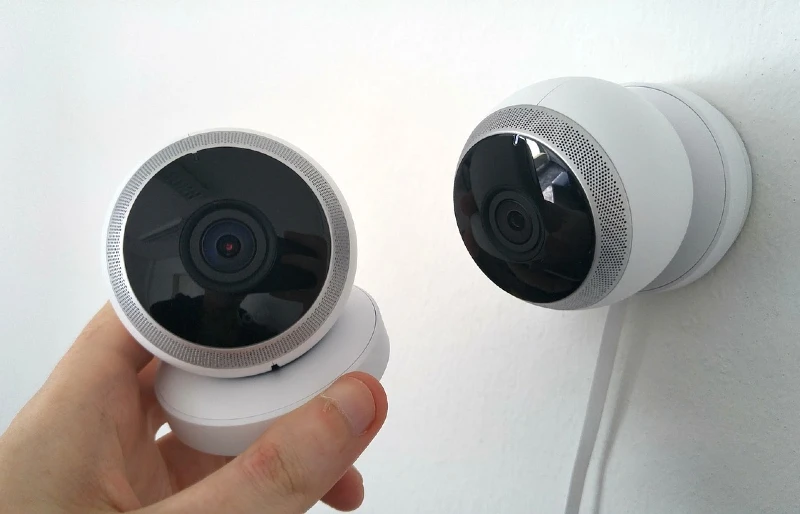 Benefits of Home Security Systems
Home security systems are useful—if not extremely important—tools to have on your property. With an effective security system, you can protect your belongings and household members and possibly save money on your home insurance.
Furthermore, you can monitor any suspicious behavior on your property and become a more active homeowner in your community.
There are more benefits associated with installing a home security system. Therefore, if it fits your budget, you should definitely consider installing one on your property.

Conclusion
There are many home security systems available in the market, each with benefits and features. To settle on a suitable system for your home, you should consider your specific requirements, needs, and preferences. If you live in a crime-prone area, a monitored system may be the best option to settle for. Unmonitored systems are ideal for deterring potential intruders in areas that are not affected by crime.
Regardless of your choice for a home security system, the most important thing is to ensure that your property and belongings are secure at all times.
---
Featured Image Credit: gregden, Pixabay