5 Common Types of Subway Tiles (with Pictures)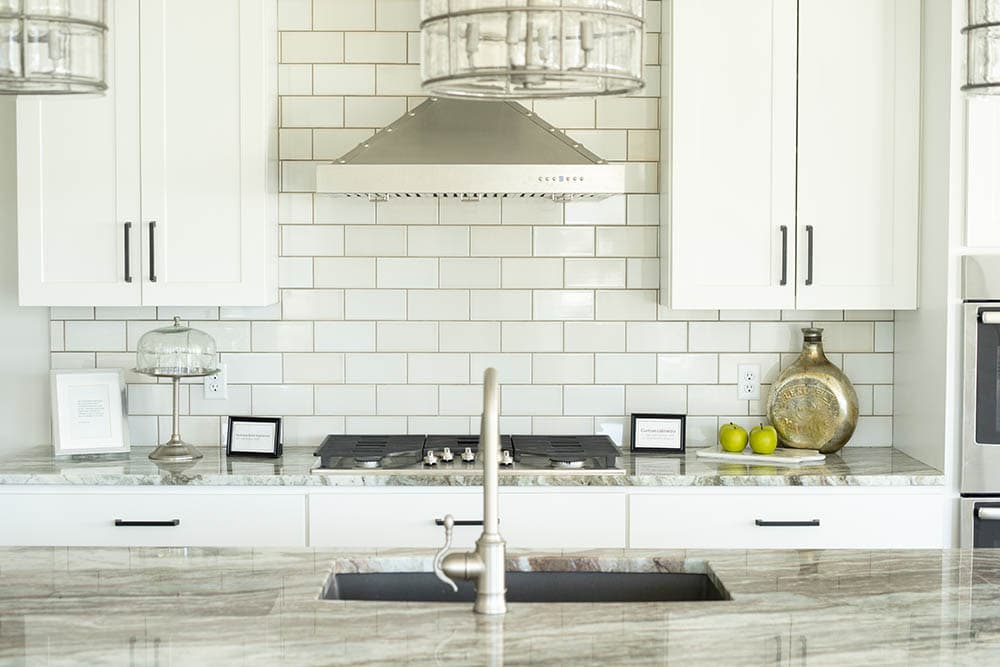 When many people think of the most classic style of tile, traditional subway tiles are probably among the top picks. They are named after the famous New York subway stations. The high-gloss sheen helped prevent them from looking worn and also helped light up otherwise dark tunnels.
Since then, the style has grown to accommodate several types of material and variations to the overall design. Some of the combinations you can do really help tiles, walls, and floors pop.

The 5 Common Types of Subway Tiles
1.

Marble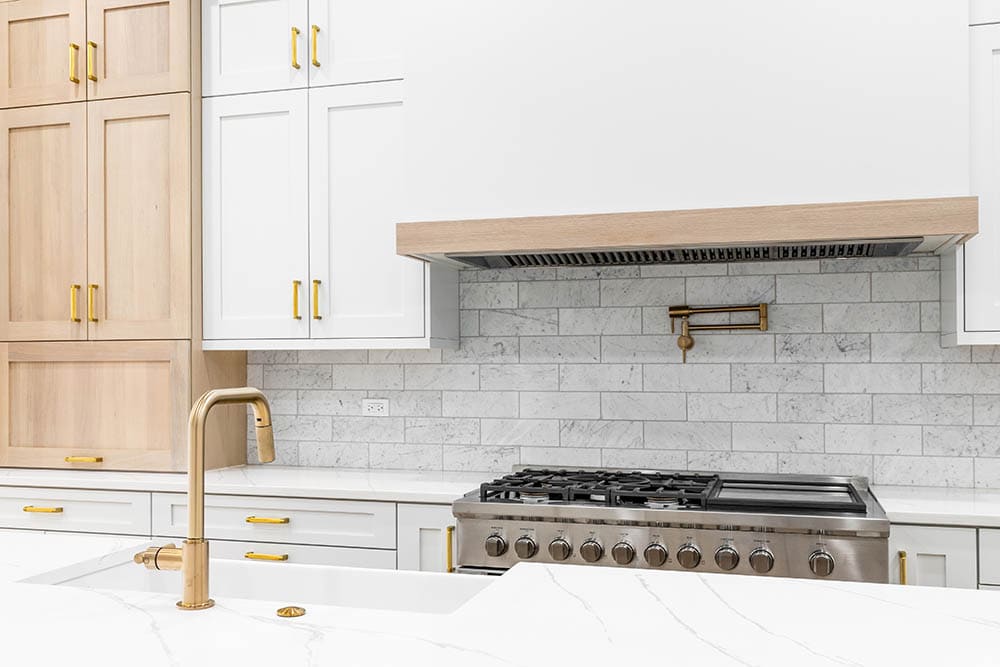 If you're looking for subway tile that's a little on the showier side compared to many other ceramic or glass tiles, then marble might be a good choice. Its natural brightness and slight reflectiveness give it a strong resemblance to a traditional subway tile.
One downside to marble is that it can be prone to scratches, so it's best used in areas that don't get much traffic, such as bathroom and shower floors and surrounds.
---
2.

Natural Stone
Natural stone subway tiles can be made from several kinds of stone, such as slate, limestone, travertine, and others. Because they are natural yet durable, they make great choices for patios, walls, and stone fireplaces. Especially when you're after more earthy tones in a room, as opposed to a high-gloss tile.
One thing to remember with natural stone is that it's not naturally resistant to stains or moisture because of its porousness. So, it needs to be sealed or glazed in areas that experience a lot of humidity.
---
3.

Glass
Many people are familiar with what a ceramic tile looks like. But some of them may mistake a glass tile for a ceramic one. But glass tiles typically have a natural glossier shine, which is great if you're going for a traditional subway feel.
When glass tiles are fired, a translucent glaze is used. This makes it a great choice in high-humidity areas like kitchens and bathrooms. Plus, it's also stain-resistant due to the glaze.
---
4.

Porcelain
Porcelain is clay fired at extreme temperatures, creating much better durability than ceramic tile. In addition, it has a uniform color throughout the entire tile. Like glass, these tiles make a great choice for the high-humidity areas of the house as well. And because of its durability, it's great for other things like exterior areas or around fireplaces.
---
5.

Ceramic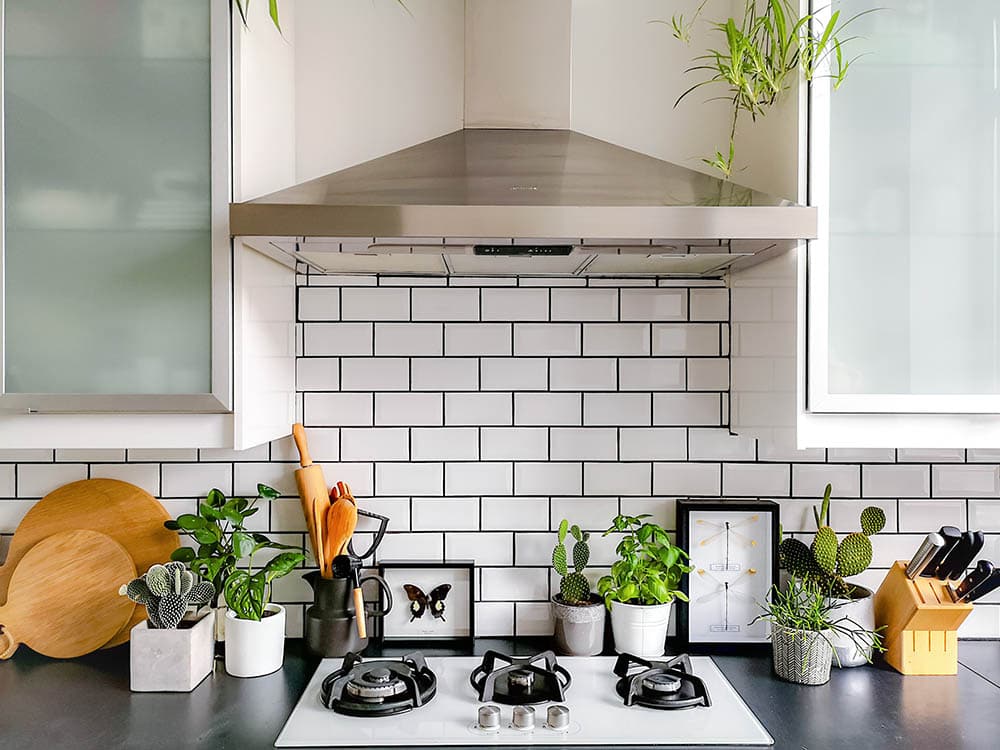 Ceramic tiles are typically the preferred choice when someone thinks about a traditional subway in its purest form. Not only are ceramic tiles extremely affordable compared to some of the materials on this list, but they are versatile in where you can use them.
For example, there is a huge variety of ceramic tile choices regarding shapes, colors, and patterns. So, if you're looking for that classic, white rectangle shape that subway tiles are known for, ceramic is a great option.

Subway Tile Design Variations
Traditionally, a subway tile wall consists of white, rectangular tiles in a horizontal, half-offset pattern. This is the same pattern you would see a mason use in their brickwork for reinforcing a wall.
But we'll look at several variations of that design here.
1.

Herringbone
Herringbone is a popular style in all sorts of tile and brickwork. Because it adds a really neat twist on a traditional horizontal layout. With a herringbone pattern, each brick is on an angle downward, creating isometric shapes with the grout lines.
---
2.

Horizontal
When one refers to a traditional subway tile, they are referring to white tile laid out in an offset, horizontal pattern. Subway tile aside, this pattern is probably one of the most common patterns you'll see with any tile work.
---
3.

Vertical
The only difference between this and the horizontal pattern is the bricks are offset or stacked long-side pointing up. One great thing about a vertical tile pattern is that it can help make a smaller room feel taller.
---
4.

Offset
The traditional offset is a half-offset. However, there are other offsets you can do, like one-third. These can be done in a continuous pattern, or sometimes the pattern alternates on the same third. This is called continuous and zippered offset.
---
5.

Diagonal
As the name suggests, this style runs long side diagonally. This would be similar to a herringbone style, except a diagonal pattern will simply be stacked or offset instead of interlocking. A diagonal pattern with two contrasting color choices often makes a pleasing design.

Conclusion
As you can see, you have quite a few options if you're looking to do a nice traditional subway tile or one of its variations. One thing to remember is that along with these materials and styles of applications, there are nearly countless color options to work in any design scheme.
---
Featured Image Credit: carolyn christine, Unsplash