10 Types of Shower Flooring (With Pictures)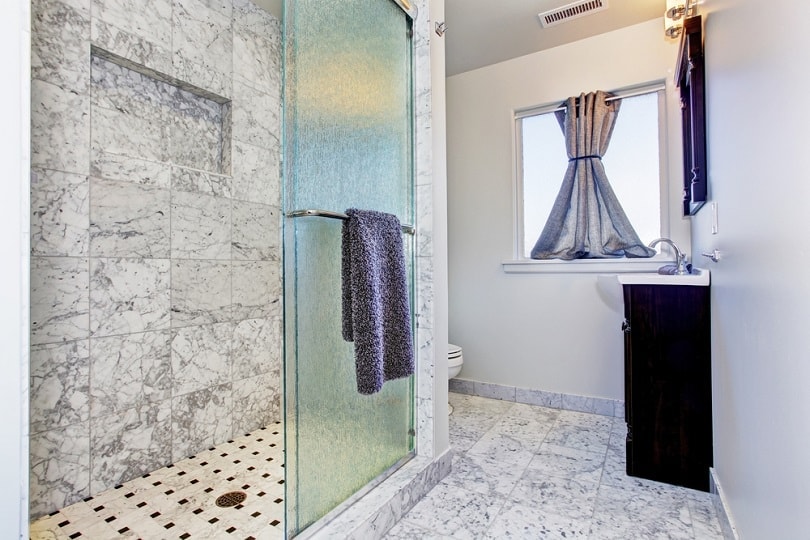 Did you know that there are nearly a dozen different types of shower flooring? Not all showers have to be stuck with basic porcelain or ceramic tiles. Showers can have a multitude of different flooring materials that are all functional and stylish in their own ways. You can even put wood in your shower! If you ever wanted to move on from basic shower flooring to something new and different, know that there are a lot of options. Whether you are looking to replace ailing shower floors on a budget or are looking for something completely new, there is an option available that is right for you.
Here are 10 different types of shower floors to consider, including average pricing and the pros and cons of each.

The Top 10 Types of Shower Flooring
1.

Porcelain
| | |
| --- | --- |
| Type: | Tile |
| Price per square foot: | $6 |
The most common type of shower flooring is porcelain. Porcelain makes up most bathroom materials, including sinks, toilets, and wall tiles. The prevalence of porcelain is for a good reason. Porcelain is uniform, easy to clean, readily available, and waterproof. Porcelain is a great upgrade to builder-grade ceramic and can provide a cohesive look that flows and ties the whole room together. The only downside to porcelain is that it is more expensive than other similar-looking tiles.
Pros
Easy to clean
Cohesive look
Waterproof
Cons
Basic
Won't add a ton of value
---
2.

Ceramic
| | |
| --- | --- |
| Type: | Tile |
| Price per square foot: | $2 |
Ceramic is one of the most affordable and widespread types of tile available today. It can be found almost everywhere and is extremely budget-friendly. Ceramic is the basic tile that makes up most showers. However, ceramic is not very stylish, and it is extremely basic. That might not appeal to everyone, especially people looking for a unique upgrade. But if you are looking for an easy replacement that can be installed on a budget, you can't go wrong with ceramic tile.
Pros
Affordable
Easily obtainable
---
3.

Travertine
| | |
| --- | --- |
| Type: | Tile |
| Price per square foot: | $6 |
Travertine is a type of stone tile that has recently grown in popularity. Travertine is a type of limestone, and it provides a stylish alternative to porcelain or slate. Travertine has a very august look and is very durable. But despite all of its upside, travertine has some drawbacks that might dissuade some people from choosing it over more standard options. Since travertine is stone, it requires annual sealing to keep it fresh. It is also cold and can be slippery when wet, which will not be good for everyone, especially the elderly.
If you can get past the drawbacks, travertine is a popular and unique choice for any shower floor.
Pros
Adds value to the home
Durable
Stylish and popular
Cons
Slippery
Requires sealing
Expensive
Consult a flooring expert
Find a flooring specialist in your area, and get free, no-commitment estimates for your project.


---
4.

Marble
| | |
| --- | --- |
| Type: | Slab or tile |
| Price per square foot: | $8 |
Marble is a classic bathroom material that can elevate any space. Marble has been used in construction for thousands of years. It is easily recognizable and is timeless. Marble can make any shower special. Marble is extremely durable and has a proven track record of holding up to water over time. Marble also has a lot of variation in its look, which allows you to choose specific marble to match any style. However, marble is expensive. Marble is also slippery, and slippery showers are frightening to some people. Outside of that, marble is a classic choice for any shower.
Pros
Timeless
Multiple looks
Durable
---
5.

Glass
| | |
| --- | --- |
| Type: | Tile or mosaic |
| Price per square foot: | $10–$25 |
Glass is not a traditional shower floor material, but it has recently become very popular with the most recent designs. Glass shower floors come in either tiles or mosaics. The penny mosaic sheets are very popular. Glass flooring has a lot of versatility built-in. It can come in many different colors. Glass floors can be textured to improve grip and safety. Glass can also be found to match other glass in the bathroom. Being able to match your floors to specific glass found throughout the bathroom is a big plus as wet rooms and glass showers are becoming more popular every year.
The downside to glass is that it is expensive compared to traditional stone flooring. Right now, glass is even more expensive than marble. The good news is most showers are not very large, and absorbing the cost increases is easy for most budgets.
Pros
Unique
Textured for grip
Can match multiple styles
Cons
Expensive
Not traditional
---
6.

Granite
| | |
| --- | --- |
| Type: | Slab or tile |
| Price per square foot: | $6 |
Granite is another classic material that has been used in wet surface construction for generations. Granite is not only good for countertops it also makes incredible flooring. Granite is durable and comes in a ton of different looks and colors. Granite is a great option for anyone looking for stone flooring but might not want to go with travertine or marble. Granite is very porous and requires regular maintenance to keep it as healthy as possible. Sealed granite is also fairly slippery. However, it gives homeowners a trusted material to build out their shower with that will appeal to a wide audience.
Pros
Classic material
Lots of variety in appearance
Adds value
Cons
Requires maintenance
Can be slippery and cold
---
7.

Slate
| | |
| --- | --- |
| Type: | Tile |
| Price per square foot: | $3 |
Slate is an affordable alternative to other stone floors that still offers a change from basic porcelain or ceramic tile. Slate can be sourced for half the cost of other types of stone while still giving you the benefits of a stone shower floor. Slate is durable, different, and safe. Slate has a lot more texture to it than smooth granite. But slate is fairly porous and requires sealing to keep it healthy over the duration of its lifespan. Slate also is only available in gray colors so there is not a lot of flexibility in color design.
If you are looking for an affordable stone floor that gives you variation over basic building materials slate is a fantastic option.
Pros
Affordable stone
Durable
Safe
Cons
No color variation
Requires sealing
---
8.

Pebble
| | |
| --- | --- |
| Type: | Loose |
| Price per square foot: | $5 |
Pebble floors are a great natural base for any shower. Pebble floors are easily made by putting river rock down over a mortar base. The result is a unique floor that can be constructed in any way you want. River rock can come in a ton of different sizes, shapes, textures, and colors. Pebble flooring is also the safest form of flooring from a grip perspective. The individual rocks give human feet the best purchase possible over every other type of material.
While river rock and pebble floors continue to become more popular with the new wave of outdoor-inspired designs the uneven look does not appeal to everyone. The choice to go with pebble floors might not fit every bathroom aesthetic.
Pros
The safest material for shower floors
Infinite possibilities for design
Can be easily installed
Cons
Aesthetic won't appeal to everyone
---
9.

Wood
| | |
| --- | --- |
| Type: | Tile or plank |
| Price per square foot: | $5–$20 |
Wood is not the first material that comes to mind when talking about shower flooring but more designers are incorporating wood into their designs. As bathrooms continue to swing towards a spa-like aesthetic and outdoor elements, wood is becoming more and more popular as a choice for shower floors. There are engineered hardwoods made to be used in showers that will immediately give you a unique look. Wood floors can be purchased in a variety of colors and patterns that will fit nearly any bathroom redesign. Wood is also textured enough to provide a grip that far exceeds smoother surfaces like granite or marble.
Wood can vary wildly in price, with some species being available for affordable prices while others can soar as high as $25 per square foot. Not everyone will be able to afford the exact wood that they want in every situation.
Pros
Flexible appearance
Eye-catching look
Safe
Cons
Large discrepancy in price
---
10.

Cast Iron
| | |
| --- | --- |
| Type: | Pan or tray |
| Price per square foot: | $35 |
Cast iron is one of the oldest materials used in shower construction. Not all shower floors have to be made from tile. Cast iron shower floors and shower pans are a tried-and-true material that can last a lifetime. Most baths and showers made before the 1970s are made from cast iron. Cast iron floors are installed in one piece, so there is no waste, and the construction can be done easily by a professional. But the fact that cast iron is installed in one uniform piece means that there is no flexibility in putting in a unique design like tile offers. If you are one of the people that are not enticed by tile floors but would rather stick to a simple cast iron shower pan you can't go wrong with this trusted choice.
Pros
Lasts a lifetime
Classic building material

Conclusion
With 10 different options for shower flooring, there are options available for anyone. No matter what your style is or what your latest design plans call for there is a unique shower floor option ready to elevate your space to a whole new level. There are also options that fit any budget with the most basic options starting from just a couple of bucks per foot. With so many choices there is no reason to stick to the same old shower floors that you were used to in the past.
See Also: How Much Does It Cost To Replace a Shower?
---
Featured Image Credit: Artazum, Shutterstock