9 Types of Sunflowers to Grow at Home (with Pictures)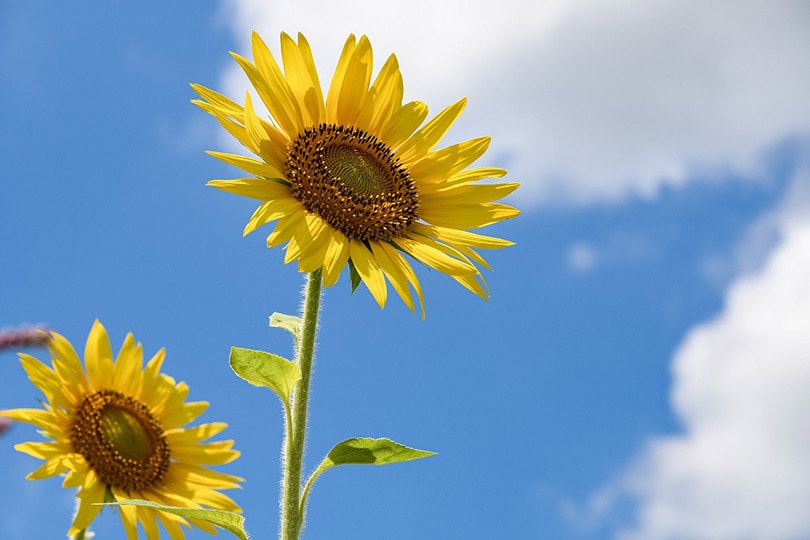 Gardening is one of the best ways to get in touch with nature and grow beautiful plants, but it can be hard to choose what plants are suitable. For example, did you know there are 70 different species of sunflowers alone? Variety is great, but it can be a double-edged sword when you have trouble deciding the right one. Let's check out some of the best sunflowers you can grow at home yourself today.

The 9 Types of Sunflowers
1.

American Giant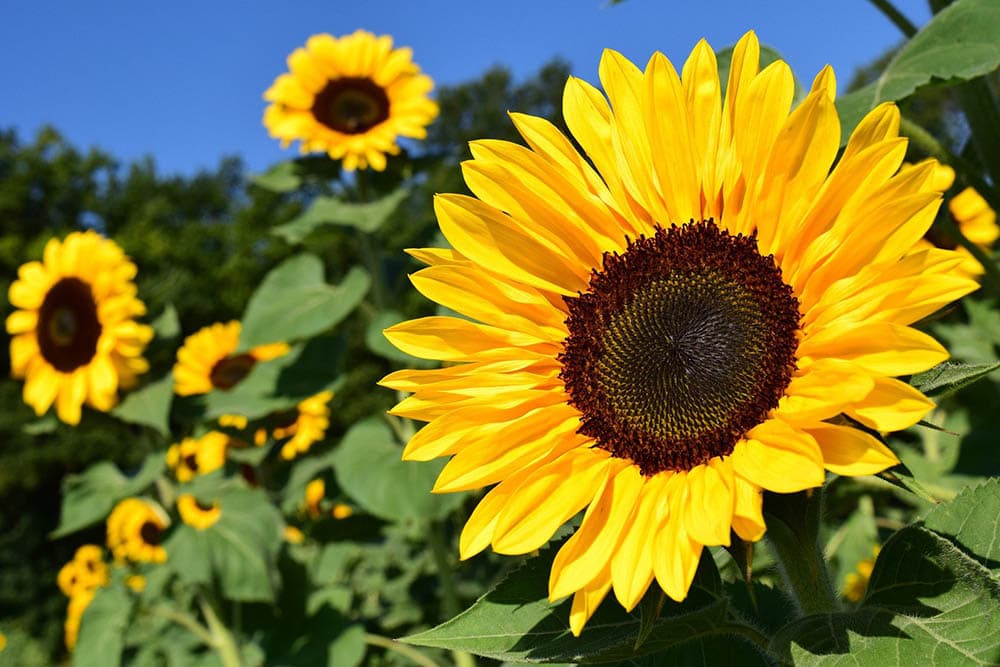 | | |
| --- | --- |
| Height: | 15 feet |
| Time to bloom: | 65–75 days |
This is the iconic sunflower commonly used in competitions, growing up to a massive height of 15 feet tall. The black faces of the flowers can get as large as a foot wide, and the plants have extremely thick stems to support the heavy weight of the flower heads. These require a lot of space, but also bring a lot of bees to the garden! Plant these in fields and meadows for best results.
---
2.

Autumn Beauty
| | |
| --- | --- |
| Height: | 80 inches |
| Time to bloom: | 60 days |
These are some of the best fall-time flowers to plant, with a huge variety of colors and a short growing time compared to other sunflowers. Your average pack of seeds will sprout gorgeous autumn colors from yellow, golden, brown, and even gorgeous sunset reds. If you're tired of uniform flowers, give these a try this fall.
---
3.

Sundance Kid
| | |
| --- | --- |
| Height: | 2 feet |
| Time to bloom: | 60 days |
These are technically dwarf sunflowers because of their height, but Sundance Kid is one of the oldest cultivated sunflowers still around today. They grow quickly for sunflowers and cap out at 2 feet, making them among the easiest sunflowers to grow at home yourself. They're recognizable by their unique red-and-yellow petals that go all the way across the face of the flower.
---
4.

Italian White
| | |
| --- | --- |
| Height: | 5 feet |
| Time to bloom: | 90–110 days |
These are a classic sunflower variation with a long growing time of 90 days or more, plus the flowers keep blooming for a month after that. The creamy blossoms are complemented by the plant's chocolate-colored face, although no part of it is actually edible. These are perfect for floral arrangements—simply cut the stems often to encourage more flowers to grow.
---
5.

Teddy Bear
| | |
| --- | --- |
| Height: | 4 feet |
| Time to bloom: | 75 days |
Teddy bear sunflowers are among the cuddliest of sunflowers, with thick double petals that come together to give the flower a dandelion-like appearance. The plants grow up to 4 feet tall and with flowers 6 inches across, which makes them great for even small gardens. The petals of this sunflower can be used to decorate cakes, salads, or other fun snacks.
---
6.

Sunspot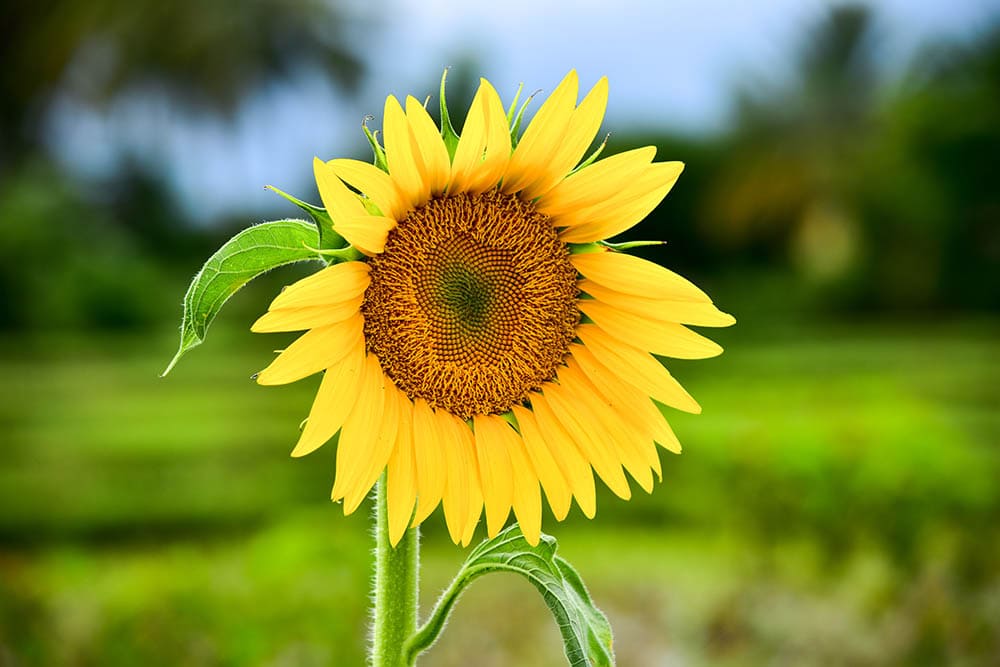 | | |
| --- | --- |
| Height: | 2 feet |
| Time to bloom: | 55 days |
Akin to the American Giant but much smaller, the Sunspot sunflower has a beautiful trademark sunflower look but with a space-saving size. The flower heads themselves are very large, owing to the thick stems, but it only grows to 2 feet in height. Putting some of these in containers around your garden or yard can be a fantastic way to attract bees and other pollinators.
---
7.

Pacino
| | |
| --- | --- |
| Height: | 16 inches |
| Time to bloom: | 80–90 days |
Pacino is a branching sunflower that produces multiple flowers per stem, which makes it great for bouquets and other floral arrangements. The plant itself is bushy and great for compact gardens, attracting pollinators from all over. It has a longer growth time than other dwarf sunflowers at 80–90 days, but the blooms are arguably worth it.
---
8.

Moulin Rouge
| | |
| --- | --- |
| Height: | 6 feet |
| Time to bloom: | 90 days |
Moulin Rouge is one of the rare pollen-free sunflowers, meaning it won't attract bees or trigger dastardly allergies. This species grows to a height of 6 feet, with dark-brown faces measuring up to 6 inches across. Most notably, Moulin Rouge has sumptuous dark red petals that thrive in full sunlight and make great bouquets.
---
9.

Goldy Honey Bear
| | |
| --- | --- |
| Height: | 6 feet |
| Time to bloom: | 75 days |
One of the taller regular sunflowers, the aptly named Goldy Honey Bear has a relatively short growing time considering that its flowers can measure 5–7 inches across. Once they start to bloom, they do so slowly over a month or more before growing to maturity. The blooms are a unique cross between a traditional sunflower and the fluffy Teddy Bear sunflower.

Conclusion
Sunflowers are one of the best ways to instantly brighten up a garden with their cheery faces and reliable blooms. If you're looking to grow some flowers for arrangements or simply add some spice to your garden, the sunflowers on this list are sure to please.
---
Featured Image Credit: Johnnys_pic, Pixabay