15 Unfinished Basement Ideas & Design Tips (with Pictures)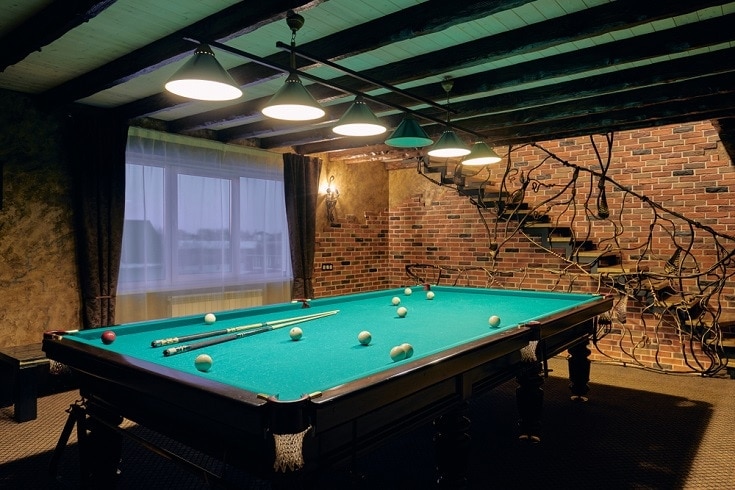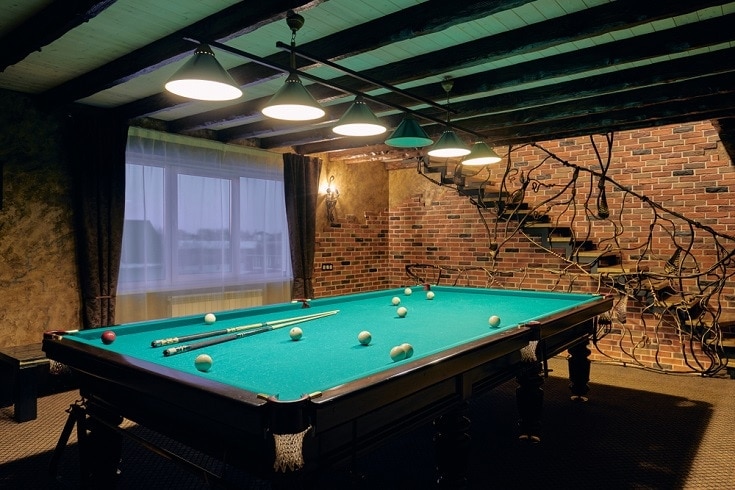 Even though basements are not often seen by visitors or guests, that's no reason to forget about them. Unfinished basements are a great foundation for a stunning hangout, playroom, or storage area. With just a little bit of creativity and skill, you can transform your unfinished basement into your new favorite room.
Here are 15 unfinished basement ideas and design tips to check out:

1. String Lights
String lights are the perfect edition to any unfinished basement. This decoration option is highly affordable, easy to install, and elevates the room. You can even use string lights in other rooms of your home, connecting the aesthetics of your basement to the rest of the house.
String lights are especially attractive on ceilings with open beams. That makes them a great choice for unfinished basement specifically. Even if your basement has a complete ceiling, you can still drape string lights on walls or doorways. Find string lights at nearly almost any supermarket, online, and even clothing stores.
---
2. Hang Curtains
If you want to hide unfinished basement walls or even add a divider to the space, hang some curtains. Curtains are super cheap, yet they add an elegant flair to any space. Simply pick out a curtain that matches other items in your basement and hang them up wherever.
As you can see above, you don't need windows to use curtains. Curtains make a great back splash to cover up any unsightly spots and to create a uniform look.
---
3. Paint Rafters
Gone are the days of being embarrassed about exposed rafters. Today, exposed rafters are highly fashionable and attractive, especially in your basement. Kick your exposed rafters up a notch simply by adding a fresh coat of paint.
If the rest of your basement is barren, like in the photo above, then opt for a bright color for the rafters. This will make the room pop and give it a modern flare. Conversely, white, black, and neutrals are always great for rafters, especially if the rest of your basement is already busy.
---
4. Hanging Doors
Basements often house a number of unsightly appliances, such as wiring, pipes, or heaters. Hide these eyesores with hanging doors. If you have a little extra change to spend, then install a sliding rack to make moving the doors a breeze. However, you can also connect these doors to open rafters, creating an attractive yet affordable option.
Since these doors will be in your basement, they don't need to be super fancy or durable. In fact, you might be able to find some lightly used doors at a local thrift shop. Slap on a coat of paint, hang them up, and you have beautiful yet functional decorations.
---
5. Chalkboard Paint
If you have an empty wall and kids, then this is the idea for you. Paint the empty wall with chalk paint and buy a couple of pieces of chalk. This decoration idea makes your basement cool, modern, and entertaining. You can even add picture frames like in the picture above to frame your child's creations.
Of course, a chalk wall will be messy. For that fact, this is a great option for basements that have tiled or concrete floors. These floors will make it easy to clean up any residual chalk that falls. Still, the mess will be worth the investment since it will both decorate your basement and entertain your children for hours.
---
6. Green Color Scheme
Green is one of the best colors to paint your basement. It is bright, warm, and inviting, but it also isn't overbearing or obnoxious. As you can see above, green really opens the room without giving you a headache.
---
7. Storage
I don't know about you, but I personally like using any extra space, including my basement, for storage purposes. Luckily, you can maximize wall space in your basement in a way that is both attractive and functional. Add storage containers to your wall that are clearly labeled and uniform.
For something like the picture above, you will need sturdy shelving on which to place the containers. Make sure the shelves are firmly secured to the wall. By clearly marking the containers, everything looks organized and contained, all while making it easy to access your items.
---
8. Paint the Floor
If you don't have rafters to paint, look down at your feet instead. I know that you have a floor. Paint your floor to modernize your entire basement and add a more refined look to your home. If you want a more organized and modern look, paint your floors a neutral color like white or grey.
If you want a bit more fun in your house, feel free to paint your floors a different color or add cool designs. Even splatter paint can look really great in any unfinished basement. If you don't like your creative floor impression, don't fret. Just repaint the floors after the first coat dries.
---
9. Vamp Up the Lighting
Many basements are dark and dingy. Just by revamping your lighting, you can make your basement look completely new and improved. If you are on a tight budget, consider making light bulb covers out of jars, such as the ones in the picture above. These jar covers are highly affordable, yet they look super cool. The jar even matches the look of most unfinished basements.
Of course, jar light bulb covers may not be everyone's taste. Feel free to get a fancy or completely new light fixture and lamps for your basement. Just make sure that they really brighten the room up so that nothing looks damp and cold.
---
10. Billiards Hall
Whether you are an eligible bachelor or have a couple of teenage boys on your hands, no one will complain about turning your unfinished basement into a makeshift billiards hall. Simply get a pool table and you have the makings for the ultimate game room.
Though many people associate pool tables with finished and refined rooms, these tables will look just as good in a grungy, unfinished basement. To be honest, a billiards table really can fit anywhere. You can even incorporate the chalk wall idea into a billiards hall to keep track of reigning champs!
---
11. Area Rugs
Rugs are a great way to add color and decorations to any room, including an unfinished basement. For a fun place for your child to play or a super contemporary adult hangout, opt for a rug with geometric designs, like the one seen above.
If you want something a bit toned down, then look for a more traditional rug that is comforting and cozy. After all, rugs are also supposed to make the floor feel warmer. Why not go all out with the coziness by opting for a super subdued yet fuzzy option?
---
12. Home Gym
The basement is the perfect place to put a home gym. Luckily, gyms don't need beautiful decor to do their job, making an unfinished basement an ideal location. Even the most unfinished of basements can be the best gym to help you accomplish your fitness and health goals.
To make the best home gym, just add fitness gear, some kind of rug or mat, and adequate lighting. That's all you need for a killer home gym. Not to mention, the gym being in the basement saves the rest of the house from listening to your grunts or heavy breathing.
---
13. Stair Riser Designs
To really make your unfinished basement pop, paint the stair risers. There are tons of stencils you can choose from online to make your stair designs look organized, professional, and beautiful. For those with an artsy streak, you can even try hand painting the stair risers yourself.
Don't worry if you don't like designs or find holding a paintbrush painful for everyone involved. You can paint stair risers a single color to make the stairs bright without forcing your hand at art.
---
14. Paint the Brick
Most basement walls are made from brick or cinder blocks. Cinder blocks are especially unsightly. Give your wall dimension and color by painting the brick. Adding a simple coat of paint will freshen up any basement, setting it apart from other unfinished basements.
Select a color that matches the rest of your décor. Since basements are often dark, it may be best to go with a bright or warm color, such as white, lime green, or bright red.
---
15. Add Padding
Whether you have young children or hate the feel of cold concrete underneath your feet, add padding to your basement floor. This padding will add a cushiony protective layer to the floor, making it more baby proof and comfortable to walk on.
You should be able to find padding of just about any color. You can even mix and match colors to create a checkerboard design, much like in the picture above.

Conclusion
As you can see, an unfinished basement has an infinite amount of decor possibilities. From adding a few string lights to transforming your entire basement into a makeshift billiards hall, you can turn any unfinished basement into the ultimate hangout of your dreams. We hope that these ideas insight some inspiration for your basement renovations!
---
Featured Image: Dimaris, Shutterstock