6 Vinyl Flooring Trends in 2023 – Design Ideas for a Modern Home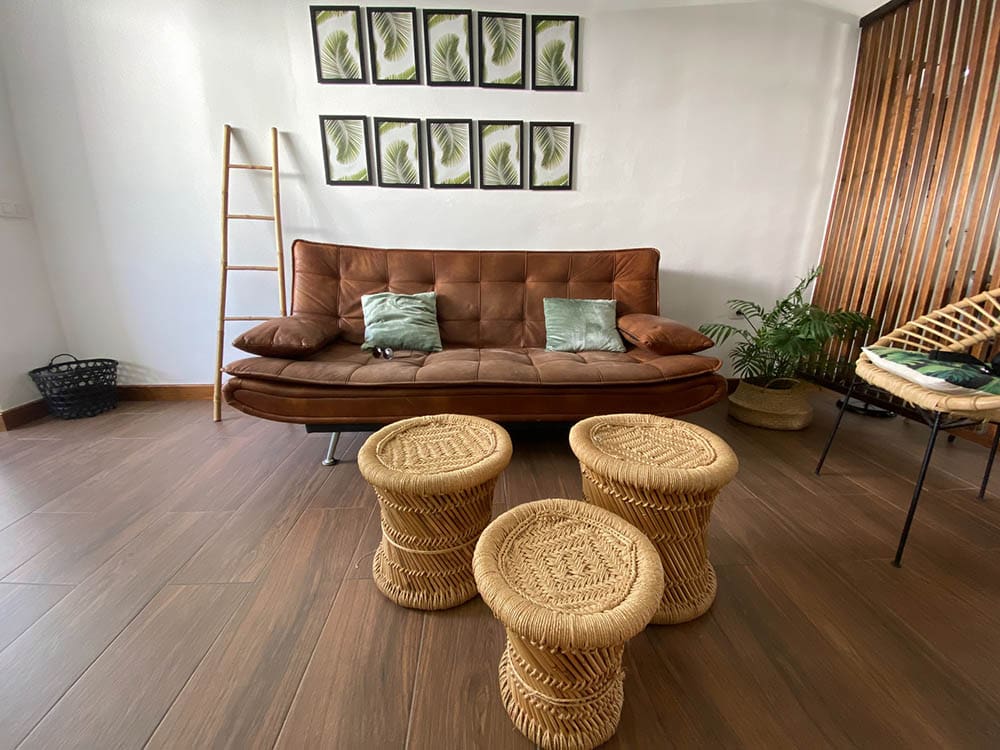 Vinyl is a cheap and durable flooring option booming in popularity. New advances in technology have even allowed vinyl to imitate tile and wood with impressive accuracy, so there are more choices than ever before. Let's dive into some of the biggest vinyl flooring trends of this year.

Top 6 Vinyl Flooring Trends in 2023
1.

Waterproof Vinyl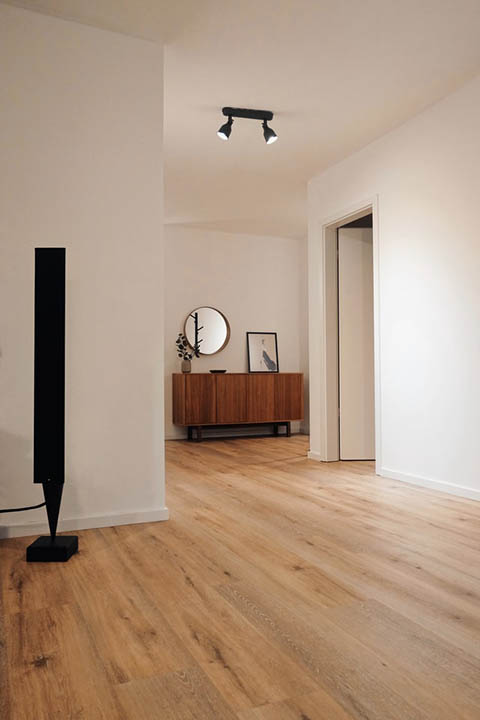 Waterproof vinyl remains one of the supreme flooring choices this year. It's simply cheaper, longer-lasting, and more convenient than nearly any other flooring choice out there. Did we mention there's virtually no maintenance necessary for it? All this and it can mimic most other flooring options in appearance too.
The secret to waterproof vinyl flooring is that the material is made of a wood-plastic composite, with a unique waterproof core. This type of flooring is sometimes called WPC, wood plastic composite. WPC can mimic any type of wood, from realistic oak to more fanciful distressed looks.
However, there is a separate waterproof vinyl tile doppelganger called SPC: stone-plastic composite. For those who want waterproof vinyl flooring but with a stone tile veneer, this is a perfect choice.
---
2.

Vinyl Sheets
Vinyl sheet flooring is a relatively new type of vinyl that you simply unroll from a large roll. The results are undeniable, as the floor will appear seamless. Most tile lookalikes can even be printed with grout lines, so you can barely tell the difference between stone and vinyl.
Vinyl sheet flooring is primarily becoming popular for its cost-effectiveness. Compared to vinyl planks, vinyl sheeting is much cheaper by the square foot, which makes it the best option to floor large spaces.
Because the floor has fewer seams than vinyl planks, vinyl sheet flooring provides more water resistance to your subfloor than planks, which each have numerous seams. For this reason, vinyl sheeting is often considered the gold standard in flooring for bathrooms.
Unfortunately, though, vinyl sheeting can be a pain to install and is much harder than planks to repair when damaged. It's best used for areas that get a lot of foot traffic and cover a lot of square footage.
---
3.

Luxury Vinyl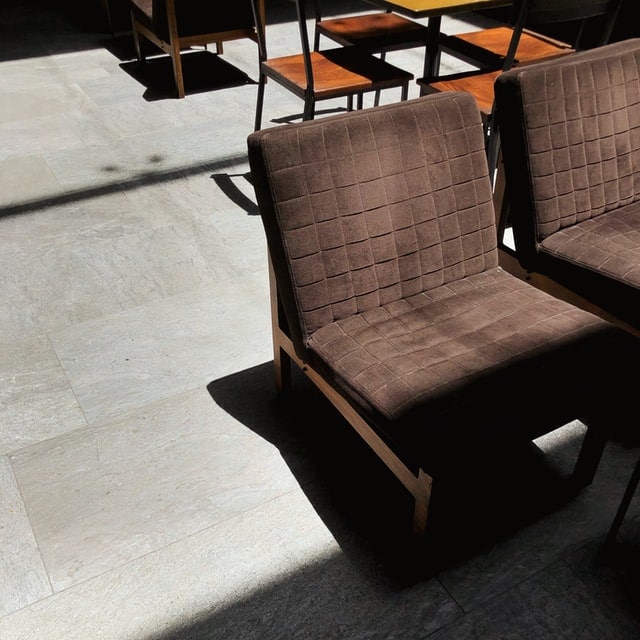 Regular vinyl tile was once criticized as too hard and prone to gouges or tears. Responding to those allegations, luxury vinyl tile was born. Also called LVT, these are the pinnacle of vinyl flooring quality, with extreme durability in a gorgeous package.
The difference between regular vinyl tile and luxury vinyl tile is apparent when you walk on the two side by side. Luxury vinyl is much softer underfoot whereas plain vinyl is thin, and that's because luxury vinyl uses several layers sandwiched together. As the name might imply, LVT is available in tile form as well as plank form for wood lovers. Because of the material's thick construction, sheet varieties don't exist.
While laminate is sometimes considered the best wood alternative, luxury vinyl planks have become very, very good at convincingly simulating the look and feel of real wood.
Consult a flooring expert
Find a flooring specialist in your area, and get free, no-commitment estimates for your project.


---
4.

Decorative Vinyl
Thanks to advances in technology, decorative and graphic floor designs have exploded in recent years because of increased availability. Once, it was too expensive to produce fanciful and cost-effective vinyl designs. Luxury designs include geometric designs that are also getting popular in the wood and stone flooring markets.
What's really interesting about decorative vinyl is that whether sheet, tile, or plank, the geometric designs match up seamlessly on the floor. Yes, the tiles and planks are made to perfectly match from end to end!
Decorative vinyl will continue to grow in popularity this year as we're all searching for aesthetic and practical flooring choices for our kitchens and bathrooms.
---
5.

Engineered Vinyl Planks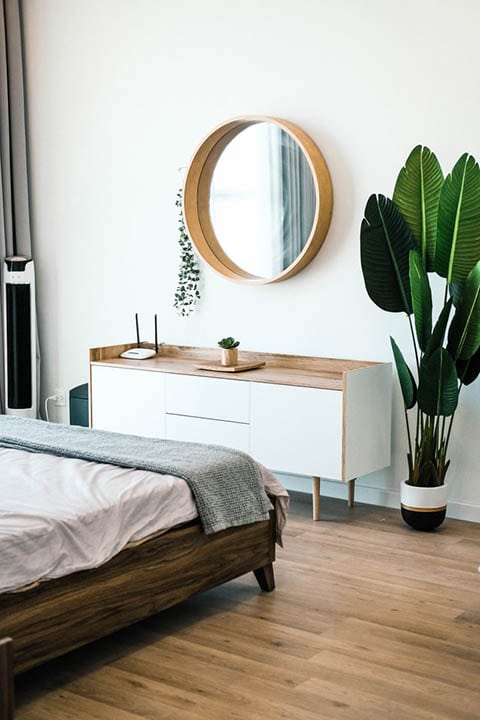 Engineered vinyl planks, or EVPs, are a premium type of vinyl that features a scratch-resistant top coating on top of several ultra-durable stable layers. These provide the flooring with unmatched durability that rivals hardwood. In fact, hardwood is what this type of flooring seeks to emulate, with an even stronger core than luxury vinyl.
EVPs are available in virtually every type of hardwood veneer you could hope to achieve for your floor's look, plus it's extremely easy to install. With strength exceeding any other type of vinyl, you'd be hard-pressed to make any marks on it.
For its superior durability, ease of installation, and unbeatable price versus wood, we predict EVPs will only get more popular than ever this year.
---
6.

Peel and Stick Vinyl
Peel and stick is the king of convenient flooring options, even if it lacks the strength of other types. When you need to achieve a certain look without breaking the bank, peel and stick vinyl is a decent option that will never die.
Quite literally, you simply peel the backing off this vinyl and stick it to the floor. You could probably even enlist your kids to help do your biggest spaces and get it done in an afternoon. Bathrooms or other small spaces are easily doable in half an hour to an hour. For this quality alone, peel and stick vinyl will stick around forever.
Plus, did we mention that it's one of the cheapest options to floor a space? By the square foot, peel and stick vinyl is one of the absolute cheapest flooring options. Beware, though, that you can feel that this flooring is cheap.
•Can You Tile Over Linoleum? Are There Specific Requirements?
How To Choose What Vinyl Flooring Is Right For You
It can be overwhelming to decide how to floor your home because of all the things you have to factor in: budget, look, durability, feel, and keeping with a theme. Some areas of your home don't require an extremely thick wear layer because they see little foot traffic, like bathrooms or pantries.
To help decide what type of vinyl flooring is right for your home, you have to ask yourself what you're looking for out of your flooring.
A few of these include:
What's in the budget for flooring? For the most premium vinyl flooring like EVP or LVT, you're looking at a much higher number than peel and stick, where the look is all that's important.
What area needs flooring? For kitchens and bathrooms, for instance, water resistance is very important. Waterproof vinyl and vinyl sheeting are great options for these spaces because of their innate characteristics.
Do you just want something really pretty but functional? Go with any type of vinyl flooring, but specifically search for decorative designs. You would be surprised to discover the sheer demand for beautiful and affordable flooring.
---
Featured Image Credit: Gianmaria Saccenti, Unsplash