10 Bathroom Trends in 2023 (With Pictures)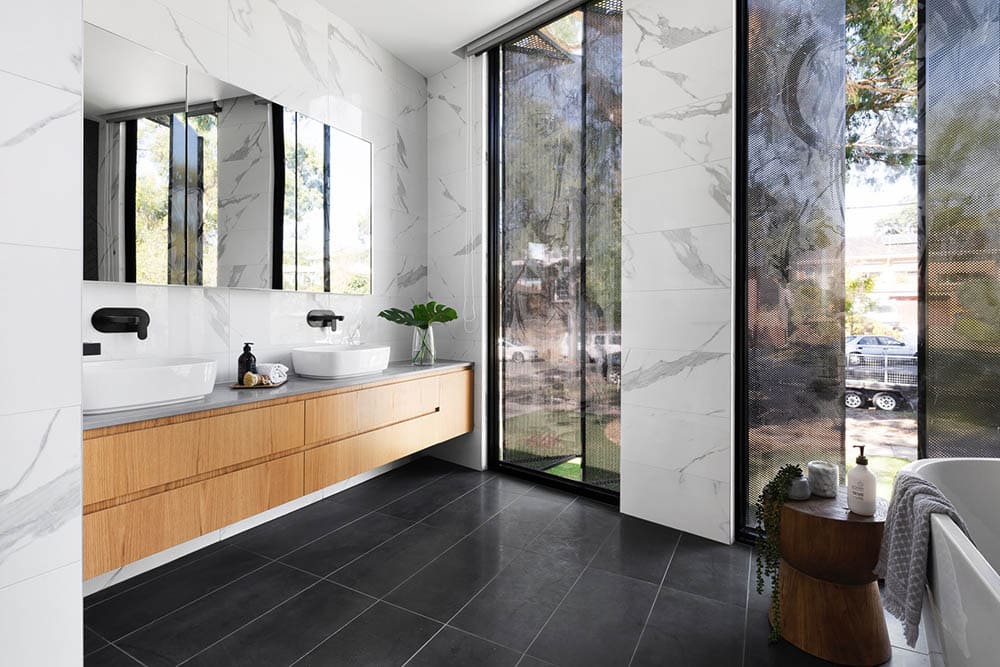 Bathrooms are an often-overlooked part of the home when it comes to design, but so much of our time is spent in this sacred space, its aesthetic features are something we should all be paying more attention to!
Regardless of its size or placement in your home, your bathroom is a place to retreat to, a place to unwind after a long day, and so should be treated like the rest of your home. There are a ton of different ways to make your bathroom as modern and interesting as the rest of your home, and no reason why you shouldn't!
If your bathroom is in need of a makeover and you're looking for some inspiration for the coming year, we've got you covered! Here are 10 of the most modern bathroom trends to look at.

The Top 10 Bathroom Trends in 2023
1.

Matte Black Fixtures
Brass, chrome, and silver have all had their moment in bathrooms, but the latest modern bathroom trend is in all black, matte fixtures. Black fixtures certainly give your bathroom a uniquely modern appeal, and while the trend has already been gaining traction for a couple of years, it's likely to continue well into 2023.
---
2.

Striking Wallpapers and Murals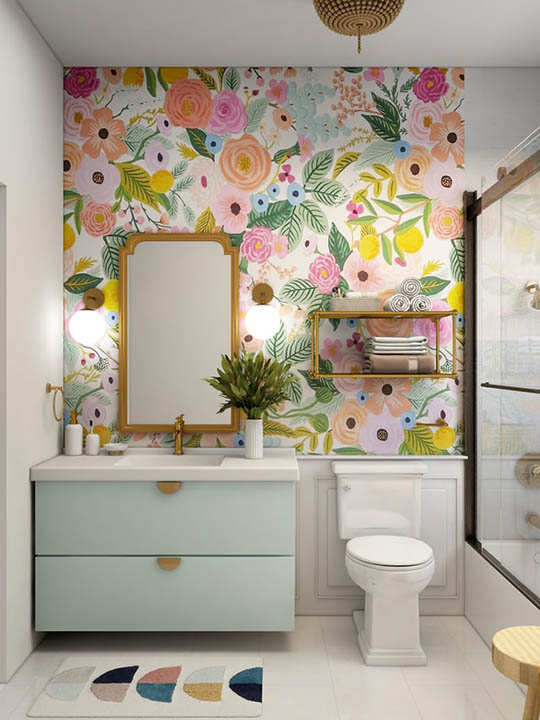 Wall to ceiling wallpaper with bold, striking colors or calming, relaxing tree landscapes have become a popular bathroom trend. Bathrooms in the past were confined to clinical white tiles and walls, and homeowners are now feeling the room to explore their bathroom's décor as much as they would with the rest of their homes.
This includes using various wallpaper designs, but unique, one-of-a-kind murals are becoming a popular addition too. These can both create a spa-like feel in your bathroom, helping you relax and unwind.
---
3.

Organic, Natural Elements
If bold, colorful murals or wallpaper is not your cup of tea, you can still have a minimalistic bathroom design with organic, natural elements to draw the eye in and avoid the clinical feel. Textured tiles, wood, stones and rocks, and even sand can add a gorgeous natural element to your bathroom that allows you to feel a connection with the outside world while in your own sacred space.
---
4.

Vintage Furniture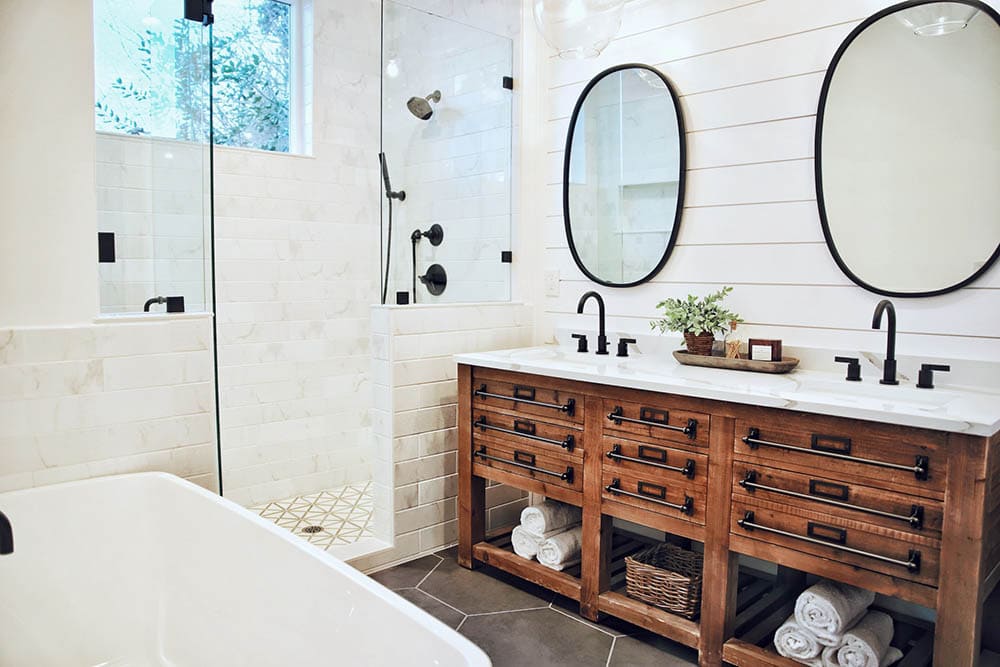 Vintage and "upcycled" furniture have long been a popular addition to modern homes, so why not extend this trend to the bathroom too? An old piece of interesting furniture can be repurposed into a bathroom storage cupboard or vanity table, adding an interesting, unexpected item into the bathroom. This furniture can find a unique place where it doesn't traditionally belong, giving your bathroom a unique vintage charm.
---
5.

Plants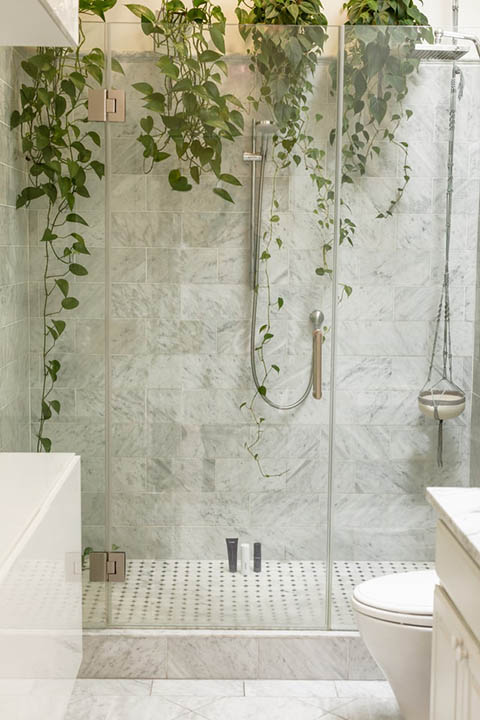 Plants have long been a popular design feature in modern homes, and recently this has come to include our bathrooms. Plants not only make your bathroom look great with an almost infinite range of choices in size and appearance, but they give your bathroom a great natural feel too. There's also the air-purifying benefits of plants, plus the added spa-like, relaxing feel they can add to the space.
---
6.

Spa-Like Elements
There is nothing more luxurious than a spa, and adding a few simple elements to your home bathroom can quickly give it a spa-like feel too. This includes features like large, glass shower doors, stylish and modern hardware, marble accents, and wooden storage cupboards under stone-surface mounted sinks.
---
7.

Marble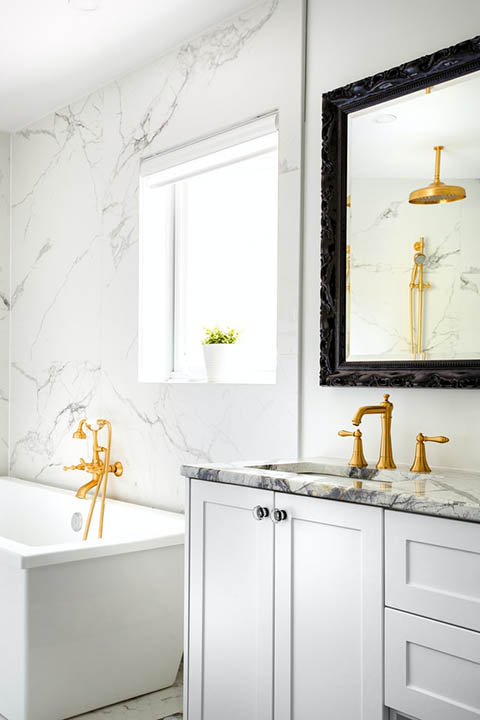 Marble of any kind is a strikingly modern addition to your bathroom, and white marble specifically has become a popular trend recently due to its refined, classic, and timeless appeal. Grey marble has also become a popular addition, with a combination of both complementing one another beautifully. The use of two or more colors can give a gorgeous visual and tactile feel to your bathroom. There are plenty of tiles on the market that can give your bathroom an authentic, polished marble effect.
---
8.

Mixed Textures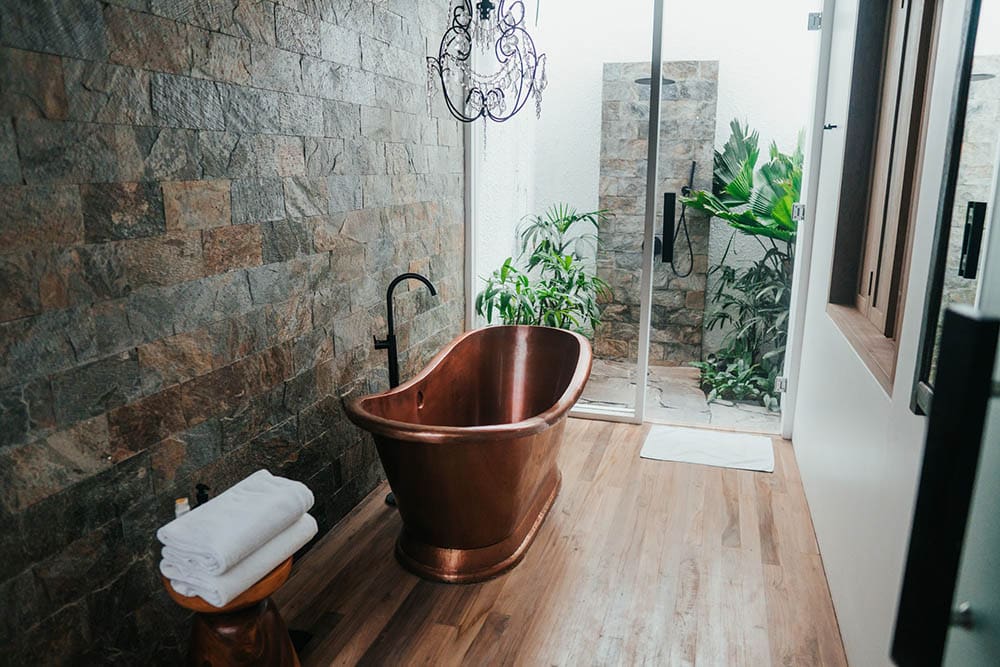 Carefully combining colors is certainly one way to add striking, eye-catching elements to a modern bathroom, but carefully mixing textures can be equally, if not more so effective. Again, adding textured tiles with smooth marble, plants, and gorgeous woods all in one space can give your bathroom a truly spa-like feel and a break from the clinical smooth, monotones of most modern bathrooms.
---
9.

Walk-In Showers and Wet Rooms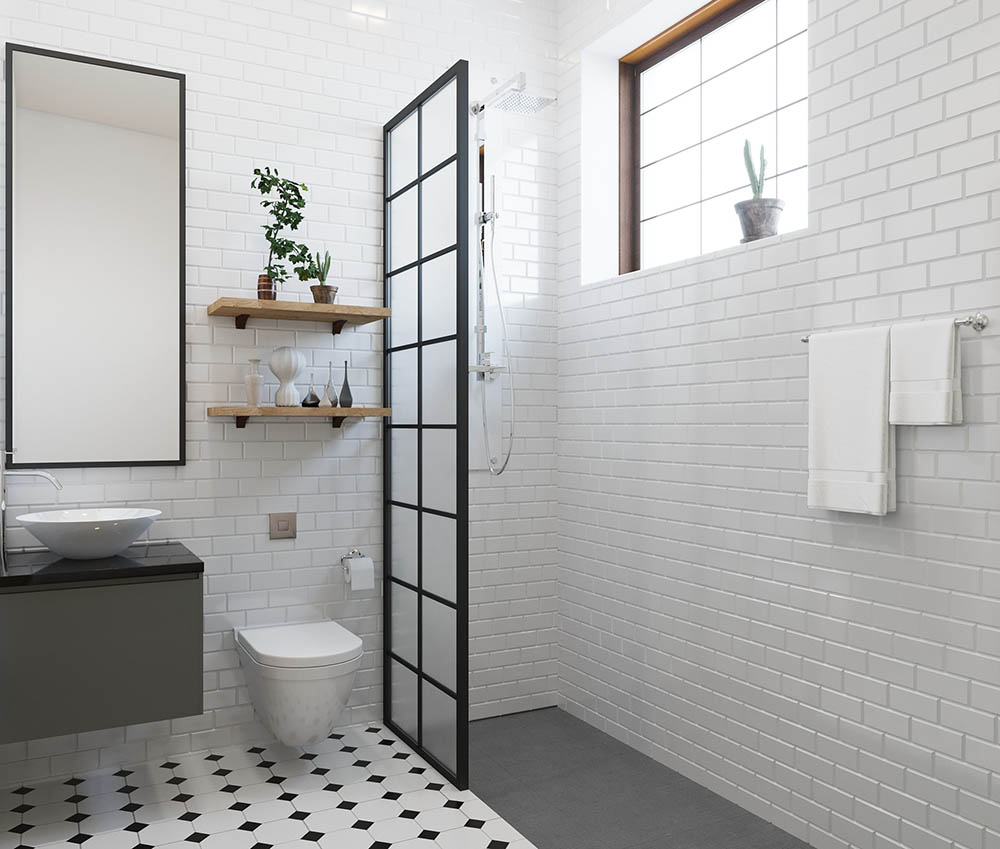 More and more people are moving away from tiny shower cubicles with textured glass toward larger, spacious enclosures or "wet rooms." These large showers create a natural flow in your bathroom and can add a gorgeous feature with textured floors or backdrops and thick, frameless glass. These shower designs are not only beautiful and more accessible but also maximize the space you have available and make your bathroom feel more spacious overall.
---
10.

Integrated Technology
You can still have a modern yet serene feeling bathroom plus have the benefits of integrated technology too. Features like smart showers that you can control the spray patterns and temperatures from your phone, baths with integrated Bluetooth speakers for sound therapy while you soak, LED mirrors, and voice-controlled taps, smart bathrooms are becoming a popular trend for the next few years.

Conclusion
There you have it! Our collection of the latest bathroom trends coming in this year. Have you installed any of the above ideas in your home bathroom? Please let us know in the comments!
You might also be interested in: 
---
Featured Image Credit: R ARCHITECTURE, Unsplash