Cost to Install Vinyl Plank Flooring (Cost Per Square Foot in 2023)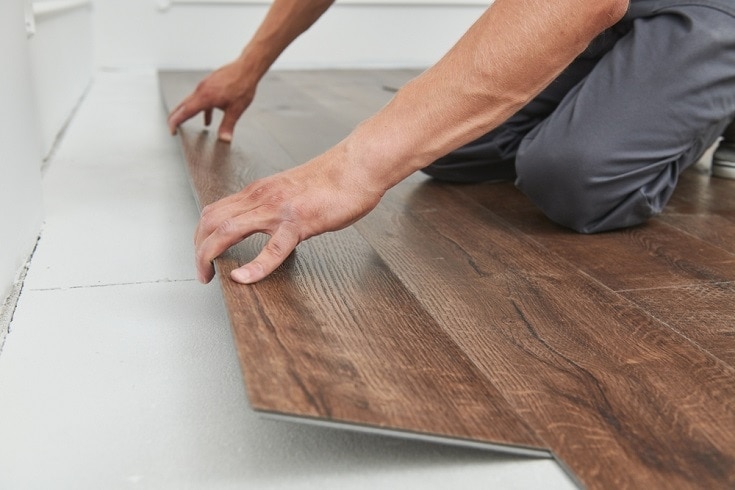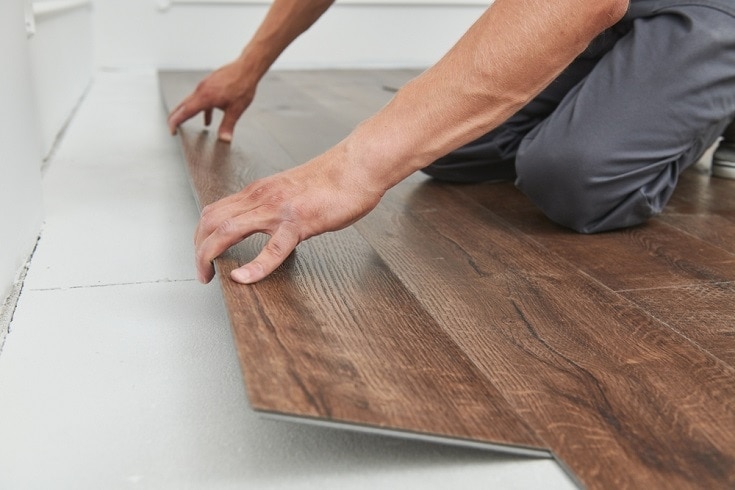 Vinyl is quickly becoming one of the more popular flooring options available. It is cheaper than many traditional options and comes in literally thousands of styles. You can pick vinyl that looks like a hardwood floor, as well as vinyl that looks like masonry or tile. There are so many options to choose from, making this an easy way to save tons of money on your flooring.
Plank flooring is one of the more popular varieties. It often looks like hardwood but is much cheaper than the actual thing. Just because vinyl is cheaper doesn't mean the cost can't be substantial, however. In this article, we'll look at how much vinyl plank flooring usually costs, including installation.

Factors that Affect the Cost of Materials
When you consider installing vinyl flooring, one of the most important things you need to be aware of is the material's cost.
The cost of vinyl can vary widely. We'll take a look at all the factors that help determine vinyl's underlying costs below.
Material
There are a few types of material vinyl can be made out of. Some of these are cheaper than others. However, you shouldn't just choose the cheaper option to save some money. Often, cheaper stuff is also not as durable or may require more care. In other words, it may not be that cheap in the long run.
Depending on the material, the vinyl flooring can cost anywhere from $1 a square foot to $6. Inexpensive usually costs about $1.39, while the best vinyl plank flooring cost about $4.00
Wear Layer
The "wear" layer is the layer on top of the flooring. It's what you walk on and what takes to the brunt of the day-to-day use. Different vinyl floorings are added to this layer to help it withstand use and last longer.
Most entry-level vinyl floorings don't have anything added, which means the flooring material is going to matter significantly. Furthermore, this type of flooring usually doesn't last very long, as it does not have anything added to improve its overall durability.
Consult a flooring expert
Find a flooring specialist in your area, and get free, no-commitment estimates for your project.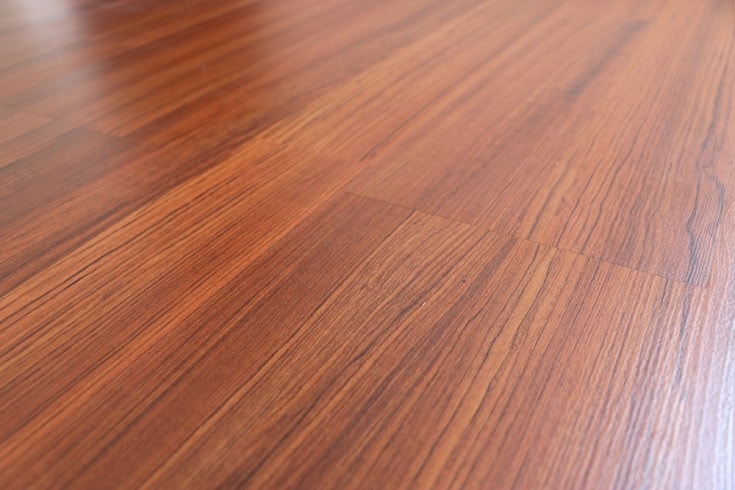 Ceramic beads are added to some vinyl flooring. This makes the wear layer more challenging, as the ceramic beads are often a bit tougher than most vinyl flooring.
Some rarer materials are added to the vinyl floorings, though. For instance, there has recently been a crushed lab-created diamond wear layer that has been developed. This should be much more durable than most other options, but it is currently difficult to acquire.
Thickness
The thickness of the vinyl directly affects its cost. Thickness is given in "mils." One mil equals about 0.001 inches. You can find vinyl that is anywhere from 4 mils to 40 mils thick. The cheapest flooring usually has up to 8 mils, while most have anywhere from 12-20 mils. A few may have as much as 40 mils, though these floorings are typically very expensive and for industrial use.
Generally, the thicker the flooring, the more expensive it will be. This is simply because there is more material involved in making it, so the cost is higher. Usually, thicker floor will cost anywhere from $4 to $7.

Core Construction
The middle of the vinyl is usually made from stone polymer, wood-plastic, or rigid vinyl. All of these cores have a list of pros and cons. Which one you choose depends mainly on your budget, as well as what sort of characteristics you're looking for.
Stone polymer — this is the cheapest and most common core. It is made of crushed limestone and is mixed with plastic polymers. It creates a relatively thin but very dense core. It is pretty resistant to usual wear-and-tear. Usually, this is most commonly used in commercial buildings, but it can also be used in residences.
Wood-plastic core — this is made out of wood dust or bamboo, which is then mixed with polymers. It is pliable and thicker than most other options. For that reason, it is a softer flooring, but it is prone to dents and damage. Usually, this sort of flooring has the easy-to-install "click" edges. It doesn't necessarily need glue for this reason, though you can glue it down if you choose. This sort of flooring usually includes an attached pad and is used in residential settings.
Solid vinyl cores — this is a relatively new type of vinyl flooring. It is entirely made of vinyl, making it practically water-proof. Most of it, it is interlocking and installed similarly to wood-plastic core vinyl. You can glue it down if you need to for whatever reason. The pad is often attached as well.
The Pad
All vinyl flooring needs a pad that goes on the bottom. Often, flooring designed for residential use comes with a pad on it. Typically, if it doesn't, you will need to purchase a pad separately. This will usually cost less than $0.30 per square foot of flooring, but it can depend on the material.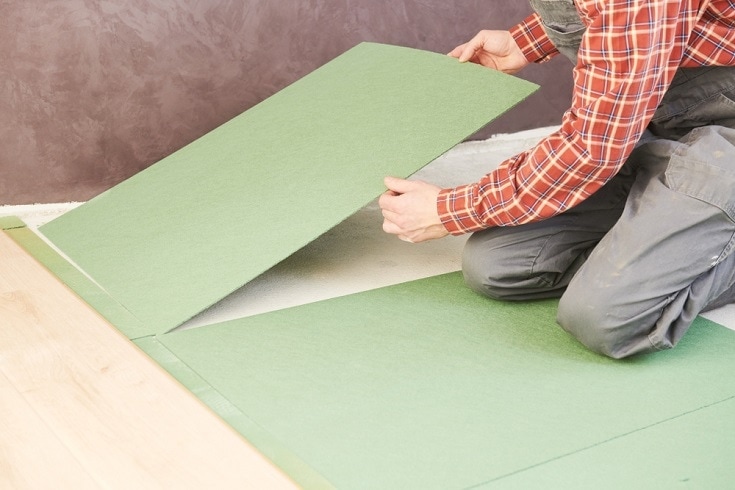 However, you will have to pay extra when it comes to the actual installation. Since the pad needs to be directly attached to the vinyl flooring, it will take more time to install. This will increase the cost of the installation as a whole.
The Brand
Often, you'll just be paying extra for the brand name. Many brands sell the same flooring as no-name flooring but add extra cost onto it because of the brand name itself. When there is a direct sale between the manufacturer and the seller, the cost is usually substantially cheaper.
Of course, you may be losing brand-specific benefits, like the warranty or customer service. These may be worth it depending on your situation and preferences. Look for brands and ways to purchase directly from the manufacturer without much of a middleman. These will be cheaper and can save you money.
Installation Cost
On top of actually purchasing the flooring, you will also need to pay someone to install it – unless you decide to go the DIY route. If you're planning on installing your flooring yourself, then this is not something you need to consider. However, otherwise, you need to consider the cost of hiring an expert and factor that into your end price.
Of course, many factors can go into installation costs. What you pay for installation will hardly match what someone else pays for installation. Here are some factors that can directly interfere with the cost of the installation.
Installation cost is usually somewhere between $2 to $3 a square foot. For those who charge hourly instead, it will likely be between $30 – $50 an hour.
Time of Year
People tend to renovate their homes in the spring and fall. The exact dates in your area will likely depend on the climate and your exact location. In places with an "on" season, it will likely cost the most right before the on season begins, as many people will want their flooring done by then so they can appropriately enjoy it.
Time your installation with this in mind if you're looking for the most savings. You can potentially save anywhere from $500 to $700 depending on your area and the project size.
Particular Contractor
Different professionals will charge different things for the same job. Usually, the amount of experience directly affects this. However, there can be other factors as well. A company with a large crew will likely charge more, but they can get it done faster. "Extras" like insurance and guarantees will usually cost you more upfront too, but they may end up saving you money in the long run.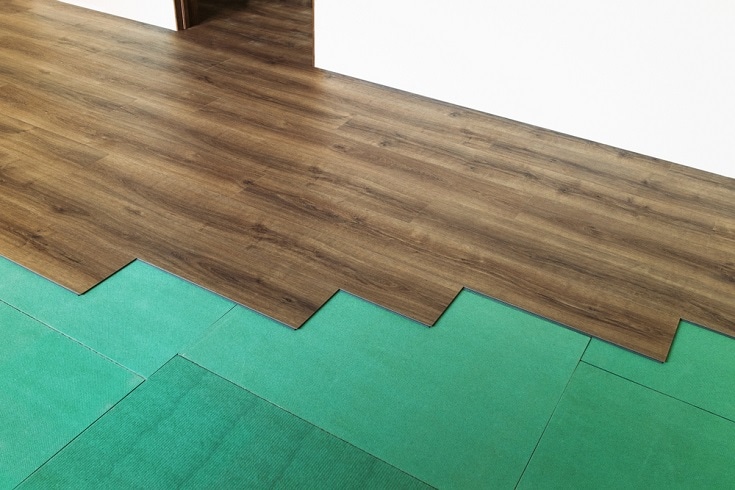 Repairing mistakes can be costly. We recommend getting quotes from various people, but don't just choose the lowest bidder – choose the best value. Someone who is inexperienced and has no insurance could end up costing you thousands more after the job is done. Choose someone who isn't expensive that you can trust to do the job right the first time.
Time Involved
Some types of flooring may take longer to install. For instance, if the flooring does not come with a backing, then the contractor will need to install that on-site, which will raise the prices. There are also some rare factors that may make the installation take longer than it should – such as repairs that need to be made to your subfloor before the actual flooring can be put on. These can be expensive and will increase the overall timeline of the project, which means you'll have to pay more wages to the contractor and their team.
Repairs and Other Setbacks
You'll also need to consider the repairs and possible setbacks the professionals might encounter during the installation. These are rare, but may be more likely to happen if you're in an older home or one that has been damaged.
If you expect underlying damage, have the contractor evaluate your home for possible problems before you go ahead with installing the flooring. Repairs can cost far more than the actual installation of the flooring and may need a different contractor to take care of them. However, often, you will need to get them taken care of before you move to install the flooring.

FAQs
Below are some of the most common questions involving the cost of installing vinyl.  You may be wondering about some of these same things yourself. If you're left with any trailing questions, you may find the answer here.
What is the average cost to install vinyl plank flooring?
For about 200 square feet, you can expect to pay about $1,400. Usually, the cost will go up a bit as your space gets larger – as that will require more materials and take more time. Usually, you can expect to pay about $1.50 – $2.75 for the installation itself, plus the cost of the actual flooring.
You can lower your costs substantially if you decide to install it yourself, which is actually quite easy with some flooring types. Of course, you will need some required tools, which will cost you a bit upfront as well.
How much does Lowes charge to install vinyl planks?
In most areas, Lowes will install your vinyl planks. Usually, the cost is somewhere around $2 a foot, which is about average. This will vary from region to region. It may also depend on the season as well.
Related Reads: 
---
Featured Image: Dmitry Kalinovsky, Shutterstock