5 Best Budget Chainsaws Under $200 – Reviews & Top Picks 2023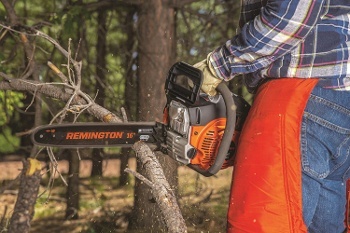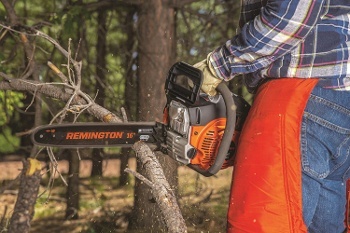 Many of us have jobs around the house that would be easier using a chainsaw, but many people consider these tools too expensive to purchase. However, modern technology has allowed chainsaws to drop in price, and there are now inexpensive models you can plug in the wall or operate using battery power.
We've chosen five different types of chainsaws under $200 that you can use for projects around your home. We'll discuss the pros and cons of each so you can see what features are best for your needs. We've also included a buyer's guide where we take a close look at how the chainsaw works. In that section, we'll help you decide what type of chainsaw you need as well as critical components to look for while shopping.
Keep reading while we take an in-depth look at the budget chainsaw and discuss plate size, engine type, safety features, etc., to help you make an informed purchase.
---
A Quick Comparison of Our Favorites in 2023:
Rating
Image
Product
Details

Best Overall

Remington RM4216 Chainsaw

Automatic oiler and 16-inch bar
Quickstart technology
Automatic oiler
CHECK PRICE

Oregon CS1500 Self-Sharpening Chainsaw

Instant start capability
Chain brake
Low noise
CHECK PRICE

Best Value

WORX WG304.1 18″ Budget Chainsaw

15-amp motor
Auto-tension chain system
Self-lubricating
CHECK PRICE

Ryobi P546 Cordless Chainsaw

18-volt lithium battery
Side action chain tensioning
Lightweight
CHECK PRICE

BLACK+DECKER CS1518 Electric Chainsaw

Tool-free chain tensioning
Automatic oiling
Chain brake
CHECK PRICE
The 5 Best Budget Chainsaws Under $200:
1.

Remington RM4216 Chainsaw – Best Overall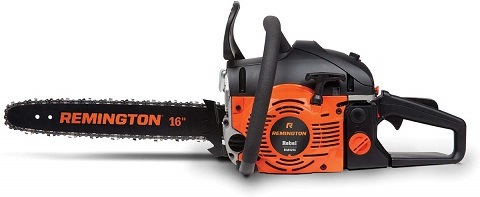 The Remington RM4216 is our pick as the best budget chainsaw under 200 dollars. This model has plenty of features to help you with your cutting and pruning. It has a 42cc engine that can easily power through most small to medium-sized jobs with ease. A 16-inch bar gives you the reach you need while an automatic oiling mechanism keeps the chain lubricated. It features Quickstart technology to help reduce string-pulling, and the five-point anti-vibration system makes cutting more comfortable and reduces fatigue. The included carrying case helps ease transportation and protect the blades.
We loved this chainsaw for removing saplings and other small shrubs around our home. The only downside we experienced while using the Remington RM4216 Chainsaw was that the automatic oiler tends to dip and make a mess while in storage.
Pros
42cc engine
16-inch bar
Quickstart technology
Automatic oiler
Carry case
Five-point anti-vibration system
Cons
Leaks oil while being stored
---
2.

Oregon CS1500 Self-Sharpening Chainsaw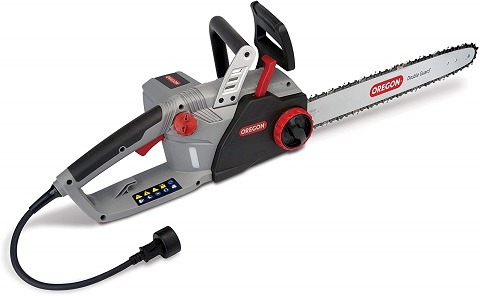 The Oregon 570995 CS1500 Self-Sharpening Chainsaw is our runner up for budget chainsaw, and it has plenty of features that make it almost as good as our top model. This brand features an 18-inch bar for a long reach that can help you get tall branches and deep bushes. An on-board sharpener enables you to keep the chain sharp without the need to purchase a third-party sharpener or need to remove the chain, saving valuable time.
The electric engine instantly starts at the press of a button, so there is no repeated string pulling to get it started. No choke setting or gasoline mixtures are required, and it makes much less noise than an ordinary chainsaw. It also features no-tool chain tensioning and a chain brake for maximum safety.
There's only one drawback to the Oregon CS1500: the more you cut, the more often the chain falls off. It only takes a minute to fix, but it gets frustrating enough to keep it out of our top spot.
Pros
18-inch bar
On-board sharpener
Instant start capability
Chain brake
Low noise
No-tool chain tensioning
Cons
The chain comes off too easily
---
3.

WORX WG3041 18″ Budget Chainsaw – Best Value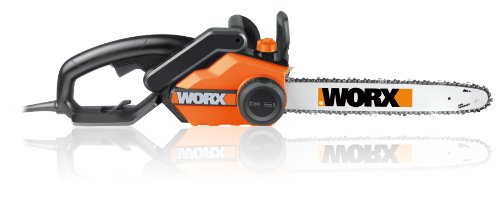 The WORX WG3041 18-Inch Chainsaw is our pick for the best budget chainsaw under $200 for the money. This unit features a 15-amp motor that is more than suitable more most small jobs around the home. The built-in auto-tension chain system keeps the chain tight and helps prevent accidental chain tightening, which could wear down the chain and the bar. Its self-lubricating system helps extend chain life while reducing the manual maintenance required, and it also features a low kickback bar for protecting against jam-ups. A chain brake further reduces the chance of an accident occurring, and it comes fully assembled, so you can be cutting small trees within minutes of receiving it.
While we were using the WORX WG3041, we had a difficult time keeping the blade sharp, and you will likely need a blade sharpener to go along with this saw.
Pros
15-amp motor
Auto-tension chain system
Kick back bar and chain brake safety features
Self-lubricating
No assembly required
---
4.

Ryobi P546 Cordless Chainsaw
The Ryobi P54610 10-Inch Cordless Chainsaw is an extremely portable yet powerful chainsaw perfect for small jobs around the house. It uses the same 18-volt lithium battery that powers may of Ryobi's popular handheld power tools. It features side action chain tensioning that speeds up the process of changing the chain.  It's lightweight, and a battery charge lasts for quite a while.
Ryobi is known for making great tools, but there are some problems with the Ryobi P546. The automatic chain oiler leaks oil everywhere if you don't drain it out after use. The 10-inch bar does not provide much reach, and you need to purchase the battery and battery charger separately. The battery and charger can be quite costly, especially if you opt for more than one battery. If you already have other tools that use this system, it can be cost-effective.
Pros
18-volt lithium battery
Side action chain tensioning
Lightweight
Cons
Leaks oil
10-inch bar
Battery and charger sold separately
---
5.

BLACK+DECKER CS1518 Electric Chainsaw

The BLACK+DECKER CS1518 is the last budget chainsaw on our list, but it still has plenty of worthwhile features that are worth examining. This chainsaw is electric and features a 15-amp motor that's powerful enough to cut through most small to medium-sized trees and shrubbery. It features an 18-inch bar for plenty of reach, and an automatic oiling system helps extend the life of the chain.
One of the downsides to the CS1518 is that it uses a lot of oil. It's not uncommon to use an entire reservoir of oil on a single job, and if you store this chainsaw with and oil remaining, it will leak out. We found the chain challenging to tighten and change, especially when compared to several other brands on this list, and our chain continuously popped off while we were working. The directions were not very clear, which made assembly a challenge
Pros
15-amp motor
Tool-free chain tensioning
Automatic oiling
Chain brake
Cons
Uses lots of oil
Challenging to tighten the chain
Challenging assembly
Chain poops off
---
Buyer's Guide – Choosing the Best Budget Chainsaws Under $200
Let's look at some of the most important aspects of the chainsaw to look for when making a purchase.
When to Use a Chainsaw?
| Use Chainsaw | Don't Use Chainsaw |
| --- | --- |
| Felling trees | Pruning hedges |
| Cutting off tree limbs | Cutting grass |
| Chopping logs | Digging holes |
| Clearing heavy brush | Custom DIY woodwork |
| Ice fishing | Miter cuts |
| | Construction demolition |
Power
There are three ways to power modern budget chainsaws: fuel, electricity, and batteries.
Fuel (Gas-Powered)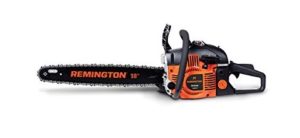 Fuel is the traditional source of energy used by chainsaws, and it delivers the most power by far. If you have large trees to cut, or the work covers a large area, a gas-powered chainsaw will be tough to beat.
There are downsides to gas-powered chainsaws. They often require you to mix the fuel with oil before adding it, and they also emit fumes harmful to the environment and your health. The biggest downside to fuel-based engines is the maintenance that they require, and the string-pulling many of them require to start. The chain on many fuel-based chainsaws continues to spin once the engine is off, so it's best to look for a model with a chain brake.
Gas-Powered Chainsaw Pros
Gas-Powered Chainsaw Cons
Mixing fuel
Bad for the environment
Bad for your health
High maintenance
String pulling
Electric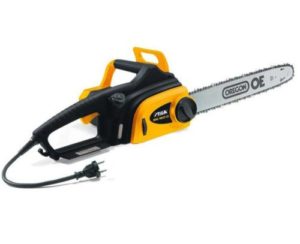 Electric energy can be nearly as powerful as fuel-based chainsaws. Especially when compared to the smaller horsepower engines available on many budget models. Corded electric chainsaws begin operating at the squeeze of a trigger, and the chain usually stops when you release the trigger, so chain brakes are often not required. Since they use an extension cord, they never require refilling with fuel, and they don't release any harmful exhaust fumes into the air. You can get electric saws with long or short bars to suit your cutting needs, and they tend to be lightweight.
Unfortunately, an electric chainsaw will never match the power of a professional-grade gas-powered chainsaw made for cutting large trees, so if you have a big job, these may not have the power. It requires an extension cord, so there are limits to where you can go, and a long extension cord can lose power over distance. The housing, as well as the bar that holds the chain, is usually not as durable as gas-powered saws.
Electric Chainsaws Pros
Constant power
Easy start
Lightweight
Electric Chainsaws Cons
Less power
Requires extension cord
Not as durable
Battery-Powered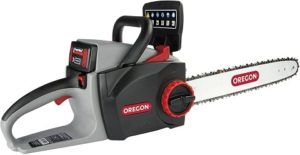 A few years ago, we would have written off battery power as mostly useless, especially for a large tool like the chainsaw. However, battery power is one of the fastest-growing technologies in tools right now, and there are quite a few brands of battery-powered chainsaws capable of getting the job done. Battery power gives you the same portability as a gas-powered chainsaw without the harmful vapors. They are usually very lightweight, start immediately, and have a low cost of operation.
The downside to battery power is that the charge drains quickly, and recharging takes forever. Batteries are expensive, and you will most likely want to purchase a few, so you know you can get the job done before the batteries are dead. They also use fewer durable materials like the electric saws, and most have a much smaller bar and chain, rarely extending beyond 10 inches.
Battery-Powered Chainsaw Pros
Portable
Lightweight
No exhaust
Battery-Powered Chainsaw Cons
Long recharge
Quick drain
Small chain
Not durable
Bar Size
The bar on a chainsaw is the part the chain moves around. Longer bars will give you a longer reach and will allow you to cut larger trees. You can typically find bars ranging in size from 6 to 22 inches, but the larger the bar, the larger the engine and higher the cost. We found it difficult to find a bar longer than 18-inches in a budget chainsaw.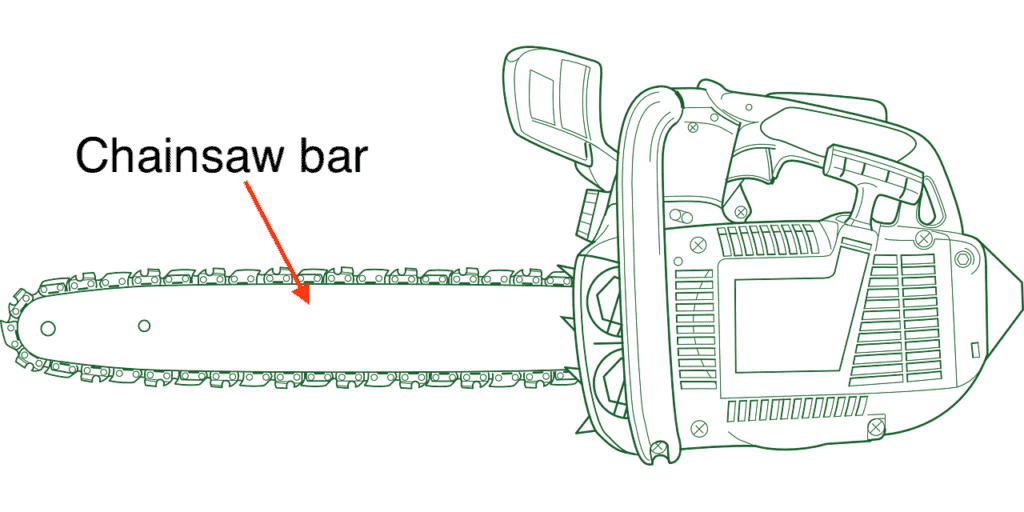 Spring Assisted Starting
If you are purchasing a gas-powered chainsaw, we recommend looking for a model that has spring-assisted starting, which is an internal device that makes pulling the string easier.
Automatic Lubrication
If you are just getting started using a chainsaw, you will most likely be surprised by the amount of oil your chain requires. An automatic chain lubricator built-in to your saw can help save a lot of time.
The downside to many self-lubricating chains, especially when it comes to budget models, is that they tend to leak oil while you store them. Many brands suggest emptying the reservoir when storing it but emptying the reservoir can be inconvenient if you use the chainsaw regularly.
Chain Brake
A chain brake allows you to stop the chain manually. It's a feature much more common on gas-powered chainsaws because the chain tends to continue moving when you shut off the engine. You can also use it if you are experiencing kickback or jams, and for that reason, many electric chainsaws also feature a chain brake.
Safety Equipment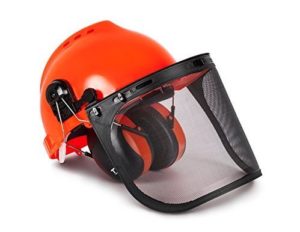 The chainsaw is extremely dangerous, and you should always wear safety equipment when operating them. At a minimum, you should make sure you are wearing the following equipment.
---
Conclusion
The key to deciding what type of chainsaw you need is to assess the job requirements. If you are working on a large area and are cutting larger trees, you probably want a gasoline chainsaw like our top choice. The Remington RM4216 Chainsaw is a gas-powered engine with a 16-inch bar. It provides plenty of reach and features Quickstart to minimize string-pulling.
If your yard isn't too big and you only need to use the chainsaw a few times a year for small to medium jobs, an electric chainsaw is a perfect choice for many people. Our choice for the best value is an example of a fantastic electric chainsaw. The WORX WG3041 18-Inch Chainsaw features an 18-inch chain and is self-lubricating.
We hope our reviews and buyer's guide have cleared up any questions you might have regarding the different types of chainsaws. If you have enjoyed reading, please share this guide to the best budget chainsaws under $200 on Facebook and Twitter.
More on chainsaws: