WEN 6550 vs 6552 Planer: Which One's Best?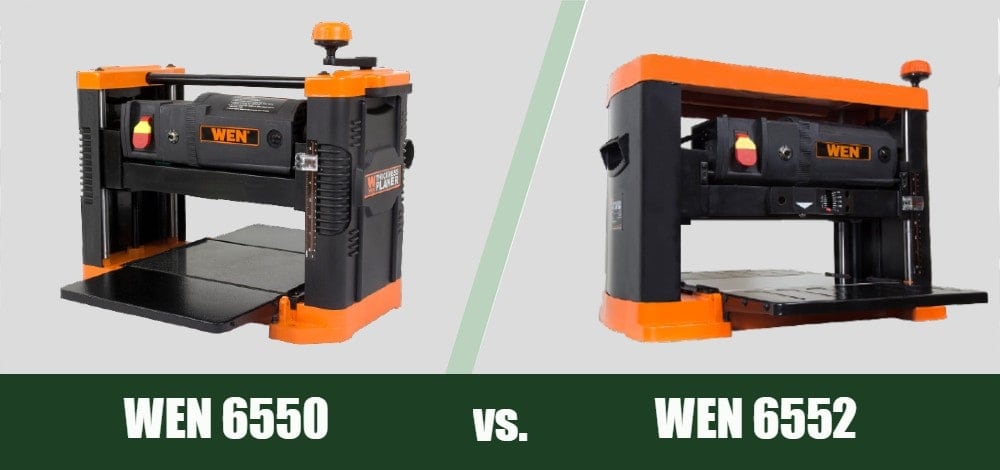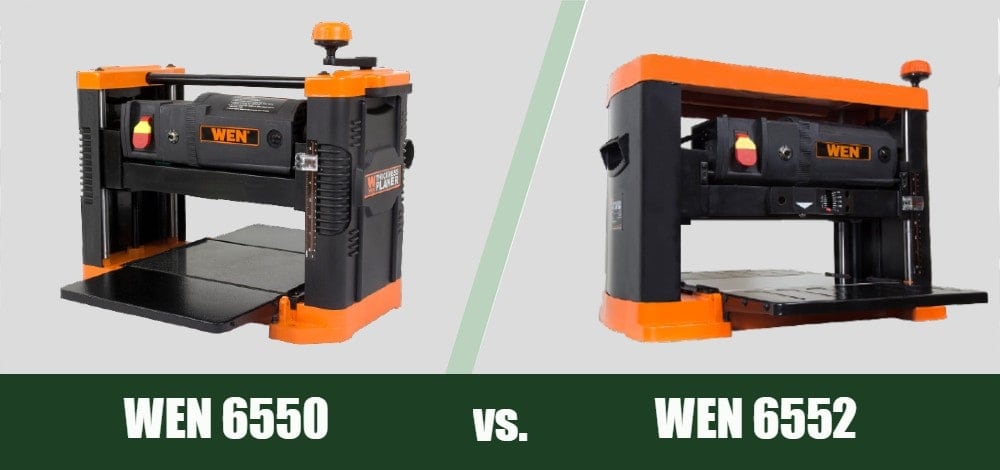 Rating
Image
Product
Details

The Winner

WEN 6552

More rollers for better stock return
Smoother finish in the same number of passes
No chance of mistaking the single roller for a handle
CHECK PRICE

The Runner-up

WEN 6550

Lower price
Granite work table
CHECK PRICE
A benchtop planer is an essential tool for the enthusiastic DIYer or professional woodworker. However, no planer is similar to the next, and what may work for you may not work for someone else. The WEN 6550 and WEN 6552 belong to the same brand and don't differ much in terms of features, but they have a few differences. The WEN 6550 includes a granite table for a sturdier and more durable build. It is also a cheaper option if you're looking to save some money.
The WEN 6552 comes with a cast iron construction that makes it lighter and easier to transport. It will handle thicker boards and has more cutting speed. Its three blades will also give you more cuts per minute and a much smoother finish.
Although it may be too close to call, the WEN 6552 slightly edges over its counterpart owing to its smooth finish and the extra rollers that provide a better stock return. The WEN 6550 gets a nod for being cheaper, but the price difference is not enough to tilt the scales in its favor.
If you're looking for a benchtop planer for your DIY tasks, both models will work just fine, but the WEN 6552 will give you superior performance. However, it is not built to withstand heavy-duty industrial use.

At a Glance
Let us look at the key points of each product.
WEN 6550
15-amp motor
Granite table
18,000 cuts per minute
Features two blades
Can support 6 inches thick and 12.5 inches wide boards
WEN 6552
15-amp motor
3 blades
25,500 cuts per minute
Cast iron table
Supports 6 inches and a width of 13 inches boards
WEN 6550 Overview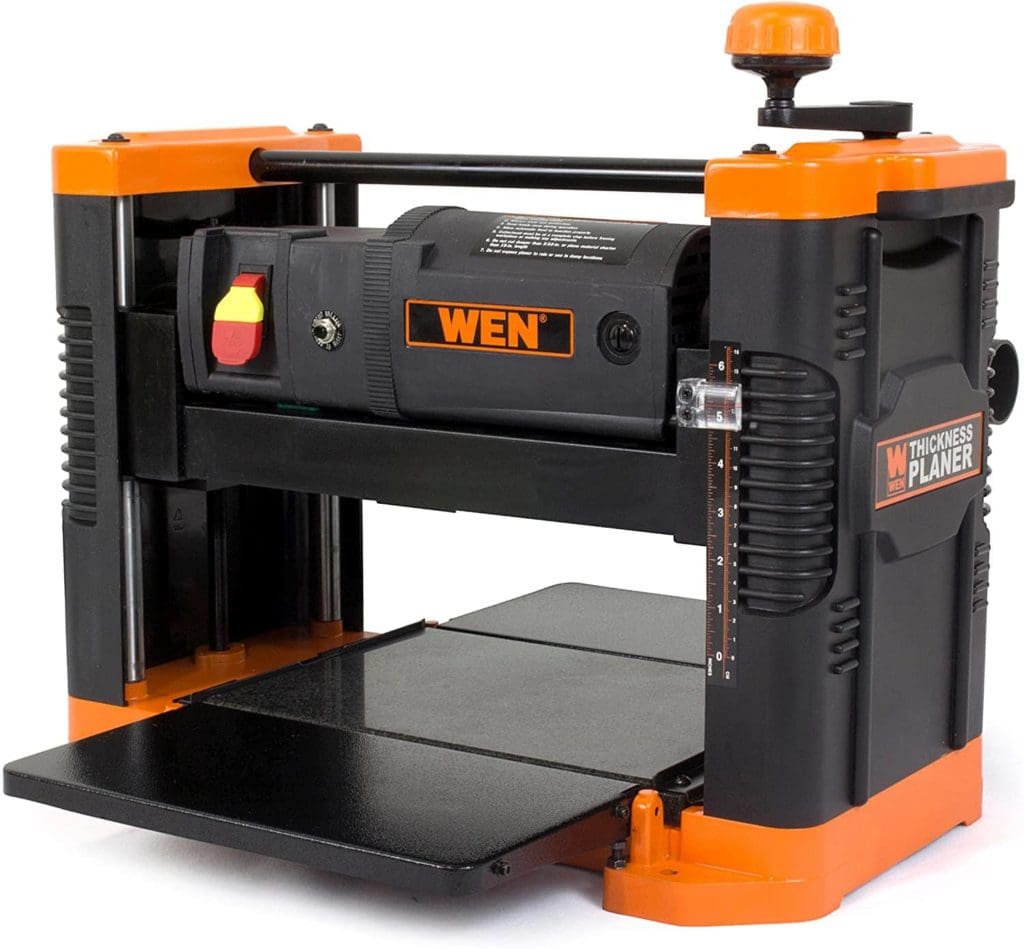 The WEN 6550 is a popular choice for DIY tasks and professional woodwork. It comes with a double knife cutter head with reversible blades for prolonged life and sharper cutting. With this unit, you can even cut boards of up to six inches in thickness and 12.5 inches in width. Its 15-amp motor can deliver 18000 cuts per minute at a speed of 26 feet per minute.
The table is made from smooth granite that enables you to slide in your boards with ease without denting them. It is also long-lasting and won't wear out with use. However, the granite makes this unit a little heavier. But the infeed and outfeed tables coupled with grips on the side will make it easier to move the planer from one place to another.
Pros
Granite table
Value for money
Easily portable
Cons
Two blades
Fewer usability features

WEN 6552 Overview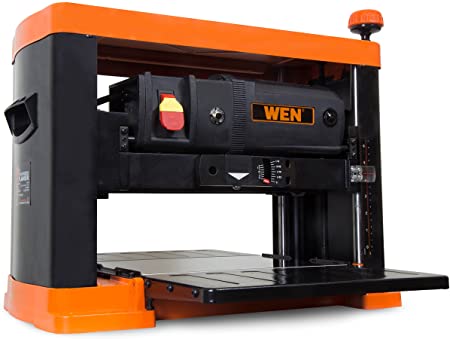 The WEN 6552 also features a 15-amp motor with a feed rate of 26 feet per minute, but it delivers 25,500 cuts per minute. It will even cut boards with a 6-inch thickness and a maximum width of 13 inches. Besides the faster cut-rate, the unit also includes three reversible blades for a better quality finish.
Unlike the 6550 model, its table is made from cast iron, making it lighter and easier to carry around. Additionally, it features pre-drilled supporting holes that enable you to securely mount it on your worktable to reduce wobbling when working.
Pros
Features three blades
Lighter
smoother finish
25,500 cuts per minute
Cons
Cast iron table
A bit pricey
---
What are the Differences Between them?
Blade system
Edge: WEN 6552
The WEN 6552 edges out the WEN 6550 in this regard. It is designed with three reversible blades in the cutter head, while its counterpart has only two. The more the blades, the more cuts you get per minute and the smoother the finish.
Cutting speed
Edge: WEN 6552
Although the two modes have motors with the same capacity, they differ in cutting speeds. The WEN 6550 generates 18,000 cuts per minute, but the WEN 6552 is faster and will generate 25,500 cuts per minute. More speed translates to higher-quality cuts and smoother finishes.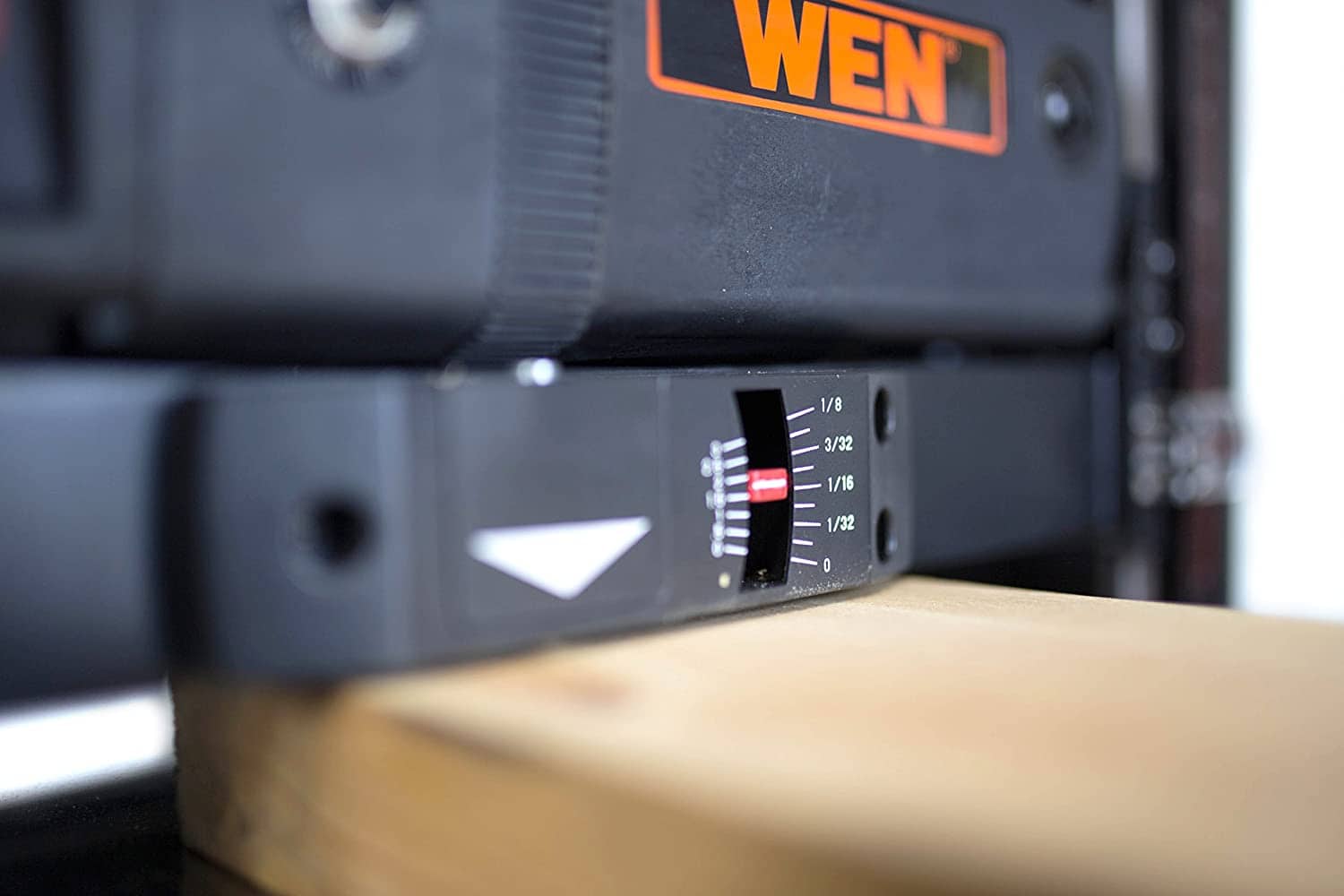 Board Size
Edge: None
While the WEN 6550 can handle boards of up to 12.5 inches in width, the WEN 6552 gives you the ability to work on boards with a half-inch more.
Blade Types
Edge: WEN 6552
The blades in the 6550 and the 6552 are unsurprisingly similar in construction, but each blade will differ in length depending on the cutting width it supports. However, the main difference between the two models is the number of blades. The 6550 has a 2-blade system, while the 6552 has a 3-blade system. Apart from giving you a smoother finish, the three blades will save you money because you won't have to replace them as often as you would with the 2-blade system.
Material
Edge: WEN 6550
Although the material of the table does not affect the performance of the thickness planner, it determines other factors such as weight, maintenance, and durability. The WEN 6550 features a graphite construction that is smooth, non-marrying, and easier to clean. But what makes graphite stand out is its durability. The material won't wear out over the years and don't be surprised when the table outlives the machine. On the other hand, the WEN 6552 features a cast iron table with a slick coating. Although long-lasting, the material tends to wear out over time and is prone to bending.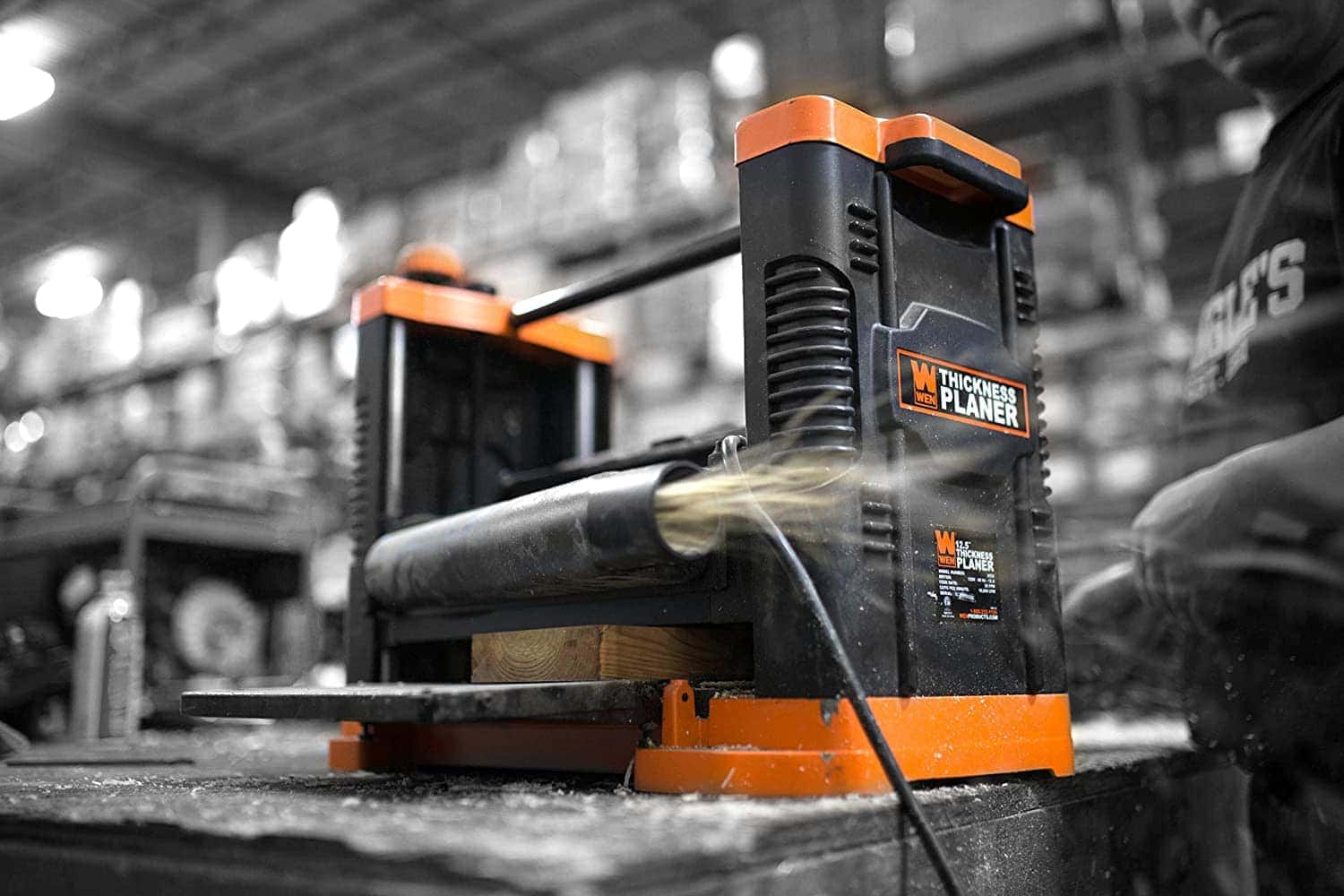 Price
Edge: WEN 6550
Although the thickness planners are from the same brand, they differ in price, albeit slightly. The WEN 6550 costs a little bit less than the WEN 6552, making it a favorable option when you're on a budget.
Weight
Edge: WEN 6552
The graphite construction on the WEN 6550 makes the unit heavier and studier and reduces vibrations that interfere with the cutting process. However, all that weight will strain your back and your truck's bed when you're moving it from one place to another. The cast iron table on the WEN 6552 makes the planer lighter and easier to move around. But you may need to mount the unit on your workbench to reduce vibrations.
What the Users Say
We kept our ears to the ground to find out what other users have to say about these two products. So after scouring through reviews and visiting several forums and discussion boards, we found that users had different things to say.
Most users agreed that both of these thickness planners provide good value for the money when compared to other models in the same price range. Some users complained about the boards sniping at the beginning and end. But most agreed that the sniping was minimal and expected. Besides, all thickness planners have snipe, and a little sanding will fix the issue.
Although some users felt the graphite construction made the WEN 6550 heavier than the 6552, they agreed it was a small price to pay for the benefits that come with a graphite table. Moreover, the extra weight makes the planner more stable and keeps larger boards from tipping.
Overall, users were satisfied with the build quality of the planners, but some people complained that the rollers on the WEN 6552 stopped working, while others said the WEN 6550 broke after a few days. And although their customer support is reachable via phone, they are very slow to respond to issues raised by users.
Other Benchtop Products We've Reviewed

Conclusion
Both thickness planners feature a high-quality build and produce a smooth surface finish. You are also not likely to find better tools at that price point. The WEN 6552 has a slightly higher stock capacity. With three blades compared to two in the Wen 6550, it also gives you a much smoother finish. The 6550 model is a better choice if you're on a budget. Its granite table won't warp and will last longer than the cast iron on the WEN 6552. Although the models have near-identical features, the WEN 6552 is the better of the two. It might cost you a little bit more, but it will give you a smoother finish and includes more rollers for better stock return.