5 Best Benchtop Band Saws – Small Bandsaws Reviewed in 2023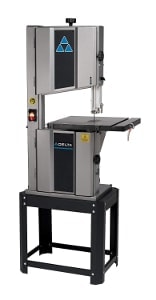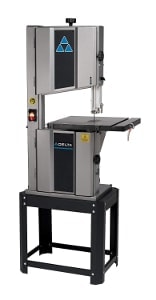 Do you really need a band saw?
You might think your workshop is complete without one, but then you struggle to cut the same graceful curves that your buddies can. Maybe your jigsaw is gathering dust under your workbench because you just can't get the shapes you want.
If the paragraph above describes you, a band saw is exactly what you need. Band saws aren't just good for cutting wood into irregular shapes – they're also excellent for sawing plastic and metal, thinning boards into slats, and any task that requires an exceptionally smooth cut.
Even after you decide to make the leap, buying your first band saw isn't easy. Every woodworker has their own opinion about what's most important to look for (shocker, we know). In these reviews, we help you cut through that noise, and pick out some band saws that truly are the best.
Read on to equip your shop with a powerful new tool. You can thank us after you've gotten that S-curve just right.
---
A Quick Look at our Favorites in 2023
Rating
Image
Product
Details

Best Overall

Grizzly G0555HX Deluxe Benchtop Band Saw

Next-level performance
Powerful 1-HP motor
Sturdy
CHECK PRICE

Best Value

Delta 28-400 14″ Bench Top Band Saw

Powerful motor
Well-built steel frame
Large
durable table
CHECK PRICE

Rikon 10-305 Bench Band Saw

Best for-dollar value
Smaller footprint
Can knock out most jobs
CHECK PRICE

WEN 3962 Small Benchtop Bandsaw

Budget-friendly
Two speeds
Awesome at cutting thin pieces
CHECK PRICE

KAKA Industrial Horizontal Benchtop BandSaw

Workhorse
Cuts all materials
Robust yet portable
CHECK PRICE
The 5 Best Benchtop Band Saws
1.

Grizzly G0555HX Deluxe Benchtop Band Saw – Best Overall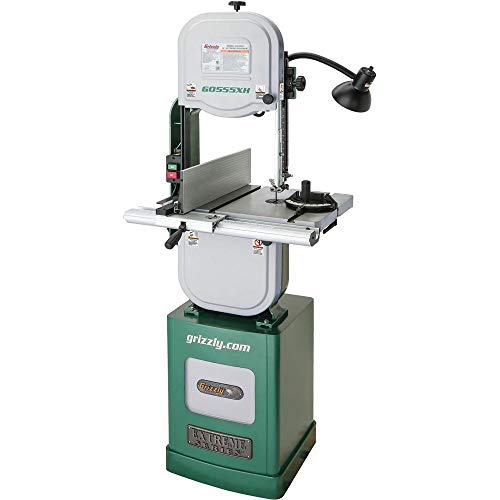 Rather than just tell you the Grizzly G0555XH is our absolute favorite benchtop bandsaw currently on the market, we thought we'd give you some evidence instead. We resawed a 10-inch oak plank into two planks of equal thickness, then measured the thickness at the top and bottom. The difference? About a hundredth of an inch.
With a 1.75-HP motor, this band saw makes almost any sheet of wood, plastic, or metal feel soft. We've taken to using it for cuts we'd ordinarily go to our table saw for – it's that good. On top of all that, despite our best efforts, we can't seem to break it. It never complains, never bogs down, and the base never rattles. What more could you want?
We really had to go deep searching for things to complain about, but if there's any caveat at all with this saw, it's that it's hard to stop. Without a quick brake, the blade tends to keep running for several seconds after you switch it off. We also recommend swapping out the factory-installed blade for heavier-duty work like log ripping.
All in all, we think that this is the best benchtop bandsaw of the year.
Pros
Next-level performance
Powerful 1 hp motor
Sturdy
Resaws like a dream
---
2.

Delta 28-400 14″ Bench Top Band Saw – Best Value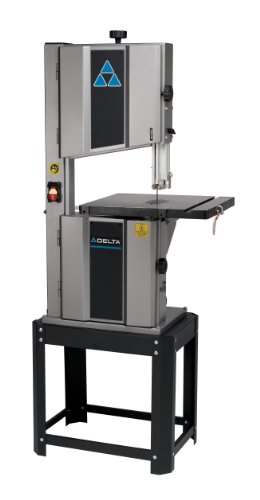 If your eyes bugged out with dollar signs at our #1 pick, never fear: we understand how many of you are looking for the best band saw for the money. Good thing the Delta 28-400 makes that search so easy. It's a powerful 1 HP saw with a solid table and a practically indestructible steel frame.
In order to make a cheaper unit, Delta has laser-focused on this saw's core function, and left out a lot of extras: there's no rack and pinion adjustment for the blade guides, for example, and no fence or miter. However, for those of you who prefer to add your own attachments, this might actually be a feature rather than a flaw. And did we mention the significantly lower price?
We do have a few problems that keep the 28-400 out of the #1 spot. While miter attachments are easy to buy, blade guide adjustment systems aren't, and not everybody is a fan of jury-rigging machine parts – some of us just want to get to work already. The lower guide, in particular, is a pain to reach whenever you change blades.
Pros
Powerful motor
Well-built steel frame
Large, durable table
Affordable
Cons
Blades and blade speeds are a nuisance to change
Very few extra features
---
3.

Rikon 10-305 Bench Band Saw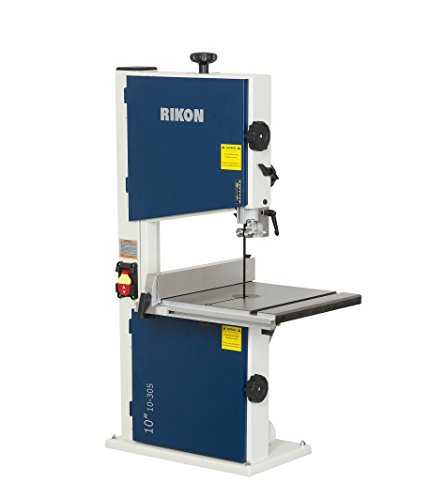 The Rikon 10-305 is our other pick for the best bandsaw for the money. If you're on an especially tight budget, you can still afford to equip your shop with a bit of extra cutting power. It's also a great option if you're looking for something that won't take up as much space.
Indeed, a 1/3-HP motor isn't as strong as some carpenters want or need, but the 10-305 makes up for it with a large cast-iron work table, a micro-adjustable blade guide, and a fine steel body. Rikon also throws in clear instructions and an efficient dust port, and they make it easy to change blades out quickly.
You knew we were going to have some reservations, though, and here they are. The Rikon 10-305 doesn't come with its own stand, so you're on your own for fitting it into your shop. The included blade is also next to useless, and you'll notice the underpowered engine. This saw is strictly for hobbyists – we don't recommend it for anyone cutting lumber on a professional scale.
Pros
Best for-dollar value
Smaller footprint
Can knock out most jobs
Cons
Less powerful
Limited scope
---
4.

WEN 3962 Small Benchtop Bandsaw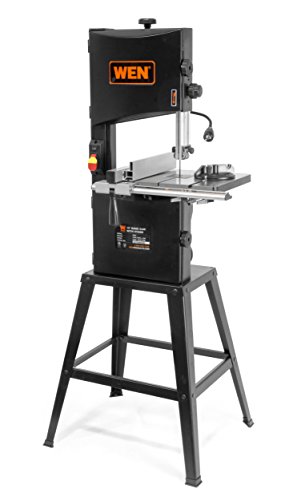 The Wen 3962 is another budget-friendly Chinese-made bandsaw. It's available in 9, 10, or 14 inches, but we've got the most experience with the 10-inch size, so it's the one that makes the list. This saw comes with some extras that really improve the luxury of using it: a work light, a sturdy optional stand, and speeds of either 1520 or 2620 feet per minute.
The saw itself checks all the boxes. It's heavy, runs quietly, and barely deviates at all down the length of an 8-foot board. We've got no complaints about the calibration, the table, or the adjustable fence. Like the Rikon model at #3, this is a saw for DIYers and hobbyists instead of professionals, but that's not necessarily a knock against it.
A few things are knocks against it, though. The instructions don't match up at all with what's in the box, so you'll need some mechanical savvy or help from someone who does. Running on the faster speed causes the belt to rub up against the motor's mounting bolt, and the miter gauge is so shaky you're better off not bothering.
Pros
Budget-friendly
Included extras work great, especially stand and light
Two speeds
Awesome at cutting thin pieces
Cons
Cheap miter gauge
Mechanical flaws with faster speed
Bad setup instructions
---
5.

KAKA Industrial Horizontal Benchtop BandSaw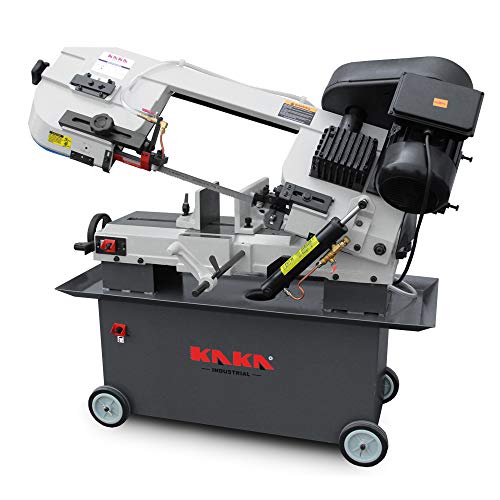 Here's a curveball to keep the list diverse: a horizontal bandsaw from KAKA Industrial that's adept at cutting metal, suitable for industrial use, and sells for a premium price. It's also up for debate whether this is a "benchtop" saw since it sits on a wheeled stand. We decided to include it because it's small and relatively portable, like the other saws on this list.
There's a learning curve for using a horizontal bandsaw, even for those who've used vertical bandsaws before. Once you set it up and learn how to use it, though, KAKA's saw opens up a world of precision and possibility. It makes perfectly straight cuts in wood and metal, and its pan is equally adept at catching sawdust and coolant.
The "industrial" in the name isn't just talk: if you maintain it properly, this saw can easily handle heavy use. It's not off-limits to hobbyists, either.
Other than the high price, flaws to beware of include the wheels on the stand, which are cheaply made and can make the system unstable. We suggest locking them, replacing them, or just taking them off. The roller skate bearings on the blade guide also have a nasty habit of breaking — replacing these is also a good idea.
Pros
Handles a professional amount of work
Equally good at cutting all materials
Robust yet portable
Cons
High price
Wheels are shoddy and often break
Blade guide bearings don't hold up
---
Buyer's Guide – Choosing the Best Benchtop Band Saw
We just named a few of our favorite benchtop band saws, and for some of you out there, that's enough. Others of you might want to know a bit more about why we chose these five over all the rest on the market. It's fantastic that you're interested in going a bit further — asking "why" is one of the ways to become a true expert.
Ask the Important Questions
That's what this buyer's guide is for. We'll walk you through the six most important questions to ask when buying a benchtop bandsaw (or any other saw). They are:
Will this saw help me with my project?
How much power does this saw's motor have?
Can it cut materials other than wood?
How much waste will it leave?
How easy is it to set up?
How much does it cost?
Your project needs
Like we mentioned above, band saws have a few purposes. They were first put to use in sawmills for resawing planks into thinner boards, which is where they developed their trademark precision. Later, artisans discovered that they were ideal for making irregular cuts. They've also always been a favorite of carpenters looking to cut down on sawdust.
You can't make the right purchase if you don't know what you need your new band saw for. For example, if you're stripping logs, we don't recommend using the Rikon 10-305 or the Wen 3962. On the other end of the spectrum, if you're just making a quilt rack, springing for the Grizzly G0555XH will be a major waste of money.
Power
Band saws measure their motors in horsepower. 1 HP is good, 2 HP is excellent, and anything above 0.5 HP will get the job done. Keep in mind that more isn't always better.
Lower vs Higher HP
Uses of lower horsepower:
You're working with soft wood
You're making smaller cuts
You don't want to pay for a bigger motor
Uses of higher horsepower:
You're cutting purple heart or oak
You have long boards to resaw into thinner planks
Not just wood
With their close-set teeth and high degree of control, bandsaws are a popular choice for shaping materials other than wood. If you've been considering a project that would involve plastic, sheet metal, plaster, cork, or another unusual base, it might be time to spring for a band saw.
Sawdust and waste
Band saws apply maximum cutting potential to a narrow space. They're used by carpenters who want to save wood while creating as little sawdust as possible. Here are some tips for getting a band saw that doesn't leave too much waste:
Check on the dust port. Does it work? How efficient is it?
Read as many reviews as you can. If dust is an issue, other buyers will have pointed it out.
Be prepared to change the saw blade. Many band saws, including several on this list, come with factory blades that don't unlock their full efficiency and power. Good thing changing out a blade is usually easy to do.
Weight
The primary difference between a band saw and a jigsaw is that the jigsaw is portable, whereas the band saw is fixed to one location. If you do most of your work outside your home shop, we suggest a jigsaw instead.
Even if you do tackle your projects at home, it's important to consider weight and simplicity when buying a bandsaw. Some of the best units, like the Grizzly G0555XH that tops our list, are very heavy. Weight is nice if you're trying to hold the saw steady while cutting out a pattern — but it's not so great the day you have to move it inside.
Ease of Setup
If we have a #1 rule of buying saws, it's this: you don't always need the most saw you can get. It came up with horsepower, and it's coming up again now. You're not less of a woodworker if you buy a lighter saw so you can carry it to your basement.
Setup is a bit different since being hard to install doesn't correlate as strongly with power as weight does. Any size of band saw can be built well and come with good instructions.
That said, some beginners will buy a saw with a huge amount of adjustment options they don't actually need. This is why knowing what you want to do is so important: you don't need three speeds to build a cutting board, any more than you need a graphing calculator to do arithmetic.
Price
If you automatically buy the cheapest band saw you can find, you won't always save money. Ever hear the fable about the poor man who pays more for boots than the rich man, because he has to buy a new pair every year while the rich man's boots hold up for five? Power tools are like that. A cheap band saw might cost you so much in repairs and necessary add-ons that you eventually eat the savings. That's why the Grizzly G0555XH edged out the Delta 28-400 for the top spot. The Delta performed almost as well as the Grizzly, but it didn't arrive as a complete package.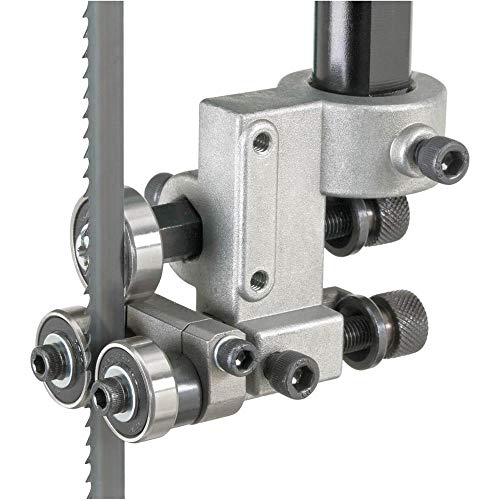 ---
Conclusion:
The Grizzly G0555XH was a clear outlier in our tests. It's powerful, steady, and cuts a swath through any wood you care to use. It was an easy choice as the best benchtop band saw.
However, the Delta 28-400 is nothing to scoff at either. It's cheap, compact, and strong. Our only complaint is that it isn't very versatile – unlike the Grizzly G0555XH, you have to add accessories and features to make it complete.
We hope these reviews have given you the tools you need to start on the search for one of the best woodworking tools you'll ever buy. Good luck shopping, and we'll see you in the workshop!