WEN 6552 Planer Review 2023 – Pros, Cons, & Verdict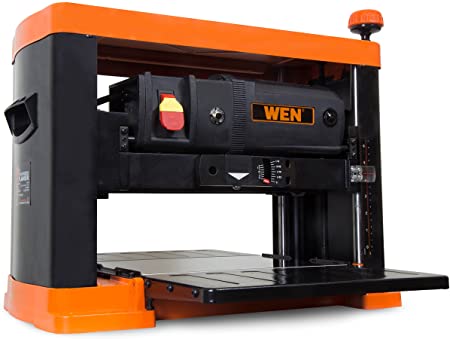 We give the WEN 6552 Planer a rating of 4.8 out of 5 stars. 
Build Quality: 4.3/5
Power: 4.5/5
Features: 4.8/5
Price: 4.5/5
Review Summary
If you're trying to reclaim old boards, you need a quality planer that can quickly and easily refinish your board's faces, making them look and function like they're new. There are many such devices on the market, but one that we like and trust is the WEN 6552 planer.
This tool is perfect for the hobbyist and even the professional who doesn't rely on a planer daily. It's got some great features like a 3-blade cutting design that produces 25,500 cuts per minute for an incredibly smooth finish that you won't have to sand, saving you time on each board.
The tri-roller system reduces snipe, though you'll still get a bit at the start and end of boards. Reversible blades can be flipped to extend their usable life. A 2-year warranty tops it all off and provides peace of mind.
It's probably not the best choice for a professional cabinet maker, but for the average woodworker, the WEN 6552 offers an affordable alternative to more expensive machines that have similar capabilities.
WEN 6552 Planer – A Quick Look
Pros
Fan-assisted dust port
The 3-blade design makes easy work of hardwoods
Creates a smooth finish with 25,500 cuts per minute
2-year warranty for peace of mind
Tri-roller feeding system
Reversible blades
Cons
There's some snipe at the start and finish
Internal fasteners might come loose
Specifications
Specifications
Brand Name: WEN
Model: 6552T
Blades: 3
Motor: 15-amp
Cuts Per Minute: 25,500
Feed Rate: 26 feet per minute
Maximum Board Width: 13"
Maximum Board Thickness: 6"
Maximum Cutting Depth: 3/32"
Warranty: 2 years
Weight: 66 pounds
Stable Base with Mounting Holes
When you're pushing wood through a planer, you don't want it moving all over the place. Moreover, you want to avoid excessive vibration and rattling that can affect the finish of your board.
Thankfully, the WEN 6552 comes with a heavy-duty base that keeps it completely stable, even while you're pushing boards through. But if you find you need even more stability, then you can easily mount it to a stand or table using the mounting holes that are pre-drilled into the base.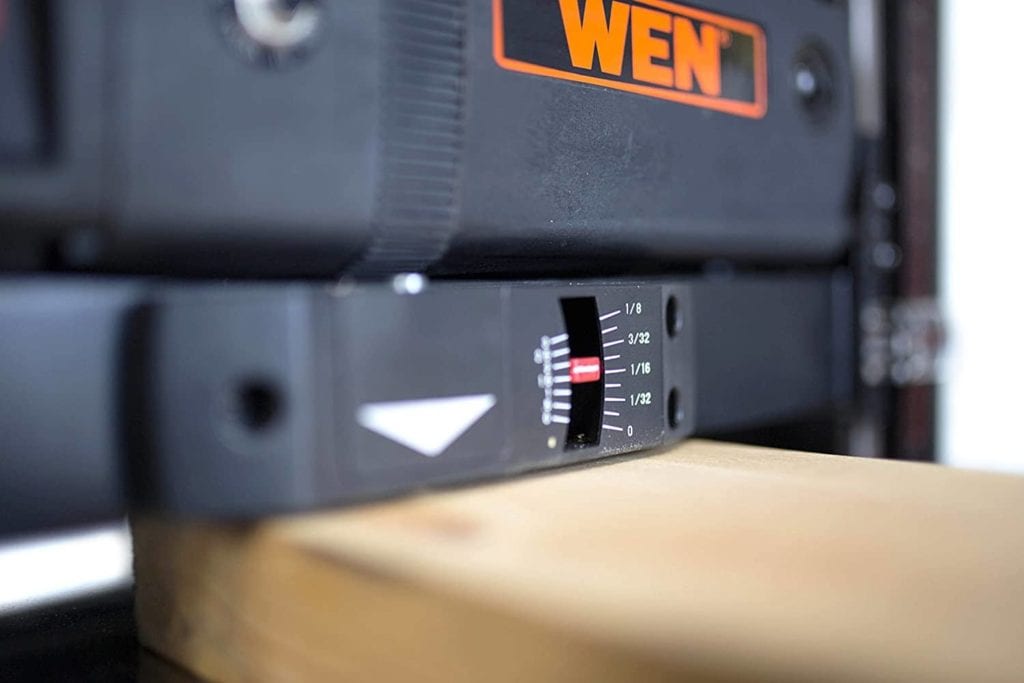 Three Blades for a Fine Finish
The more blades your planer has, the finer the finish it creates on the boards you process. While many planers use just 2 blades, the WEN 6552 goes a step further by implementing 3 blades. This is a feature usually found on much pricier planers, helping WEN to punch above the price point that this planer sits at.
Thanks to the 3 blades on the 6552, this planer can achieve 25,500 cuts per minute for an incredibly smooth finish that won't require sanding after passing through the planer.
Recent Improvements
The WEN 6552 recently underwent some improvements, and the current iteration of this planer has fixed some of the common problems from older models. Some of the problems involved seized bearings and motors burning up. While these are still possible occurrences, WEN has taken note and made efforts to fix these problems on the latest model.
There's Still a Bit of Snipe
The WEN 6552 is not a high-end machine. This device is a consumer-level product that's priced affordably for the average hobbyist, though it's built well enough to hold up through some professional use as well. But you'll notice when using this machine that there's still a bit of snipe at the start and sometimes the end of your boards.
Granted, even some of the most expensive planers you can buy still produce a bit of snipe. Comparatively, the WEN 6552 does a really good job and the snipe is minimal. But it's still there.
Screws Tend to Come Loose
We didn't have any major problems with our WEN 6552, but we found through our research that most of the problems users tend to have with this machine are related to parts coming loose. After years of experience, we tend to regularly check how tight all the screws and fittings on our tools are, so that might be why we never had a problem. Still, it wouldn't hurt to do the same with the 6552 since screws have been known to come loose and create some catastrophic failures.

FAQ
Does this planer plug into a standard 110V outlet?
Yes, the WEN 6552 uses standard 110V electricity and plugs in with a regular three-prong plug.
How long is the outfeed table?
The outfeed table is 9.5 inches long.
Does this planer have a granite table like the WEN 6550 planer?
No. This planer has a metal table instead. It's still very smooth and both sides fold out of the way for storage.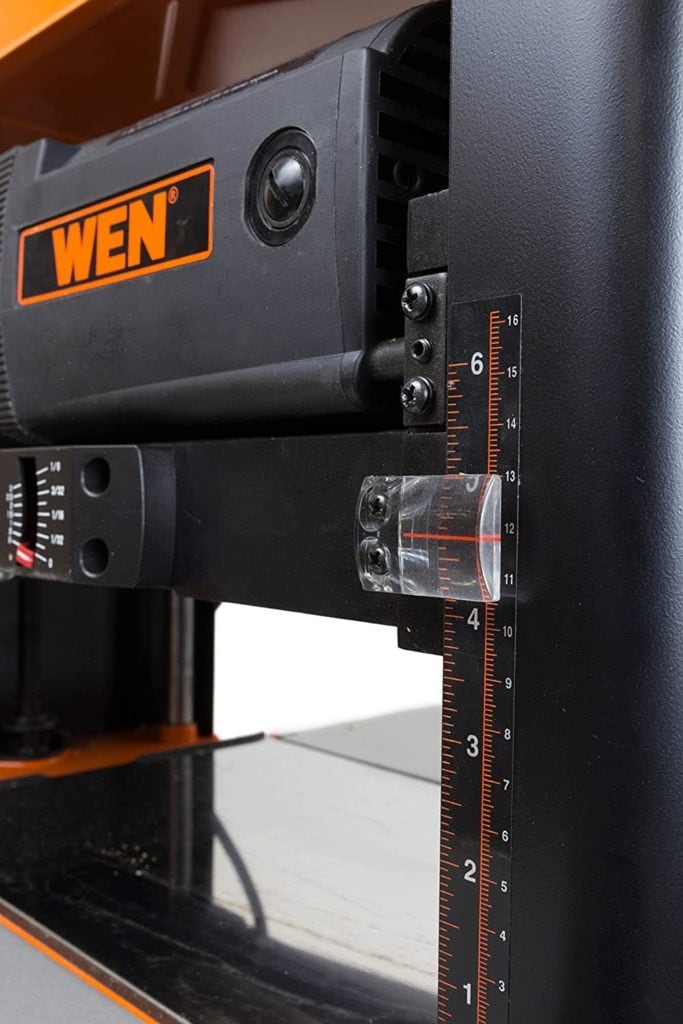 What the Users Say
After thoroughly testing this device, we're confident in our opinions regarding the WEN 6552. However, we wanted to make sure we're bringing you the whole story. So, we searched through reviews and forums to find out what other real-word users of this machine thought about it.
Overall, a majority of users were pleased with the functionality of the WEN 6552. Many users were pleased with the fine finish it creates and there were plenty of people that had used it to great success on multiple hardwoods. There also seemed to be a common sentiment that the blades last quite a while, even when working with hardwoods.
Most users noted that the snipe created by this machine is minimal. It's still there and most reported it was easy to sand out, though many compared the sniping of this machine favorably to other planers that cost considerably more.
People seemed less thrilled with WEN's quality control. There were a large number of people reporting receiving a planer with broken parts that needed replacement. Most said that WEN customer service was helpful and fast getting them replacement parts, so at least you can count on the manufacturer to take care of their products.
Lots of people seemed pleased with how easy this machine is to use. Even users claiming to be new to woodworking said they were able to get to work with this planer in just a few minutes, creating clean boards with a beautiful finish.
Customers who didn't get a unit with any quality assurance issues were happy with its overall durability. Most said they heard no rattling or loose parts. But for the people that had problems, loose screws and other parts coming loose often seemed to be the culprit. But most people who had to deal with WEN customer service seemed pleased about their interactions.
Other Planers We've Reviewed

Conclusion
Overall, this is a great planer for just about any woodworker who's not relying on it for daily professional use. You'll get a great finish on your boards and you won't have to go broke purchasing this planer. It's priced much lower than the most similar offerings from competitors. But it performs well above its price, and it's a tool that we'd recommend if you're in the market for a planer.