What Flooring Is Best for a Basement? 7 Ideal Options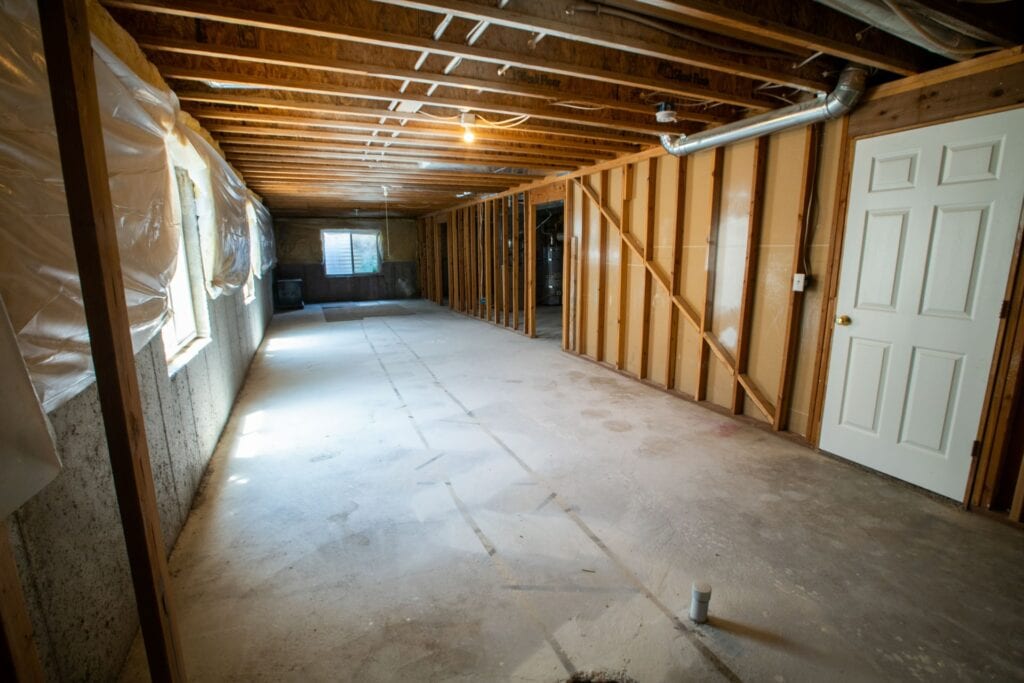 While it's always advantageous to carefully plan your flooring installation, it's especially essential when it comes to choosing basement flooring. Why? Because floors need to be able to withstand a lot, and they're also more susceptible to moisture and flooding from nearby appliances and plumbing.
So, whether you plan to use your basement for recreational purposes, storage space, or make it a fully furnished living space, it's important to choose the right flooring to ensure its longevity.
In this article, we're going to cover the various flooring options available for basements to help you decide which one may work best for your home.

The 7 Ideal Flooring Options for Basements
1.

Simple Concrete Slab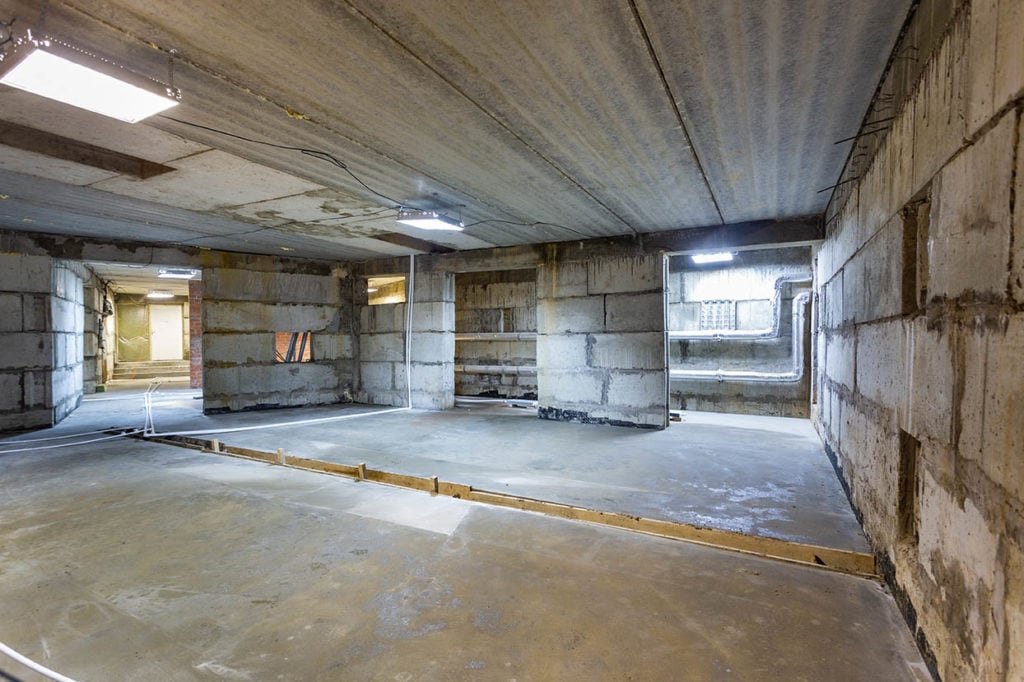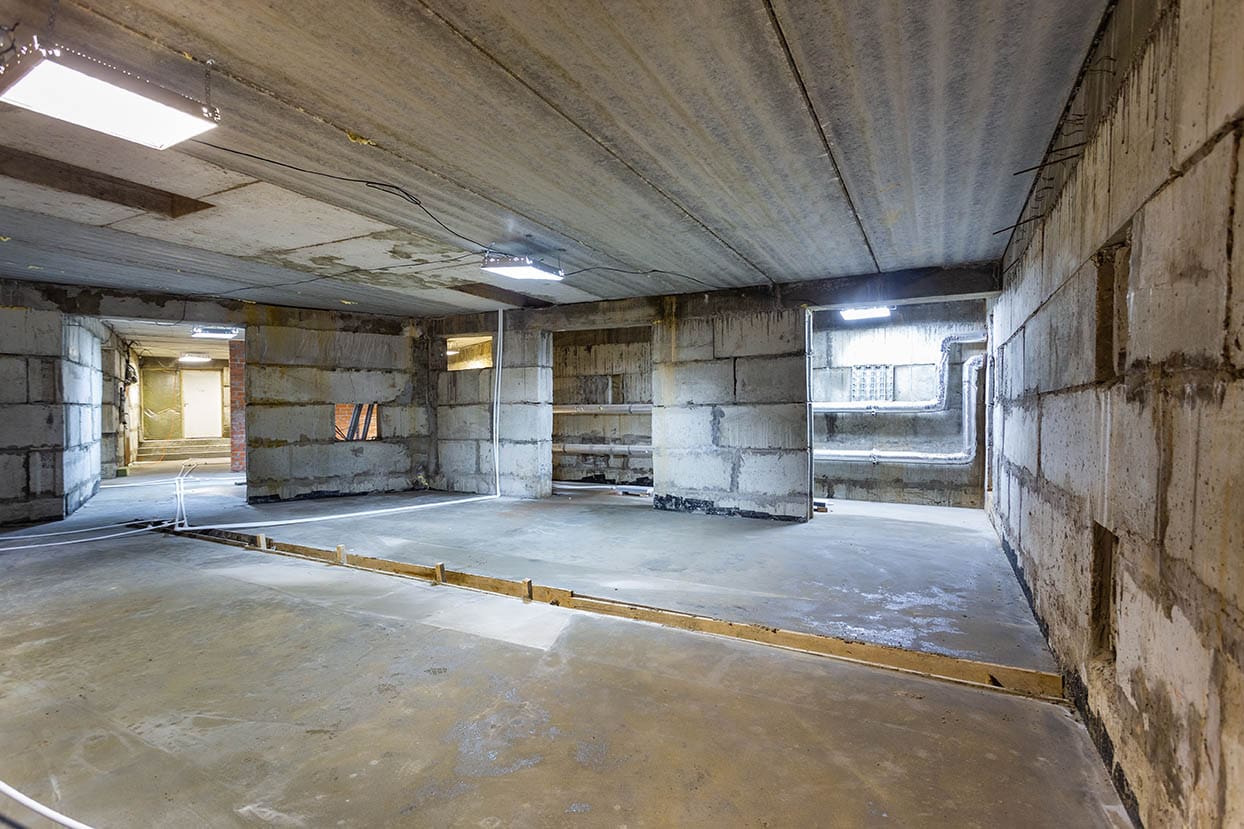 | | |
| --- | --- |
| Material Pricing: | Affordable |
| Installation Difficulty: |  Moderate |
Concrete is the default material for many basement floors. It's cheap to install (especially if you do it yourself) and it's easy to maintain. You can also use paint and epoxy to make designs and create the appearance of slate, tile, or marble.
Concrete has a long lifespan and is ideal for storage basements where floor damage may be common. To make the slab a bit safer, you can add a few non-slip mats to the entrance or high-traffic areas.
---
2.

Ceramic Tile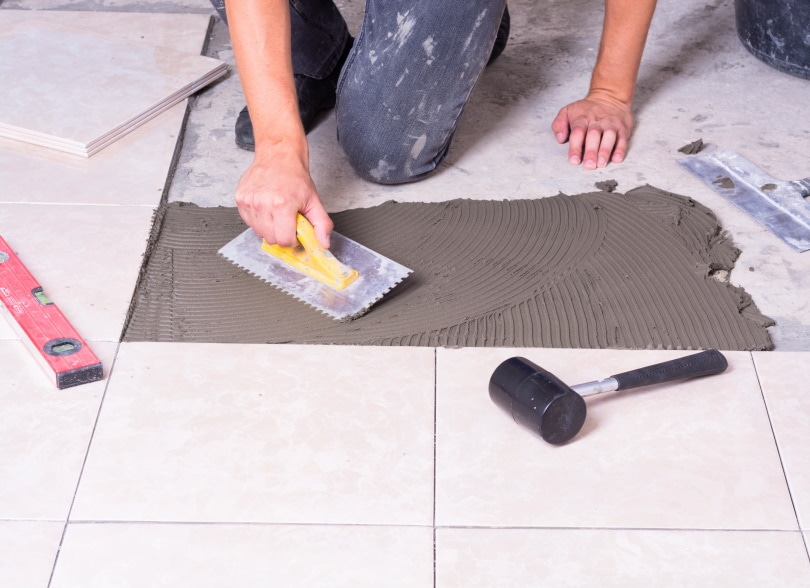 | | |
| --- | --- |
| Material Pricing: | Moderate but can get pricey |
| Installation Difficulty: | Low |
Tile is very easy to maintain and can be easily installed in any type of basement setup. Also, there are so many styles, textures, and colors available to choose from — not to mention it's an affordable flooring option.
But although tiles are stain-resistant and durable, grout can fade over time — just something to keep in mind if the basement isn't finished. On the downside, tile doesn't retain heat well at all, and it can be uncomfortable to walk on without shoes.
---
3.

Vinyl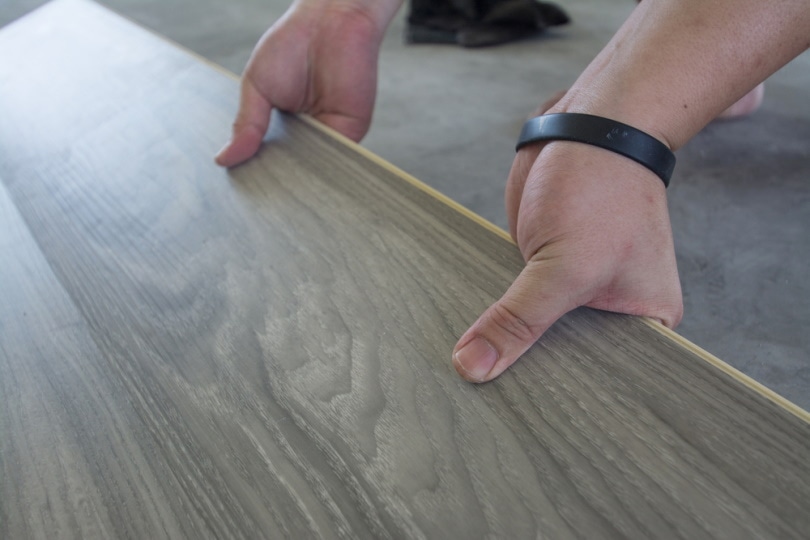 | | |
| --- | --- |
| Material Pricing: | Affordable |
| Installation Difficulty: | Low |
You'll find that vinyl flooring tiles offer the same variety, durability, and versatility as ceramic tile in many cases, but at a lower cost and easier installation. Vinyl is available in rolls of anywhere from 5-12 feet. You can also purchase self-adhering tiles for easy installation.
Vinyl flooring can be placed over concrete slabs, provided that the floor is clean and smooth enough to lay them flat. It's a great choice for basement flooring because it is waterproof, durable, and maintenance-free.
---
4.

Linoleum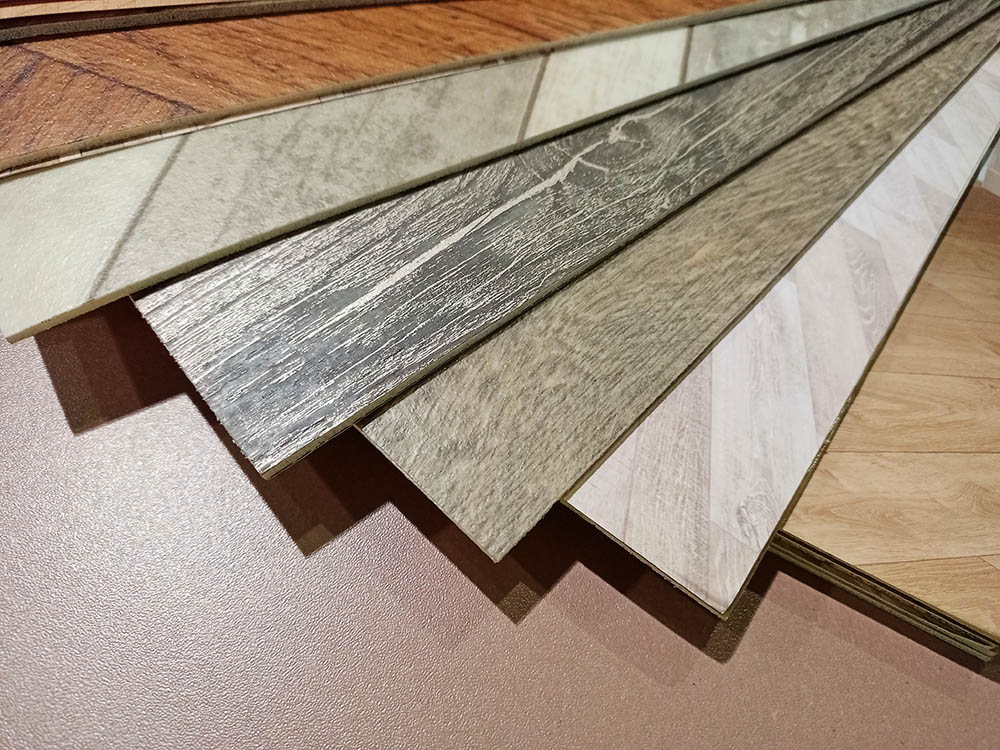 | | |
| --- | --- |
| Material Pricing: | Affordable, but high-quality tiles can get pricey |
| Installation Difficulty: | Low |
Linoleum is popular because of its durability, versatility, ease of use, and environmental friendliness. It's also inexpensive and pretty easy to install. It's made of natural ingredients such as tree resin, linseed, and wood.
Linoleum floors have a durable coating and are ideal for high-traffic areas and rooms. Linoleum floors come in a variety of colors and styles and can be customized for a wide range of designs. They aren't good with moisture though, so if your basement has humidity problems or isn't finished, linoleum wouldn't be ideal.
---
5.

Cork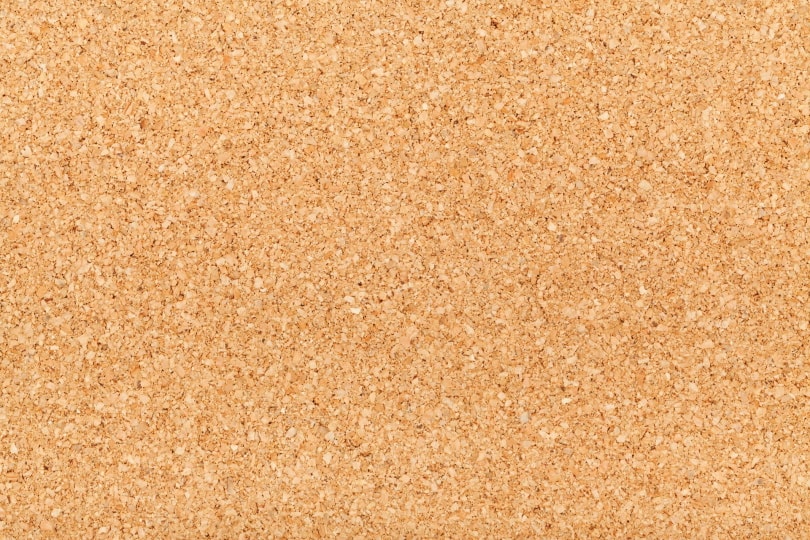 | | |
| --- | --- |
| Material Pricing: | Expensive |
| Installation Difficulty: | Low |
Cork is a natural material, which comes from the Quercus suber tree (native to Spain and Africa). Its biggest advantage is that it's resistant to mildew, mold, and rot. Cork is also insulative and easy to maintain and clean.
On top of that, cork is sustainable and eco-friendly, making it an ideal choice for green-conscious homeowners. You can install it in your basement yourself and to protect it from scratches, you can apply an acrylic finish. Cork is bouncy to walk on and great for recreational rooms.
---
6.

Wood Flooring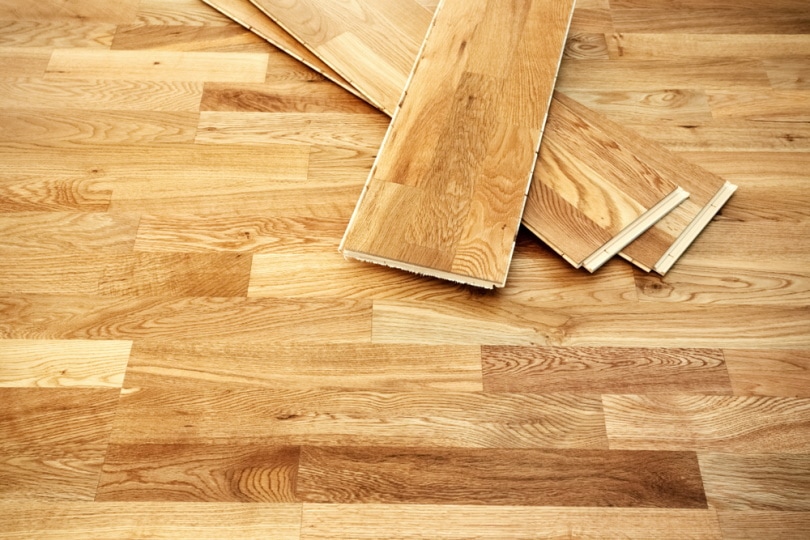 | | |
| --- | --- |
| Material Pricing: | Varies depending on type of wood or wood option |
| Installation Difficulty: | Moderate |
Solid Hardwood Flooring
Solid hardwood flooring is beautiful and feels great under your feet. It's durable and can bring character to a room. But when it comes to basement installation it may not be the best wood option. This flooring is more expensive than other options and has a lower resistance to humidity–which can spell disaster if your basement floods or has leaks.
Laminate Flooring
Laminate flooring could be the right choice for your basement, as it's durable, aesthetically pleasing, and fairly easy to lay down. But what is laminate exactly? Laminate flooring is synthetic wood layered together to form a plank.
Laminate resembles real hardwood but comes without all the headaches and high maintenance requirements. It includes a fiberboard layer and a moisture-resistant layer. On the downside, laminate flooring is not waterproof and should not be exposed to humidity or water for extended periods of time. If it is, it'll swell and bubble, similar to hardwood floors.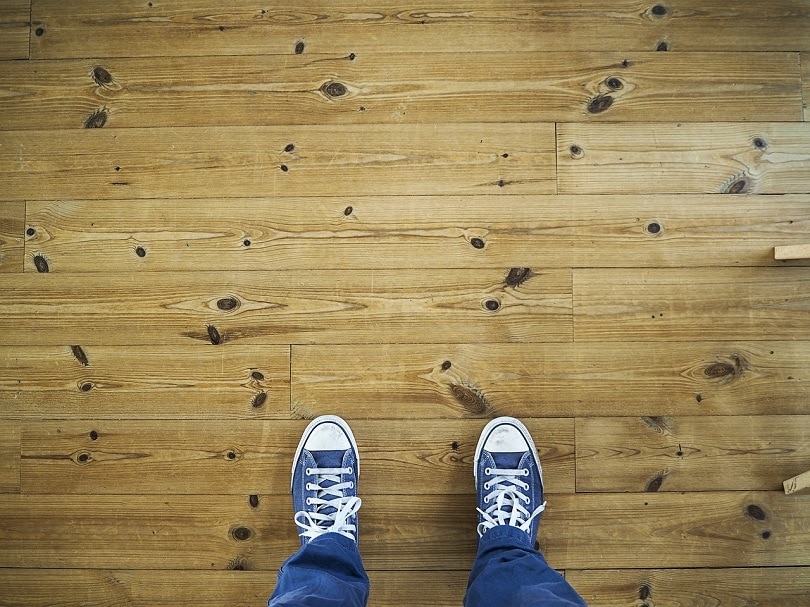 Engineered Hardwood Flooring
Engineered hardwood floors are another great wood flooring option. It's similar to laminate flooring but looks more realistic as the top layer is made of actual solid wood, unlike laminate which is made of synthetic wood. It's a great choice if your basement is dry and doesn't have any humidity-related issues (i.e., leaks, drafts, water pooling).
It's reasonably priced and can even add value to your home. If you love the look of maple, oak, or other hardwoods, engineered hardwood can be the next best thing. However, it's not as water-resistant as you may like — although it's still more resistant to water than solid hardwood flooring.
---
7.

Carpet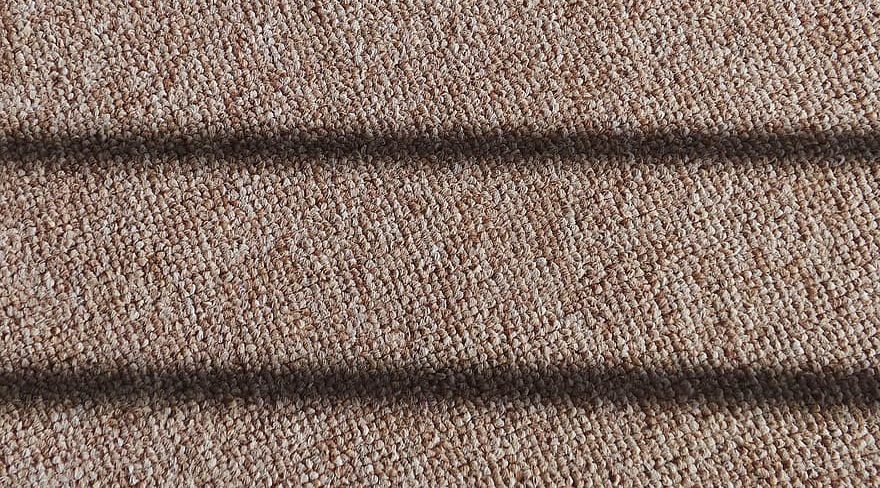 | | |
| --- | --- |
| Material Pricing: | Varies depending on type and brand |
| Installation Difficulty: | Low |
Carpet can be another flooring option for your basement, as it provides warmth and is comfortable to walk on. It comes in many textures, styles, colors, and patterns. It's also easy to install and doesn't take long to lay down.
Carpet may not be the go-to flooring option for most basements, but it is suitable for dry, finished basements that aren't prone to moisture or humidity issues. It's also worth noting that if your basement floods, the carpet will need to be removed and replaced. But if you have good waterproofing and effective humidity controls, carpeting can definitely work as a basement flooring option.
Things To Consider Before Deciding on Basement Flooring
Although we've covered the most popular basement flooring options, the ultimate decision rests on your specific decor style preferences and the current setup of your basement. Here are a few questions to ask yourself when considering the best option for your basement:
What is the primary purpose of the area you are covering? How will it be protected from moisture?
Is it going to be difficult to repair damaged furniture or items located in the basement?
Are the flooring materials and installation covered under warranty?
What is the flooring material's resistance to water in the event of flooding?
What basement flooring material is best for your family's health and the surrounding environment?
What flooring material is the most durable for its purpose (i.e., kids, dogs, recreational activities)
Wrapping Things Up
As you can see, there are several options available for the basement in your home. Some are highly recommended, and some may not be ideal because of moisture and flooding concerns.
So be sure to consider these factors in addition to your budget, durability, and maintenance before making a final decision. And don't forget that you can always save on installation costs by performing the work yourself!
---
Featured Image Credit: real-twin-photos, Unsplash