What is Engineered Hardwood & Is It Right for My Home?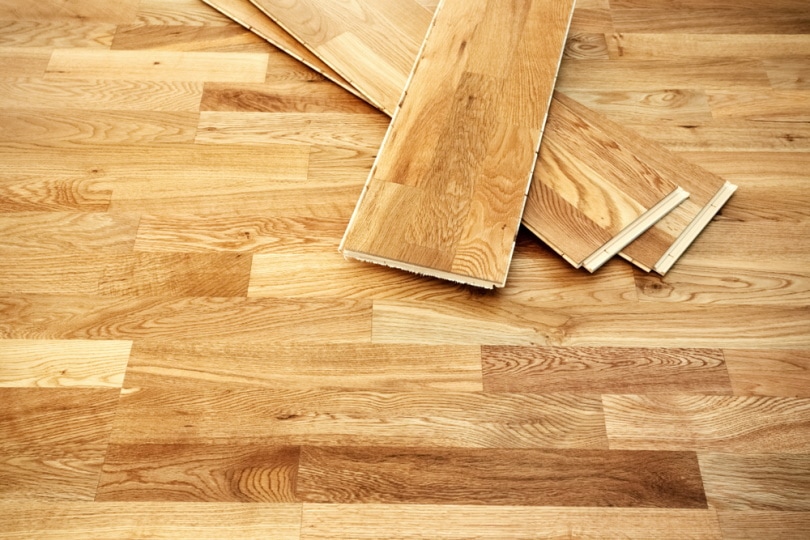 Engineered hardwood is a type of wood consisting of multiple layers—the top layer is hardwood or veneer, and the core layer is made of plywood. Unlike conventional, solid-wood planks, engineered hardwood planks have several layers, giving them many advantages. Under the surface layer of veneer, high-quality plywood makes the core layer, which offers the engineered hardwood much more stability. What's excellent about engineered hardwood flooring is that you can achieve the look of hardwood or solid wood floors in your home for a much lower price and a much easier installation process.
Even though engineered hardwood is different from regular hardwood, it has its benefits. In the article below, we'll discuss key advantages that will help you make the most informed decision.

What is Engineered Hardwood?
The way engineered hardwood is manufactured is what makes it so unique. It consists of 2–5 sheets of plywood, creating one plank. On top of the core layer, a layer of veneer or hardwood is added for aesthetics. By creating this type of construction, the engineered hardwood benefits in stability and is much less affected by moisture than regular hardwood.
Another great feature of engineered hardwood flooring is that you can mix the sizes of planks to create a unique design that matches your home perfectly.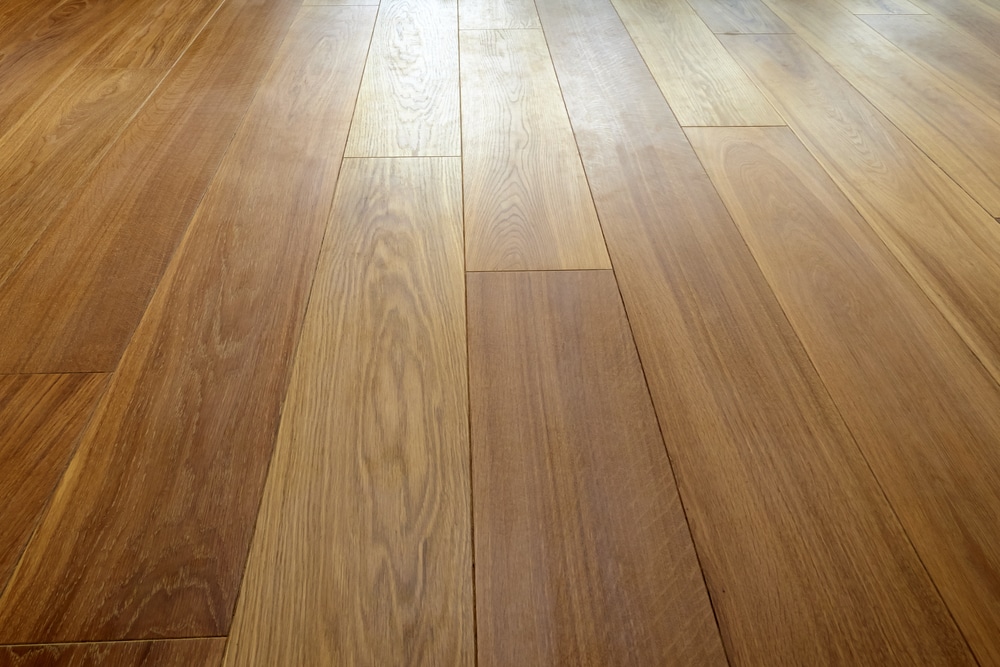 The Evolution of Engineered Hardwood
Engineered hardwood—as you can guess—derives from the long history and use of hardwood floors. Below, we will outline how it came to have such an important role in architecture, construction, and interior design.
Parquet floors became popular in the United States. They were primarily used in aristocratic dwellings. Still, they became more affordable for even ordinary people since they added them to elements such as accent designs and parquet borders. Floors were often made with heartwood that was tightly-grained, and planks that were left unfinished with no varnish. Since tools were limited, the flooring was usually made simply.
Mid-1800s. Attractive hardwood flooring was introduced. With the rise of the industrial revolution, the rough, unfinished hardwood floors of the past were now made with precise machinery.
Lab-made materials like linoleum, vinyl, and laminate flooring are rising. Lab-made materials brought more variations and flooring options, with trends changing drastically from year to year.
Engineered hardwood flooring was officially invented in the 60s. It was meant to replace solid hardwood flooring where hardwood was challenging to install. At this time, engineered hardwood served only one purpose: to cover basements and first floors of homes built on concrete slabs.
Engineered hardwood floors became one of the most popular flooring options of the 2000s. It was revered for its durability and sturdiness. The solid wood construction coupled with engineered layers of wood made this material durable and thus widespread. Engineered floors gained the trust of many homeowners with their moisture-resistant properties, making them perfect for installation in most areas of the house.
Engineered flooring is evolving and adapting to fit the desires of most homeowners. The design changes from bold and rich trends into a clean and natural style. Wide plank engineered flooring is the standard, with boards ranging from 6 to 7.5 inches wide. Instead of the old and rustic dark-colored flooring, the current trend in engineered hardwood is a light, white oak shade with a matte finish.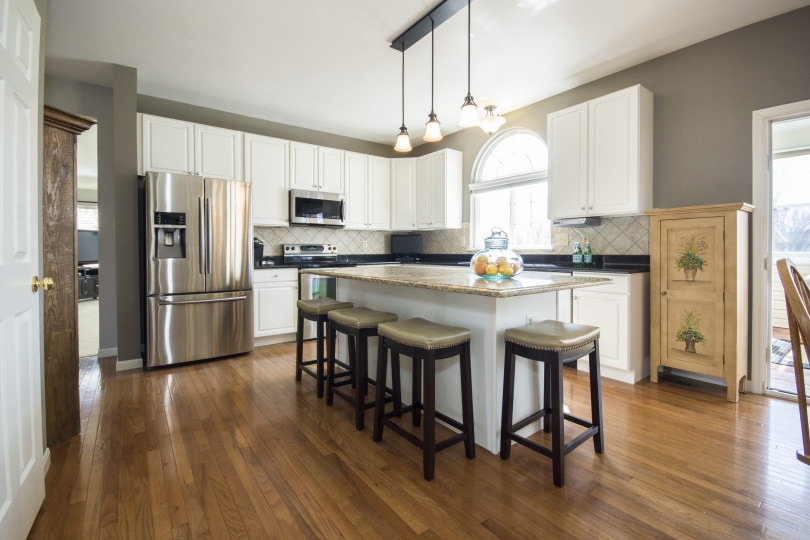 How to Install Engineered Hardwood Flooring in 4 Steps
1.

Allow the planks to adjust to your conditions
Since engineered hardwood is excellent at adjusting to various climates and conditions—such as moisture and heat—it will need some time to adapt to the conditions of your room perfectly. It would be best to leave it in the room for 24 hours to acclimate before you install it.
---
2.

Prep the subfloor
While you are waiting on your engineered hardwood planks to accommodate, it would be an excellent time to prepare your subfloor. Remove any baseboards, old nails, dirt, and debris, and line the subfloor with an underlayment. The underlayment will work great as additional support to prevent moisture build-up, reduce noise, and retain warmth.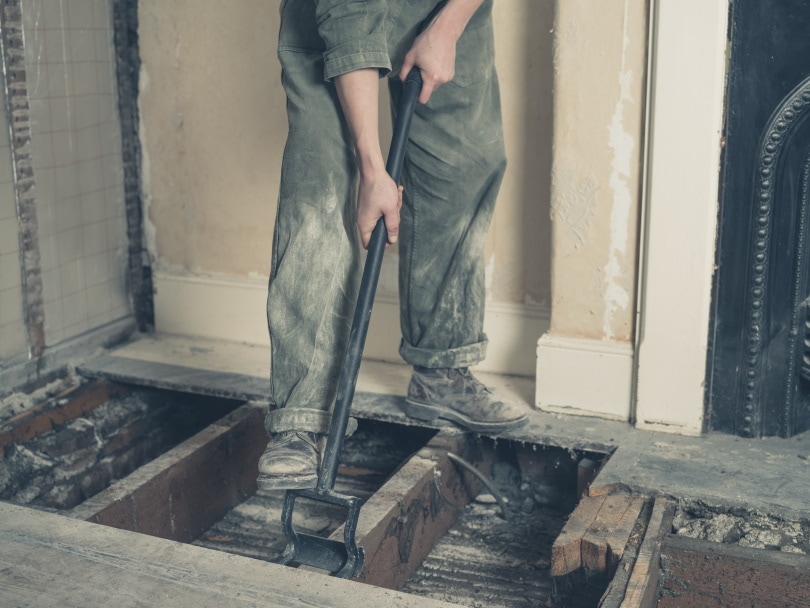 ---
3.

Cut the planks
Knowing how to cut the planks perfectly is crucial to avoid unnecessary extra work. Experience and skill are required for this stage, but it would always be good to call a professional to help if you are uncertain. Nevertheless, cutting these planks is very straightforward, and you would need to start by measuring and marking the cuts. You can use a table saw, hand saw, miter saw, or circular saw. Make sure to wear a mask since there will be a lot of dust filling the air.
---
4.

Choose a method of installing
There are many different methods you can follow to install engineered hardwood floors.
The floating floor
Nail-down
Staple-down
Glue-down
Each method is very effective, and you can choose one depending on your desires and needs.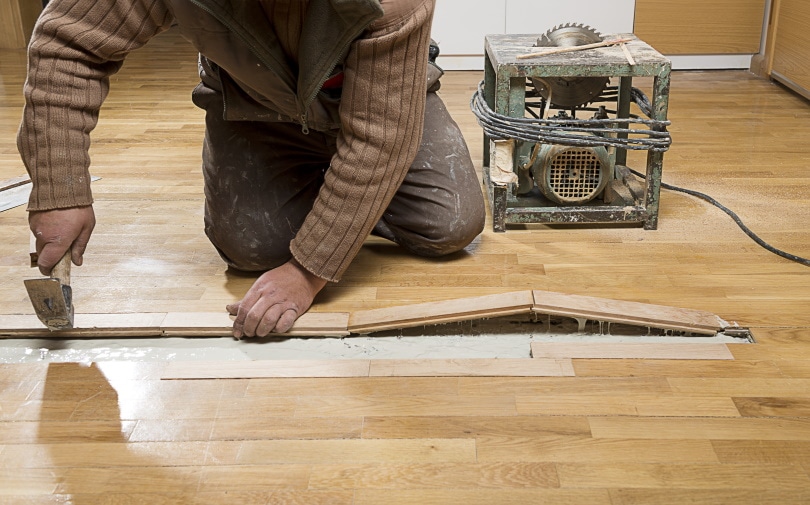 What are the Different Types of Engineered Hardwood?
There are many kinds of engineered hardwood, and each type has its advantages and drawbacks. Before you get into any construction work using engineered hardwood, it is essential to be aware of all the different options that you get to choose from:
Laminated Veneer Lumber (LVL)
Laminated Veneer Lumber is one of the most interesting engineered hardwood types. It is made by gluing together several thin pieces of hardwood. What is interesting about this engineered wood is that it is much stronger, straighter, and more durable than regular milled lumber due to the high-quality materials that go in the process of making it.
Laminated Strand Lumber (LSL)
Laminated Strand Lumber is a type of structural composite lumber made by grading and drying wood veneer, using strands of wood to layer them on top of each other, and gluing with a moisture-resistant adhesive. LSL comes in the form of blocks, commonly referred to as billets. Its primary use is for beams, door framing, wall studs, and headers.
Plywood
Plywood is the most commonly used engineered hardwood by many homeowners for various projects around the house. Plywood consists of several layers of wood strips, and it can contain from three to seven layers of wood strips. These layers are bound together with a particular adhesive that helps the plywood resist moisture, shrinking, or warping.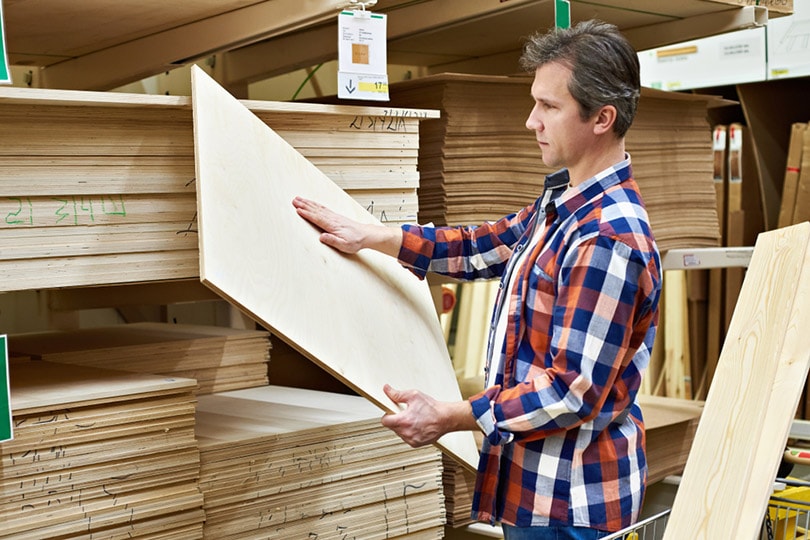 Oriented Strand Board (OSB)
Oriented Strand Boards are a type of engineered hardwood board made by breaking down scrap wood into wood chips mixed with a special adhesive and compressed into sheets. Oriented Strand Boards have a high level of strength and moisture resistance, but they have a rough, almost cheap appearance. Besides being used in home construction, OSB has many uses in furniture construction.
Medium-Density Fiberboard (MDF)
Medium-Density Fiberboards are made by collecting hardwood and softwood scraps and breaking them down into wood fiber. The wood fiber is then shredded into a special kind of sawdust, bound with resin and wax, and compressed into sheets of wood. This engineered hardwood has a low resistance to water and moisture and serves mainly as furniture, doors and door frames, decor, and flooring.
High-Density Fiberboard (HDF)
High-Density Fiberboard is almost identical to Medium-Density Fiberboard. They are made the same way, with the same process, the only difference being the quality of wood scraps and their density. Compared to MDF, High-Density Fiberboard is much more durable, substantial, and expensive. It is commonly used in structural applications because it can bear a lot of weight and make high-use furniture, backing panels, and flooring.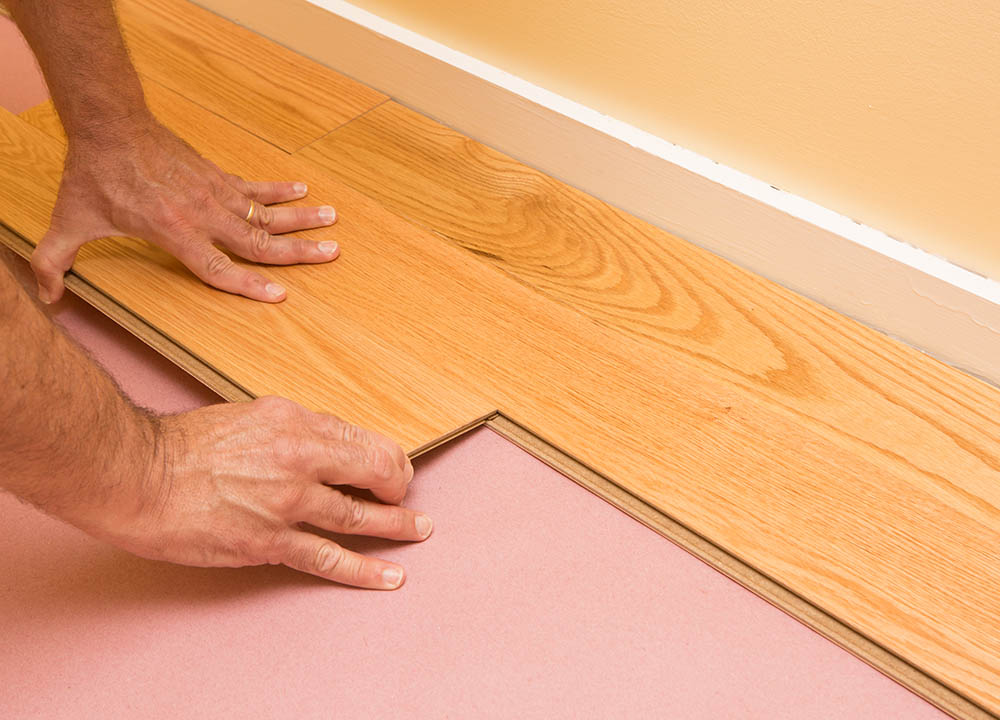 Where is Engineered Hardwood Used?
You can use engineered hardwood for various projects around the house. It is commonly used in home construction, but you can also find it in commercial buildings and industrial products. Besides the obvious choice of adding engineered hardwood flooring to your home, you could add a wall made from engineered hardwood, or even make it into various useful furniture items. Engineered hardwood floors look stunning in any surrounding, so adding them as an accent wall can be a great option too. Even though you can use engineered hardwood for all these practices, it is still best as a flooring solution.
Regarding flooring, engineered hardwood is best in rooms that fight moisture daily—basements, kitchens, garages, and bathrooms. In these rooms, you will add a floor that will support the excess water that occurs every day while maintaining a great appearance.
Advantages of Engineered Hardwood
Engineered hardwood is highly durable, lasting up to 40 years without warping. Engineered hardwood has many advantages, including:
Easy to install
Excellent at resisting moisture and humidity
Costs less to install than solid hardwood
Environmentally friendly
Increases home value
Durable
It can last from 20 to 40 years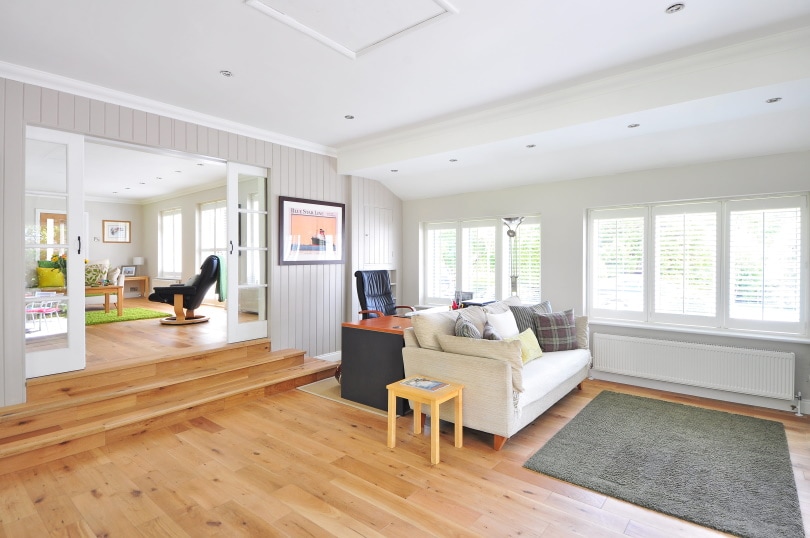 Disadvantages of Engineered Hardwood
While the benefits and advantages of engineered hardwood are vast, there are some drawbacks to think about before making a final decision:
The core consists of processed layers of wood instead of solid wood
It may fade in direct sunlight
High-maintenance
Prone to scrapes and dents
Contains more glues and adhesives
It has limited options for refinishing
Is Engineered Hardwood the Right Choice for Me?
If you are trying to decide whether engineered hardwood is the right choice for installing in your home, you have to think about the purpose it will serve. Engineered hardwood has many benefits, but the most significant advantage—especially over solid hardwood—is being able to resist a lot of moisture without bending or warping.
This feature makes it great for all rooms with excess water or humidity, such as kitchens, bathrooms, garages, or basements.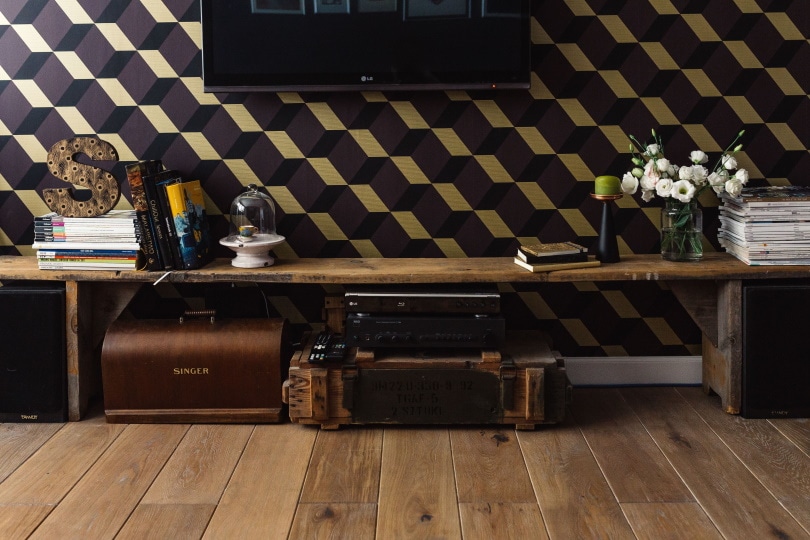 FAQs: Engineered Hardwood
How do you recognize engineered hardwood?
Once you install your new engineered hardwood floor, no one will be able to tell the difference between engineered and solid hardwood. The only way you could see any difference is by seeing the cross-section. From the top, both planks would look identical, with a hardwood surface layer. Only by seeing the cross-section of engineered hardwood will you be able to see the number of plywood layers in its core.
Is engineered hardwood waterproof?
Even though engineered hardwood is excellent at resisting moisture and water in certain areas, it is not entirely waterproof. This means that moisture or occasional water spilling would be alright, but a flooded basement will ruin the flooring.
Could you install engineered hardwood over other types of flooring?
Another great feature of engineered hardwood is that you can lay it on almost any surface. If you already have a surface layer of tile, vinyl, or even concrete, you could install the engineered hardwood directly over it, and it would still be flawless.

Final Thoughts
If you were wondering what exactly engineered hardwood is and whether it would be the right choice for you, we hope we gave you some clear answers in this article. Engineered hardwood can be an excellent choice depending on your needs and desires. If you are looking to add aesthetically pleasing flooring, while at the same time having a functional wood floor that will resist moisture, then engineered hardwood could be an ideal choice for you.
---
Featured Image credit: Ingo Bartussek, Shutterstock