6 Common Window Frame Types (with Pictures)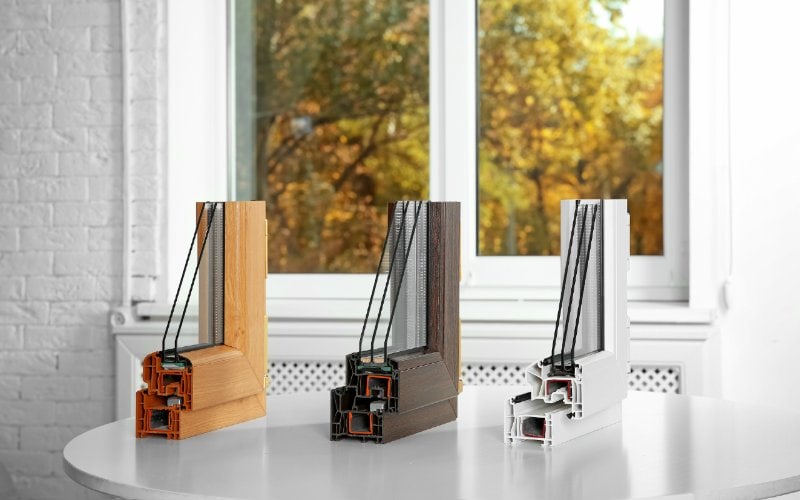 As the one feature that can affect the looks of your home both inside and outside, your choice of window frame deserves careful consideration.
New products are constantly hitting the market, delivering performance and aesthetics to better suit a more diverse array of customers. There's likely now more than one way to get the look you love, the performance you need, and the price you can afford. Find which one is perfect for your next update in this detailed look at the six most common window frame types.

The 6 Most Common Types of Window Frames
1.

Wood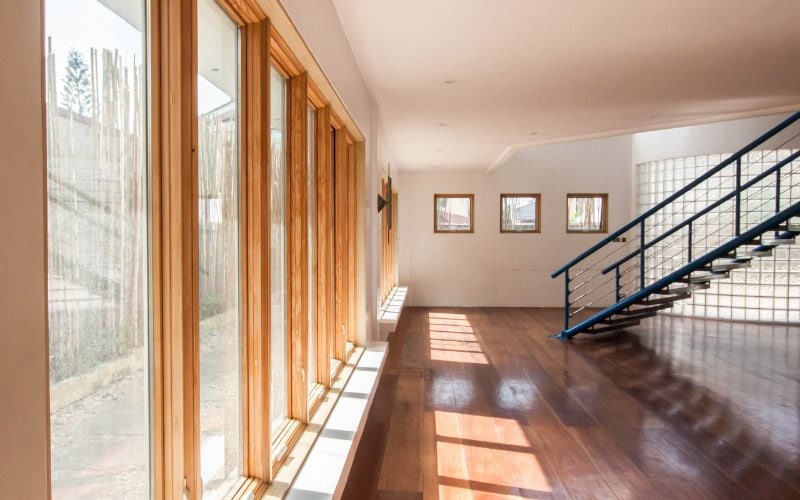 A wood window frame is a classic blend of aesthetics and practicality. It allows for detailing, making it ideal for traditional styles, and its natural grain lends an accent of sophistication and authenticity to a space.
Wood is susceptible to organic breakdown and needs appropriate weatherproof paint or sealing to prevent moisture penetration. Improper maintenance will lead to rot, mold, warping, and pest attacks.
For the premium price you pay, you'll want to keep wood window frames well-protected by reapplying paint, stains, and caulk every few years or as needed. When you maintain them, they can last for 20 years or more before needing significant repairs or replacement.
Pros
Adds an attractive natural aesthetic
Accepts paint and stain to match the home's style
Provides excellent insulation
Dampens vibrations and absorbs sound
More eco-friendly than other window frames
Cons
Susceptible to damage from heat and humidity
May rot or develop mold from excessive moisture
Can invite pests
Requires regular maintenance
More expensive than other window options
---
2.

Aluminum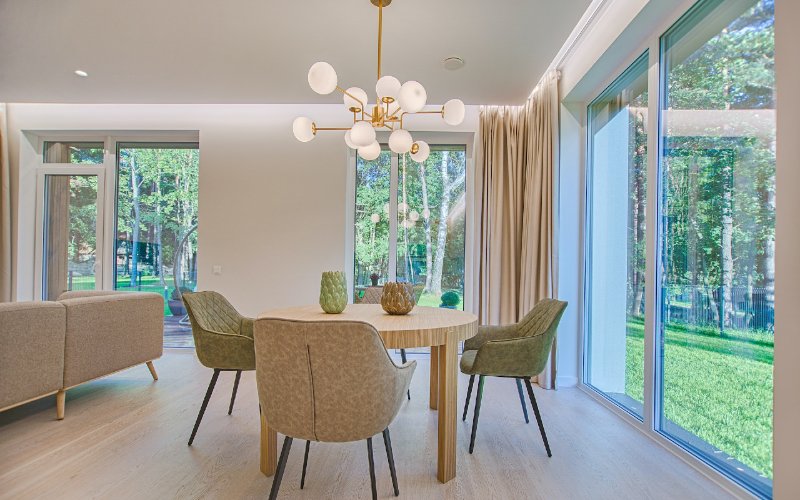 The sleek minimalist features and smooth textures of aluminum window frames make them a prime choice for a modern home. Aluminum is lightweight but sturdy. Thin frames create narrower sightlines for a better view while still being capable of supporting large panes to let in more light. It also forms easily, giving you a great option for unique window shapes.
Aluminum is attractive, durable, and resistant to moisture and weather when it has a quality powder coating. It's lower maintenance and less expensive than wood, often costing around the same as fiberglass options. Under the right conditions, aluminum can last 30–40 years before needing replacement.
While aluminum is a cost-effective choice for windows, it often isn't helpful for long-term savings. Aluminum is a terrible insulator; it transfers heat rapidly and could raise energy bills substantially during the hottest and coldest months. Weatherstripping and thermal breaks, which many new aluminum windows now include, may be necessary to minimize heat loss.
Pros
Lightweight and malleable yet strong
Thin frames improve views and deliver a clean, modern look
Weather-resistant finishing reduces maintenance needs
Cons
Offers poor insulation and energy efficiency
Susceptible to moisture penetration and rust
Can corrode from saltwater exposure
---
3.

Vinyl
Vinyl window frames consist of polyvinyl chloride (PVC), a common material for plumbing, fencing, and other features needing cost-effective durability. They're the least expensive window frame option available and one of the easiest to maintain. Add in their versatile looks, UV resistance, and quality insulation, and it's no surprise that vinyl is the most popular type of window frame.
Aesthetics-focused homeowners often move away from the bulkiness and plain looks of vinyl windows. And although it's durable and resistant to cracking, vinyl isn't particularly strong. Frames don't accept large or heavy panes and can eventually sag. Extreme temperature fluctuations can damage or warp them, and intense sun exposure may cause dark colors to fade.
Pros
Most inexpensive window frame option
Many colors and finishes are available
Easy to clean and maintain
Resistant to rot, mold, and damage
Relatively easy to install
Flexibility prevents sticking and damage
Provides good insulation and energy efficiency
Cons
Not as attractive as other window frame options
May fade from sunlight
Not as strong as other window frames
Challenging to repaint
Can peel, warp, or crack from temperature changes
---
4.

Fiberglass
Fiberglass window frames often take on the same extruded form of vinyl, but the similarities end there. A fiberglass frame is one of the most weather and temperature-proof options available. It does not expand or contract much and provides exceptional insulation due to foam-filled cores. As a stronger material, fiberglass frames are also typically much thinner than vinyl products.
The selection of fiberglass frames is one notable downside. A more complex manufacturing process may limit your options for particular window sizes and styles, and custom designs can make it more expensive than wood in some instances.
The finish can also become dull, so while it doesn't take much maintenance, your fiberglass frame may need eventual repainting. If you can overcome those minor drawbacks, you'll find fiberglass is the most damage-resistant, high-performing, and, in some cases, attractive type of window frame available.
Pros
Can last 80+ years
Resists expansion and contraction
Unlikely to damage, chip, flake, or peel
Excellent moisture and weather resistance
Stronger than vinyl, allowing for thinner frames
High energy efficiency with insulation fill
Can mimic wood or aluminum textures
Cons
Might need eventual repainting
May have more limited sizes and styles
Rigidity can make it more difficult to install
---
5.

Composite
Composite window frames include various materials in a damage-resistant, long-lasting, and attractive upgrade to everyday vinyl alternatives. Wood fibers, metals, and plastics combine via resin to form window frames that look like wood but perform better under the elements. Though more expensive than most frames other than wood, high-quality composite frames can live a low-maintenance life of 40+ years.
Outside of price, composites are an improvement over many other types of window frames. They are stronger than vinyl, provide more insulation than aluminum, and resist moisture better than wood. The blend of wood and plastic polymers in most composites improves energy efficiency and performance during extreme temperature swings while reducing the susceptibility for expansion and contraction.
Pros
Resistant to moisture, warping, and decay
Doesn't expand or contract significantly
Can take on natural wood look
Usually accepts paints and stains
Excellent insulation and energy efficiency
Withstands intense temperature changes
Easy to maintain
Cons
More expensive than most window frame options
Not as widely available as other window frame options
---
6.

Wood-Clad
Wood-clad windows rose in popularity to satisfy consumers needing the aesthetics of wood windows and the durability of metal or vinyl. These frames consist of wood throughout but feature an aluminum, vinyl, or fiberglass layer on the outside portion, giving you the weather-resistant benefits of those materials.
Pros
Interior wood accepts stain and paint to match decor
Exterior cladding resists weather damage
Lower maintenance than wood
Numerous cladding combinations available
Cons
More expensive than most window frame types
Separated cladding is challenging to repair

What Is the Most Common Window Frame Material?
The massive availability, energy efficiency, and low cost of vinyl make it the most attractive option for new builds and replacement windows. Despite new materials entering the market to compete with it, PVC still generates the most revenue of any window and door frame material. The 2022 Cost vs. Value Report from Remodeling even revealed that vinyl had a higher return on the investment than wood frames.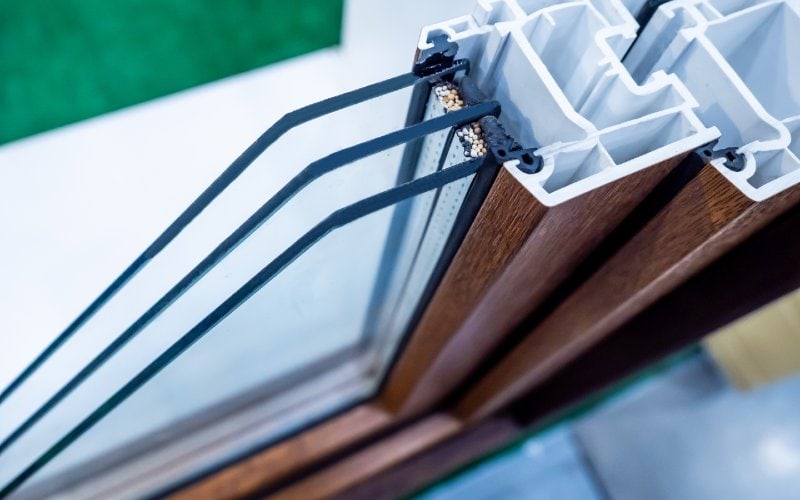 Which Type of Window Frame Offers the Best Value?
The best value in window frames depends on your design plans and long-term goals for the window. Wood windows, for example, are the most expensive and challenging to maintain, but if you value looks, they're hard to beat.
Budget-conscious buyers will prefer vinyl and aluminum. The two low-cost options solve different problems to accommodate a broad array of buyers. Fiberglass window frames, meanwhile, are arguably the best value despite being slightly more expensive. They offer the best performance and resistance to breakdown in any setting, often lasting several decades before developing noticeable wear.

Conclusion
The perfect window frame is becoming a more challenging decision, which is a good problem for consumers!
Innovative products are meeting higher aesthetic, performance, and environmental standards. No matter your home's style, you'll have more options to suit your needs, whether it's the low cost of vinyl, the modern vibe of aluminum, or the superior performance of fiberglass. Measure your space, figure out your budget, and start your search with these six common types of window frames.
---
Featured Image Credit: New Africa, Shutterstock