11 Clever and Creative Workbench Organization Ideas (2023 Update)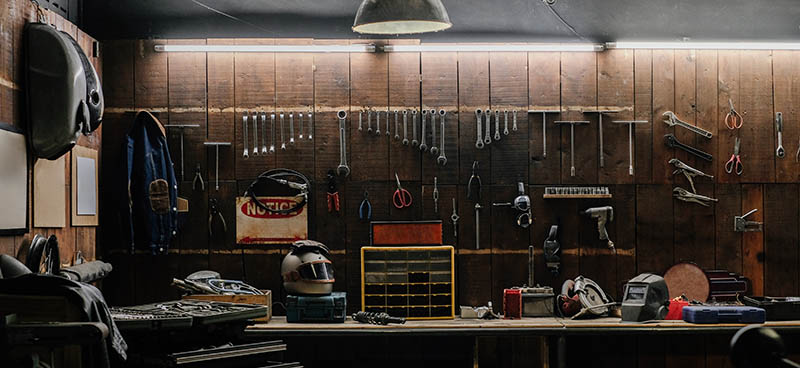 Clutter can take over your workspace, bringing down your productivity and keeping you less inspired. You spend precious time looking for your tools in the clutter, which quickly gets lost within the pile of debris on your workbench.
But organizing your workbench doesn't have to cost anything except time and creativity to keep tools in order and sight. As such, you need some workbench organization ideas that you can DIY to save money.
Whether in your garage, machine shop, or business premises, you can set aside time and roll up your sleeves to deal with clutter and build a tidy and organized workbench. Luckily we have clever and creative ideas to eliminate a chaotic workplace that can be unacceptable, unsafe, and unsanitary.
The 11 Workbench Organization Ideas
1.

Pegboards Make Tools Reachable
| | |
| --- | --- |
| Materials: | Pegboard panels, studs, nails and screws |
| Tools: | Hammer, drill, screwdriver |
| Difficulty Level: | Easy to install and set up |
You can place your tools within reach by using this pegboard or slat wall, which prevents equipment from getting scattered all over your workbench. Pegboards hold adjustable hooks, magnetic sheets, and bins where you'll hang or stow anything from stray screws to your pneumatic power drills.
There's a place for everything on a pegboard, and each tool utilizes space for a brilliant, more efficient, safer workplace. You'll no longer halt your DIY projects to hunt for nuts, bolts, or the right size nail for your woodwork. Besides improved efficiency, there's the risk of fewer accidents associated with disorganization.
A perforated pegboard is easy to mount, and you can insert pegs and hooks for your mount to utilize all the vertical space available above or beside your workbench. It's almost like a filing system for your tools, making it time-saving to hunt for the right ones and keep them safe from breakage or damage.
---
2.

Cabinets Utilize Available Space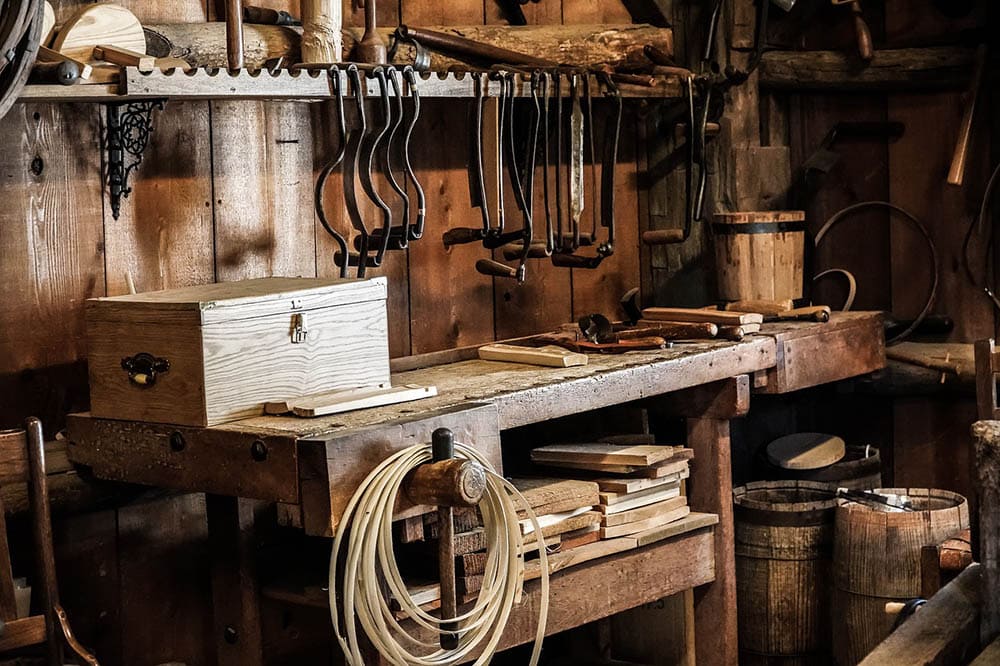 | | |
| --- | --- |
| Materials: | Wood panels, handles, hinges, nails, and screws |
| Tools: | Circular saw, hammer, drill, screwdriver, mallet |
| Difficulty Level: | Moderately difficulty |
Workbench organization relies on utilizing the available space, but a tidy workbench is one with minimal clutter on its surface. Spacious cabinetry works wonders to use the amount of storage you have to keep everything organized.
Whether wall-mounted, built into your workbench, or standing on the floor against a wall, cabinets help to divide small items while hiding away tools you don't often use. A rolling tool cabinet makes your work table portable and mobile, meaning you can work anywhere within your workshop or garage.
You can section off each of your workbench cabinets so they hold different items without them mixing up. You can have a cabinet for each type of material for an intuitively quick recovery and storage of your tools or supplies.
---
3.

Labeling and Outlining Are Smart Choices
| | |
| --- | --- |
| Materials: | Workbench |
| Tools: | Labels |
| Difficulty Level: | Easy to label |
For workbench organization and workflow efficiency, label your tools either by brand or use to ensure there are no mix-ups. It's a wise choice that works the tediousness, as is outlining more prominent tool placements, whether on a pegboard, wall, or table.
Outlining and color coordinating help put each tool where it goes, especially if you're not the only one using the workbench. After your DIY project, you'll have an easier time cleaning up and organizing your workstation if your storage cabinets, bins, jars, or spice-rack organizers are labeled.
Legible labels or tool outlines on your workbench or pegboard also help with inventory, such as knowing the supplies that need replacing in their absence. When cleaning, you may also throw out a lot of stuff you no longer use for a more organized bench.
---
4.

Install a Workbench With Bins/Cabinets and Bus Boxes
| | |
| --- | --- |
| Materials: | Plywood, screws, wood glue, and wood planks |
| Tools: | Drill bit, screwdriver, spacers, and a clamp |
| Difficulty Level: | Advanced |
Perhaps you don't have enough room in your garage or basement for a large workbench but still want to keep your tools organized. If yes, consider installing workbenches with cabinets, bins, and bus boxes.
This installation provides ample space for storing larger items like extension cords and power drills. You'll also free up floor space by not scattering your tools on the workshop or garage floor. Install drawers under your workbench to access frequently used items.
First, construct a large storage cabinet that'll hold the drawers. You only need several planks of wood and plywood for the cabinet. Cut the plywood into thin strips to create rails and stiles to act as the frames to hold the drawers.
---
5.

Lighting Is a Necessary Accessory
| | |
| --- | --- |
| Materials: | Light bulbs, wiring, screws, sockets and switches |
| Tools: | Drill, hammer, wire clips, screwdriver |
| Difficulty Level: | Moderately difficult |
You can do plenty to make your workbench more organized, presentable, and tidy, but none will beat excellent lighting. Compared to a dark workstation where tools hide in the shadows, a brightened bench area allows you to see and keep everything in its place.
Select your bulbs according to the type of projects you constantly undertake or choose adjustable bulbs that allow you to modify their lighting. Also, your light should illuminate well, so use portable lamps that you can sit on the table or hang overhead.
Improved lighting at your workbench pays enormous aesthetic dividends and rids your basement or garage workshop of uninviting gloomy shadows. Woodworkers, for instance, recommend that you leverage different indirect light sources with comprehensive overhead that bounces off your work area.
---
6.

Use a Magnetic Rack Tool Organizer
| | |
| --- | --- |
| Materials: | A double-sided, single-sided, or mounted magnetic tool holder and mounting screws |
| Tools: | A screwdriver |
| Difficulty Level: | Easy |
The magnetic tool organizer is an excellent way to keep your tools close at hand and organized. The magnetic racks are made of high-quality metal with strong magnets that can hold many tools made of magnetic materials. This magnetic rack also provides ample storage for tools like pliers, screwdrivers, and spanners.
You can mount the magnetic rack tool organizer on the sides of your workbench. Here, it's easy to access whatever you need when you need it most. You can attach it to any flat surface or wall in your garage or workshop. Mounting screws are included with the package. You can easily install it anywhere you want.
---
7.

Collapsible Sawhorses Are Handy Organizers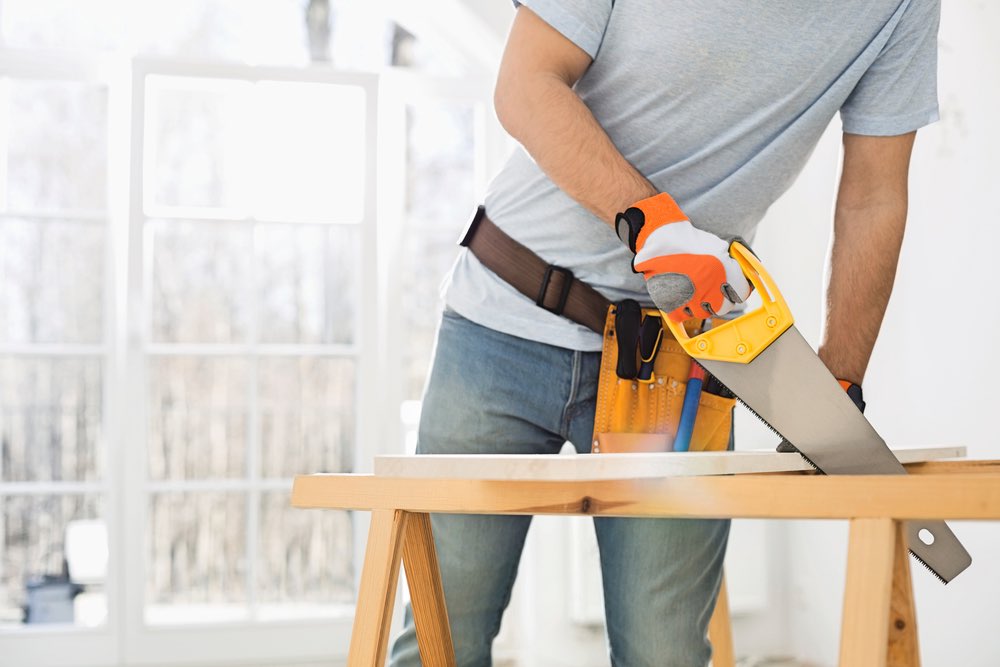 | | |
| --- | --- |
| Materials: | Plywood, 2 x 4,1×6 and 2×6 wood, nails, screws, hinges |
| Tools: | Circular saw, drill, hammer, miter saw, framing square |
| Difficulty Level: | Moderate to hard |
If your workbench gets a little over-cluttered, add a collapsible sawhorse to provide additional space when needed. Besides being an impromptu work area, temporarily extended surfaces might also provide extra storage for your instrument organizers or tool bins.
A DIY table saw sled gives you more clearance when cutting, such as in carpentry, to avoid the splintered cut. You can use the same material that makes your workbench tabletop or rigid and compact MDF boards that utilize the space beneath your workstation when you're not using them.
When open or closed, your folding table workbench lets you perform various jobs while providing more space to organize the work surface better. Install retractable leveling casters or sliding carriages to pull the wings for expandability, or you can drop them to your workbench's sides instead.
---
8.

A Folding Workbench Frees Up Workshop Space
| | |
| --- | --- |
| Materials: | Wood, hinges, screws, chain, hooks |
| Tools: | Circular saw, level, drill, tape measure, clamps, stud finder, and sander |
| Difficulty Level: | Moderate to hard |
After working on your workbench, you may want to free up the area once everything is tucked away on pegboards, tool racks, or wall cabinets. A foldable bench means you don't need dedicated space if your workstation is in your garage, competing with cars and other equipment.
As a creative space-saving and organization hack, a folding workbench is built against the wall on which it'll fold up when not in use. Your bench in squeezed quarters drops down when you need to use it, and you can install it within a day.
You'll only make the best use of a folding workbench if you have invested in ample storage facilities for your tools and equipment. Otherwise, it'll be self-defeating since larger drills and saws can hang, but you can't utilize crates and carton boxes that take up floor space.
---
9.

Wooden Tool Chest for the Workbench
| | |
| --- | --- |
| Materials: | Wood glue, planks of wood, and drawer handle. |
| Tools: | Jigsaw or a table saw, tape measure, a clamp, and a pencil. |
| Difficulty Level: | Advanced |
A wooden tool chest is commonly used by woodworkers. It's inexpensive, sturdy, and durable. The tool chest should be large enough to hold all your tools and small enough to fit on top of a workbench or other surface with plenty of room around it for easy access.
Remember that tool chests are not just for storing tools but also for keeping them safe from damage and moisture.
---
10.

Rotating and Flip-up Hidden Tool Storage Workbench
| | |
| --- | --- |
| Materials: | Planks of wood, a round steel rod, screws, and plywood. |
| Tools: | Power drill, jigsaw, clamps, a screwdriver, and a tape measure. |
| Difficulty Level: | Advanced |
A simple way to organize your workbench is by installing an invisible tool storage system. The tools are hidden and only accessible when you rotate or flip up the workbench. This tool storage system is perfect for those who like to keep their work area clutter-free and organized. The best part is that it doesn't take up any extra space on your desk. So, you can still use the surface for other activities.
This workbench has several features that make it more convenient than other workbenches. The top also comes off, allowing you easy access to all the tools stored underneath it. Then, it slides back into place when you're done using them! Some models even have drawers built into them. Some even have wheels so they can move around easily if necessary!
With the right tools, materials, and basic carpentry skills, you can make a rotating and flip-up hidden tool storage on your own.
---
11.

Using Drug and Medicine Containers to Make a Hanging Organizer
| | |
| --- | --- |
| Materials: | Clear medicine containers, plywood pieces, a plastic or steel rod, screws, and wood glue. |
| Tools: | A screwdriver, a pencil, a power drill or a drill bit, and a tape measure. |
| Difficulty Level: | Easy |
If your workbench has plenty of space underneath it, consider hanging an organizer from its underside or sides. You can use hanging drug and medicine containers to make hanging organizers. Find clear medicine bottles. With this, you can see what is inside every container. Plastic containers are the best bet.
To make this organizer, cut three equal plywood pieces. Use a tape measure to measure the correct dimensions. Mount the container lids onto the three plywood pieces. Drill holes in each of the three pieces where you'll insert the steel or plastic rod. The rod allows them to rotate. This way, you can access any materials you want from the containers. Fix the rod through the plywood pieces. Then, mount the organizer onto plywood attached to the side of the workbench.
Essential Tricks to Avoid Cluttering Your Workbench
A messy and disorganized workbench negatively affects your productivity and efficiency, not to mention the frustration of trying to find your tools. Besides not having a work table, the solution is to find clever and creative workbench organization ideas and make them part of your DIY routine.
Organizing your workbench is organic and often complements your workflow, so you'll take time to see it accomplished. While involved, you'll achieve the full functionality of turning an essential work table into a more complex structure that is well-thought-out and fits customization.
Other tips that could improve the organization and efficiency of your garage, workshop, or basement workbench include;
Placing tools at eye level on racks or pegboards so you can grab them quickly without disrupting your work.
Some tools are placed horizontally while others are upright, providing pattern and variety for quick retrieval during your DIY tasks.
Give each tool, piece of equipment, or container ample space, so you don't disarrange the rest when you move one.
Using crates or boxes to stow heavier objects beneath your workbench, including oil cans, paint, and other curiosities or fluids.
Find alligator clip clotheslines or wire shelves to prevent hung tools from falling or tipping over when working with power tools or hammers.
Installing a rack that holds the surplus inventory of tools or supplies, so they're not cluttering your workbench.
Conclusion
Whether you work at home, garage, or in an office, your workbench is the hub for your productivity. If you don't keep a good setup, you'll struggle to stay productive and organized. You now have several clever and creative ideas by which you can ensure that your workbench is always organized and clutter-free. As you perform more involving tasks on your workstation, it will eventually look used and beat up. That will add character and showcase your industry level, but you shouldn't fill the surface with multiple vices.
A workbench that's organized and free of debris is the solid platform on which your DIY creations come to life. It doesn't have to be complex, as that will defeat the simplicity with which it's meant to offer support and a base for your tools, instruments, and equipment.
---
Featured Image Credit: mavo, Shutterstock